Fall is here and so my desire to eat more grounding, earthy foods. And even though Dallas weather doesn't show any signs of fall yet, days are shorter and more inviting to baking. And so my three lonely parsnips I had in the fridge and the small organic fuji apples I bought a few days ago found their way to my heart (stomach) through this super delicious and warming parsnip apple cake with rosemary and olive oil.
Safe Bakeware and Warming Cakes
I know what you are thinking right now: hmmm, parsnip cake? I love the idea of exploring new, unexpected ways of pairing savory with the natural sweetness found in different vegetables and creating something that our mind needs some time to wrap around.
And to make it even more intriguing, there is no sweetener in this parsnip cake, other than one tablespoon of yacon syrup. There is also plenty of sea salt, which makes it a salty cake. And then fresh rosemary and extra virgin olive oil… And the apple. It worked in my mind and I'm happy how it ended up tasting and looking.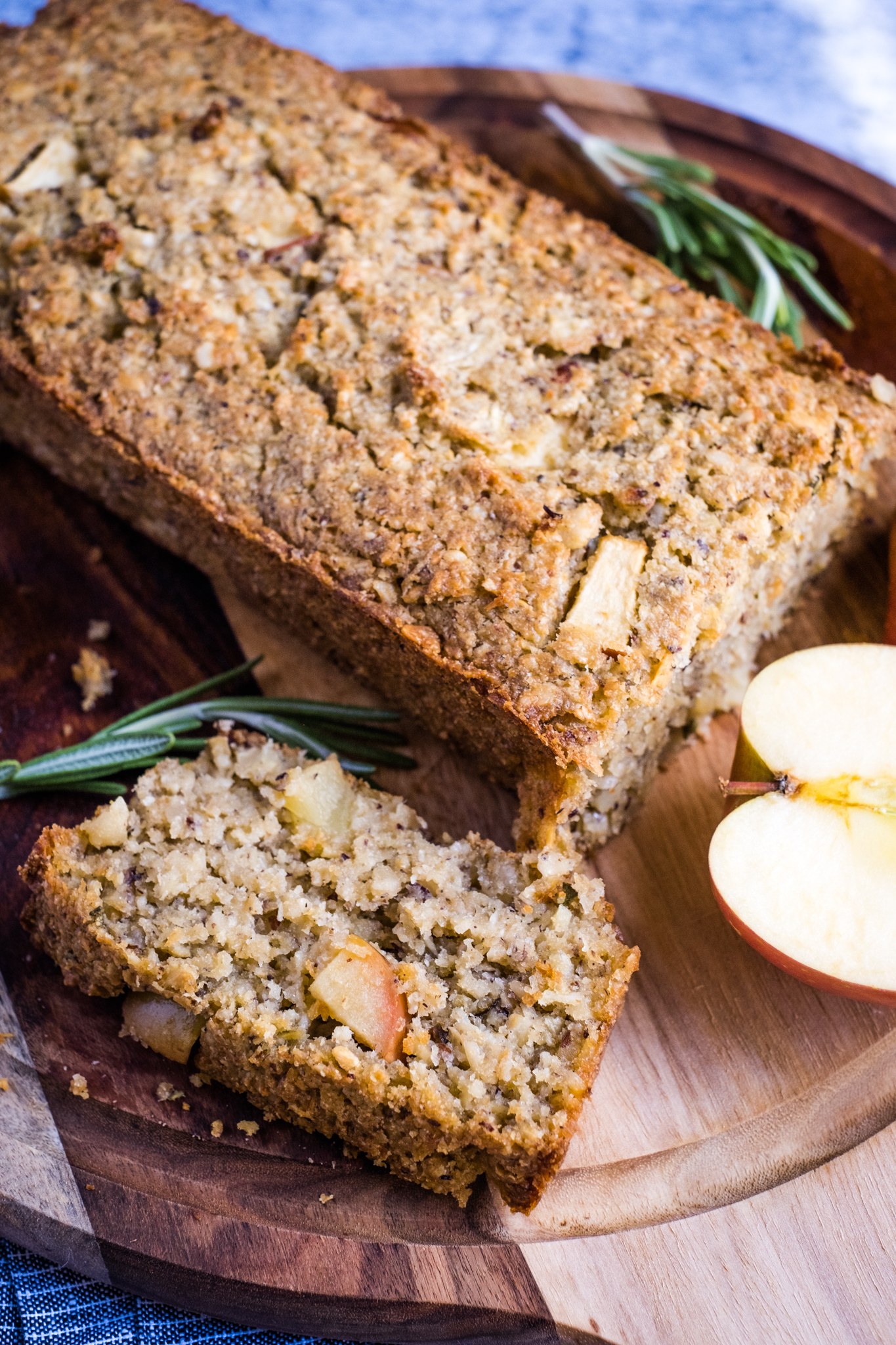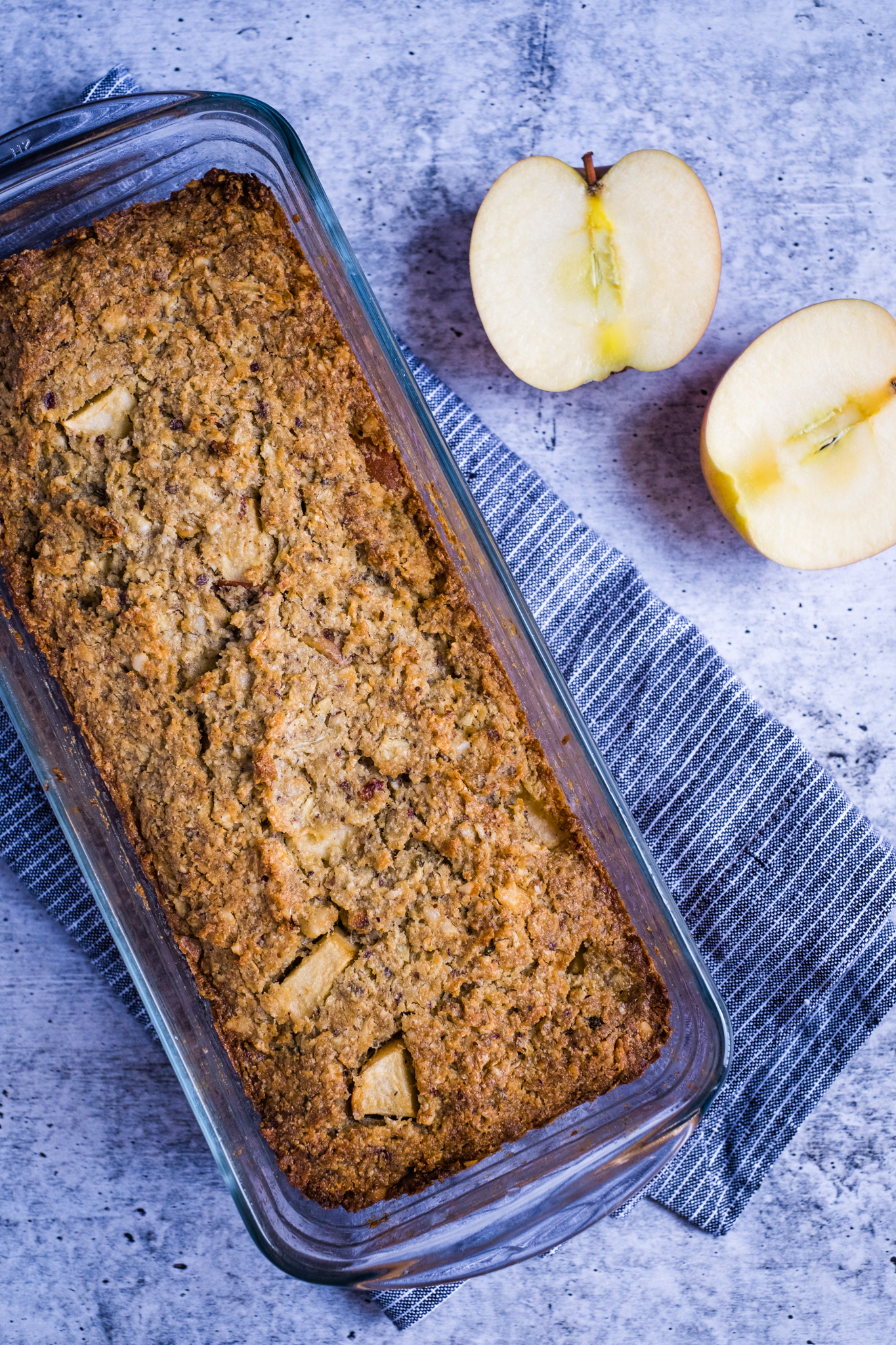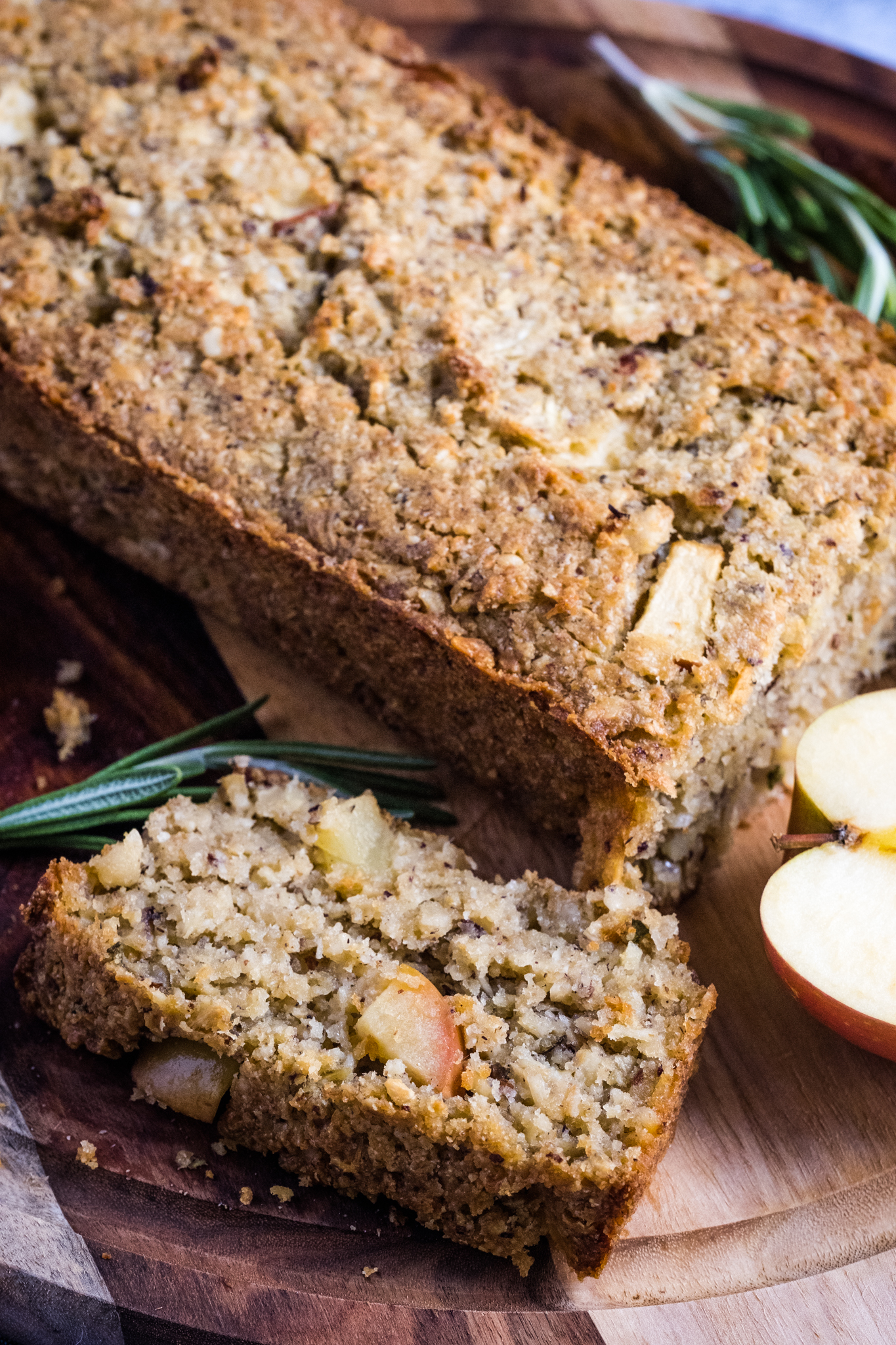 But before we go into the recipe, let's talk bakeware, since it is the season of baking. It's hard to find baking dishes, loaf pans, cookie sheets, etc that are made from safe materials. Most of them are made of aluminum and/or coated with nonstick surfaces. And it's not ok to use them. But what are the safer alternatives?
I'm going to list a few options below, mostly things I use or similar to what I use if they are not available online. In general, stainless steel, glass, stoneware and ceramic coated and even cast iron (for occasional use) are great alternatives that work really well. Make sure, if you use ceramic coated bakeware, that they are not scratched. They usually scratch easily and I wouldn't use them if the top layer of ceramic is compromised.
A parsnip cake recipe
So now back to our recipe. This is a great breakfast cake, that tastes savory and naturally sweet from parsnips and apples. It's very moist and you will have to cut it in thicker slices, as it tends to crumble.
When it comes to spices, feel free to use pumpkin pie spice mix, or add cinnamon. Since I am on a low histamine diet, I can't have those, but they will be amazing mixed with this cake. I used all-spice instead.
So the good news is that this is a low histamine cake, especially if you are not extremely sensitive to eggs and hazelnuts. The apple and rosemary are anti-histamine, so it balances out the potential effect of eggs and nuts. The cake is also loaded with healthy fats: extra virgin olive oil (find tips here to pick the best olive oil), shredded coconut, hazelnuts and since it's baked at 325F you shouldn't be worried about those oils being compromised.
If you feel like a sweet cake, increase the amount of yacon syrup or add an alternative sweetener, but I would encourage you to give your palate a break from the sweet taste, as it might affect the insulin level the same way as sugar does. Plus, it's worth exploring the earthy sweetness of apple and parsnip by itself.
Later edit with two more notes: I made this cake so many times by now. You can grate the apple if you don't like the big pieces and it holds even better together. And second, I made a vegan version of this cake and it worked beautifully. Just replace the eggs with 2-3 tablespoons flax meal mixed with warm water to get a paste.
Turning this parsnip apple cake into a first birthday smash cake (or any kid birthday cake)
When we celebrated the first birthday of our friend's baby, Ava, I was in charge of her first birthday cake, of course. You would think I'd have a pretty good idea of what I want to make, but I didn't. My first attempt, on the morning before her birthday, was a failure (good I thought of testing before).
The ingredients were great and the taste was good (I ended up freezing it and eating it later and it ended up being really good), but the texture was not at all what you want for a baby's smash cake. It was very dense. That day I failed I met my friend Kristi and I was complaining about how I had no idea how to make the cake, and she reminded me that my Parsnip and Apple Cake with Rosemary and Olive Oil (aka this cake) would make a perfect cake for a baby.
WOW! Kristi has three kids so I totally trusted her. So I went back home and I baked two small round cakes using the quantities from the original recipe on the website. I'm using two of these Le Creuset Tapas Stoneware when I make a small layer cake. Usually, it works if they are well greased, but this time I didn't want to risk anything and I added parchment paper. They came out beautifully.
And another challenge… making a dairy-free frosting
Now, the next challenge was to make frosting without dairy (I wanted to be able to enjoy the cake myself since I don't eat dairy) that stays put when the cake was transported to the restaurant. I tried coconut frosting before and it all melted. But somehow I managed and this one came out perfect.
The directions might seem complicated, but is in fact not difficult at all; I made it in the morning before our brunch. Just bake the cake layers in advance and make sure they are cold when you are assembling the cake. And make sure you put the coconut cream in the fridge at least one day prior.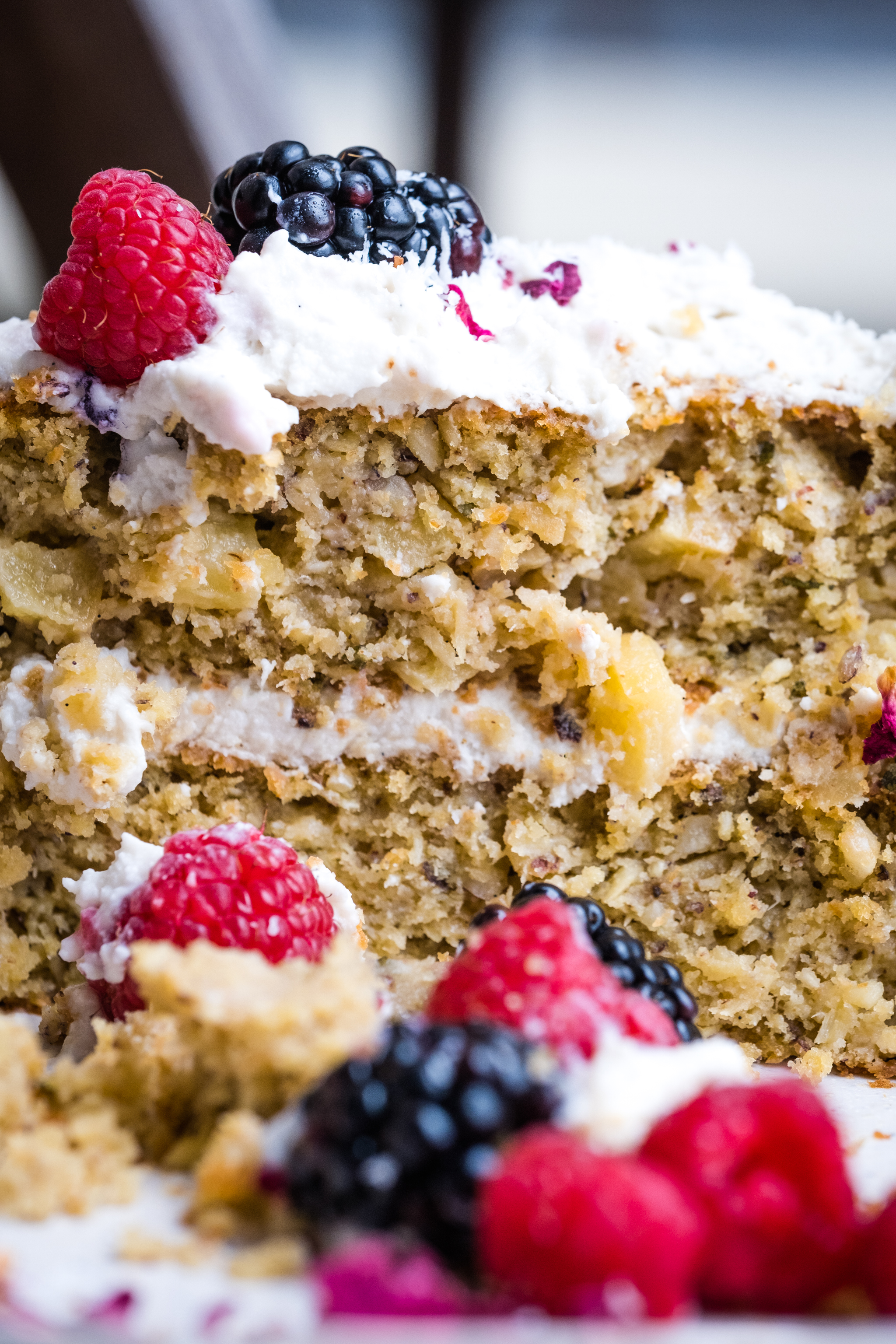 How to make the dairy-free frosting
I used three 5.4 ounces Native Forest coconut cream cans, refrigerated for 48 hours. You want them to be super cold. In a small saucepan, I warmed one can of coconut cream with a 12g cube of cacao butter. Added the seeds of a 1-inch vanilla pod. Mixed well on very low heat, and when the cacao butter was melted, I added 1 tablespoon of arrowroot powder which I previously dissolved in a bit of cold water.
Make sure you mix well while you are adding the arrowroot. If it gets clumpy (which mine did), put it in a blender and blend until smooth. Transfer the content to a glass jar, cover and put in the freezer to get cold (needs about 40 minutes). At this point also put the beaters of your electric mixer in the freezer (it works better when they are super cold). When this part is finished, you can make the final frosting.
Add the content of the freezer jar, and the other two cans of coconut cream (I like to scoop out just the creamy part and leave some of the water behind), as well as a sweetener of your choice – I added about 1 teaspoon yacon syrup, to a mixing bowl and mix with an electric mixer on high until it's all thick and holding together.
Add some of the frostings in between the two layers, and the rest on top. I topped with raspberries and blackberries and sprinkled with shredded coconut and rose petals. Ava absolutely loved her parsnip apple cake, in fact, we all did.
TO CHECK ALL PLANT PARADOX BAKING PANTRY ITEMS IN ONE PLACE CHECK MY SHOP PAGE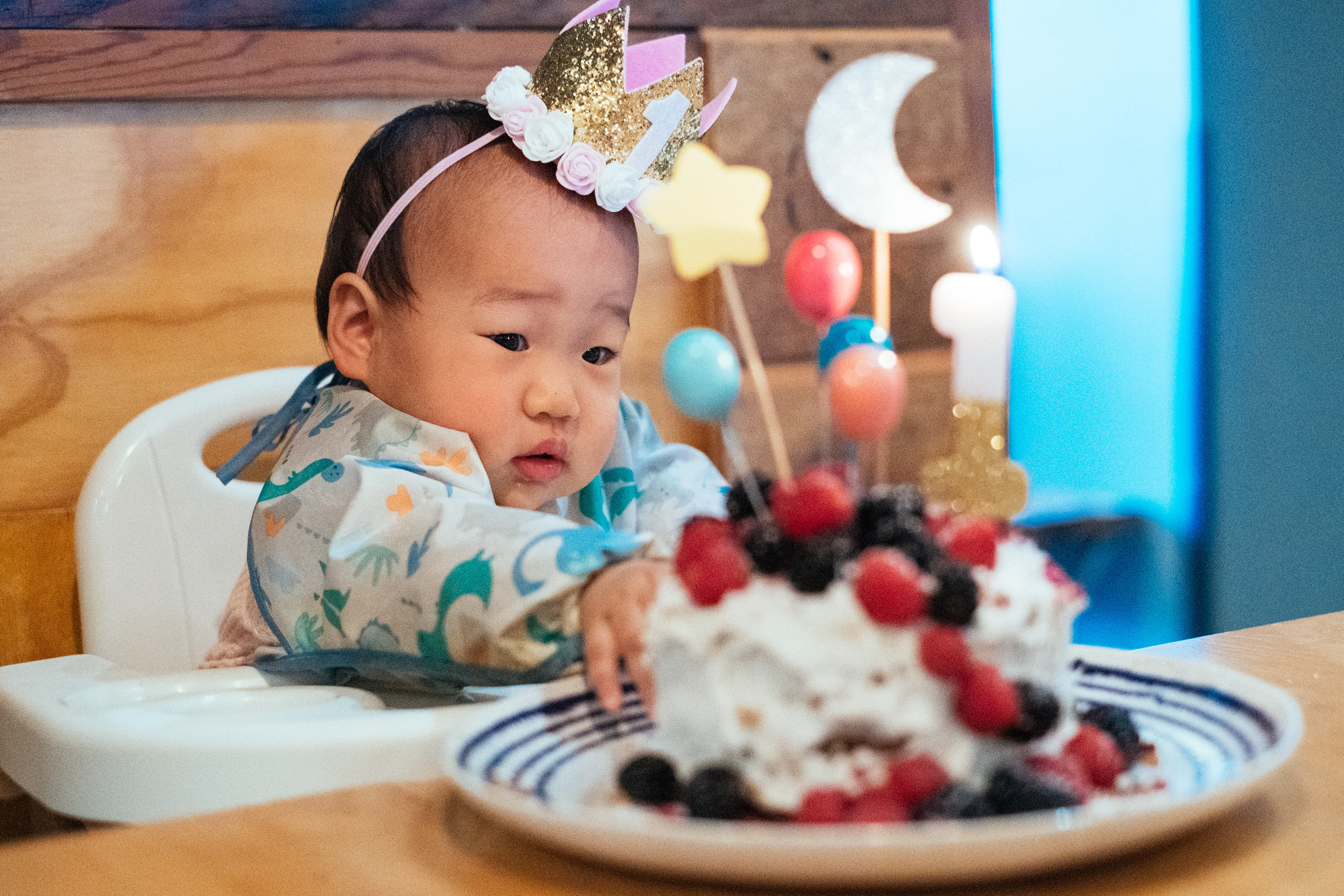 *This post contains affiliated links, which means I get a small commission if you choose to purchase something via one of my links, at no extra cost to you.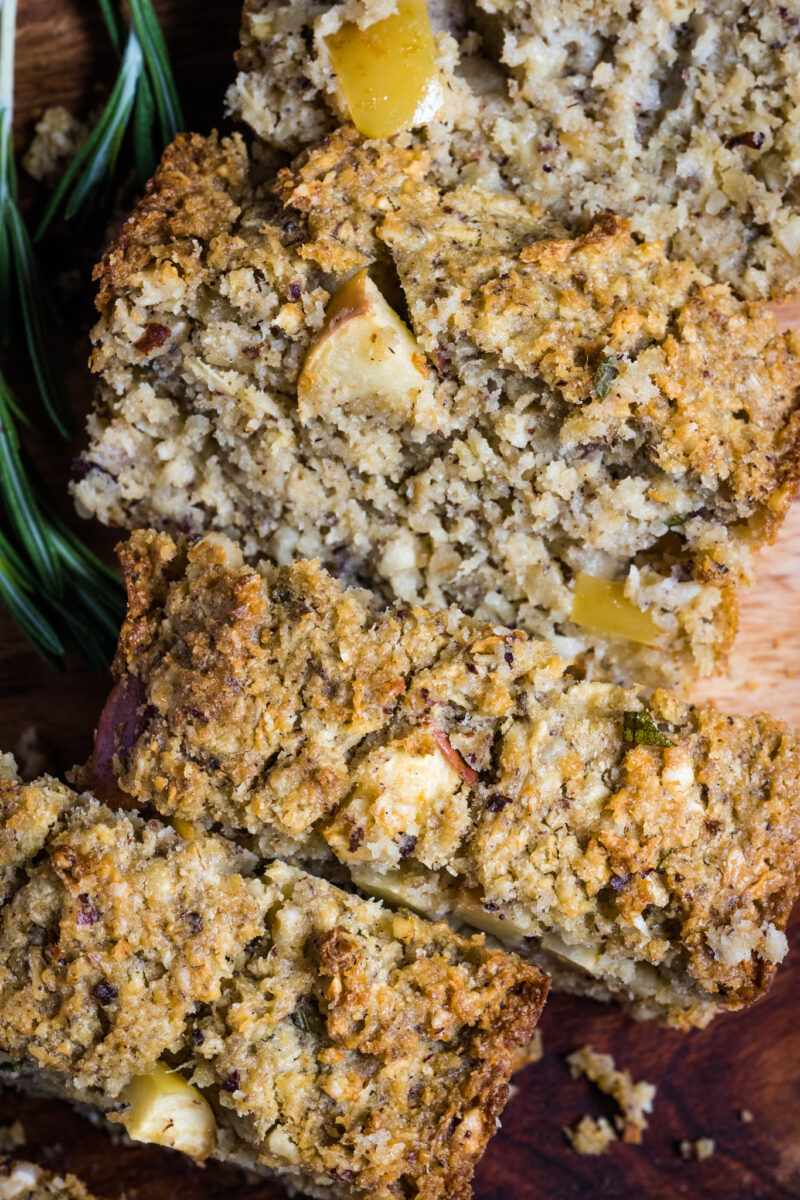 Print Recipe
Parsnip Apple Cake with Rosemary and Olive Oil
Lectin-free, low histamine and almost sweetener-free cake.
Ingredients
2/3 cup ground hazelnuts (about 1/2 cup whole)

2/3 cup cassava flour

2 tablespoons psyllium husk

1/3 cup shredded coconut

1/2 teaspoon sea salt

1/2 teaspoon cream of tartar

1/4 teaspoon baking soda

pinch of freshly ground pepper

1/4 teaspoon all-spice (freshly ground is possible)

2 cups riced parsnip (about 3 small to medium parsnips)

2 pastured eggs (for a vegan version use flax meal mixed with warm water, 1 tbsp per egg)

1 tablespoon yacon syrup

2/3 cup extra virgin olive oil

1 teaspoon vanilla

1 teaspoon fresh rosemary, finely chopped

optional: pumpkin spice mix, cinnamon

1 small organic apple (I use Fuji), cut in small to medium cubes (about 1/2 inch)
Instructions
2
Grind the hazelnuts first, in a food processor. You want a little texture, so don't process them all the way to becoming a flour. Take the hazelnuts out and measure 2/3 cup. Don't clean the food processor, you will use it again.
3
In a big mising bowl combine the cassava flour, psyllium husk, hazelnuts, coconut, salt, cream or tartar, baking soda, pepper, all-spice (or another spice mix you choose, such as pumpkin pie spice or cinnamon). Add the cubed apple and mix so all the apple is coated in the dry mix.
4
Cut the parsnip in chunks and rice it in the (already dirty, haha) food processor. You need a texture similar to cauliflower rice or even smaller. I used 3 medium parsnips which made two cups of riced parsnip (if you want to measure you have to take the parsnip out and after measuring put it back in the food processor.
5
Add the eggs, yacon syrup, extra virgin olive oil, vanilla and chopped rosemary to the food processor and mix until you have a creamy texture.
6
Add the content of the food processor to the bowl and incorporate it with a spatula.
7
Grease a loaf pan with olive oil and add the batter to the pan.
8
Bake for about 50-55 minutes or until golden brown on top (I used a glass baking pan. You will have to adjust the time if using a metal pan, as glass takes a little longer).
9
Let it slightly cool, remove from the loaf pan and slice thick for serving. Store in the refrigerator or freeze in slices.
Notes
If using a metal baking pan the timing might be shorter, maybe 45 minutes. Keep an eye on your cake. This is a savory cake, if you need more sweetness increase the amount of yacon syrup. For a vegan version replace the eggs with flax meal mixed with warm water, to get a paste. Use one or one and a half tablespoon of flax meal per egg.