This is more than a recipe, is a healthy and delicious lectin-free dinner idea. When I posted on Instagram our dinner yesterday, I had not planned to write the recipe down, but I got so many requests for recipes for both the Alaskan salmon cakes and the spinach pesto that I had to retrace all my steps and put it all together.
A lectin-free dinner idea
The only thing missing is a nice picture of how the salmon cakes look inside, but since this wasn't planned I'll go with what I have and add more photos when I'll make them next time. I've made salmon cakes before and for some reason, I just realized I haven't shared the recipe yet, so I might just do it while I'm at it. I'll link it here once done.
For this one, I used as an inspiration a recipe by Once Upon a Chef, mainly because I never used Old Bay seasoning and I wanted to see how much of it I need to add. The rest is pretty much what I do, except for the type of mayonnaise, oil, and flour, of course. I also like to supplement with more veggies so added extra celeriac and carrots and replaced the scallions with red onion. My other salmon cakes have sweet potato and chives added, so that's an option too.
Be careful when you fry them, the almond flour does a great job but maybe not as good as breadcrumbs, so just handle them gently and they'll do just fine. Another option I'd like to explore and an idea for you if you want to avoid the frying part, I think baking them will work too. Let me know if you do try this option.
Where to buy Alaskan salmon
Yesterday I went for a (rare) trip at Target and because I was out of dinner ideas, I looked for whatever I could find compliant in the store, and I was pleasantly surprised to find the Alaskan salmon, in the frozen section, by Simply Balanced. It's so hard to find Alaskan salmon, so I think this will make me take the Target trip more often. Not much else to buy Plant Paradox compliant, but I found a big fat box of organic baby spinach and avocados, and this dinner idea came to life. Even my non-compliant husband loved everything.
The quantities I used made ten salmon cakes, I only have one per meal, but my husband had three, so regarding the serving number, I guess depends on who is eating. As per the spinach pesto, the quantities I use make enough for 2, 3 people, so if you are feeding a bigger family make more.
Alaskan Salmon cakes are also good cold, so feel free to use them in your or your kids' lunchbox. Lunchbox by Lunchbots.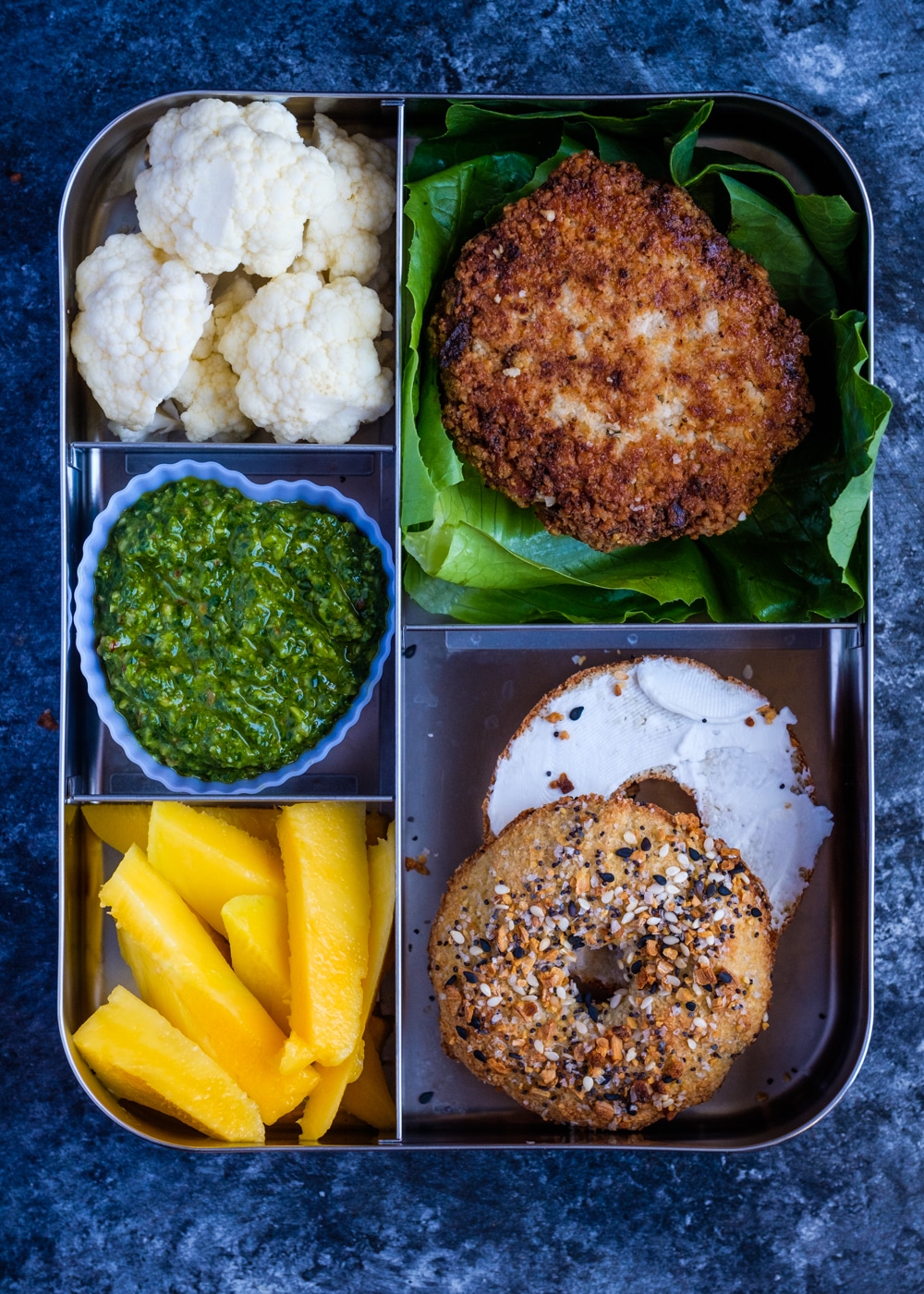 *This post contains affiliated links, which means I get a small commission if you choose to purchase something via one of my links, at no extra cost to you.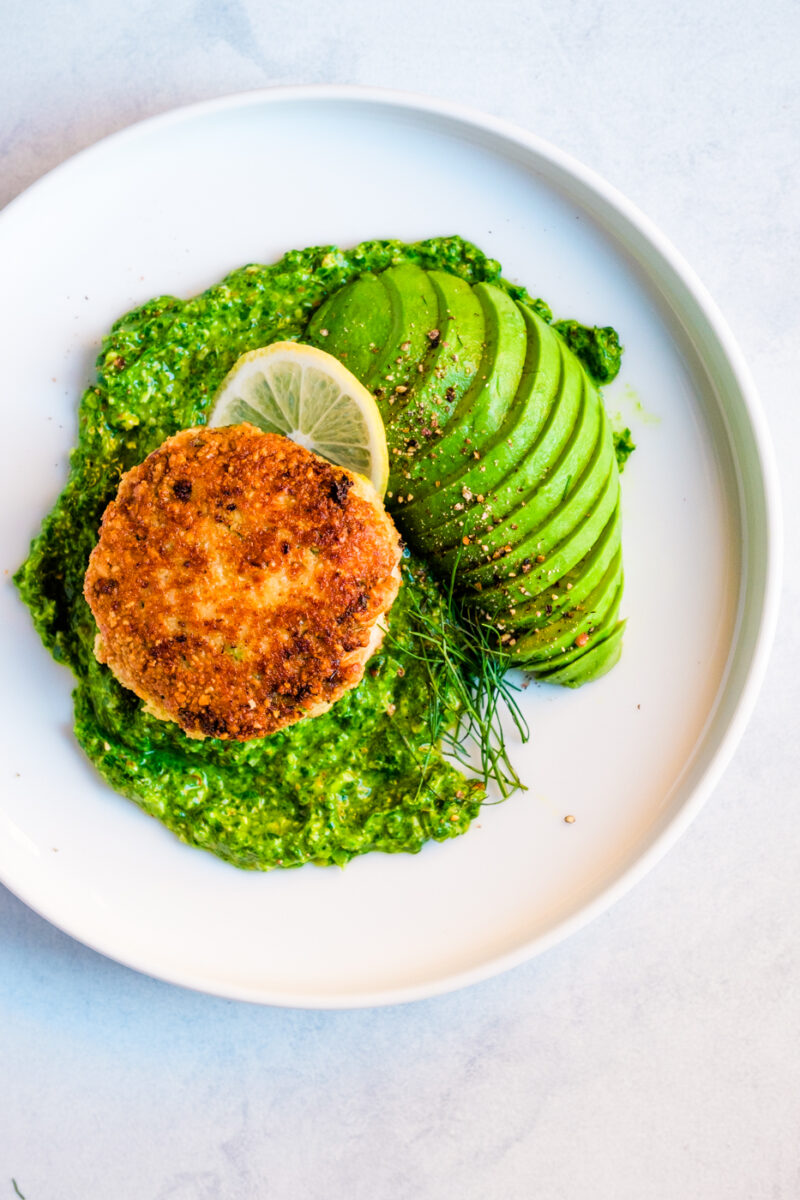 Print Recipe
Alaskan Salmon Cakes with Spinach Pesto and Avocado
A good looking, delicious and nutritious lectin-free dinner idea.
Ingredients
FOR SALMON CAKES

20 oz raw Alaskan salmon, skins removed and finely chopped

1/3 cup avocado mayonnaise (home made or Primal Kitchen)

handful of chopped dill (about 1/4 cup)

handful of chopped celery (about 1/2 cup)

handful of celeriac + carrots (about 1/2 cup, mixed)

1/2 red onion, chopped

1 1/2 - 2 tsp old bay seasoning

1/2 lemon, juice

zest of one organic lemon

3/4 tsp salt

pepper

4-5 tbsp almond flour

optional: 1-2 tsp Dijon mustard (I used home made mayonnaise which has a lot of mustard in it, but if you use store bought you might want to add a little Dijon).

optional: 1-2 tbsp cassava flour, if you feel the mixture is too moist (it might depend on the thickness of your mayonnaise).

More almond flour for coating (about 3/4 cup)

Coconut or avocado oil for frying

FOR SPINACH PESTO:

7-8 cups of organic baby spinach

1 garlic clove

handful of pecans, walnuts, a mix of nuts or your nuts of choice

1/4 cup grated aged, hard cheese like Parmigiano, Pecorino Romano or Mancengo

1/3 cup extra virgin olive oil or add until you get the desired consistency

salt and pepper to taste

1 tbsp lemon juice
Instructions
1
TO MAKE THE CAKES: Add all the veggies in a food processor and mix until all finely chopped and mixed well (don't over mix, but if the pieces are too big the cakes might not hold well together). Finely chop the salmon and mix it with the veggies, mayonnaise, spices and flour. Make patties with your hands and coat them with almond flour. Refrigerate them for 1 to 2 hours before cooking. Fry them on the stove in coconut or avocado oil, about 2 minutes on each side, or until golden brown (handle gently, so they don't break), make sure there is enough oil so they don't stick to the pan.
2
TO MAKE THE SPINACH PESTO: Add the spinach, nuts, cheese and garlic to a food processor and mix until (almost) pureed. While the processor is on low speed, start adding extra virgin olive oil. You can adjust the consistency depending on your taste. Add lemon juice, salt and pepper to taste.
3
Serve all with 1/2 sliced avocado, lemon wedges and a hot sauce if you like.
Notes
The salmon cakes are good warm or cold, and the pesto leftovers (if any) can be stored in the fridge in a mason jar or a glass container. The serving size only applies to the salmon cakes, the spinach pesto is enough for 2-3 people.