These are some of the best meatballs I've ever made, no wonder Scandinavian people love their meatballs so much. Recipes vary depending on the countries they are coming from. I've been inspired to make these by looking at various recipes from Scandinavian countries, also by my own experience of Danish cuisine. So I've adapted my favorite recipes and replaced ingredients that were not Plant Paradox compliant to add lectin-free Scandinavian meatballs to my imaginary cookbook.
Inspired by authentic Nordic cuisine
One of my favorite cookbooks ever is The Nordic Cookbook by internationally acclaimed chef Magnus Nilsson, who collected more than 700 authentic and classic recipes while traveling throughout the Nordic countries: Denmark, the Faroe Islands, Finland, Greenland, Iceland, Norway and Sweden – and put them together in this book, along with Nordic culinary history and techniques.
Also, my husband is Danish, and I've experienced Nordic cuisine first hand. And since I know he loves his food so much, I'm trying to make as many loved classic dishes plant paradox compliant.
The book has several recipes of Scandinavian meatballs from different countries, including the author's grandmother's Swedish recipe. One common thing I noticed across most of the recipes is the use of milk and cream, which I was really curious about, wondering if that won't make them too soft and hard to roll. Of course, like many meatball recipes around the world, they are made with breadcrumbs, and some of them include potatoes. Also, the meat used can be a mix of pork and beef or even moose.
Oven-baked Scandinavian meatballs (less mess)
Most classic recipes of meatballs are cooked by pan-frying or even boiling (Danish people do that). I took the shortcut and baked them in the oven (less mess). Even with all the changes I made, they still came out amazingly good. My husband's favorite way to have the meatballs is with a curry sauce. Usually, a Danish curry sauce can have apples, but I added some green mango I found in Whole Foods. Of course, milk and cream were replaced with coconut milk, which in my option is even better.
My husband calls this dish "Boller i Karry", which means meatballs with curry (duh!). For him, I made Indian basmati rice. This is the only approved rice on the Plant Paradox, but only in phase 3 and in small quantities. I personally don't eat rice (I'm comfortable in phase 2) so I made steamed broccoli. And for a bonus, I made another classic Danish dish, Sweet and sour braised red cabbage (rødkål).
Recipes for both lectin-free Scandinavian meatballs and curry sauce below.
To give you an overview of the changes I made in the meatballs. I replaced milk and cream with coconut milk, but used much less. I used a Japanese sweet potato (the one with purple skin and white flesh) in place of a normal potato. Breadcrumbs were replaced with almond flour and I followed my gut instinct when it came to quantities and proportions.
If you like this recipe, you should also check out my Veggie Loaded Kimchi Sriracha Meatballs with Creamy Cauliflower Rice and Almost Italian Meatballs with Baked Vegetables and Rhubarb.
*This post contains affiliated links, which means I get a small commission if you choose to purchase something via one of my links, at no extra cost to you.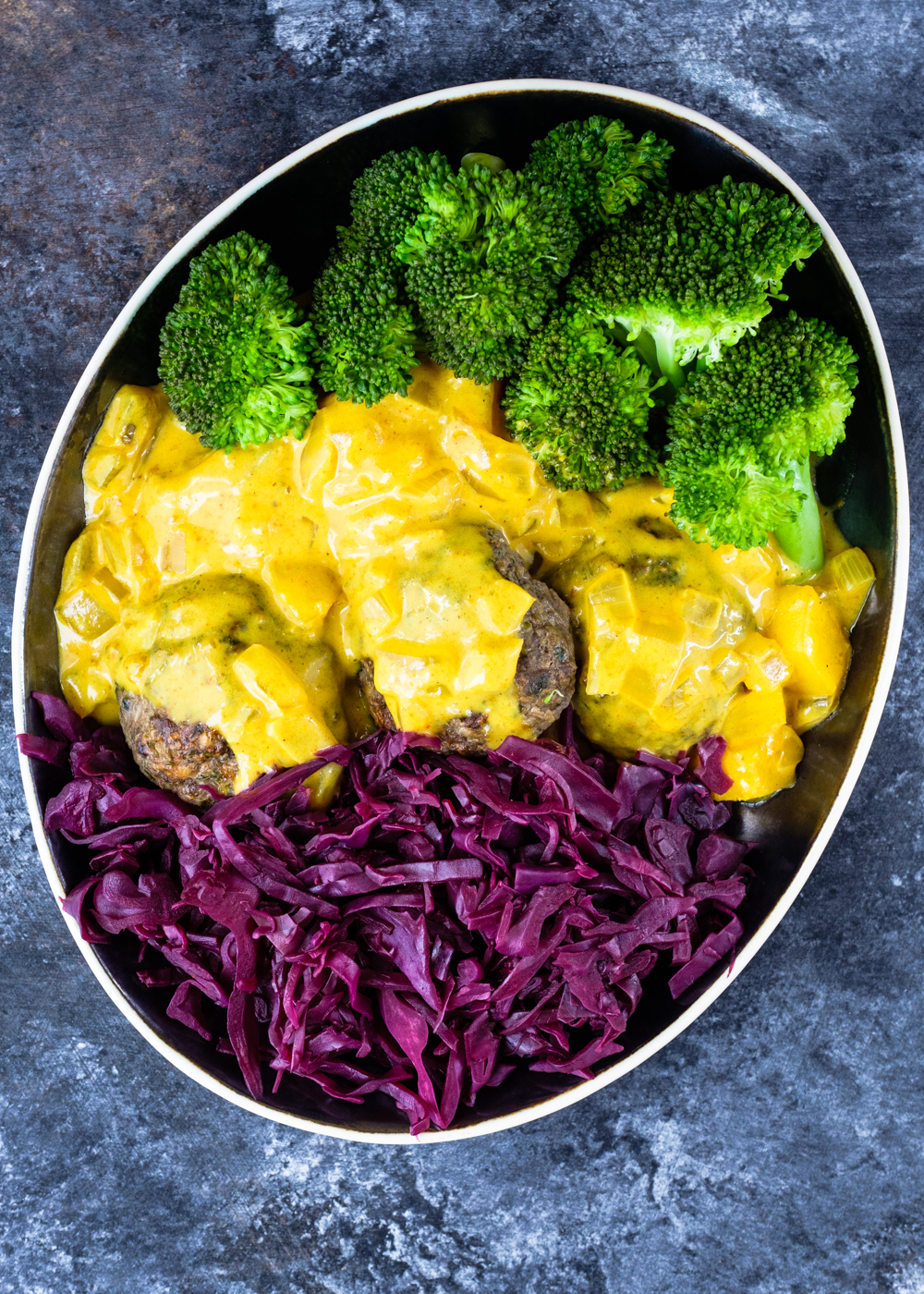 Print Recipe
Lectin-Free Scandinavian Meatballs
Easy to make, lectin-free meatballs inspired by Scandinavian cuisine, served with a Danish curry sauce.
Ingredients
FOR THE MEATBALLS

1 lbs 100% grass-fed ground beef

1 pastured egg

1/4 cup coconut milk (full fat)

1 cup grated Japanese sweet potato

1 yellow onion

1 big bunch of parsley, washed and dry

8 tbsp almond flour (blanched)

2 tsp allspice (powder)

1 1/2 tsp fine iodized sea salt

fresh ground pepper

avocado oil

FOR THE CURRY

1 big yellow onion, chopped

1 cup chopped green mango

2 tbsp curry powder

1 can full-fat coconut milk (400ml)

1 tbsp arrowroot powder

avocado oil (+ghee, optional)

salt and pepper to taste
Instructions
2
Heat oven to 375F and prepare a large oven sheet pan with parchment paper.
3
In a food processor add the parsley and chunks of onion and process until minced. Add to the food processor the coconut milk, the egg, the potato, the allspice and process again until well mixed. Add the almond flour and pulse a couple of times until all mixed.
4
Add the meat and the food processor mixture to a mixing bowl, add salt and pepper and mix everything with your hands until all comes together.
5
Scoop one heaping spoon at a time and loosely shape them in your hands and add them to the sheet pan. When all done sprinkle with avocado oil.
6
Bake for 25 minutes at 375F and then broil for about 5 minutes at 425F for a little bit of color on top (not necessary, you can totally just do 30 minutes at 375F). You can also fry them in a pan if that comes easier to you.
8
Heat avocado oil in a pan, on medium heat and add chopped onions and curry powder. Sauté for about 10 -15 minutes until the onion is translucent. Don't let the spices stick to the pan, add a little water regularly to make sure the curry powder doesn't burn. Add the chopped green mango and sauté for 5 more minutes. Add the arrowroot powder and mix well. Add the coconut milk, bring to a boil, reduce heat to low and simmer for about 5-10 minutes.
Notes
You can have the meatballs and the curry sauce separately. Also, since the curry sauce is plant-based, but the meatballs obviously are not, you can use the curry sauce for a vegetarian dish (for example steamed cauliflower and steamed broccoli). I love my curry sauce chunky, but if you want it all smooth you can blend it.