Millet porridge is a great alternative to oats porridge, and this plant-based option will make life easier for those looking for alternatives to egg breakfasts. Also, a gluten-free and lectin-free meal with infinite possibilities to personalize to your taste. Millet porridge can easily be a great breakfast or snack for children.
An ancient grain making a comeback
Even though not as known in Western cuisine, millet has been around for a long time. Millet is an ancient grain used in cuisines worldwide, especially in Africa and Asia, tracing back thousands of years. It was the primary grain in China before rice became popular, and it is still the primary grain in many countries in Africa.
As a personal note, I found out it was the primary grain in Romania too, and polenta, a traditional Romanian dish, was made with millet before the agricultural revolution widely introduced corn.
Millet health benefits?
Millet is a gluten-free and lectin-free grain, and it is high in protein, iron, magnesium, manganese, phosphorus, and lots of fiber that our gut bugs love. And birds love millet too.
How to cook millet
I've been making millet porridge for quite some time now but never got to share a recipe here. Yesterday I bought an InstantPot, and the first thing I tried to make in it was millet.
Pressure cooking millet
I used the instruction from the manual and pressure-cooked it for 11 minutes, using a 1:1.75 millet to water ratio. It was great warm. We had it for dinner with mushrooms and grass-fed sausages, but I had a lot left, so I decided to make porridge this morning. Millet leftovers get pretty dry after they cool down, but that's why it is so perfect for rehydrating with non-dairy milk and making porridge.
Using pressure cooked millet to make millet porridge
So I used Pacific Hemp Milk, Unsweetened, Original to reheat and rehydrate the millet, in a thick stainless steel saucepan, on low to medium heat, on the stove.
I added vanilla, some nut butter I had in the fridge, toasted blanched, sliced almonds, some coconut oil, lots of cinnamon, and to give it a little boost, Lion's Mane mushroom powder (great for mental focus and energy). And a pinch of salt (I didn't use any salt when I cooked my millet, but if you do, then maybe that's enough).
I finished it with one organic strawberry, a few frozen wild blueberries, more almonds and cinnamon, and a drizzle of Yacon Syrup. I'm not too fond of sweet food, but you can taste it as you make it, and you can add some more of your favorite sweetener to it: monk fruit (granulated or syrup), swerve, or stevia drops. This is an open canvas. Add chocolate, cacao nibs, other seasonal fruits, nuts or nut butter, coconut flakes, etc. Add the cacao and make it a chocolate porridge if that's what you feel like. You can also use any non-dairy milk you want, and I happen to love hemp milk.
Cook millet on the stove
You can use millet that is already cooked and on the dry side or make it from scratch on the stove. You will need one part millet to two parts water for usual stove cooking, but if you only make porridge, I would use half water, half hemp milk (or other milk). This gives it a creamier consistency and a better taste for porridge.
You will also need extra milk that you start adding once your millet has absorbed all the other liquid to bring it to a creamy consistency. You add milk, stir, and cook on low heat until you like the consistency. Add the vanilla, cinnamon, coconut oil, and the nut butter if using, mix well and add to a serving bowl. Top with your favorite ingredients. The whole process will take about 20-25 minutes. That's why it's easier if you have the millet already cooked and you rehydrate it with milk.
The below recipe instructions will have cooked millet as an ingredient. To cook the millet, check the options above.
More breakfast ideas
This recipe is part of The Ultimate Lectin-Free Breakfast Guide, Recipe Round-Up, check it out for more tasty and satisfying lectin-free breakfast ideas.
*This post contains affiliated links, which means I get a small commission if you choose to purchase something via one of my links, at no extra cost to you.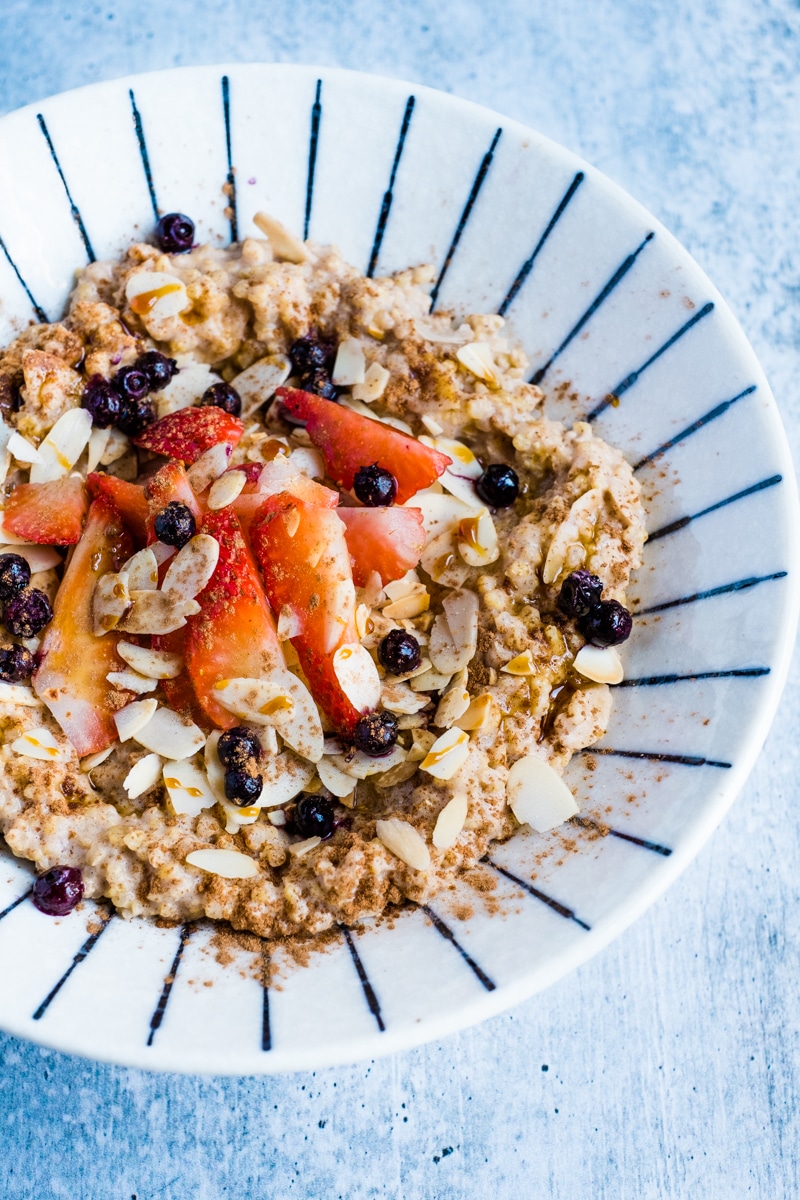 Print Recipe
How to Make Millet Porridge
A lectin-free alternative to oats porridge and a great plant-based breakfast option.
Ingredients
1 heaping cup dry, cooked millet (check post above for instructions and options)

about 2/3 cup unsweetened hemp milk / or other non-dairy milk

1 tsp or more cinnamon powder

about 1/4 cup sliced, blanched, toasted almonds

pinch of salt

2 tsps nut butter

1 tsp vanilla extract

a small handful of berries / seasonal fruits

1/2 tsp Yacon Syrup or another approved sweetener you have

Optional: Lion's Mane (or any mushroom powder you like), cacao nibs, grated chocolate, coconut flakes
Instructions
1
In a saucepan, mix the millet with 1/2 cup milk and reheat on the stove, on low to medium heat. Once hot start adding the rest of the milk. You can add as much as you want to reach your favorite consistency.
2
Turn heat to the lowest, add the vanilla, half of the almonds, the coconut oil, the nut butter and cinnamon, salt if using.
3
Mix it all, add more milk if you feel is too thick. Add the mushroom powder if using and mix well (if you make it for an adult). Once done add the porridge to serving bowls, sprinkle with more cinnamon, the rest of the almonds, a few berries, and a drizzle of Yacon Syrup. Alternatively, you can add a sweetener while the porridge is on the stove. Taste and decide, I like mine without any other added sweetness. You can personalize your toppings as much as you want.
Notes
This quantity makes two servings.