It has been a tradition in our household to create a new birthday cake on our birthdays. Since my husband loves chocolate and it was his birthday in April, I decided on a chocolate strawberry birthday cake this time. And oh my, it didn't disappoint. Although the looks might suggest something different, it's actually a pretty basic and simple recipe to put together, so that's another plus. And it's a grain-free, sugar-free and lectin-free dessert cake.
A chocolate strawberry birthday cake for your celebrations
The cake
The inspiration for the base of the cake came when I made the Simple Chocolate Snack Cake from The Plant Paradox Quick and Easy by Dr. Steven Gundry. I knew that would make a great base for a layer cake, with just a few small modifications.
Size-wise, I always make small cakes (about 5in), because we don't eat that much cake. So for baking, I usually go with a 5 inch Le Creuset stoneware tapas dish. I know, it sounds super weird, but it works perfectly. I have two so I baked both layers at the same time. After the two layers have completely cooled, I sliced each of them in half, so my cake ended with four layers. I also shaved the top of each cake so I get an even surface. You can also make it with just two layers.
And if you want to make a normal size cake, you have to double the recipe and bake two in full-size round cake pans (8in).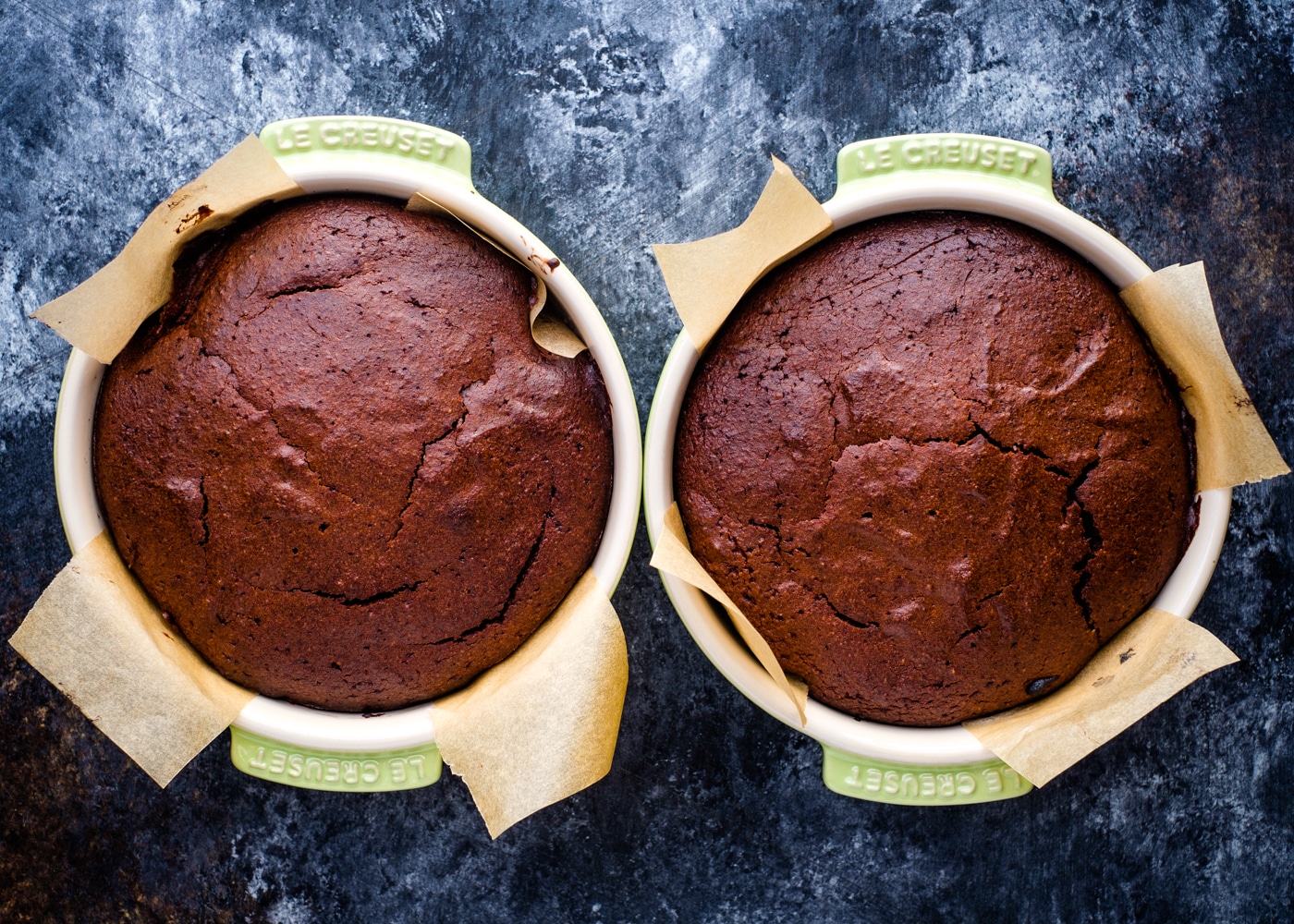 The cream
For the cream, I went with a basic heavy whipping cream, an organic one I bought from Whole Foods. I just added one teaspoon of confectioners Swerve to it and whipped it on high with a hand mixer until I got the solid peaks.
I spread it between the layers with a few thin slices of strawberries and added the rest on top. Alternatively, you can opt for using whipped coconut cream. You make it the same way, you just want everything to be super cold: the cream, the mixer, the bowl you are mixing it in (you can put them in the freezer for 10 minutes before starting).
The chocolate glaze
I also made a chocolate glaze, so it fully deserves the name 'chocolate cake'. This was also super simple, you can make it in five minutes on the stove. Just melt chocolate chips, cacao butter, vanilla and yacon syrup in a small saucepan, on top of a pot with hot water (not boiling). Because cacao butter gets solid at room temperature, the glaze will be solid, like a chocolate bar. We loved the process of breaking it. Alternatively, you can use normal, French butter.
Add as many strawberries as you like, just make sure you buy organic ones, as the conventional ones are laden with pesticides and other toxic chemical residues.
The chocolate strawberry birthday cake can be made with a dairy-free cream
This is not a difficult recipe at all, although it might seem like, but please read everything before you start so you know the order of steps. Also, in the recipe notes there is an option for dairy-free cream, you can use that instead. And one last disclosure, this chocolate strawberry birthday cake tastes like 90% dark chocolate, so feel free to adjust sweeteners quantities to your taste.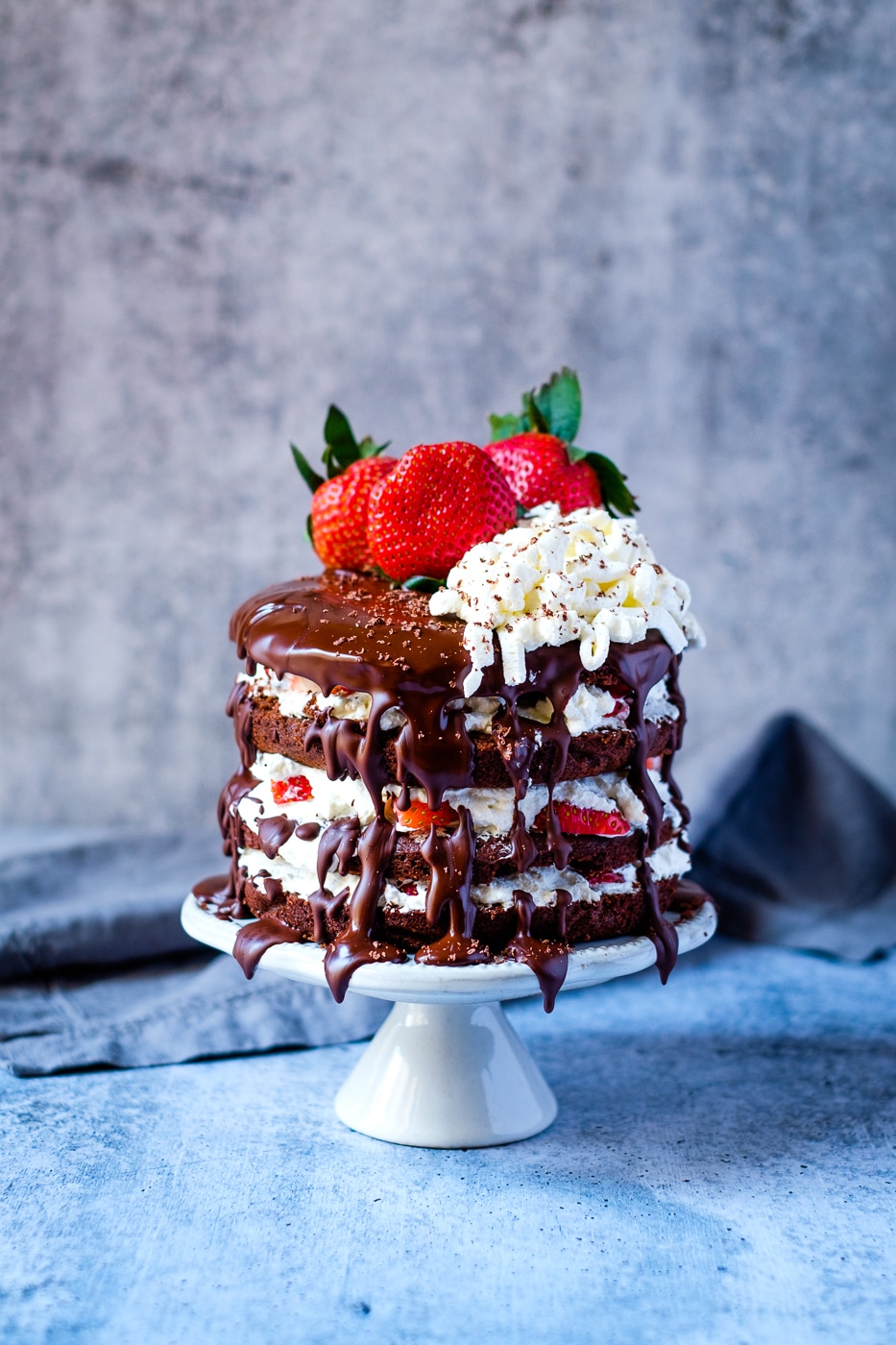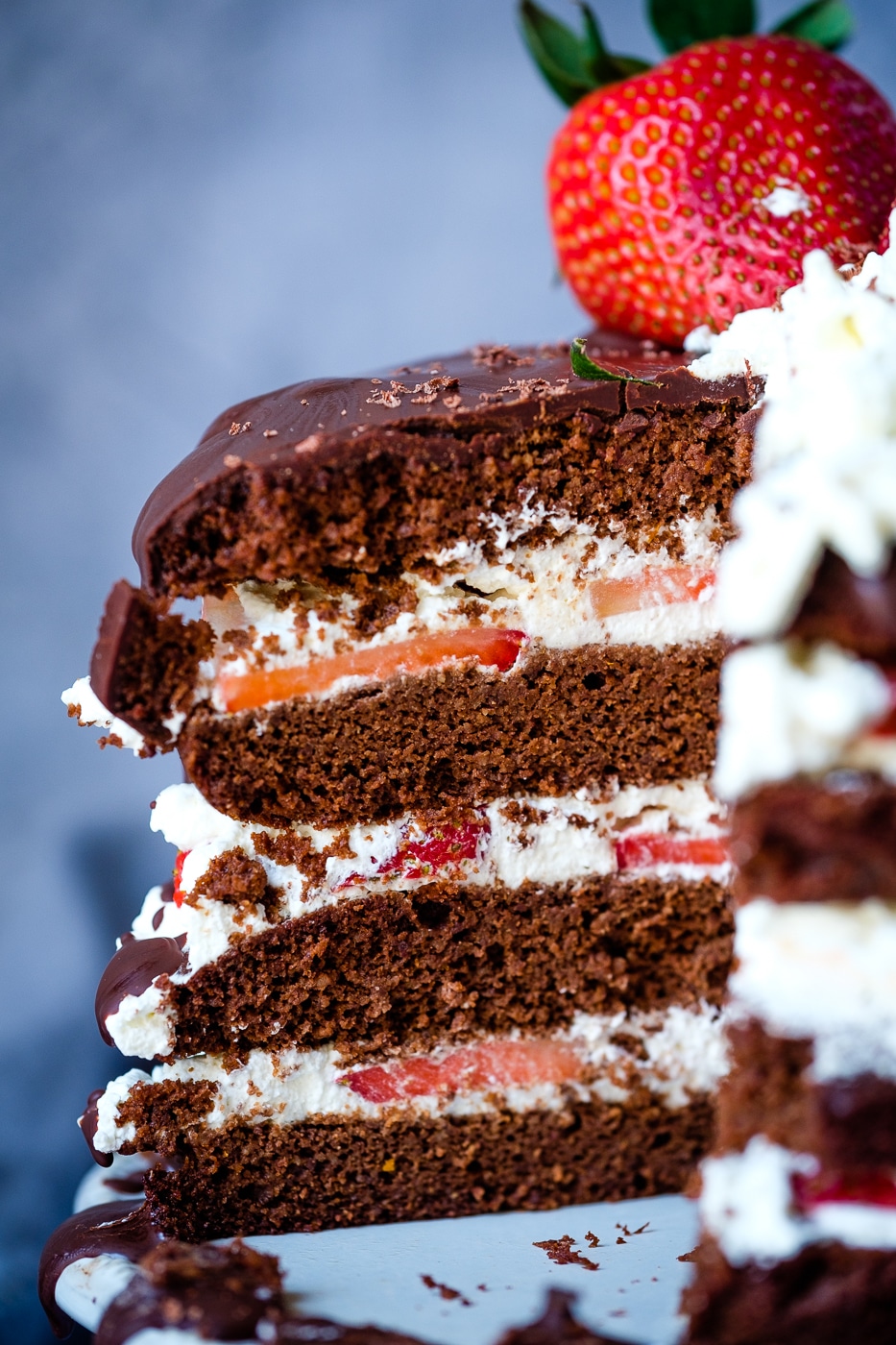 Most of the products I used I linked below:
(if you don't find coconut cream, simply put a can of coconut milk in the fridge overnight, the cream will separate from the water, it's usually half/half); in the winter, due to being colder in our houses, the cream is separated anyway)
More lectin-free desserts and birthday cake recipes
Just in case chocolate is not your thing or you just want to explore more options, I have more birthday cakes on this website:
*This post contains affiliated links, which means I get a small commission if you choose to purchase something via one of my links, at no extra cost to you.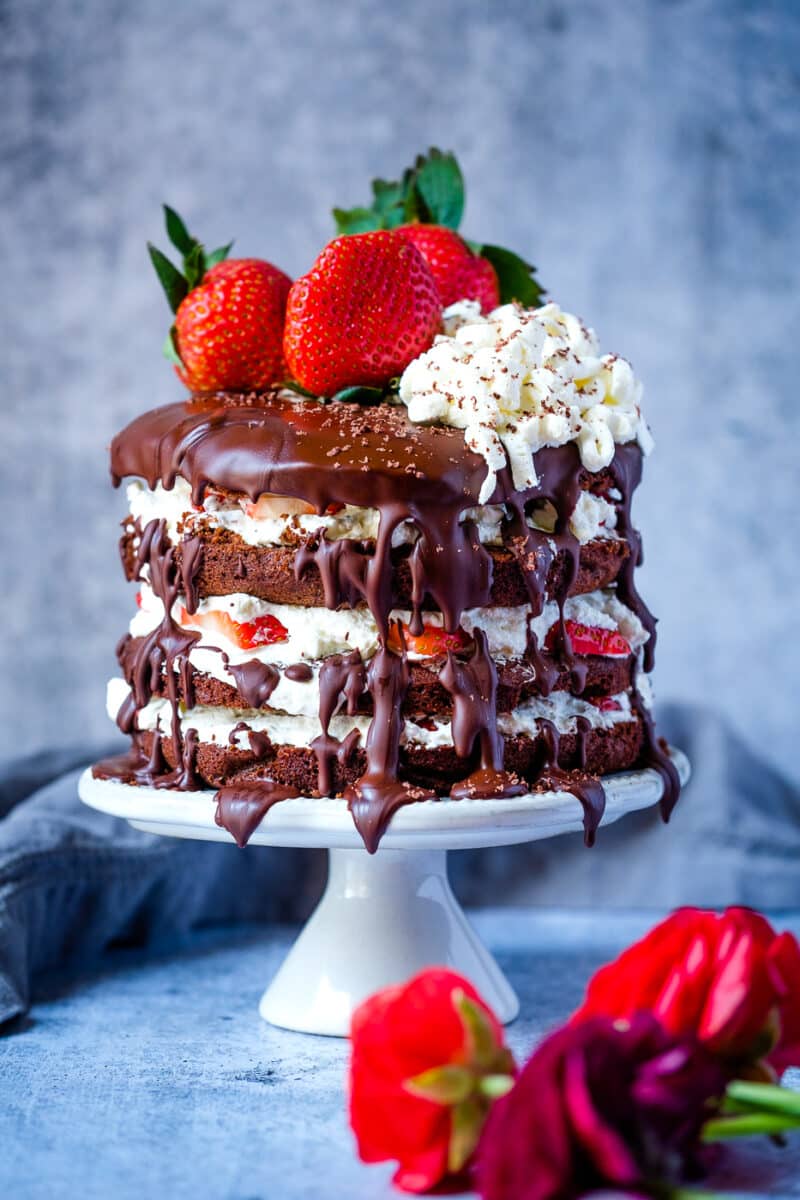 Print Recipe
Chocolate Strawberry Birthday Cake (Lectin-Free)
A chocolate heaven, a lectin-free cake for your celebrations
Ingredients
FOR THE CAKE:

1 cup blanched almond flour, slightly packed

1 tsp baking powder OR 1/4 tsp baking soda + 1/2 tsp cream of tartar

1/4 cup cacao powder (you can also use cocoa powder)

1/4 cup extra virgin olive oil or avocado oil

3 tbsp Swerve or Monk Fruit (or more if you have a sweet tooth), this tastes like 90% chocolate

1/2 tsp sea salt

3 pasture-raised eggs

1/3 cup full fat, unsweetened coconut cream

3 tbsp chocolate bar, chopped (I use Taza chocolate, 95% dark)

1 tsp vanilla extract

zest of two organic oranges

FOR THE FILLING:

8oz Organic Heavy Whipping Cream (I used Organic Valley)

1-2 tsp Swerve or monk fruit (I used 1 tsp but I don't have a sweet tooth)

1/2 tsp vanilla

FOR THE CHOCOLATE GLAZE:

25g solid cacao butter (about 1oz)

1/2 cup chocolate chips (I used 100% dark Pascha chocolate chips)

1/2 tsp vanilla

1, 2 tsp Yacon Syrup (you can taste and add as much as you would like)

FOR DECORATION:

a handful of organic strawberries
Instructions
1
Preheat oven to 350F. Grease the baking dishes with olive or avocado oil and line with two strips of parchment paper, for easy release.
2
To make the cakes: Mix the flour, cacao, baking powder, sweetener and salt in one bowl. Mix the eggs and coconut cream in a smaller bowl. Mix the chocolate, orange zest, vanilla and oil and gently heat and stir in a thick saucepan to melt the chocolate. Let it cool for few minutes, then add to the egg mixture while whisking. Add the wet mixture to the dry and whisk vigorously for few minutes. Pour in the two pans and bake for 25 minutes, checking at 20 minutes to make sure it doesn't burn - and do the toothpick test to see if they are ready. Let cool completely, level the top of each cake by slicing with a good knife; then carefully slice each cake in two layers, right in the middle.
3
Make sure your strawberries are dry and slice a few of them for filling.
4
The filling and glaze should be made when you are ready to decorate (your cake is layered). Make the glaze first by melting the ingredients in a thick saucepan, on top of another pan with hot water, but not boiling. Gently heat and stir and put aside to cool down when ready (this glaze gets completely solid when cold, so you want it still liquid to pour it on the cake, but not too hot so it doesn't affect the whipping cream.
5
Make the whipping cream the traditional way, by whipping the heavy cream, sweetener and vanilla on high with an electric mixer until solid peaks form.
6
Start assembling by layering this way: cake - cream - strawberry slices - cream and repeat. For the top, pour the glaze, let is cool a little, then decorate with the rest of the cream and strawberries. You can grate some chocolate on top.
Notes
The cakes should be made in advance so they have time to cool completely. The best is to make the filling and the glaze when you are ready to decorate. The cream can be made from coconut cream - the same process, just make sure the coconut cream, mixing bowl and beaters are super cold (put them in the freezer 15 minutes before your start). To make a full-size cake (8in), double the quantity. If you make the full cake, baking time will change, leave for about extra 10 minutes, use the toothpick test.