This brussels sprouts and millet salad may not look like much, but it's a super easy and nutritious fix for when you don't have much time, plus it's good warm and cold, can make a main dish or a side to your protein of choice. And you just need a few ingredients. Can I add is also quite a cheap meal? And vegan?
Warm brussels sprouts and millet salad – It tastes better than it looks
Today I wanted to have Brussels sprouts – I had a bag of shaved ones in the fridge, but nothing I made previously was appealing to me. And I didn't feel like having them raw. So I decided to make a warm salad with the few ingredients I had available.
If you never had millet before, it's an excellent lectin-free replacement for quinoa or rice, even for bulgur or couscous. You only need 1/4 cup (uncooked) millet for the salad, but you can make more and use the leftovers for the next day's breakfast, as a porridge (see notes below or follow my guide How to Make Millet Porridge).
You can also add all kinds of things to this salad, such as goat cheese and chicken. Or mushrooms and almond ricotta if you want to keep it vegan.
More millet recipes
For more delicious ways to use millet, check out these recipes: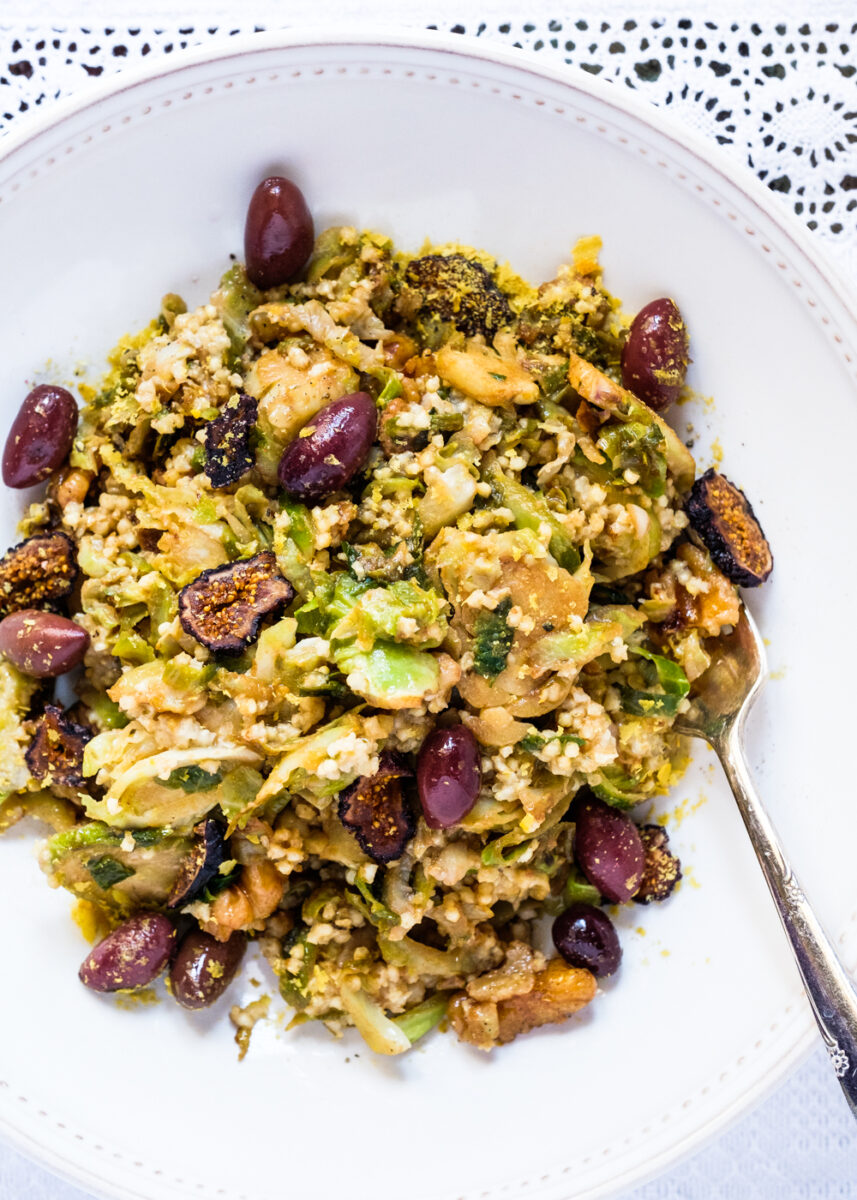 Print Recipe
Warm Brussels Sprouts and Millet Salad
A super easy, but tasty weeknight dinner. Vegan.
Ingredients
TO MAKE THE MILLET:

1/4 cup millet

1 cup water with salt

TO MAKE THE SALAD:

12 oz shaved Brussel Sprouts

handful of raw walnuts

avocado oil (a generous amount)

Modena balsamic vinegar

salt and pepper

1/2 cup kalamata olives

nutritional yeast

a couple of black mission figs (optional)

extra virgin olive oil

balsamic vinegar
Instructions
1
First start by cooking the millet. Add 1/4 cup millet to an empty pan and toast for few minutes, just to get it fragrant. Add 1 cup of salted water to the pan, being careful so the steam doesn't burn you. Bring to a boil, turn heat to low and let simmer for about 15 minutes or until all the water is absorbed. Mix occasionally.
2
Meanwhile add avocado or olive oil to a sautéing pan, and add the shaved Brussels sprouts. Stir and saute for about 5 minutes, add walnuts and continue to cook and stir for about 5, 10 minutes. No need to overcook.
3
Once both Brussels sprouts and millet are cooked, add to a mixing bowl, and add the spices to your taste: nutritional yeast, salt, pepper, extra virgin olive oil (be generous), Modena balsamic vinegar.
4
Add kalamata olives and sliced figs.
5
Serve warm or store in the fridge and serve later.
Notes
When I made the millet, I cooked 1/2 cup (with 2 cups of water), but only used half of the cooked millet for the salad. I just wanted to have more for another dish, since I was cooking it anyway. If you choose to cook 1/2 cup of millet, or even one cup, you can use the remaining millet to make a porridge for the next day's breakfast (add some coconut milk, fruits, nuts, coconut flakes).