I've been talking about my love for pecans and pecan butter for quite some time. Assuming it was well known and easy to make, I never shared the pecan butter recipe in a dedicated post on this website.
But this weekend, I went to Dallas Farmers Market and bought fresh Texas pecans directly from a farmer. When I told him I love pecan butter, he was surprised and told me he had never tried that before and asked how I made it. This convinced me the internet maybe need one more pecan butter recipe.
Pecan butter: The best nut butter you'll ever make
So here I am sharing this super simple pecan butter recipe. I've tried all the nut butter kinds, starting with peanut butter. This happened when I was in college, as peanut butter is not really a thing in Romania and even most parts of Europe, or it wasn't at the time. I can't say I loved it, but it was something I learned to like.
However, peanuts are not really nuts, and they are legumes. And most peanut butter brands in stores are full of nasty ingredients.
When I started the plant paradox and the lectin-free lifestyle, I explored nuts and nut butter more. And since I lived in Texas at the time, pecans were the most famous and the freshest nuts we could get, sometimes directly from farmers.
Once I tried to order a pecan butter online – GEORGIA GRINDERS – and it took a few months to only get lost on the way. I'm not even sure I was reimbursed for that. Meanwhile, I see more brands online, and this one seems compliant: PURELY PECANS.
The food processor
Then I decided I had to try to make it at home, and I realized it is the easiest thing that anyone who has a good food processor at home can make. Cost-wise I think it is pretty much the same because pecans are expensive anyway, and a company that makes pecan butter can get them at a better price in large quantities.
The smoothness of your butter will depend on how powerful your food processor is. I have the 7 Cup Kitchen Aid, which is pretty good, but I can't reach a smooth nut butter. However, if you are lucky and have a Vitamix, you can make it completely smooth. I love the little crunch, though, and to be honest, I never tried to pass the 5-minute mark to see if I could get it smoother than that.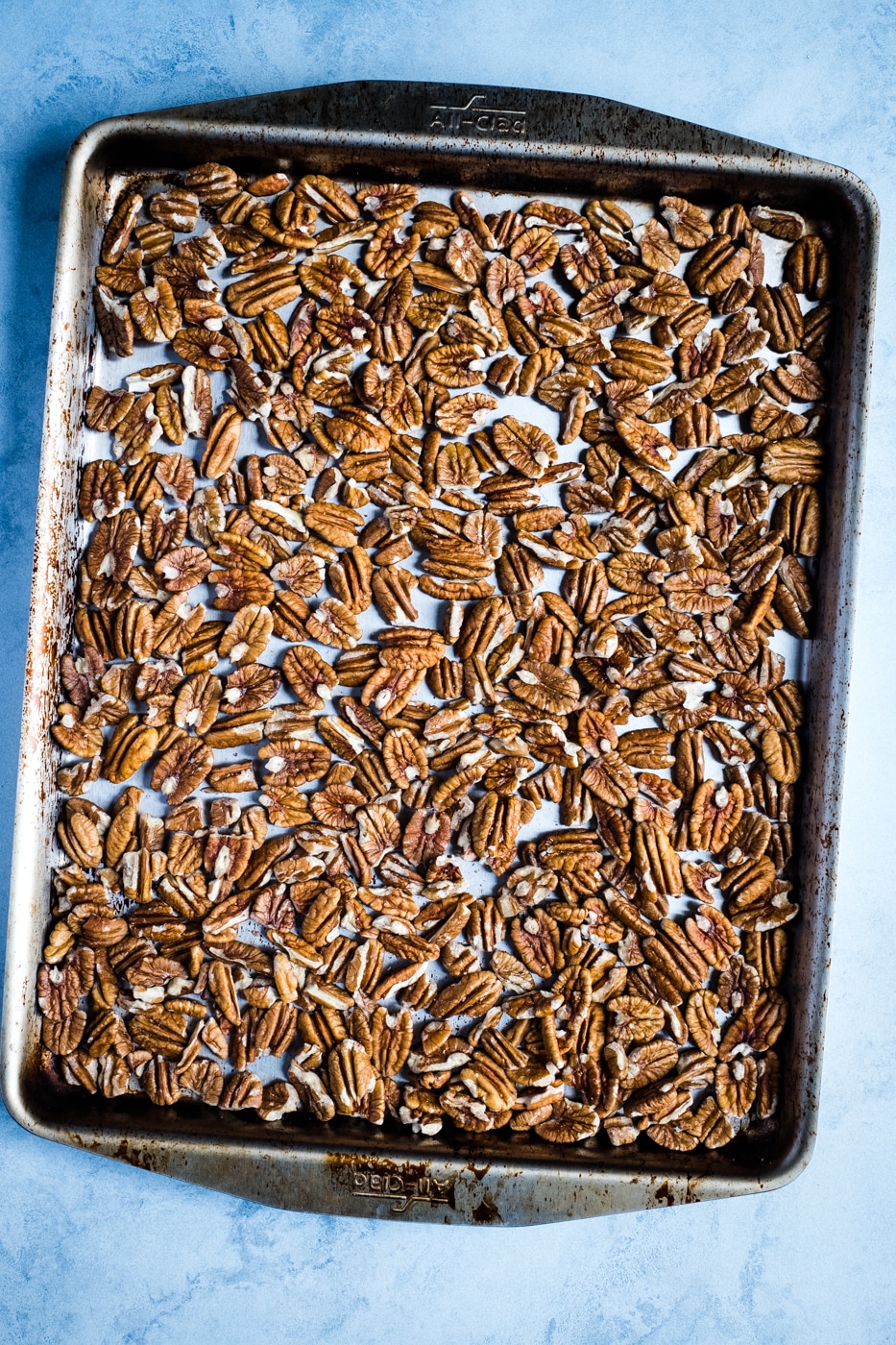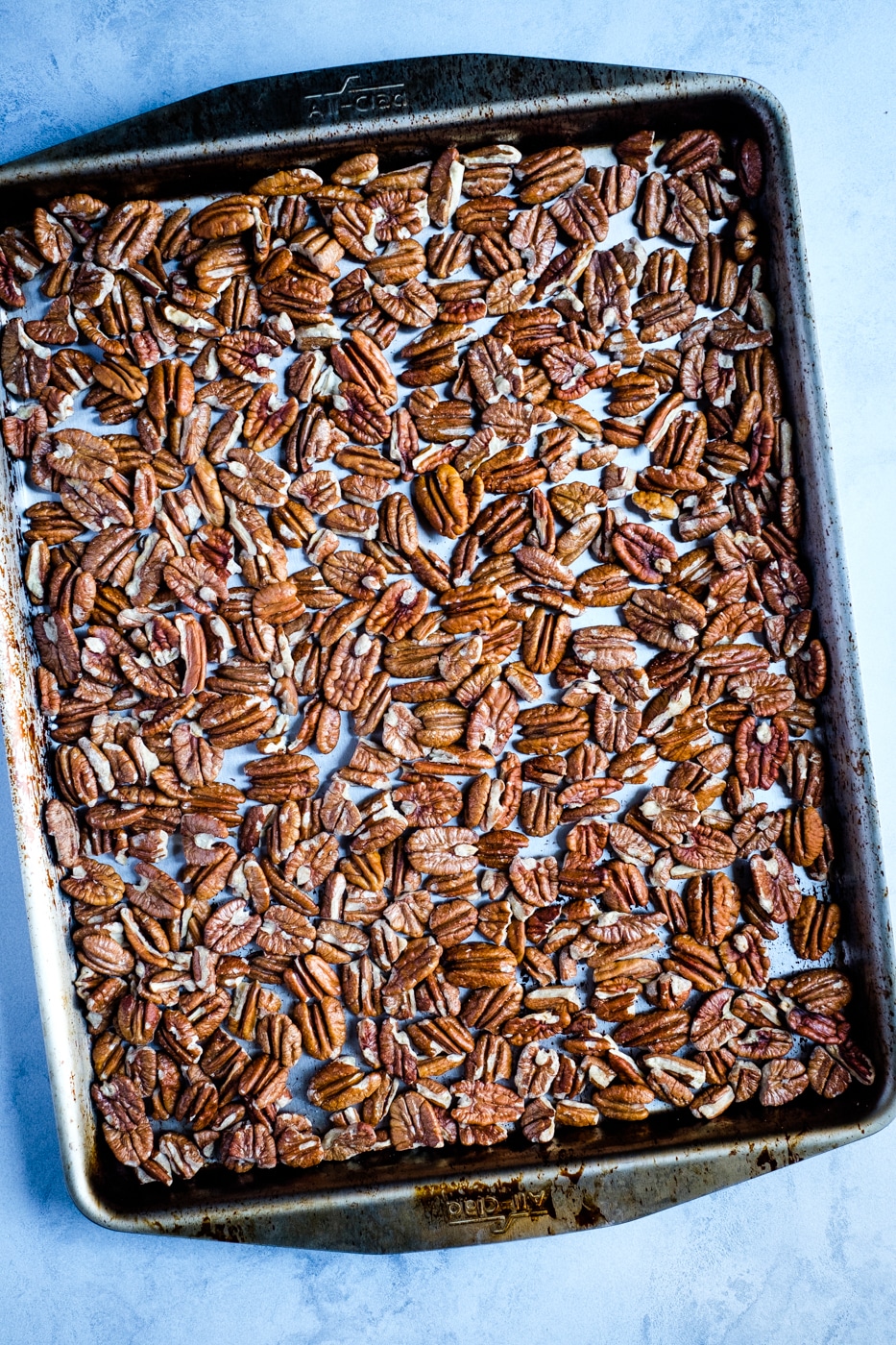 Roasting the pecans and the add-ons
You don't need to add any extra oils, but you need to roast the pecans first. Roasting them slightly will bring the oils out and enhance the flavors, and I only add cinnamon and a pinch of salt for taste. They only need 7 to 10 minutes in the oven at 300F, but you have to watch them closely and stir them a few times because they burn fast. I can't tell you how many times I burnt pecans…
I don't use parchment paper when I roast them, but I have this stainless steel sheet pan (in the picture above); if you have a non-stick or aluminum one, I recommend adding parchment paper, as you don't want the chemicals in your baking sheet to leak into your food.
I store the pecan butter in a glass jar in the fridge for a few weeks, but it never lasts that long because it is crazy delicious.
Alternatively, adding pecans to any other – more bland – nut mix will make the nut butter much tastier. Try mixing it with blanched almond butter or macadamia butter.
Homemade pecan butter recipe
INGREDIENTS: 1 lb pecans, a pinch of quality salt; cinnamon to taste.
METHOD: Roast the pecans at 300F for 7-8 minutes until they smell nice. Keep an eye on them, so they don't burn. Take them out, let them cool and process them in a high-power food processor for about 5 minutes. You might need to let the food processor cool in between and scrape the walls. Process until your desired smoothness. Add a pinch of salt and a little bit of cinnamon. Pulse once and taste. Add more cinnamon and/or salt if you feel like it.
How to store and use homemade pecan butter
Store in the refrigerator, in a glass jar, and cover with a lid.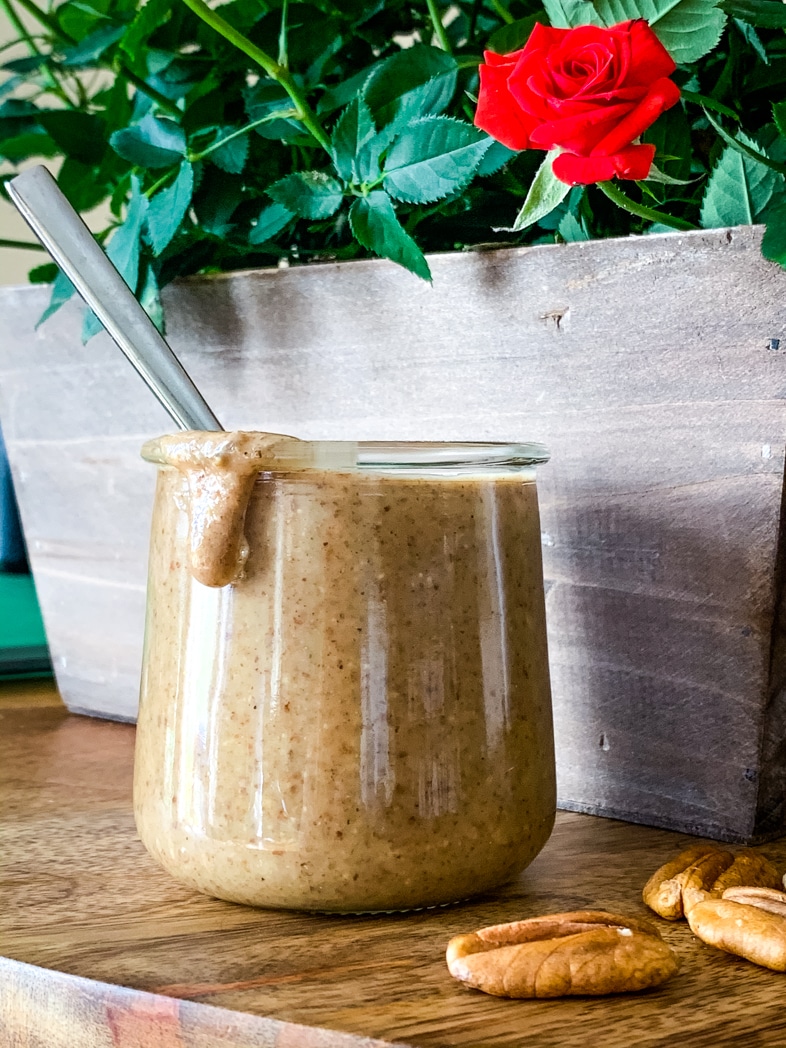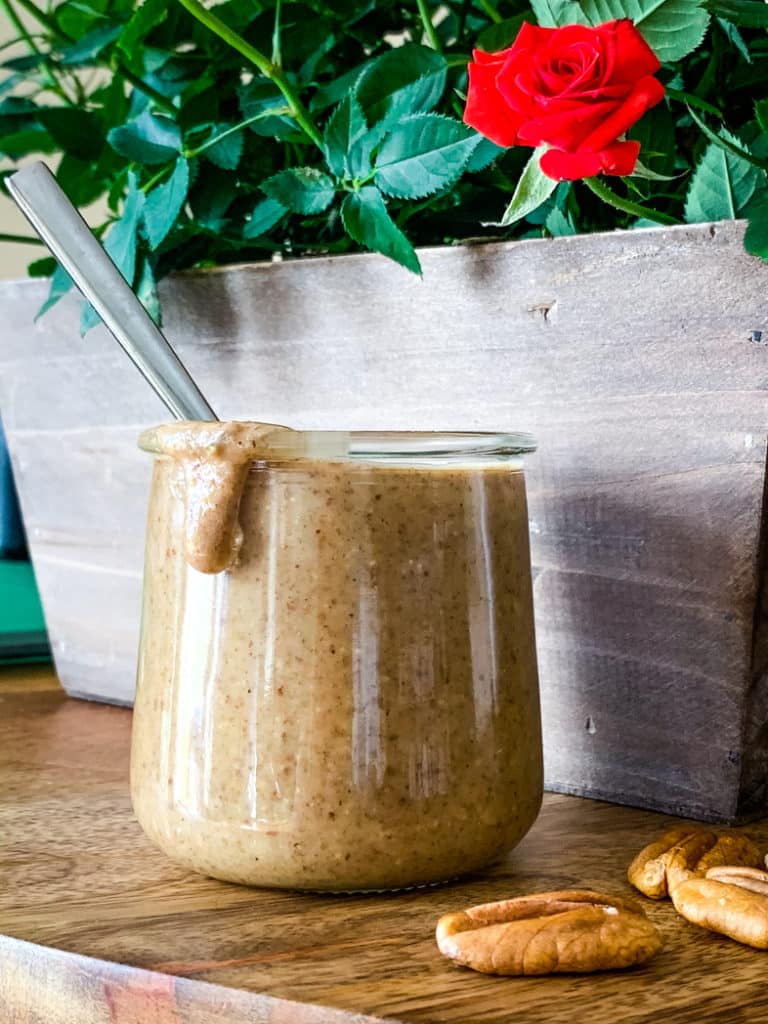 You can use pecan butter as you would use any other nut butter: to make cakes, spread on compliant toast, have it as a snack with veggie sticks or small amounts of seasonal fruits (it's great with apples and crispy pears).
For another recipe with pecans, you may also like my:
*This post contains affiliated links, which means I get a small commission if you choose to purchase something via one of my links at no extra cost to you.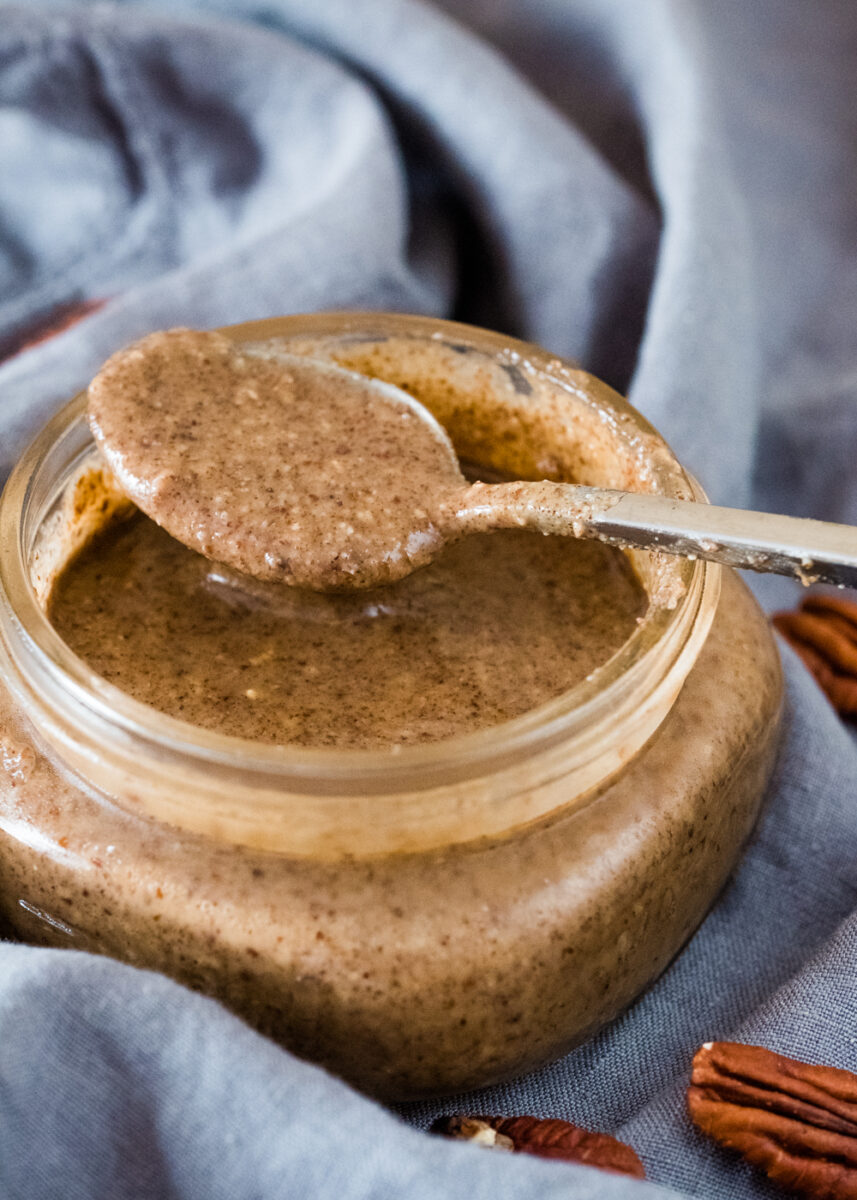 Print Recipe
How to Make my Favorite Nut Butter, Pecan Butter
The best nut butter you'll ever make.
Ingredients
1 lbs raw pecans

2 tsp cinnamon (or more to taste)

1 pinch Himalayan pink salt (or a good quality sea salt)
Instructions
1
Roast the pecans at 350F for 7 to 10 minutes, watching carefully so they don't burn. You want a slight toast, if they burn they'll get bitter. Once done let them cool.
2
Add them to a food processor and start mixing them on high power. Depending on your food processor, you may have to stop several times and scrap the walls. After about two minutes on high power they start releasing the oils. Continue until you get the desired consistency (mine takes about 5 minutes). If your food processor gets too hot, you can stop for a minute or so.
3
Add the cinnamon and the pinch of salt making sure you don't add too much salt. Add just a little, mix again and taste, and if you feel it needs more you can add after, but you can't take it back if you add too much. This really depends on your taste. You can add more cinnamon if you'd like. Once done, pour in a glass jar, let cool, cover and store in the fridge for few weeks.