Hemp milk has always been my favorite non-dairy, plant-based milk. But, since we moved from the US to Europe, it has been impossible to find hemp milk in stores. Luckily, we are in Romania now, and hemp seeds are popular here. So there are plenty of hemp seeds to make hemp milk at home.
This milk alternative is a staple now in our house. It is a straightforward recipe. I make it every other day and add it to my lectin-free granola, use it to make golden milk, in my baking, in smoothies, in porridge, and even in dairy-free savory dressings and sauces.
What are hemp seeds?
Hemp is a variety of cannabis plants with a long history of culinary use in many parts of the world. Now that I am in Romania, when I write this (my home country), I discovered Romanians were even making hemp milk and using it to make traditional desserts.
If you are wondering, cannabinoids are not present in hemp seeds, and they can only be found in the leaves and flowers of the plant. Hulled hemp seeds, also called hemp hearts, are technically nuts and a superfood with an excellent omega-3 to omega-6 ratio.
Hemp milk health benefits
Hemp seeds contain all of the 20 amino acids, including the nine essential amino acids that our body can't produce. They are a rich source of plant-based protein and other vital micronutrients such as manganese, magnesium, zinc, copper, iron, vitamin E, phosphorus, and iron.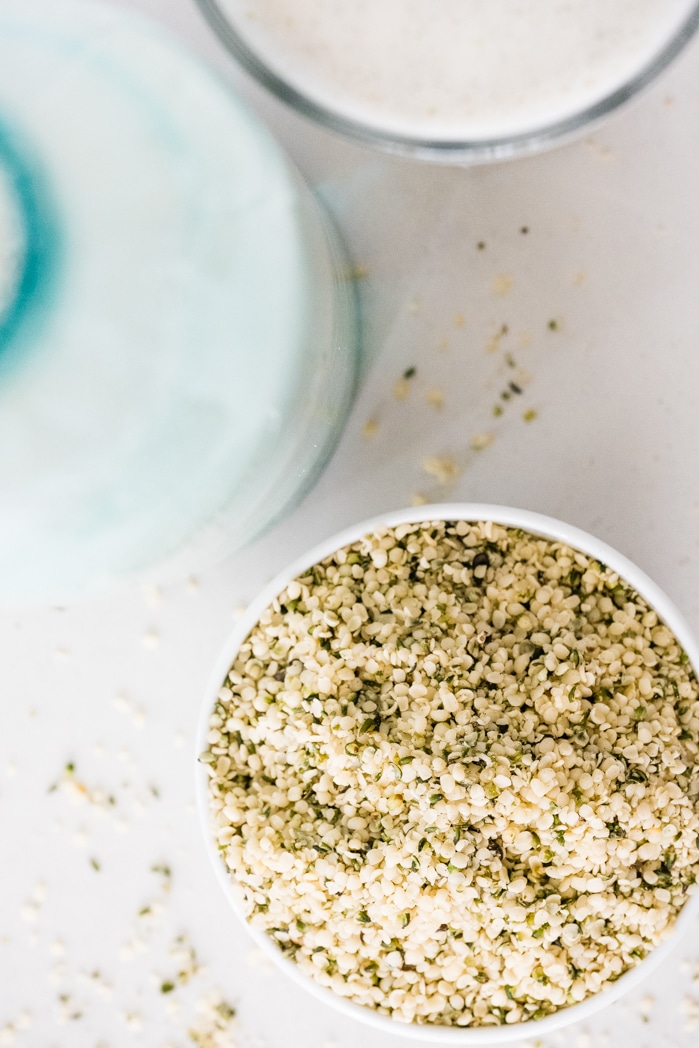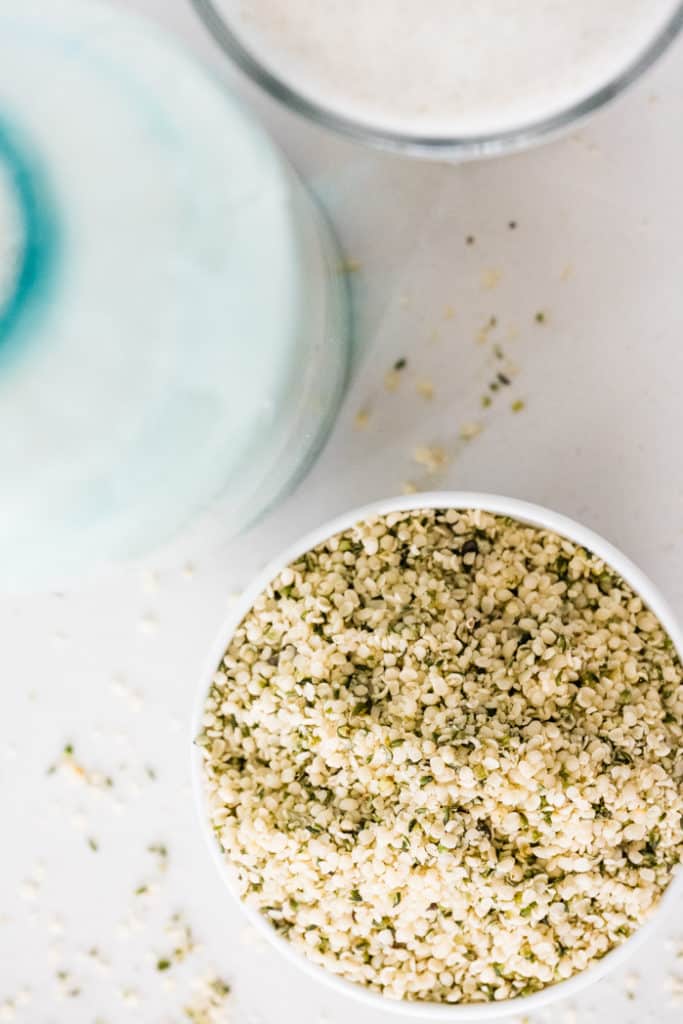 Why make hemp milk at home?
You may wonder why make hemp milk? Firstly, if you love it as I do and live in a place where it is impossible to find (most places), you have no choice.
Secondly, even if you find brands in stores, most store-bought have preservatives and additives necessary for shelf life, which is ruining it for me. And except for one brand in the US, Pacific, I haven't found an unsweetened version anywhere.
Thirdly, in my humble opinion, this is the best milk of all the non-dairy alternatives. I love full-fat coconut milk and cream, and I use it a lot in baking and some savory dishes, but I wouldn't say I like any other non-dairy milk.
It is also a great alternative to oat milk, soy milk, and almond milk. Oat milk is popular but full of lectins, and oats are known to be contaminated with glyphosate, even the organic ones.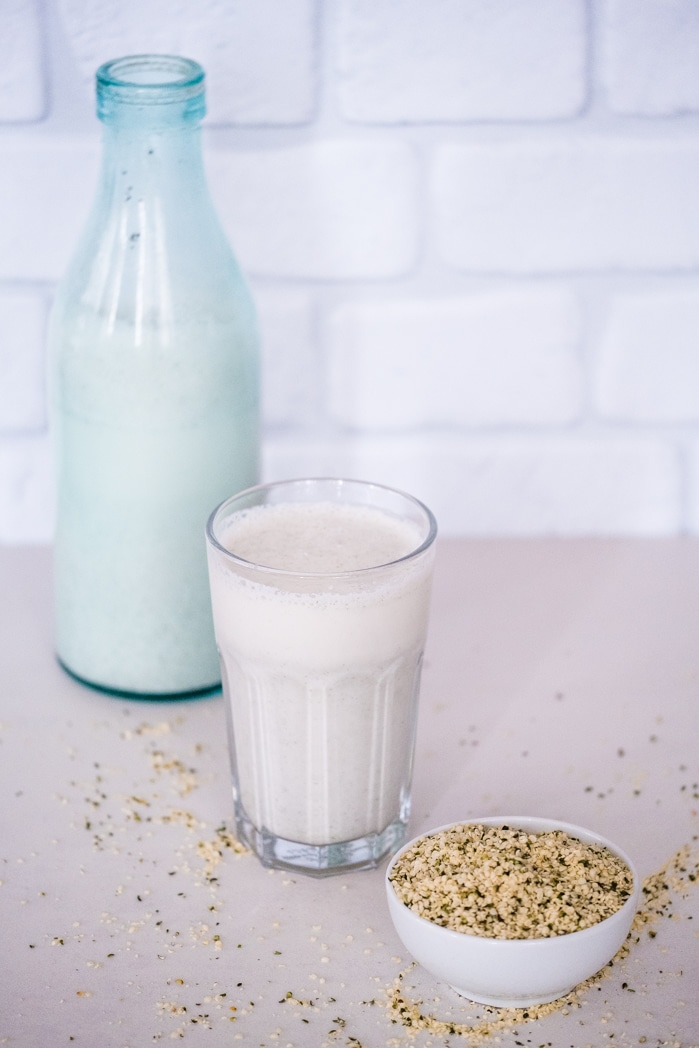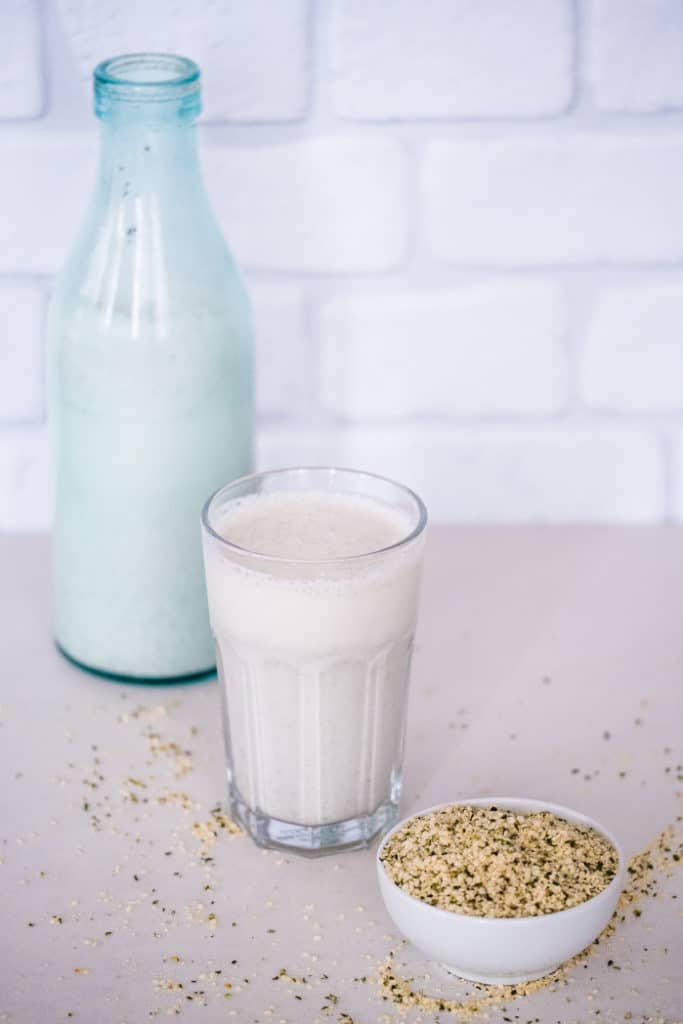 What you need to make hemp milk
The ingredients
My basic hemp milk recipe contains only two ingredients: hemp seeds and filtered water. Since I use it for both sweet and savory dishes, I don't add sweeteners or flavors to it when I make it.
Tools
The only thing you need is a high-power blender. I use a Nutribullet, but any powerful blender will work. You need to blend on high. The Nutribullet only yields 2 1/2 cups of milk. But if I need more, I can make it twice.
Quantities
For 2 1/2 cups of hemp milk, you need 1/4 cup of hemp seeds and 2 1/4 cups of filtered water.
Optional ingredients
You can add a pinch of salt to it, but I never felt it needed it. If you know you will only use it for sweet purposes, add vanilla extract to taste. Instead of adding maple syrup which is quite popular, add some inulin powder, yacon syrup, or another plant paradox compliant sweetener.
How to make hemp milk
Add the hemp seeds to a high-power blender. Top with filtered water and blend on high speed until smooth (for about 1 minute). Transfer to a glass bottle or jar, cover, and store in the fridge for a couple of days. If you decide to strain it (not necessary, in my opinion), use a nut milk bag. Shake well before using.
Alternatively, you can make hemp milk using hemp seed butter. This butter is becoming more popular, and there are already a few brands available on Amazon. Just blend about one tablespoon of butter with 1 1/2 cup of water, or experiment with quantities until you get the desired consistency.
What does hemp milk taste like
Hemp milk taste good. It is smooth and silky, but it needs to be well shaken before using, as there is a deposit of solids on the bottom, the milky part in the middle, and the foam on top. Just make sure you shake before using.
Straining is not necessarily. The solids are part of the milk, and the whole thing is very nutritious, so you don't want to discard any part of it. If you're going to do it for any reason, use a nut milk bag.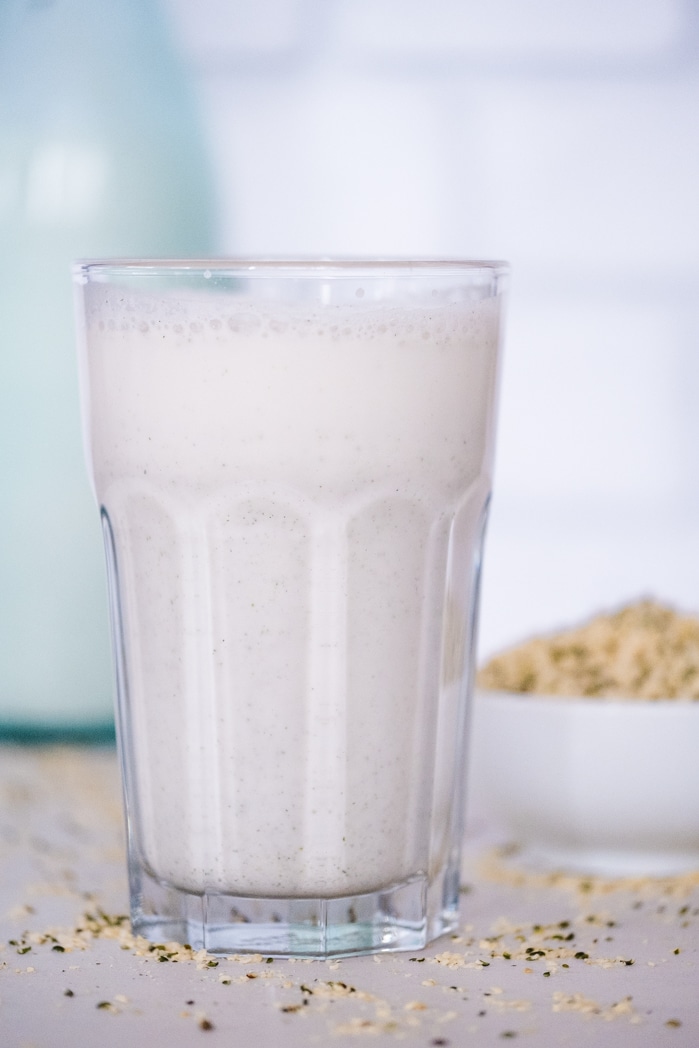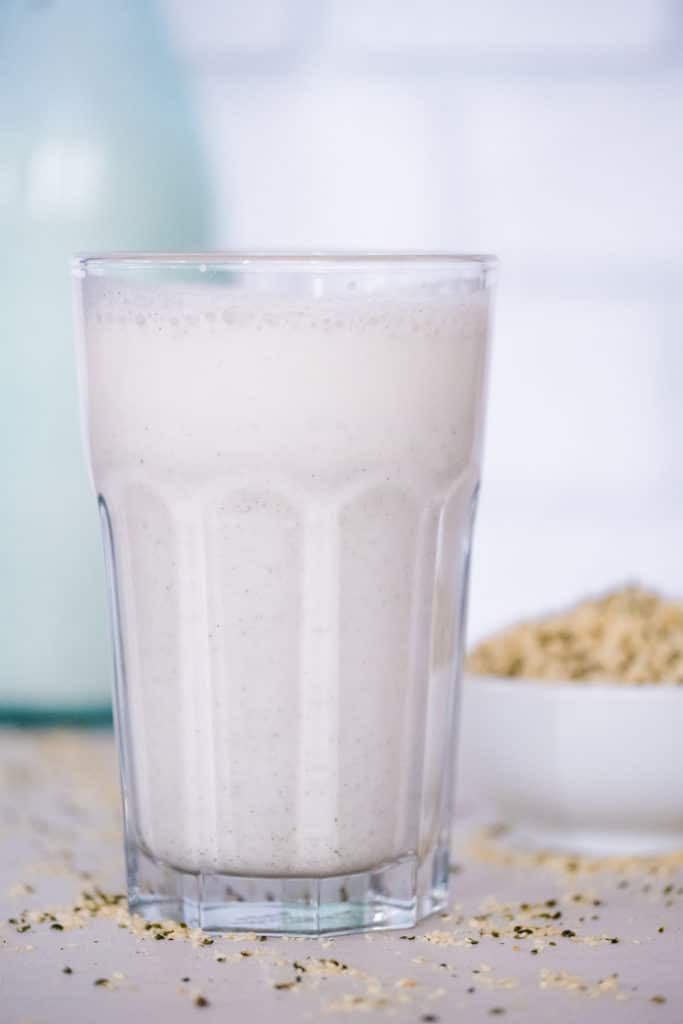 How to use hemp milk
I still remember the best non-dairy cappuccino I've ever had was in a charming coffee shop in Waco, Texas. It was made with unsweetened hemp milk (usually, all non-dairy milk used in coffee shops is sweetened). They used the same brand I used at home in Dallas: Pacific, Original and Unsweetened.
So, you can use it to add to your coffee or tea, make smoothies or hot drinks like golden milk, cocoa, or hot chocolate, replace milk or buttermilk in baking, make porridge, and make creamy sauces for pasta or dairy-free salad dressings.
The only thing I haven't personally made with homemade hemp milk so far is yogurt, but I plan to give that a try at one point. Below are some of my recipes with hemp milk.
Perfect for my Coco-Nuts Crunchy Granola with Green Plantain.
Use it to make Millet Porridge.
Make a smooth and creamy sauce for my Green Gnocchi with Sausage and Arugula.
Use hemp milk to make a delicious and creamy garlic dressing or dip for my Lectin-Free Zucchini Baked Fries.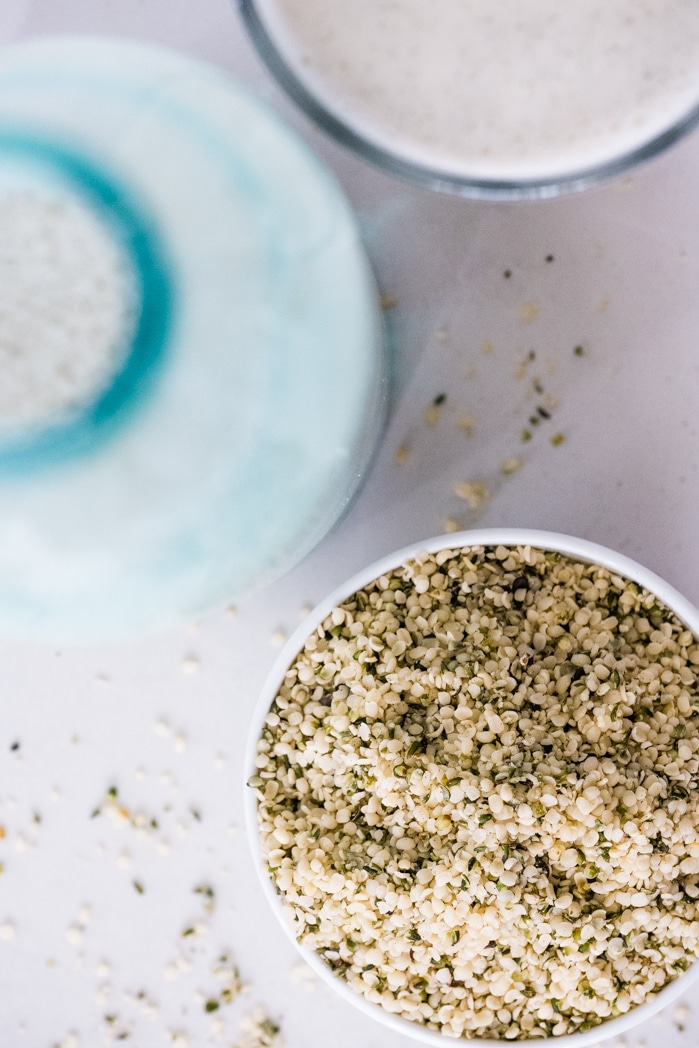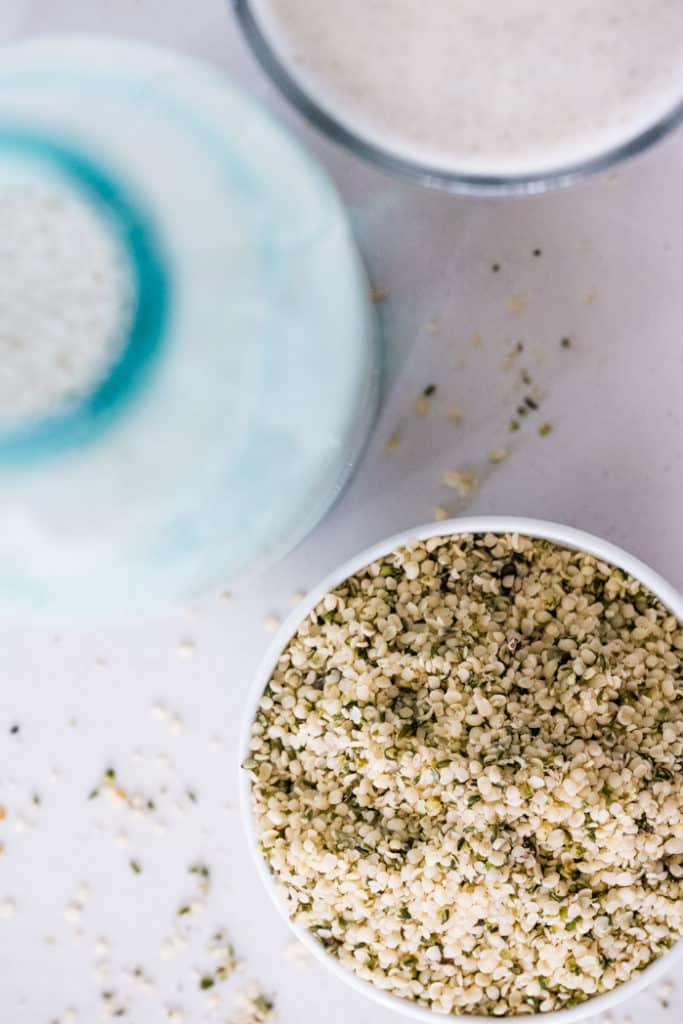 *This post contains affiliated links, which means I get a small commission if you choose to purchase something via one of my links, at no extra cost to you.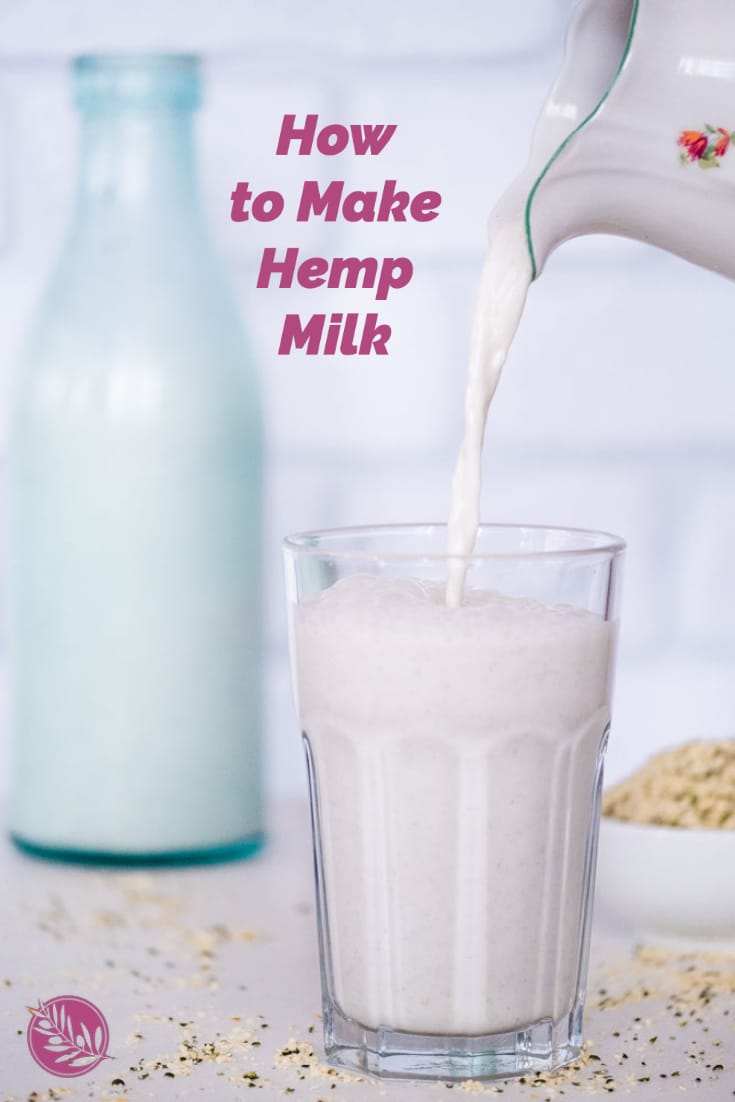 Print Recipe
How to Make Hemp Milk
The easiest way to make non-dairy milk at home.
Ingredients
1/4 cup hemp seeds
2 1/4 cups filtered water
Optional: salt, vanilla, sweetener
Instructions
1

Add the hemp seeds to a high-power blender.

2

Top with filtered water and blend until smooth (for about 1 minute).

3

Transfer to a glass bottle or jar, cover, and store in the fridge for a couple of days.

4

If you decide to strain it (not necessary in my opinion), use a nut milk bag.
Notes
Add to your smoothies, coffee or tea, make porridge, add to your baking as a replacement for dairy milk, add to sauces or dressings.