I've been wanting to make a plant paradox compliant cornbread for a very long time, and finally, I decided to give it a try. And oh my, it's so good, way beyond my expectations. I'm so happy to share with you the recipe for this lectin-free cornbread with millet and help you reintroduce this staple into your diet. While I had to call it 'cornbread', there is no corn in this recipe. Read on for recipes and more details.
Using millet to replace corn is not a novelty
It's not a coincidence that I'm creating this recipe while I'm in Romania. Corn polenta and bread and cakes made of corn are pretty popular here too, but there is one more thing that fascinates me. Corn is a plant native to the Americas and was introduced to Europe by Spanish settlers in the 15th century however, in Romania corn was introduced in the 18th century.
Polenta made with corn is very popular now in Romania however, before the corn, the polenta/porridge style dishes were made with millet. Millet was a staple food for the population in the area where Romania is now for 2500 years before the introduction of corn and wheat. The Romans were making bread out of millet, called in Latin "panicum milliaceum". Using millet to replace corn and make staples like bread is not such a novelty, in the end.
Making the lectin-free cornbread with millet
The dry ingredients
Cornbread is usually made with equal quantities of cornflour and wheat flour, which if you ask me is weird, as I was expecting something only made with cornflour. But wheat is really everywhere. To replace this lectin bomb combo, I used a mix of ground millet, ground walnuts, tapioca and cassava flour. Please check my SHOP page for options for all these ingredients.
One important note about ground millet: DO NOT use millet flour, as you won't get the same result. The texture of millet flour is too fine for this type of bread and millet flour tends to be very bitter (not in a nice way).
To grind the millet at home, I used a Magic Bullet, which belongs to my parents. I used the milling blade, made specifically for grinding nuts and other dry stuff. I looked on Amazon and the cheapest options are this electric grain mill, or this manual one. But, if you don't have a Nutribullet, I totally recommend one as it can do everything if you also get the milling blade. This is how the millet texture looks like: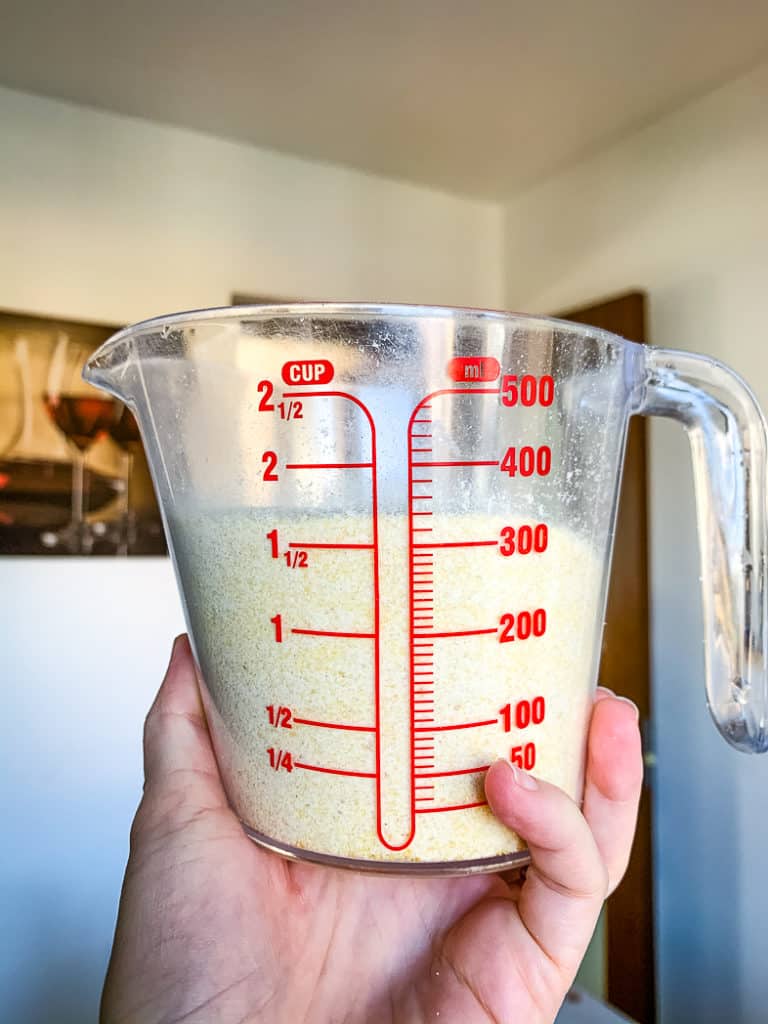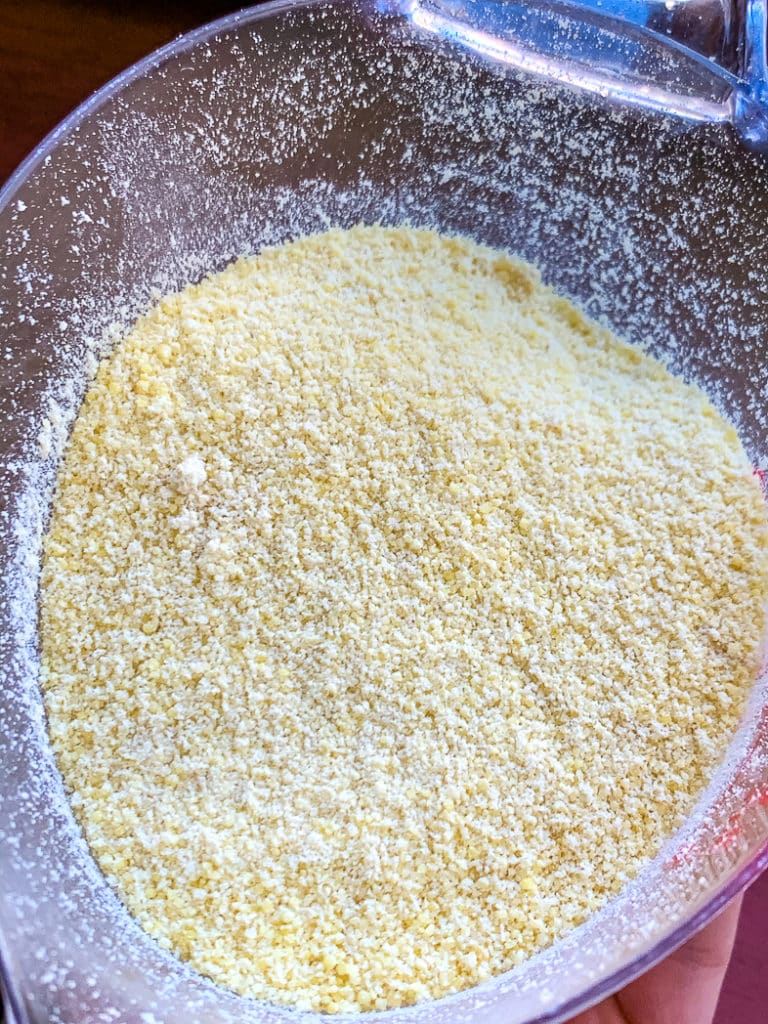 I milled the walnuts in the same Nutribullet, but in this case, you can also use walnut flour. Nuts will not be ground uniformly, but it doesn't matter. In fact, is nice when you find a bigger piece of walnut in the composition. This is how it looked after grinding.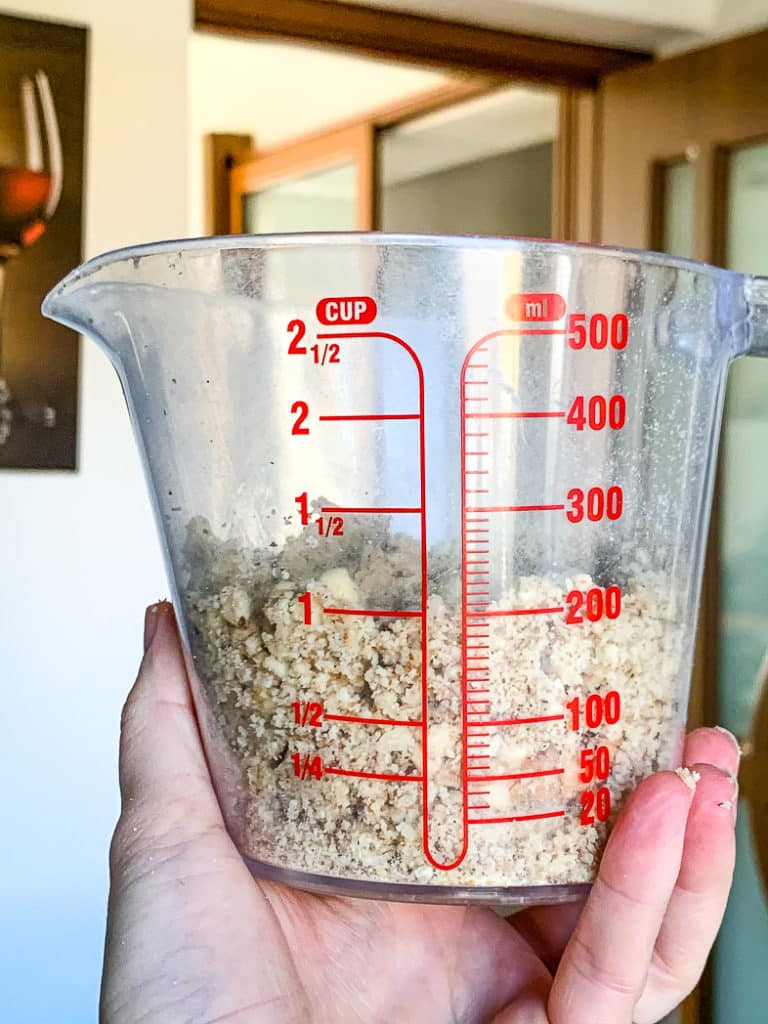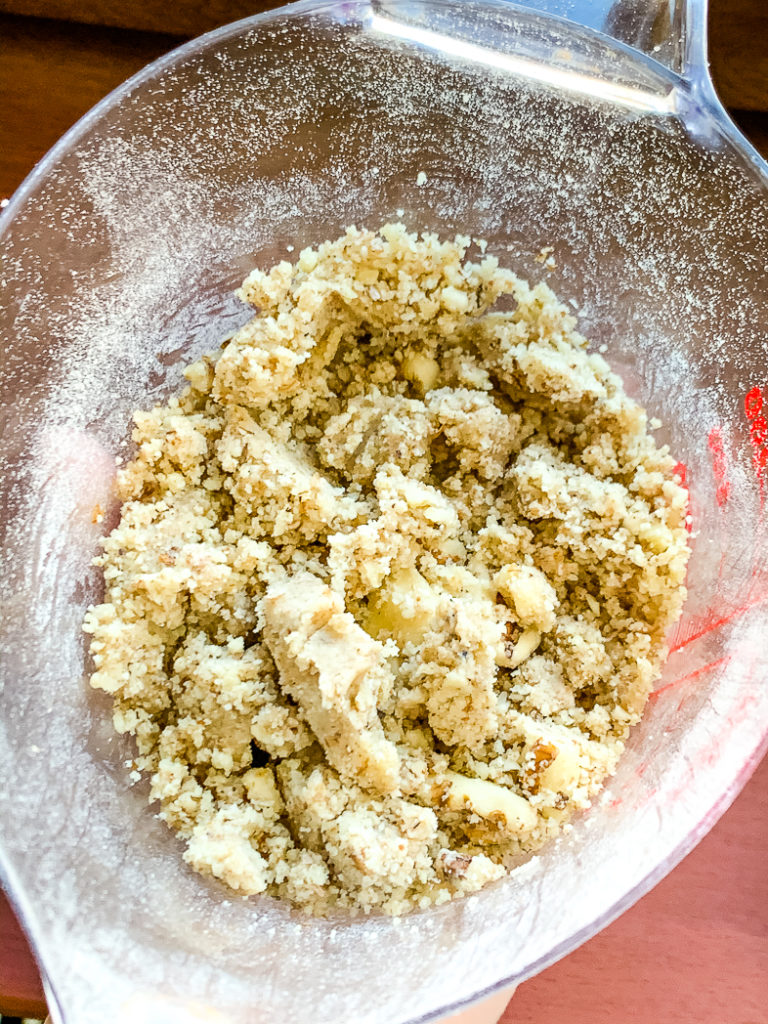 The rest of the dry ingredients are tapioca and cassava flour, baking powder and baking soda, salt.
The wet ingredients
Traditionally, cornbread is made with lots of dairies, like buttermilk and sour cream, and even butter. I used only coconut cream, which I mixed with fresh lemon juice and left for 10-15 minutes to curdle. That's enough to give the texture buttermilk will give to a cake. You can use any alternative milk you want, but I liked the coconut cream because well, is super creamy. Funny enough, I didn't feel at all the coconut taste.
I also used one pastured egg, extra virgin olive oil, a little bit of honey. I flavored it with vanilla and lemon zest. I suggest you don't skip the lemon zest, it comes through beautifully. Just make sure it's organic. If you don't want to use honey at all, you can use any sweetener you prefer, Lakanto syrup or Yacon syrup would be my first choices. Just a reminder, honey is phase two plant paradox compliant and limited to one teaspoon a day. But the quantity I used in this cake is way lower than that.
In the end, after mixing everything, you might have to add a little bit of water, or milk, in case your batter looks too dry. Gently incorporate all the ingredients and let it sit for 5 minutes as it might get a little drier. It's a thick batter, but it should look moist, not dry.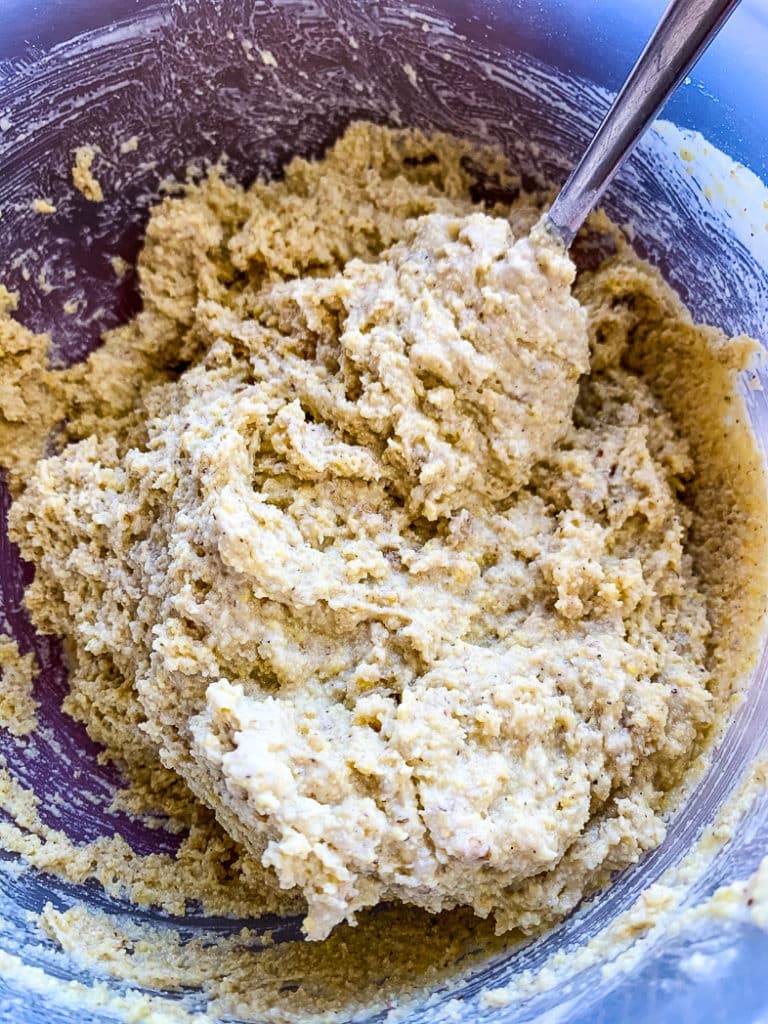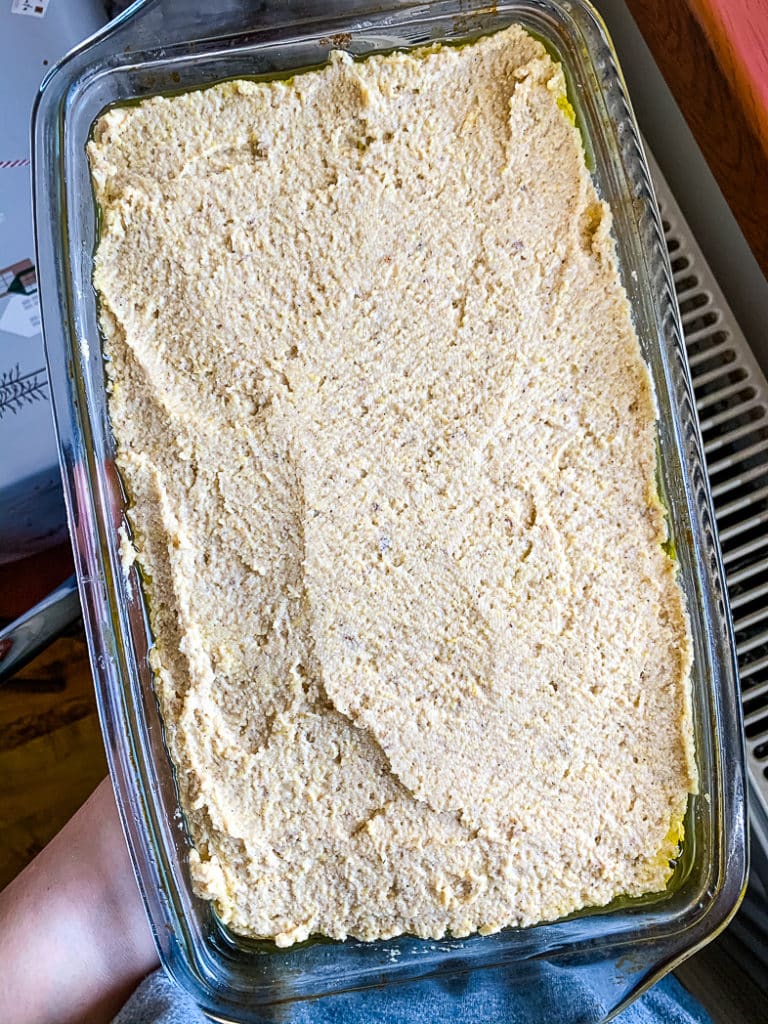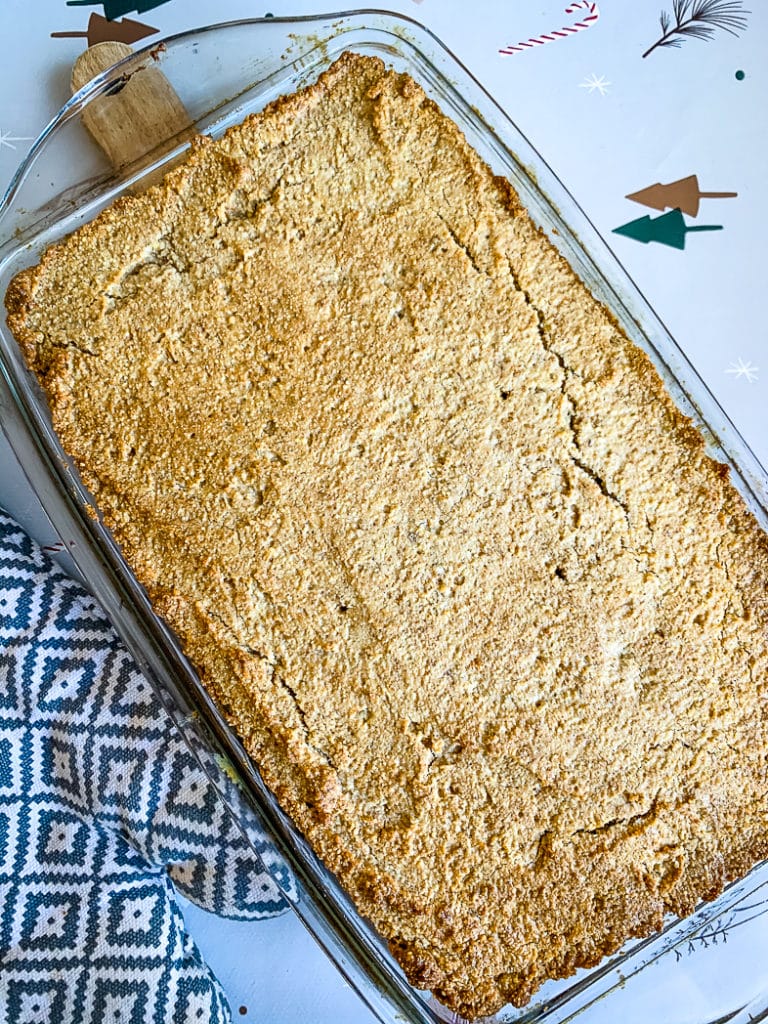 For a baking dish, I used a Pyrex with low walls (approx 17×28 cm or 7×11 in). This way is very easy to turn the cake upside down. But you can use any baking dish you use for bread and cakes, and you can even line it with parchment paper. I greased it well with olive oil and it came out easily.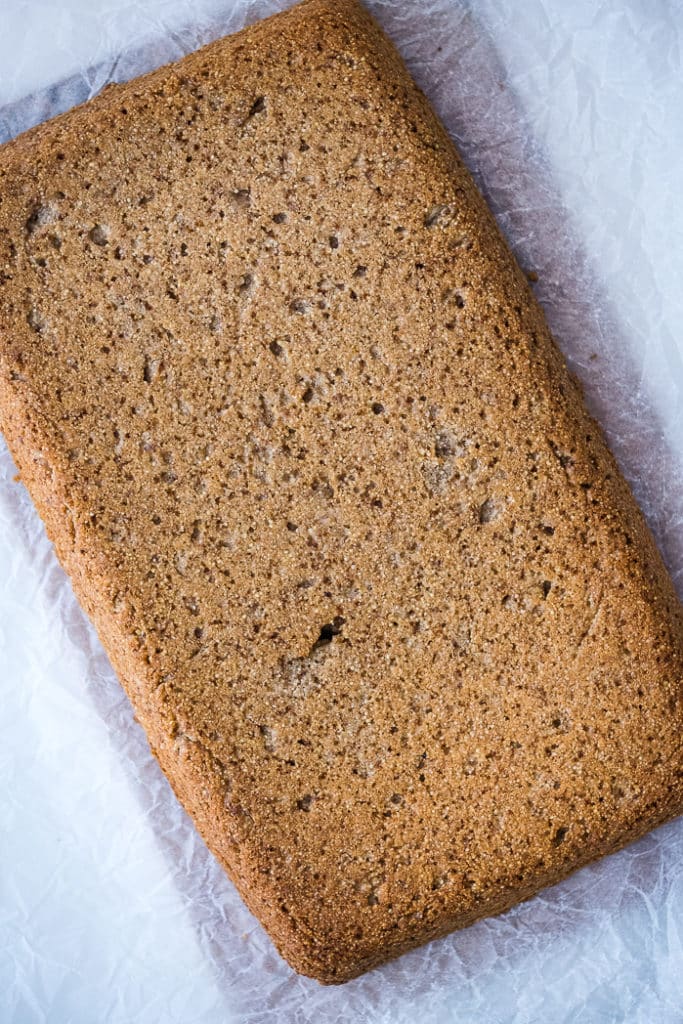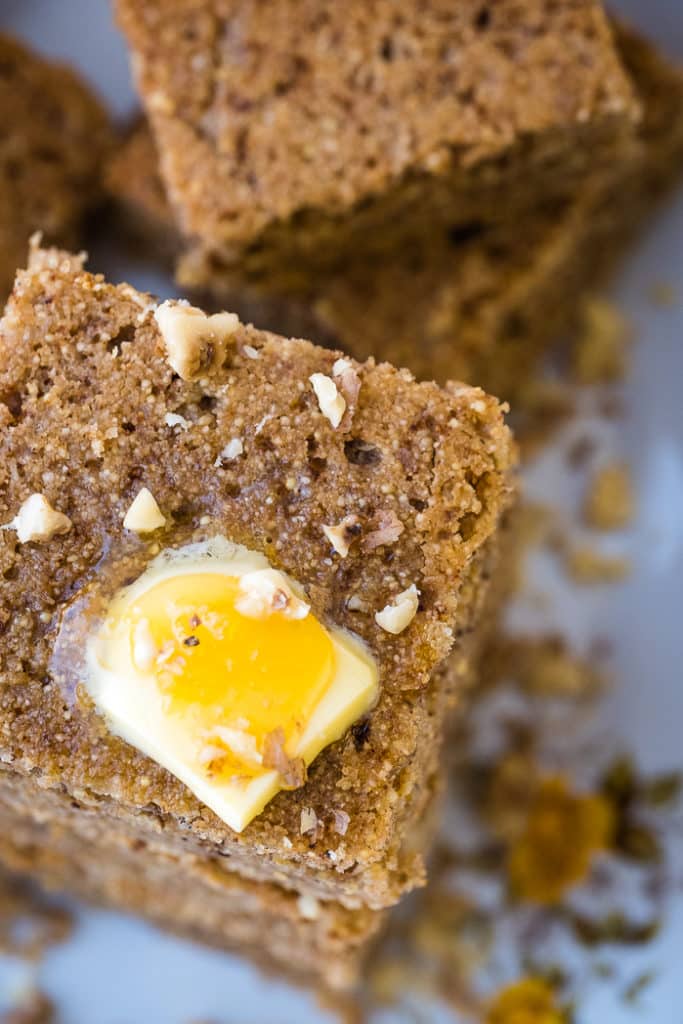 How to serve lectin-free cornbread with millet and walnuts
You can serve it warm, out of the oven, with a cube of grass-fed butter or nut butter, and a drizzle of honey or yacon syrup. My favorite way!! Have it as a snack, sweet treat, with your breakfast, for your garden party next to your barbecue. Or go the traditional way, serve it with Dr. Gundry's Lectin-Free Chili. Add it to a lunch box.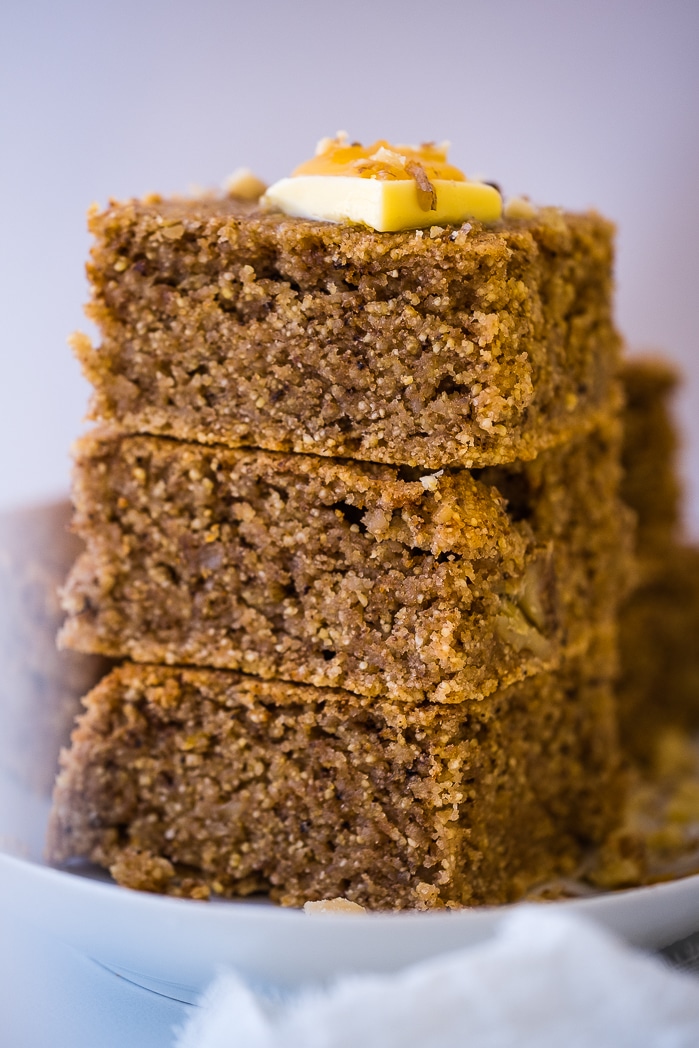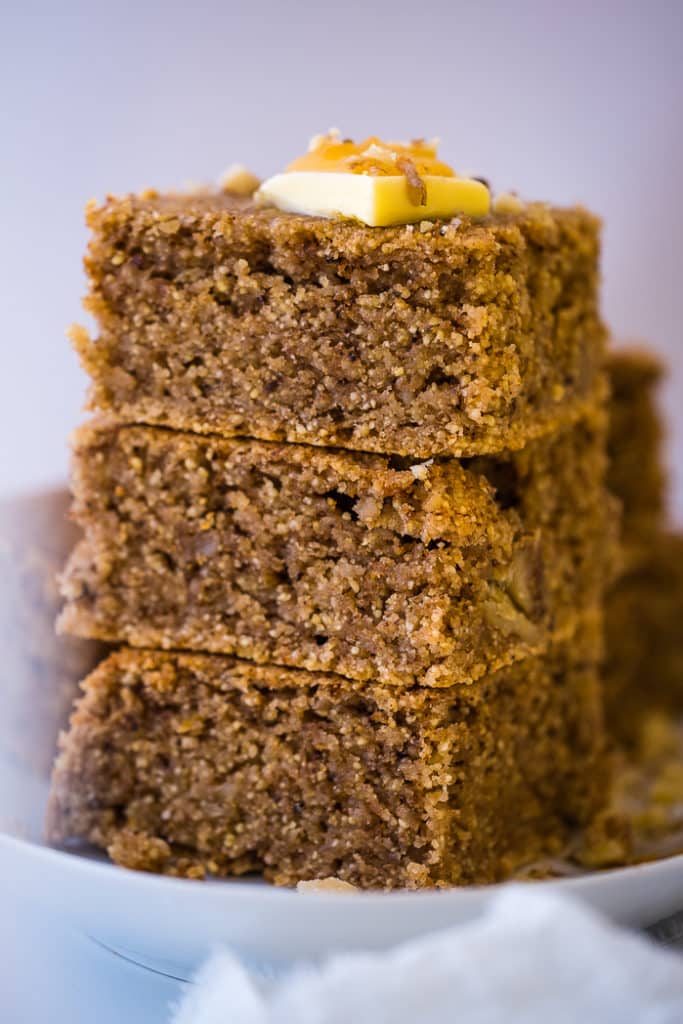 More millet recipes
For more delicious ways to use millet, check out these recipes:
*This post contains affiliated links, which means I get a small commission if you choose to purchase something via one of my links, at no extra cost to you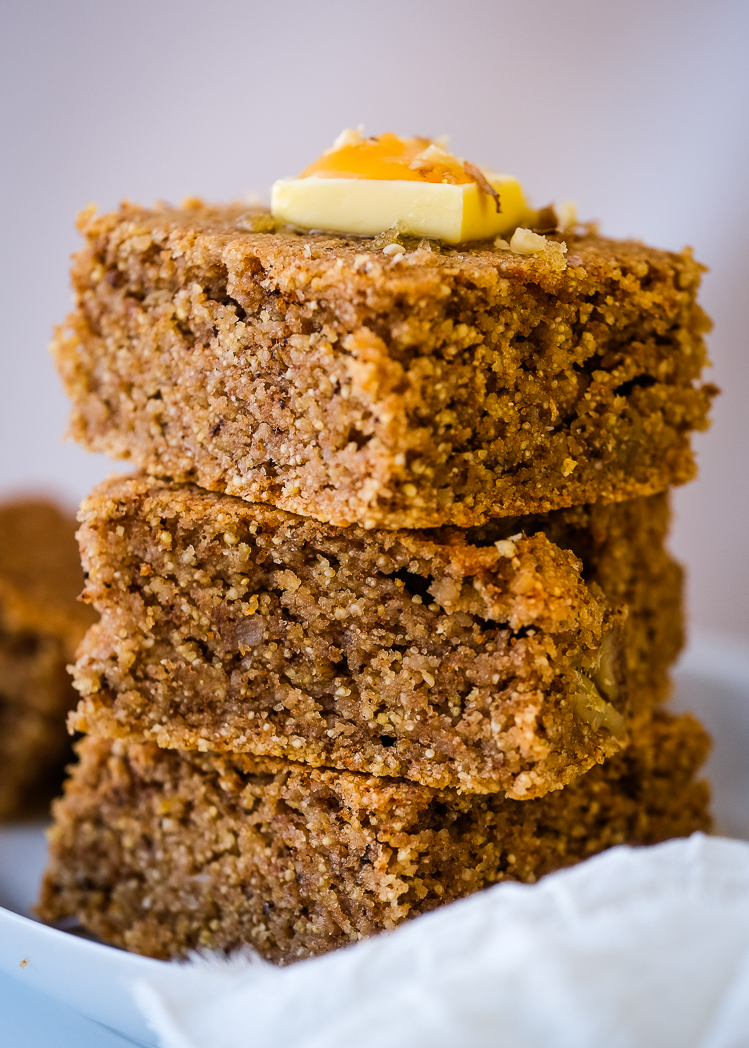 Print Recipe
Lectin-Free Cornbread with Millet and Walnuts
The lectin-free cornbread is a total makeover of the much-loved staple. This version is gluten and refined sugar-free, and plant paradox compliant.
Ingredients
DRY INGREDIENTS:
1 1/2 cup ground millet
1 cup ground walnuts
1/4 cup tapioca flour
1/4 cup cassava flour
1/2 teaspoon baking powder
1/2 teaspoon baking soda
1/8 teaspoon salt
WET INGREDIENTS:
1 cup coconut cream
2, 3 tablespoons fresh lemon juice
1 pastured egg
1/4 cup extra virgin olive oil
1 tablespoon honey
1 teaspoon vanilla
zest of one organic lemon
Instructions
1

Mix the coconut cream with the lemon juice and set it aside for 10-15 minutes to slightly curdle.

2

Preheat the oven at 350F (180C).

3

Prepare one baking dish. I used a Pyrex of approx. 17x28cm or 7x11in, with low walls (it helps with release). Alternatively, if you can use parchment paper.

4

Grind the millet in a food processor (I use my Magic Bullet with the grinding blade), until resembles corn flour (not too coarse, not too fine).

5

Grind the walnuts in the same processor. It doesn't matter if there are some bigger pieces left, they will add to the texture.

6

Combine all the dry ingredients in a big bowl.

7

Combine all the wet ingredients in a smaller bowl, mixing with a hand blender just until they all get combined. No need to over mix.

8

Add the wet ingredients to the dry, combine well with a spatula, and if you feel like the batter is too dry, add a little bit of water.

9

Transfer the batter to the baking dish, level with the spatula and bake for about 30 minutes, until golden brown on top and a toothpick come out clean.
Notes
Store in an air tight container in a cool place. It can also be frozen.