One of my favorite salads, tabbouleh, is back on my table after experimenting with plant paradox compliant ingredients that taste the same and have the same texture as bulgur. That is millet and hemp hearts.
Millet by itself was a bit too soft to work, but mixed with some crunchy hemp hearts/seeds does a great job of adding texture to this lectin-free tabbouleh salad.
Lectin-free Tabbouleh with millet – No bulgur, no tomatoes, no cucumbers
It comes out that it doesn't matter. The only ingredient that can't be replaced in a tabbouleh, in my opinion, is the combination of parsley and mint. You can't have something taste like a tabbouleh if you use basil or cilantro.
So, what did I use instead? Millet and hemp hearts to replace the bulgur, red / European radishes to replace tomatoes and cucumbers (for both colors and textures), and the rest of the more or less traditional ingredients, depending on which country the recipe is: parsley, mint, spring onions, Kalamata olives, lemon zest, lemon juice, extra virgin olive oil, salt and pepper.
Millet is cooked in different ways, but I prefer when it is toasted first, then boiled in twice the quantity of water. To make 1 cup of cooked millet, you need about 1/4 cup of raw millet.
This tabbouleh would go well with the One Pan Beef Kebab Platter with Za'atar Oil.
More millet recipes
For more delicious ways to use millet, check out these recipes: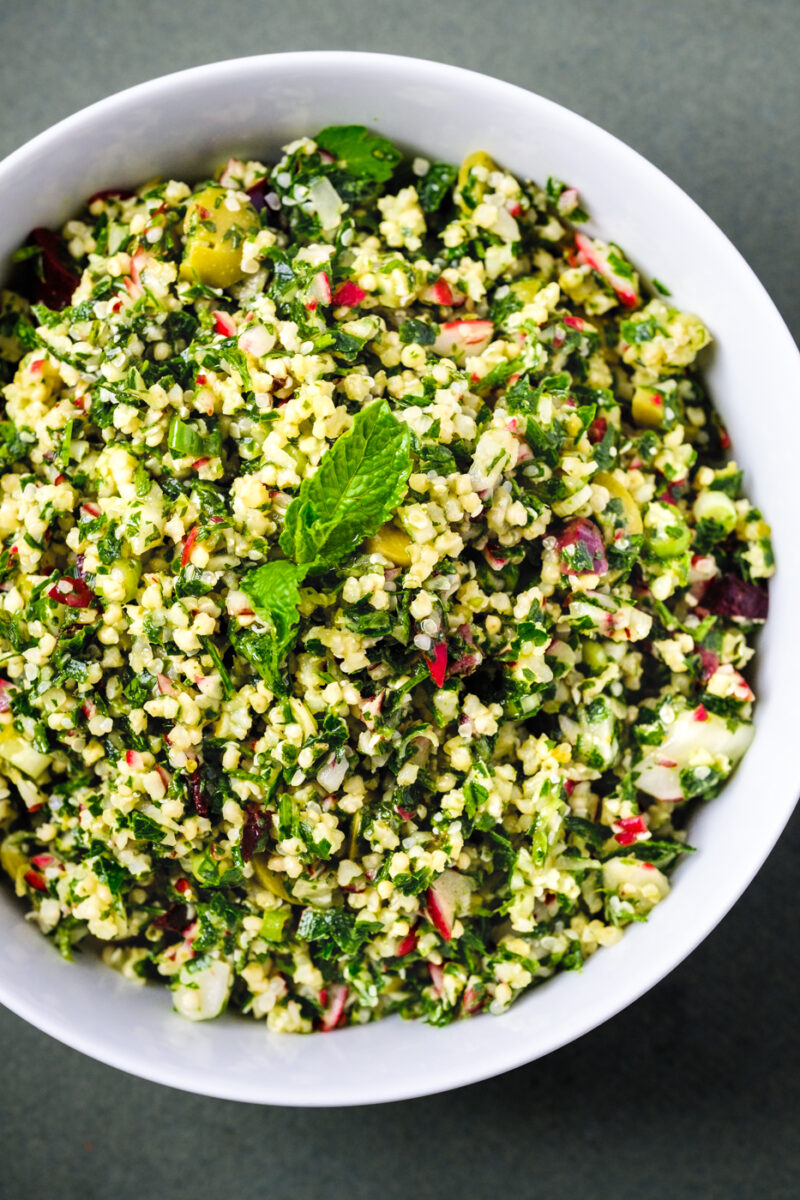 Print Recipe
Tabbouleh With Millet and Hemp Hearts
Ingredients
1/2 to 2/3 cup cooked millet

3 tbsp hemp hearts

one big bunch of parsley, finely chopped

one small bunch of fresh mint leaves, finely chopped

7 red radishes, finely chopped

2 spring onions, finely chopped

1/4 cup of finely chopped olives (use a mix of Kalamata/green for more taste)

zest from one organic lemon

juice from one organic lemon (add first half and taste, some lemons are very juicy and it might be too much)

4 - 5 tbsp extra virgin olive oil

salt and pepper
Instructions
1
Cook the millet: toast first until becomes fragrant (don't burn it) and add twice the liquid (water in this case), being careful when you pour the water in the hot pan. Stir, add a pinch of salt and bring to a boil on high heat and then turn to lower heat and simmer until water is absorbed (about 15 minutes). Remove from heat, and let rest for 10 minutes, fluff with a fork.
2
Mix all the finely chopped vegetables and herbs (you can hand cut them or mix them in a processor.
3
Add the cold millet to the chopped mix of vegetables, add the hemp hearts, lemon zest, lemon juice and extra virgin olive oil.
4
You can serve immediately or let cool in the fridge for half an hour before serving.
Notes
You can serve this as a main dish, or as a side dish, with lamb or chicken. Makes a great packed lunch too.