There is something about green shakshuka that screams comfort, taste, lazy but gourmet mornings. It's simple but festive at the same time, it's nutritious and easy to make, it's sharable. We had this particular green shakshuka for our Christmas day brunch, and it hit all the spots. And of course, is plant paradox friendly and lectin-free.
Lectin-free green shakshuka for a nutritious brunch
Traditionally shakshuka means eggs poached in tomato sauce. For some time I thought a lectin-free shakshuka was not possible. I then started to experiment with different green versions. And I realized not only a lectin-free shakshuka is possible, but it is also even better, at least to my taste.
This one was so good I decided is worth sharing the recipe. You need one small yellow onion, Brussels sprouts, pasture-raised eggs, grass-fed smoked sausage (I used Kiolbassa), a few crumbles of Feta cheese (the real, greek one), and any type of lectin-free pesto (I used a homemade spinach pesto, you can find the recipe HERE).
For spices, I used organic Hungarian paprika (I buy it from Whole Foods, the bulk section), coriander powder and cumin powder, Himalayan pink salt, and freshly ground pepper.
For serving use a hot sauce, Sriracha is perfect (and Plant Paradox compliant). Red tabasco works too. For a vegetarian version, skip the sausage and add a little smoked paprika for flavor.
You can make it in a cast-iron skillet. But I used my 10 inch All-Clad d3 armor stainless steel frying pan. This portion can feed two or four people, depending on how hungry everyone is.
As usual, I'd love to know if you make it and like it, by leaving a review, comment or directly writing me.
More breakfast and brunch recipes
This green shakshuka recipe is part of The Ultimate Lectin-Free Breakfast Guide, Recipe Round-Up, check it out for more tasty and satisfying lectin-free breakfast ideas.
*This post contains affiliated links, which means I get a small commission if you choose to purchase something via one of my links, at no extra cost to you.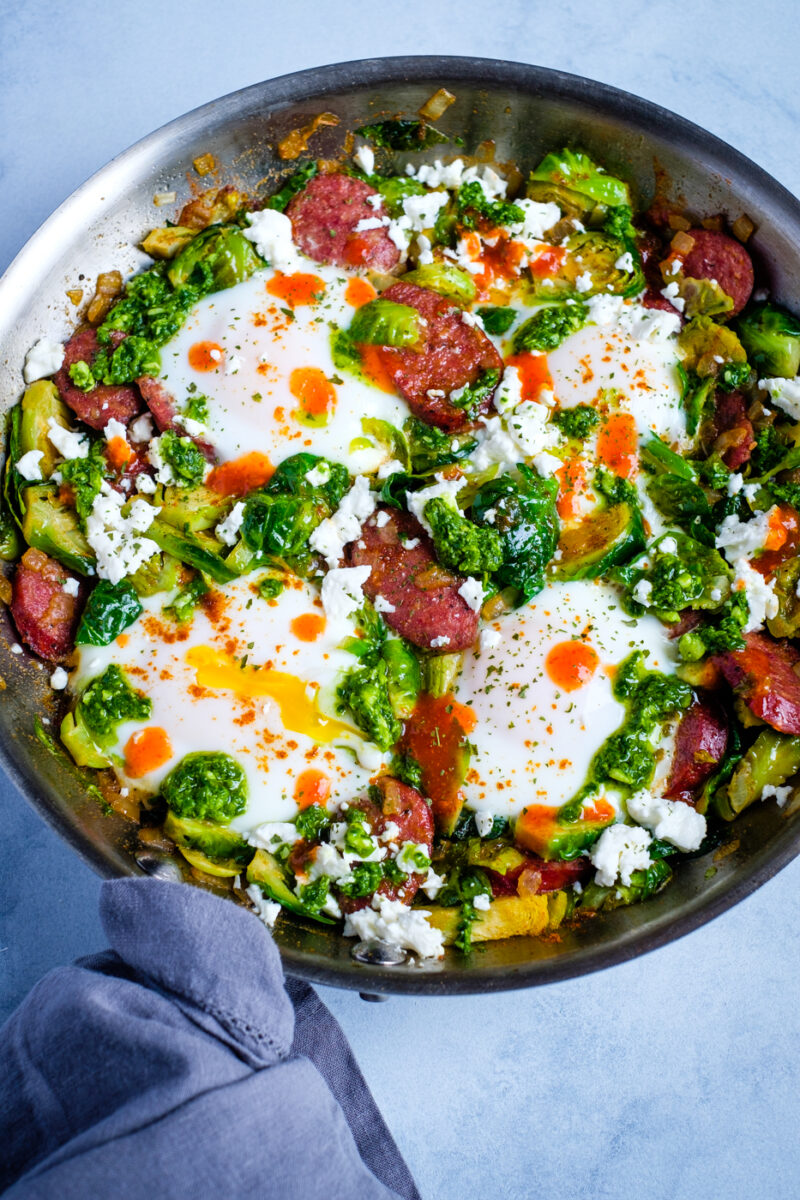 Print Recipe
Green Shakshuka with Brussels Sprouts and smoked Sausage
A lectin-free, nutritious brunch; easy, one-pan meal
Ingredients
1 small to medium yellow onion, finely chopped

4 pasture-raised eggs

1 grass-fed, smoked sausage (about 10 slices to spread across the pan)

2 heaping cups of finely sliced Brussels sprouts (you can use a mandolin to slice)

a small handful of Feta crumbles

few tbsps of a lectin-free pesto (I used Spinach, see a link to recipe above)

1/4 tsp coriander powder

1/2 tsp cumin powder

1 tsp organic Hungarian paprika

salt and pepper to taste (sausage and feta are already salty, so it might not need much)

Sriracha hot sauce for serving

extra virgin olive oil
Instructions
1
Add a generous amount of extra virgin olive oil to a skillet, on medium heat. Add the chopped onion and cook until translucent and fragrant. Add the sausage slices, stir well and cook for a minute. Add the spices and stir well. Add the finely sliced Brussels sprouts, stir well and cook for about 5 minutes. If you see the an getting dry and the spices stick, add one tbsp of water. Make four wells in the pan, but not all the way down to the bottom (leave some Brussels sprouts and onion in between the pan and the egg. Add each egg in the wells. Cover the skillet and cook on low to medium heat for about 5 minutes, until the egg white sets or until eggs are done to your liking. I like mine to have runny yolks. When done, take the skillet off heat, add some feta crumbles, pesto and Sriracha, and serve.
Notes
For a vegetarian option skip the sausage and add a little smoked paprika for flavor.