This is a lectin-free, plant-based Brussels sprouts salad inspired by a salad I ate in a restaurant and really liked. Shaved Brussels sprouts make great salads, and if you don't feel like doing the work yourself, you can buy them already cut (what I did).
Roasted pecans, basil vinaigrette, and a few optional adds-on make this an easy, nutritionally dense, lectin-free lunch or dinner.
Brussels sprouts salad, ready in no time, nutritious, perfect for your meatless Monday
I buy the shaved Brussels sprouts already cut, but most food processors have a blade for that if you feel like doing this yourself. Or do it the old way, with a good knife, and it might just take you extra 10 minutes or so.
Cruciferous, basil, extra virgin olive oil, avocado, and nuts are the perfect way to combine ingredients to make an easy, nutritious, and Plant Paradox approved lunch or dinner. I did not add Parmigiano Reggiano this time, but I totally recommend it if you can have cheese, and it's the perfect final touch.
Other than that, I don't have much else to add to this salad. Let me know if you make it!
For a warm salad, try the Warm Brussels Sprouts and Millet Salad.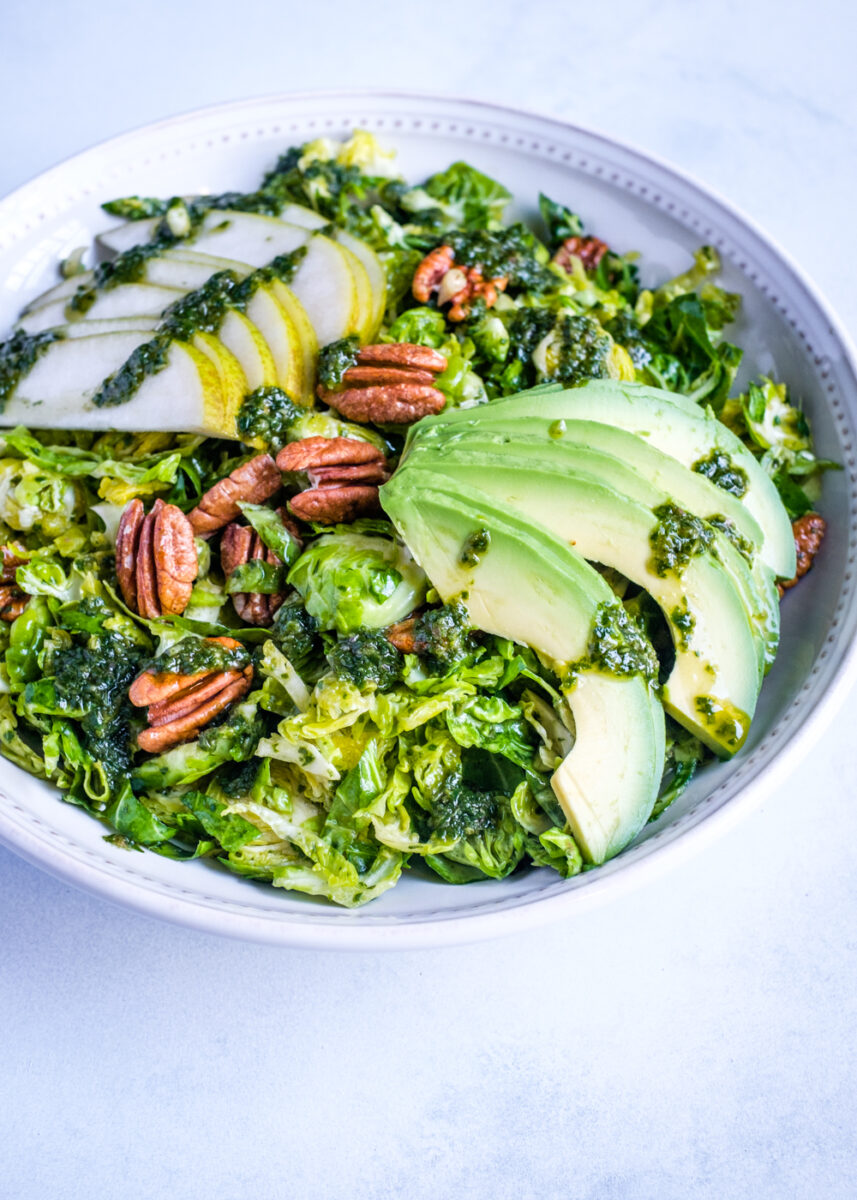 Print Recipe
Brussels Sprouts Salad with Pecans and Basil Vinaigrette
Ready in no time, nutritious, perfect for your meatless Monday
Ingredients
10oz shaved Brussels sprouts

a handful of roasted pecans

1/2 avocado, sliced (optional)

1/2 crispy pear, sliced (optional)

shavings of Parmigiano Reggiano (optional)

FOR THE VINAIGRETTE

1 packed cup roughly chopped basil

1/2 cup extra virgin olive oil

1 tbsp red wine vinegar

1/2 tsp salt

1 small garlic clove (or half if it's bigger)

1 very small shallot (or half if it's bigger)
Instructions
1
Roast pecans at 350F for about 10 minutes, being careful to stir 2 or 3 times and keep an eye on them, they can burn fast.
2
Make the vinaigrette by combining all the ingredients and process them in a high-power blender until smooth.
3
Add the Brussels sprouts to a salad bowl, add pecans and vinaigrette and mix well. Add slices of crispy pear, avocado and some shavings of Parmigiano Reggiano (all these are optional, but will give you extra taste and nutritional value).