This lectin-free bowl looks only plant-based, but it has mini shrimps in it, which you can easily skip to make the dish vegetarian. The dressing has mayonnaise, which again can be skipped for a completely vegan version.
So there is a little bit for everyone, and there is enough variety of vegetables to make it delicious and nutritious whatever the version.
One-pan cooking method
I was hungry and wanted to make this fast, and I didn't feel like making a mess and cleaning too much. So all the vegetables in the bowl are cooked in the same pan, one after another.
First I cooked the mushrooms and added the mini shrimps at the end. Next was the cauliflower, then the broccoli slaw. It's a really nice way of cooking because they all get infused with flavors without being mixed. Which is essential for a nice poke bowl right? Super filling, nutritious and delicious.
Use Dijon mustard and coconut yogurt to replace the mayo with a vegan dressing.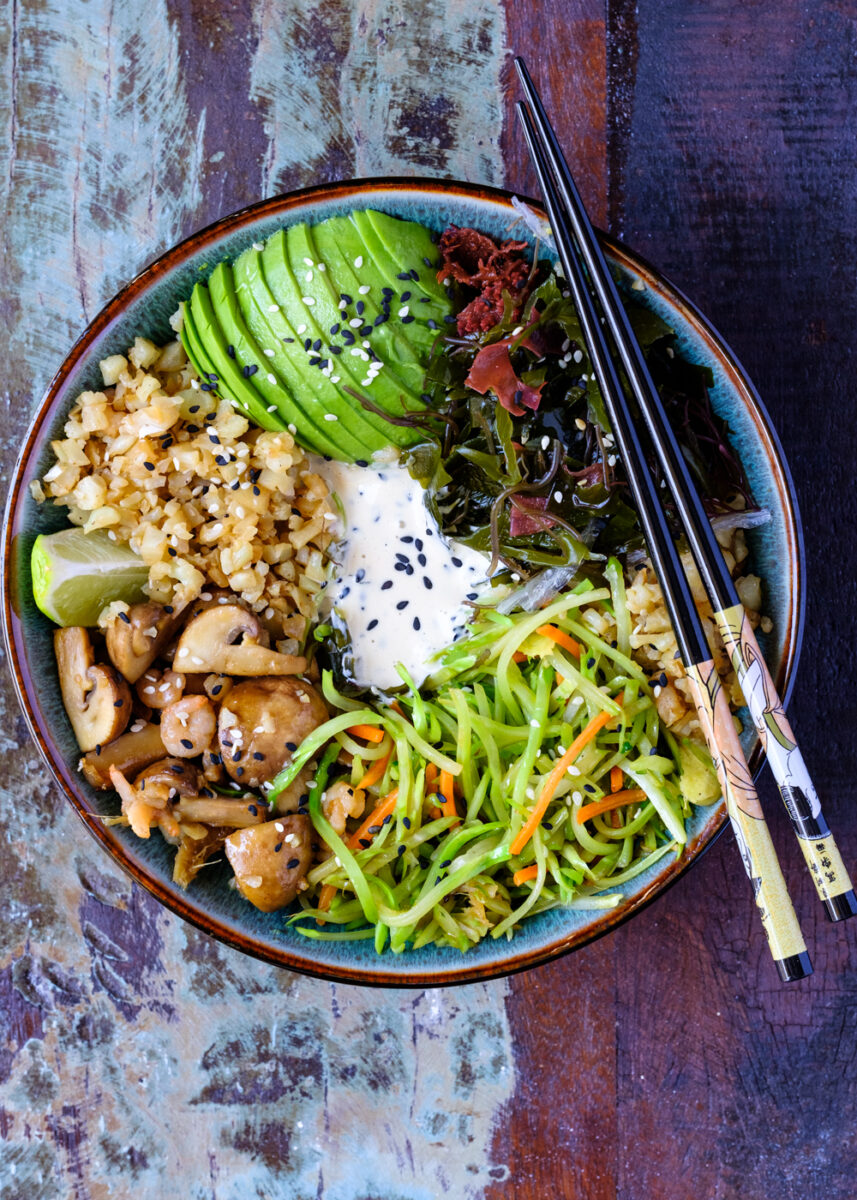 Print Recipe
Cauliflower Rice and Seaweed Vegetable Poke Bowl
Ingredients
1 1/2 cup cauliflower rice

1 1/2 cup broccoli slaw

4 medium mushrooms (mini portobello or button)

1/2 cup mini shrimps optional, skip if vegan or vegetarian

1/4 - 1/2 cup sea vegetables (I use Sea Tangle brand)

1/2 avocado, sliced

extra virgin olive oil or avocado oil for cooking

few tsp coconut aminos

few tsp rice vinegar

shredded or finely sliced fresh ginger, be generous

1 big garlic clove, smashed

lime

salt and pepper

FOR DRESSING:

2 tbsp avocado mayonnaise (you can use only use Dijon mustard, coconut yogurt, or a mayo replacement for a vegan dish)

1 tsp coconut aminos

1 tsp rice vinegar

2 tsp sesame seeds (I used both black and white)
Instructions
1
Soak the sea vegetables and rinse them, let them drain while you prepare the rest of the ingredients (they are preserved in a lot of salt so this step is necessary).
2
Make the dressing: mix all the ingredients let them aside.
3
Add oil to a skillet on medium heat.
4
Add the mushrooms cut in big chunks, thin slices of fresh ginger and garlic. Stir and cook until mushrooms are browned, and at this stage you can add the shrimp if you use, and cook for another few minutes (since mine were cooked and super small shrimps, it only took a couple of minutes). Add a sprinkle of coconut aminos and rice vinegar, salt and pepper, stir. Once all cooked add to a plate or bowl.
5
In the same pan, add more cooking oil, and add the cauliflower rice. You might need a tbsp or two of water if the pan is too dry. Only cook for 3-4 minutes, add some coconut aminos and rice vinegar, salt and pepper, stir and add to the bowl on the side without mixing.
6
In the same pan, add more cooking oil and add the broccoli slaw. It only needs a couple of minutes to get infused with the flavors and the oil. Sprinkle some coconut aminos and rice vinegar again.
7
Prepare a serving bowl for the dish. Place all the cooked ingredients separately, add the drained sea vegetables and the sliced avocado and the dressing, sprinkle generously with fresh lime juice.
Notes
All the vegetables in this dish don't need much cooking, so for the best experience don't overcook them. When I add coconut aminos and rice vinegar, I don't measure, just pour from the bottle, if you have trouble with that I'd say aim for 1 tsp of coconut aminos and 1/2 tsp of rice vinegar each time. In the end it might or might not need more salt and pepper, taste and make it your own. Don't forget sea vegetables might be already salty. Add hot sauce if you wish. You can even pour more coconut aminos on top if you need. Also, be generous with the ginger. That's what's going to give most of the flavor.