I just spent a long weekend in New York City, and after eating several days in a row at one of my favorite healthy restaurants in the city, The Little Beet Table, I decided to try and recreate one of my favorite meals I had there: Brussels Sprouts and Sweet Potato Wedges.
A fast and delicious plant-based, lectin-free meal
At first, I thought I'd make the Brussels Sprouts on the stove in a pan but since the potatoes were going to be oven-roasted, I decided to put them all in the same sheet pan and bake it at the same time. Makes life and cleaning much easier. It turned out at least as good as the one I had in the restaurant. So really wanted to share it here, even though is not a complicated recipe.
Since I don't have morning meals, for me this makes a perfect 'break-fast' meal, which I usually have around lunchtime. I love the idea of Brussels sprouts and sweet potato wedges because it's healthy, nutritious, lectin-free and plant-based. How many times did I hear people requesting ideas for plant-based or egg-free breakfast? I don't know why but to me it feels like breakfast. However, it can also make for a great side dish for your dinner; and since both Brussels sprouts and sweet potatoes are good when cold, it can make for a good lunchbox combination.
Serve the one sheet pan Brussels sprouts and sweet potato wedges with any green sauce
The Brussels Sprouts are served with an avocado-herb sauce, using parsley, dill, cilantro and avocado. You can use any green sauce or herbs you have around. Mix everything in a blender, add some salt, extra virgin olive oil and lemon juice and drizzle on the sprouts.
The original recipe in the restaurant has pistachio nuts, but I used macadamia nuts on mine. You can use any kind of nuts you have around. At the drizzle all generously with extra virgin olive oil. While the potatoes and sprouts are in the oven, you can prepare the green sauce and the nuts, so from start to finish, this dish will not take longer than 30 minutes.
If you want it to feel more like breakfast and can have eggs, you can add one or two poached eggs to the dish.
For a kick, I used a Kimchi Sriracha Sauce (double fermented) from Wild Brine.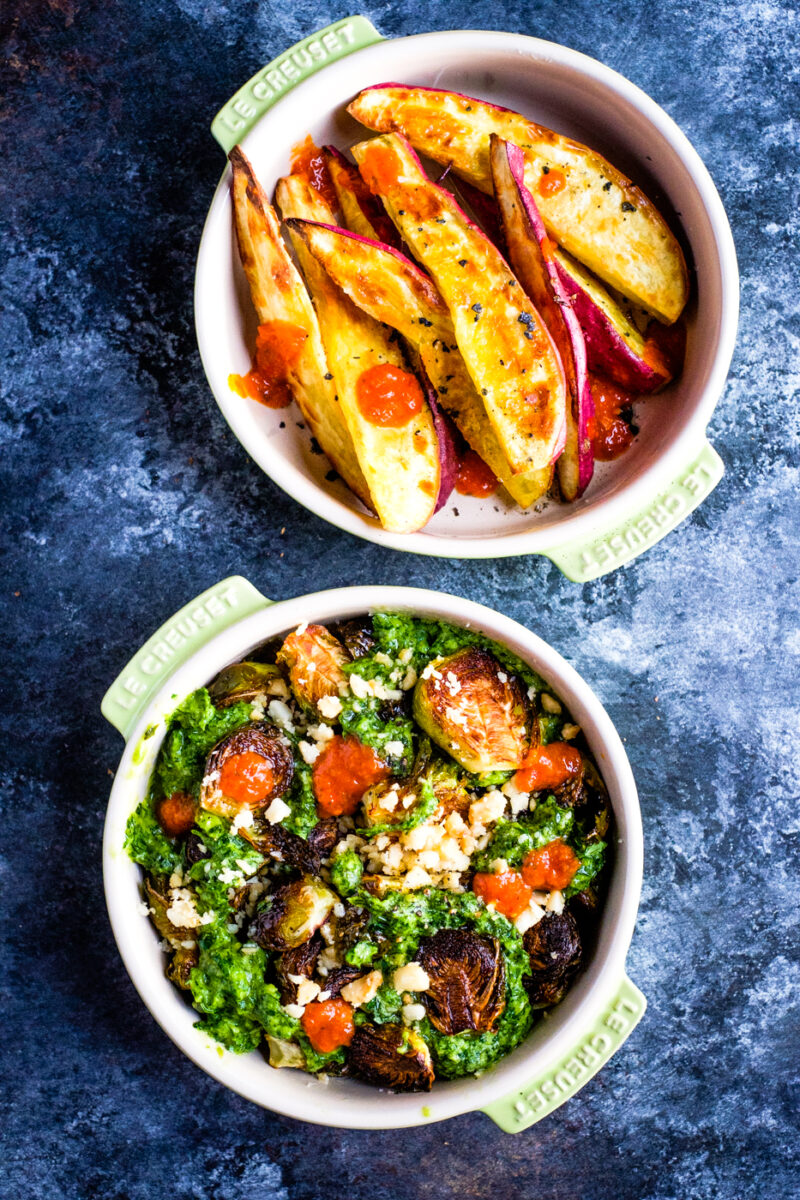 Print Recipe
One Sheet Pan Brussels Sprouts and Sweet Potato Wedges
A fast, delicious and nutritious plant-based, lectin-free meal.
Ingredients
FOR THE VEGGIES

1/2 pound Brussels Sprouts, washed and dried, ends cut and sectioned in half

1 medium sweet potato, scrubbed, washed and dried, skin on (Jewel, Garnet or Japanese work well, I used Japanese)

avocado oil for baking

Himalayan pink salt

1 handful of chopped macadamia nuts (roasted or not)

FOR THE GREEN SAUCE

a bunch of fresh herbs (I used parsley, cilantro and dill)

1/2 avocado

Extra virgin olive oil

Himalayan pink salt or iodized sea salt, to taste

fresh lemon juice, to taste
Instructions
2
To cut the potato in wedges, first section it in half, then section each half in two more haves and repeat one more time. Add the prepared veggies on a sheet pan oiled with avocado oil (you can also use coconut oil). Coat them with the oil, add salt and arrange the Brussels sprouts cut face down. Bake for 20 minutes and turn your oven to broiler, 425F for 5 more minutes. You can flip the potato wedges, but no need to move the Brussels sprouts. Check them out often so they don't burn too much (you want a little bit of char) and take them out before the potatoes if they are ready. I left my potatoes to get a little more color for extra 2 minutes.
3
While the veggies cook, chop all the herbs in a food processor, add the avocado, mix well and start adding extra virgin olive oil until you get the desired consistency. Add lemon juice and salt to taste and mix again. To serve, place all the veggies on one or two separate plates, add the green sauce on top of the brussels sprouts, drizzle more EVOO on everything, sprinkle with salt flakes.
Notes
For a kick or more protein, you can add a compliant hot sauce, poached eggs or your choice of protein.