Herbs are bursting with flavor and nutrients, and incorporating them into your meals is a fantastic way to make your meals healthier and tastier. These green sauce recipes will elevate any dish: steaks, grilled meat, roasted chicken, roasted potatoes, roasted or steamed vegetables, seafood and pizza, sandwiches, salads and more.
What is green sauce?
The green sauce is an uncooked mixture of various fresh herbs, extra virgin olive oil, aromatics, and spices. Sometimes nuts, cheeses, and more ingredients are added. There are so many variations, depending on their origin. A few examples below:
Chimichurri – Argentina and other Latin American countries
Salsa Verde – Spain
Pesto – Italy
Gremolata – Italy
Sauce Verte – France
Grüne Soße – Germany
Aji Verde – Peru
Possible ingredients to make a green sauce
All my sauce recipes were born based on seasonability and availability. I adore green sauces and green herbs, so I use them on every occasion when they are available and in season. This is the reason spring and summer are my two favorite cooking seasons.
This is a list of possible ingredients you can use. The possibilities to build your own based on what's available to you are endless. Any combination of these ingredients can work.
I've never mixed any herbs that didn't taste great in the end. And, if something is too much or too little, you can simply adjust at the end. Maybe just be careful, so you don't add too much salt initially; it's hard to fix that.
Fresh, soft herbs: basil, parsley, coriander, mint, dill, marjoram, sage, sorrel
Aromatics: onions, garlic, green onion, green garlic, wild garlic, chives
Hard or dry herbs: dry or fresh oregano, fresh rosemary, and thyme
Green leaves or vegetables: spinach, lacinato kale, radish tops, carrot tops, arugula, sorrel, nettles, asparagus
Nuts or seeds: pine nuts, macadamia, pistachios, walnuts, etc
Oil: a good quality extra virgin olive oil is essential
Acid: lemon juice or lime juice, all types of vinegar
Salt and pepper
Other flavors and spices: lemon or orange zest, fermented hot sauces, anchovies, sumac, avocado
Cheese or cheese flavors: Parmigiano Reggiano, nutritional yeast
How to make a green sauce
There are multiple ways to prepare a sauce, but these are generally the steps:
Thoroughly wash and dry your herbs – this is an important step as, for the most part, you don't want to add water to your sauces (there are exceptions, though)
Chop your herbs – even if you use a food processor, giving them a rough chop will help with getting a better texture
Mix all the dry ingredients (if you are working with a food processor) – it works better if you first mince the dry ingredients in the food processor before adding the liquid
Add the liquid ingredients and combine until the desired consistency (can be thick or with a drizzling consistency)
If you work with a blender, you will need to add all the ingredients initially, including the liquid, and sometimes a little amount of water is necessary to get the blender going
Season and taste
Store in a glass container in the refrigerator for 2 to 3 days or freeze. When frozen, it is easier to add them to warm meals as a finishing flavor or even add to green smoothies for extra nutrient power
You can use a food processor or blender. A food processor will make a chunky sauce and a blender will make a smooth, creamy sauce. You can choose based on your preference, the dish you are using it for, or the available tools. At one point, while traveling, I only had my Nutribullet available, so I made my sauces more creamy.
I love the Nutribullet because it's small and I can make small quantities. When it comes to a food processor, is harder to make small quantities if your food processor is too big. But one of those small, basic food processors will work perfectly.
Some sauces, like gremolata and chimichurri, can be made without any tool. Just chop everything finely and mix the ingredients.
And some, like pestos, can be made the traditional way, in a mortar and pestle.
How to use a green sauce
It will elevate any meal and will not only make it tastier but also healthier:
Add it to your breakfast eggs
Make a garnish for any animal protein meal, from steaks to chicken to fish and seafood
Spread it on your sandwich bread or tortillas
Use it as a salad dressing or for Buddha Bowls
Use it to garnish roasted vegetables
Use it as a dipping sauce
Spread it on a pizza crust to make delicious pizza
You can use some of them as a marinade
Even though this sauce is usually eaten fresh, you can also add it to warm dishes like pasta or pizza.
Did I forget something? Let me know your favorite way to use it.
The health benefits of herbs
Herbs are bursting with flavor and nutrients, and incorporating them into your meals is a sure way to add some valuable nutrients to your food.
Fresh herbs are an important source of polyphenols that have anti-inflammatory properties. They are also rich in minerals and vitamins such as vitamins A, C, and K.
These sauces are a great way to increase the quantity and the variety of herbs you are adding to your diet.
All fresh and dry herbs are lectin-free and plant paradox compliant. They are, in fact, compatible with almost any diet.
Where to get herbs and how to store them
Grocery stores and supermarkets
Farmer's markets
Your own garden
When it comes to herbs, I prefer to choose an organic option whenever possible. You can get them cut or planted in small pots. I prefer the planted option, as I can replant them in my garden or in my own pots.
If you haven't yet, think of planting your own herb garden. You can make it in pots, inside the house, on a terrasse, in an outdoor garden, or in a glasshouse.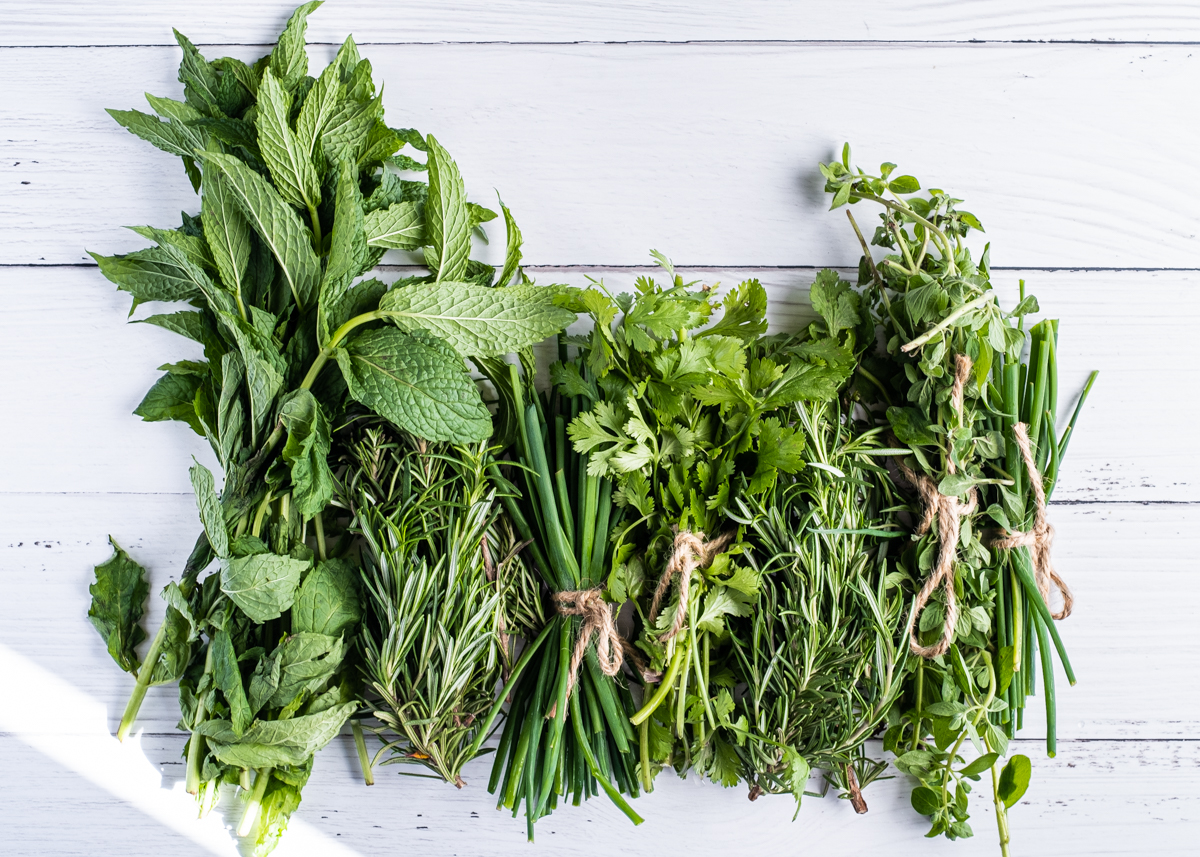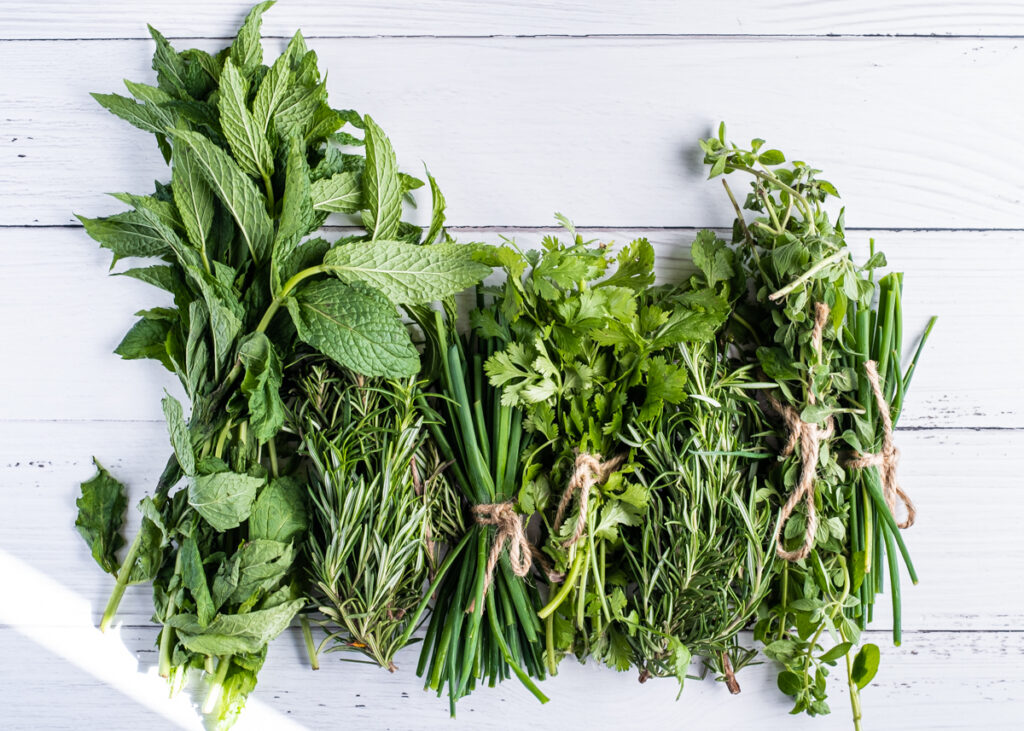 Fresh herbs are highly perishable when washed, and making a green sauce is an easy way to use them in bigger quantities. Never wash your herbs under a jet of water as their tender leaves are so sensitive. Instead, immerse them in a big bowl of water. Repeat until the water is clean. You can dry them in a salad spinner, then lay them on drying towels to air dry.
From my experience, the best way to store them is to wrap them in damp towels (cotton or paper) and store them in a plastic bag. They'll last longer this way, and they will make your life easier when you cook with herbs.
Green sauce recipes to elevate your meals
I've created these recipes in the past years, since I started my health journey. They are my favorite way to add flavor and nutrition to my meals. They are so fresh and bright and make everything taste better.
***
I love herbs and always have them around, ready to make some green concoctions and serve them with our meals. This time I had an impressive quantity of parsley and chives, so I decided to make a parsley chimichurri with chives to serve with our grass-fed steaks. This fresh, flavorful and bright green concoction goes perfectly with all kinds of meats but also with grilled or roasted vegetables.
Gremolata is the name of an Italian chunky mix of fresh parsley, lemon zest, and garlic. I started with the traditional Italian condiment formula and transformed it into a multi-purpose, delicious sauce: mint gremolata. Use it fresh. It will brighten up any meat, eggs, or roasted vegetables or use as a marinade or salad dressing.
Foraging and eating what the Earth has to offer during spring and summer is one of the most satisfying dietary habits, at least for me. Wild garlic, a cousin of chives, onions, garlic, and leeks is quite popular in Europe, Asia and some parts of the United States. Here in Romania, where I am at the moment, wild garlic, called 'leurda', is a popular addition to spring dishes. I made wild garlic pesto for my family and they loved it, so I decided to share the recipe.
Spring is here, and our radishes are in full bloom. Not only do I love the radish bulbs, which everyone loves, but I love the radish greens or tops. The idea to share a recipe for a radish top pesto came when my dad brought me a bunch of radishes from the garden but discarded the tops. I had no idea he didn't know radish leaves are not only edible but packed with nutrients and delicious.
I recently bought a NutriBullet and I was hoping that it would work to make my pestos and herb concoctions I love so much, and it didn't disappoint. Here in Denmark, we started to find organic carrots with beautiful tops everywhere, so I decided to use the carrot tops to make a salad dressing. It was perfect.
When you can't find basil, spinach can be a good leafy green alternative to whip up a pesto. A word of caution though. Don't eat this every day, as both spinach and walnuts are high in histamine. Make it whenever you have some extra spinach you need to use. It will add nutrition and a touch of vibrant green to your meals.
Take some green leaves, a lot of extra virgin olive oil, some nuts, a little garlic; add some Italian aged cheese, and you have yourself a sauce that will elevate any dish and will give you those healthy fats and polyphenols you need on a daily basis. The green leaves can be basil, baby spinach, or kale, and oh my, kale doesn't disappoint. This lacinato kale pesto is your new favorite.
Herbs are packed with nutrition and flavors. We should have them every day, but sometimes is hard to incorporate them all into our menus. This plant paradox herb vinaigrette does just that. It's an easy-to-make, vibrant, fresh and tasty addition to any meal.
I've been experimenting with this herb dressing for quite some time. Now I feel completely happy with how it turns out and how it compliments so many different dishes. I love herbs but you know, unless you are my father, you can't really eat herbs like you eat salad leaves. I don't know, I just don't feel like biting from a bunch of fresh cilantro or parsley, like my dad used to do when we were kids (and still does, with a grin on his face).
Everyone has a pesto recipe, and I'm not reinventing the wheel here. But many of my recipes require pesto, so I have to add it here. Basil pesto with walnuts is a straightforward thing to make, and honestly never bought one already made. But to me, the most difficult part is drying the basil. Pesto will not be ok if the basil you use is wet. And it takes an awful lot of time, even after using a salad spinner, to completely dry. But it's worth it.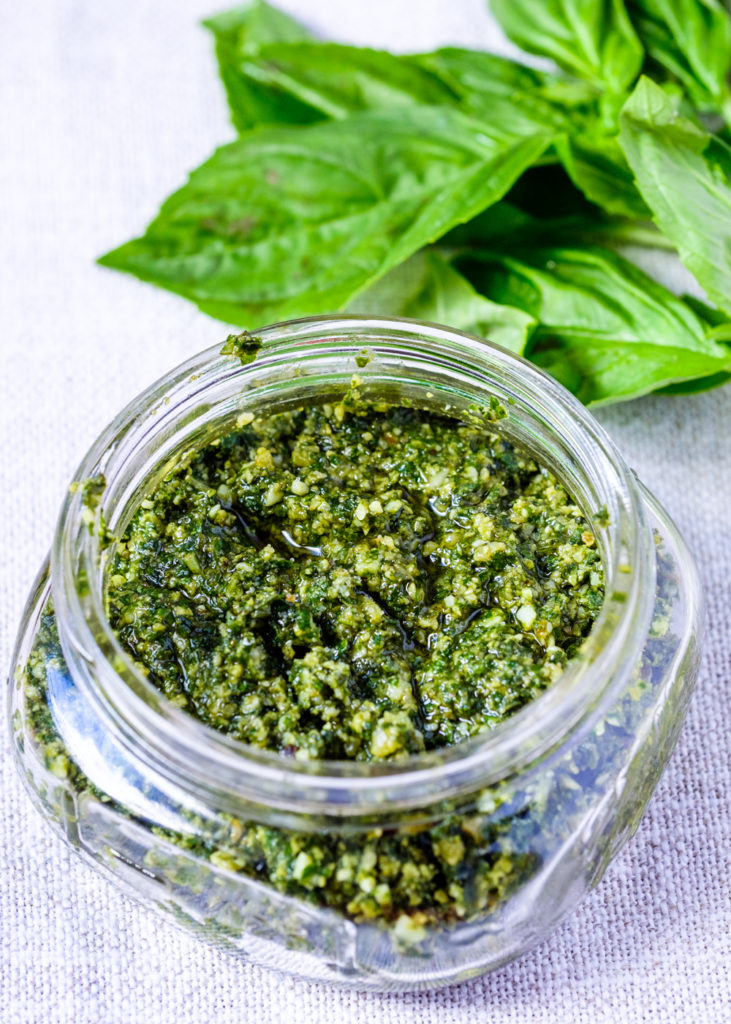 This super healthy broccoli microgreen pesto is our nutritious and refreshing twist on the classic Italian pesto. Pair fresh basil and the nutrient-packed peppery goodness of broccoli microgreens with rich macadamia nuts, sharp Parmigiano Reggiano, and zesty lemon for a unique flavor profile. This broccoli microgreen pesto is packed with nutrients and so flavorful, making it a great addition to almost any meal.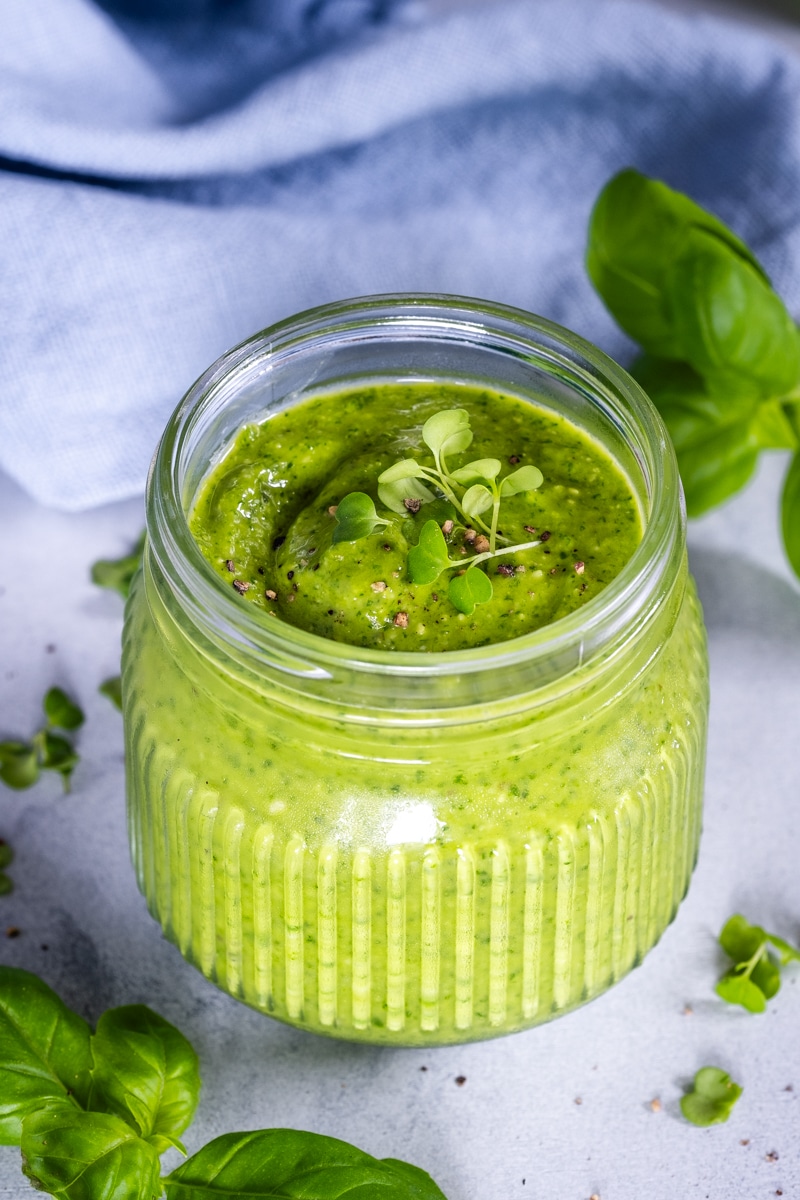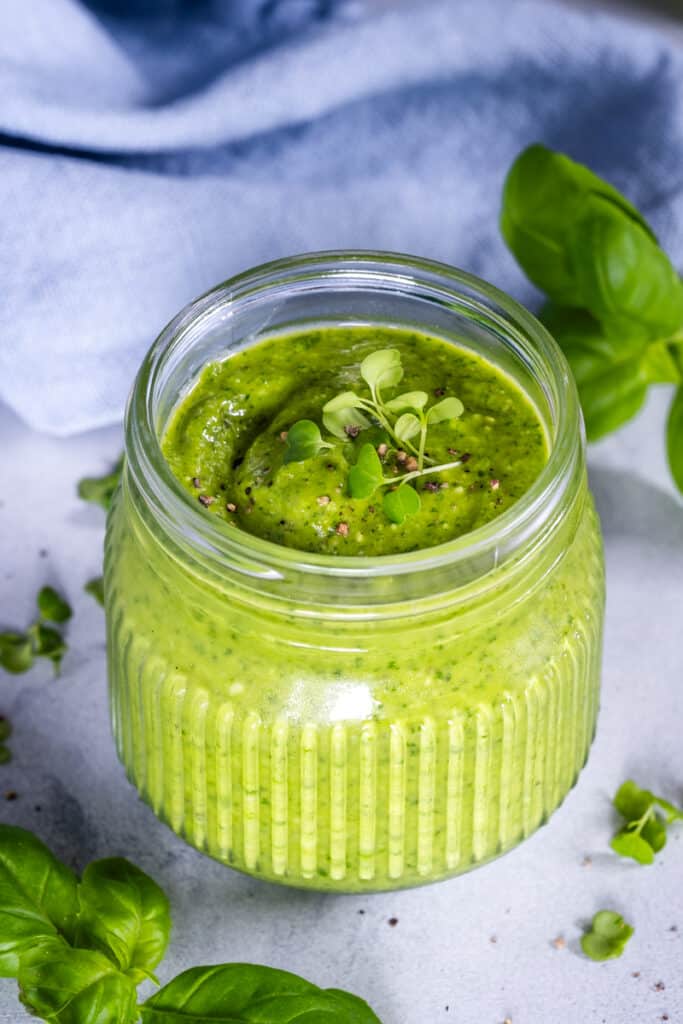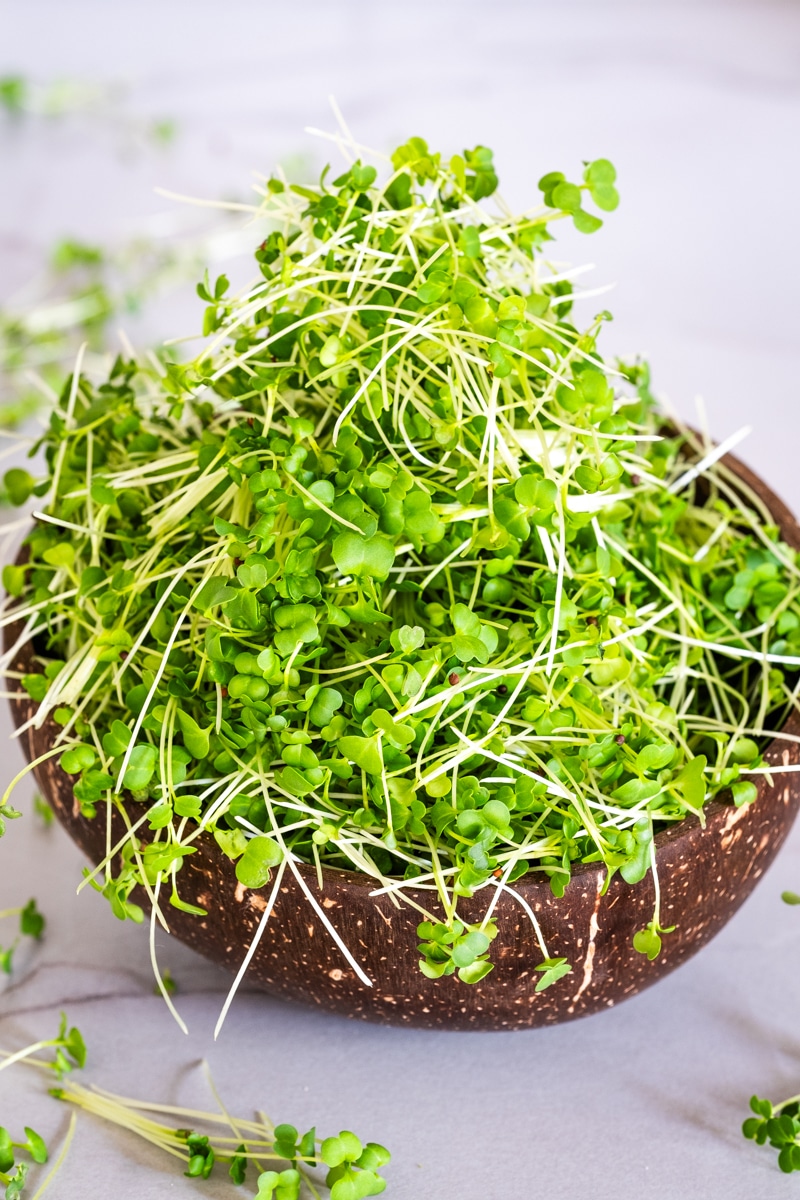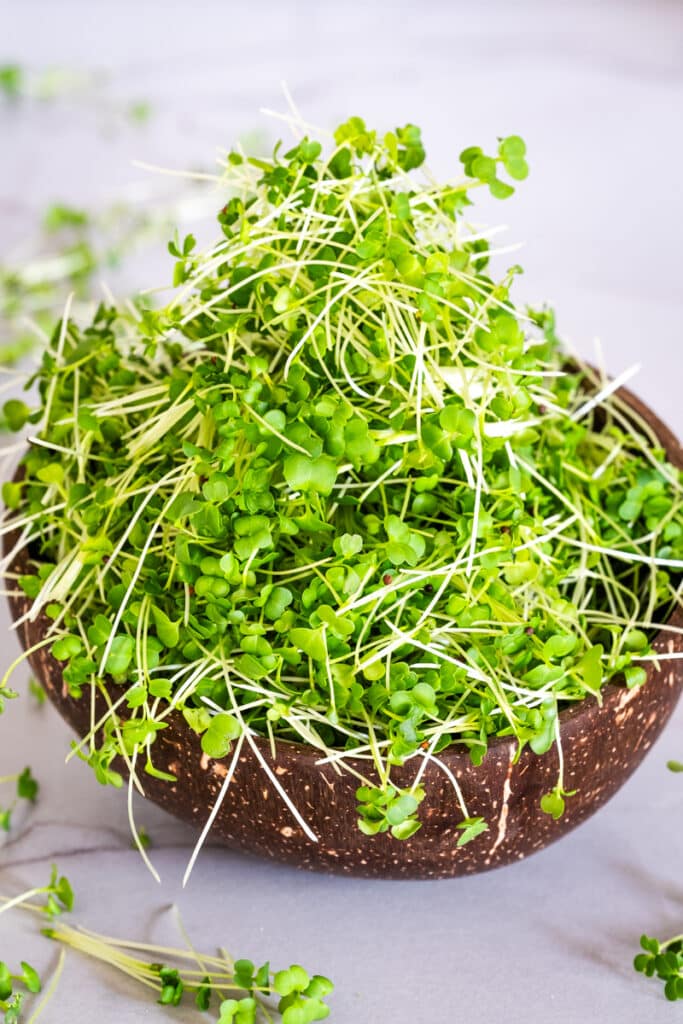 I hope you found in this list the next green sauce recipe you are going to make.
Enjoy!
*This post contains affiliated links, which means I get a small commission if you choose to purchase something via one of my links, at no extra cost to you.