Foraging and eating what the Earth has to offer during spring and summer is one of the most satisfying dietary habits, at least for me. Wild garlic, a cousin of chives, onions, garlic, and leeks is quite popular in Europe, Asia and some parts of the United States. Here in Romania, where I am at the moment, wild garlic, called 'leurda', is a popular addition to spring dishes. I made wild garlic pesto for my family and they loved it, so I decided to share the recipe.
My most impressive encounter with wild garlic has been in Denmark, in a forest in Aarhus, the second-largest city in the country (my husband's birthplace). In late spring and summer, the forest is invaded by wild garlic and the view is magnificent. The smell is not that pleasant though. But it's the kind of thing you get used to if you live nearby.
The wild garlic in this forest is protected, but we are allowed to harvest as much as we can fit in a hat, for personal use. All the parts of this nutritious and beautiful plant are edible: the flowers, the leaves, and the bulbs.
How to make wild garlic pesto
Wild garlic pesto is similar to other pestos. The ingredients I used are:
wild garlic
toasted pine nuts (other nuts can be used)
extra virgin olive oil
nutritional yeast (you can also use Parmigiano Reggiano)
salt and pepper
You can make it the old style in a mortar and pestle, in a food processor for a rougher texture, or in a blender for a smooth consistency.
How to use wild garlic pesto
The same way you would use pesto. It will go with absolutely everything: from grilled meats and chicken, seafood, roasted or grilled vegetables. I absolutely love it with pan-seared king oyster mushrooms (can be grilled too).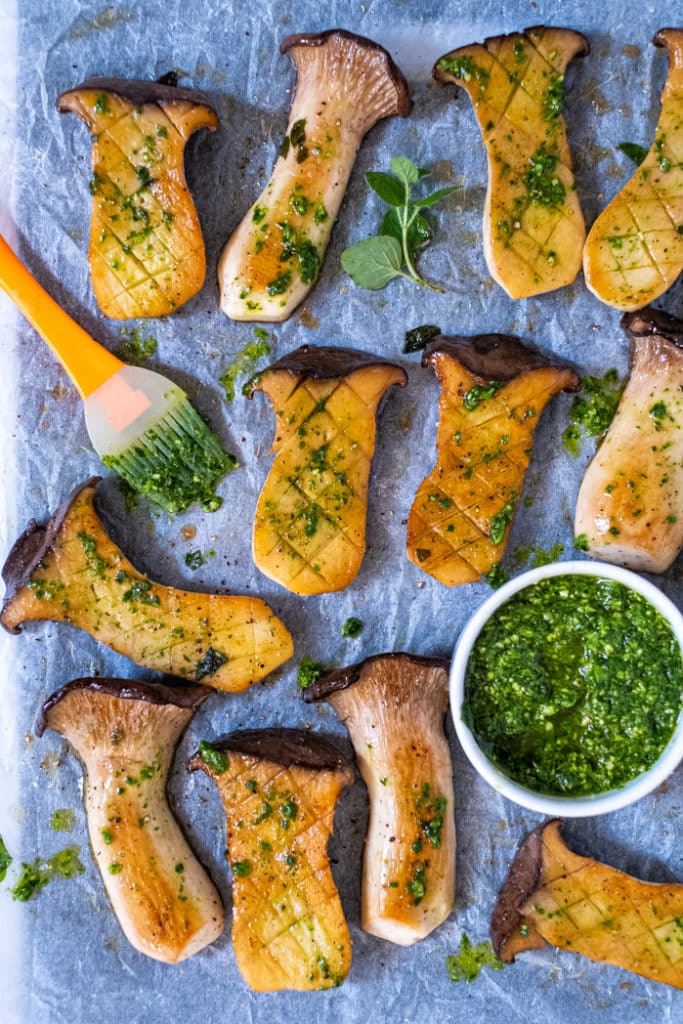 For more pesto recipes, check out: Lacinato Kale Pesto, Your New Favorite Green Sauce, and Spinach and Walnut Pesto. You might also like the Easy Radish Greens Pesto.
*This post contains affiliated links, which means I get a small commission if you choose to purchase something via one of my links, at no extra cost to you.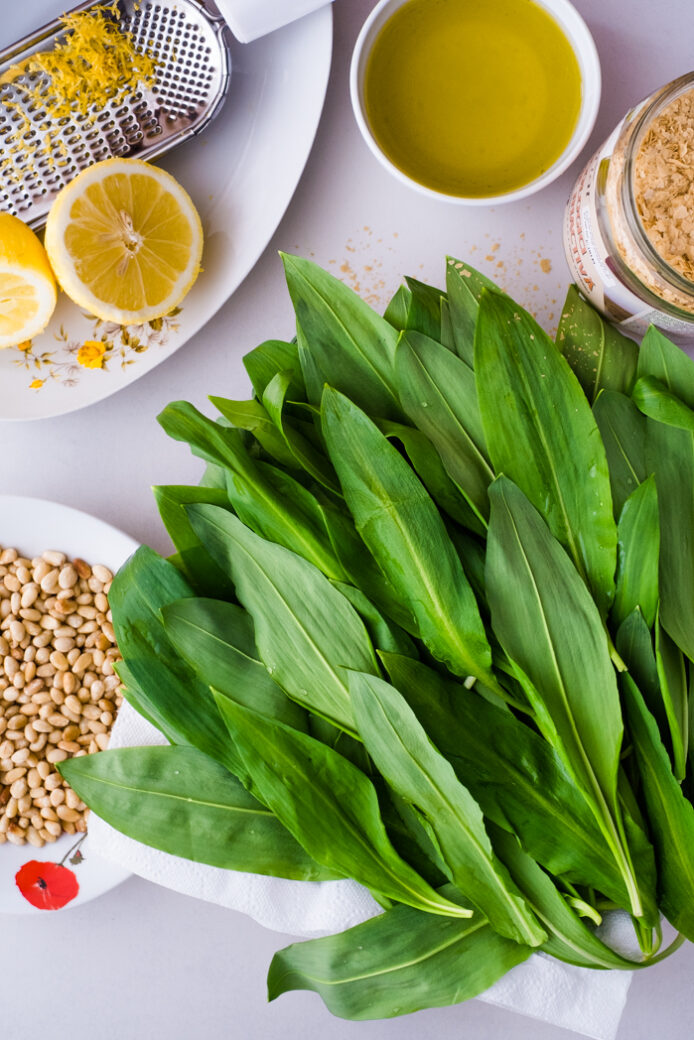 Print Recipe
Wild Garlic Pesto
This wild garlic pesto is a nutritional powerhouse and a delicious green concoction that goes with everything during spring and summer.
Ingredients
150 grams wild garlic, washed and pat dried
1 small handful of spinach
60 grams pine nuts, toasted
1/2 cup extra virgin olive oil
juice of 1/2 lemon (or more to taste)
zest of one organic lemon
1 tablespoon nutritional yeast
1/2 teaspoon salt
1/4 teaspoon fresh pepper
Instructions
1

Toast the pine nuts in a skillet, on the lowest heat, and keep an eye on them as they can burn fast. Stir frequently until golden and fragrant (about 7 minutes). Let them cool.

2

Gather all the ingredients, wash and pat dry the greens.

3

Add all the ingredients to a blender or a food processor and blend until the desired consistency. You can add more olive oil and lemon juice if you need more liquid. Taste and adjust with salt and pepper if necessary.