Spring is here and our radishes are in full bloom. Not only I love the radish bulbs, which everyone loves, but I absolutely love the radish greens or tops. The idea to share a recipe for a radish greens pesto came when my dad brought me some radishes from the garden but discarded the tops. I had no idea he didn't know radish greens are not only edible but packed with nutrients and delicious.
Can you eat radish greens or radish tops?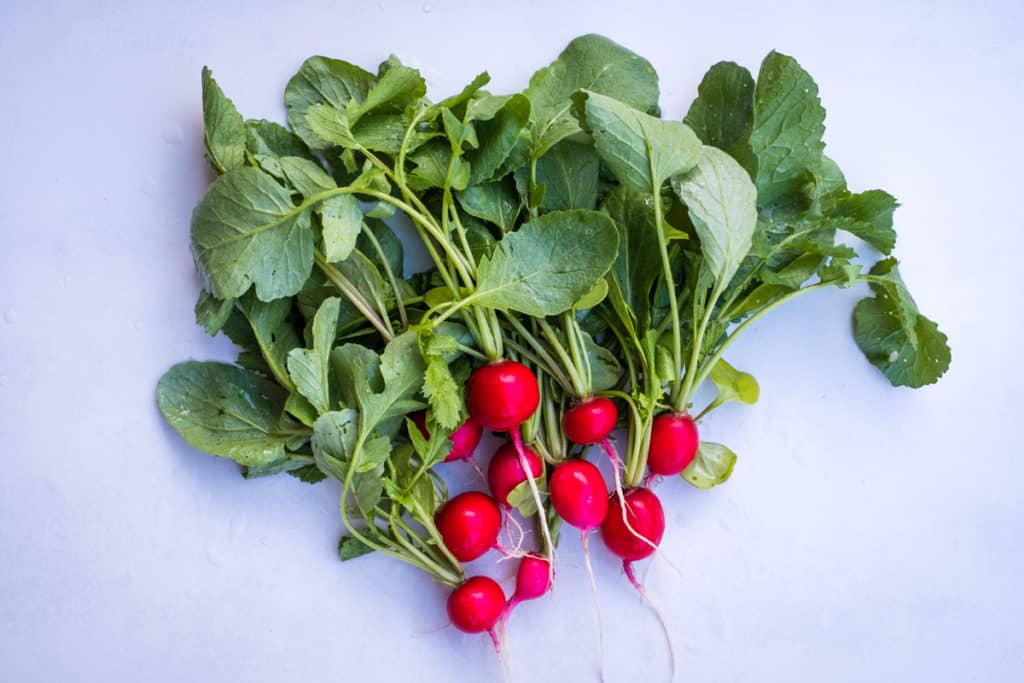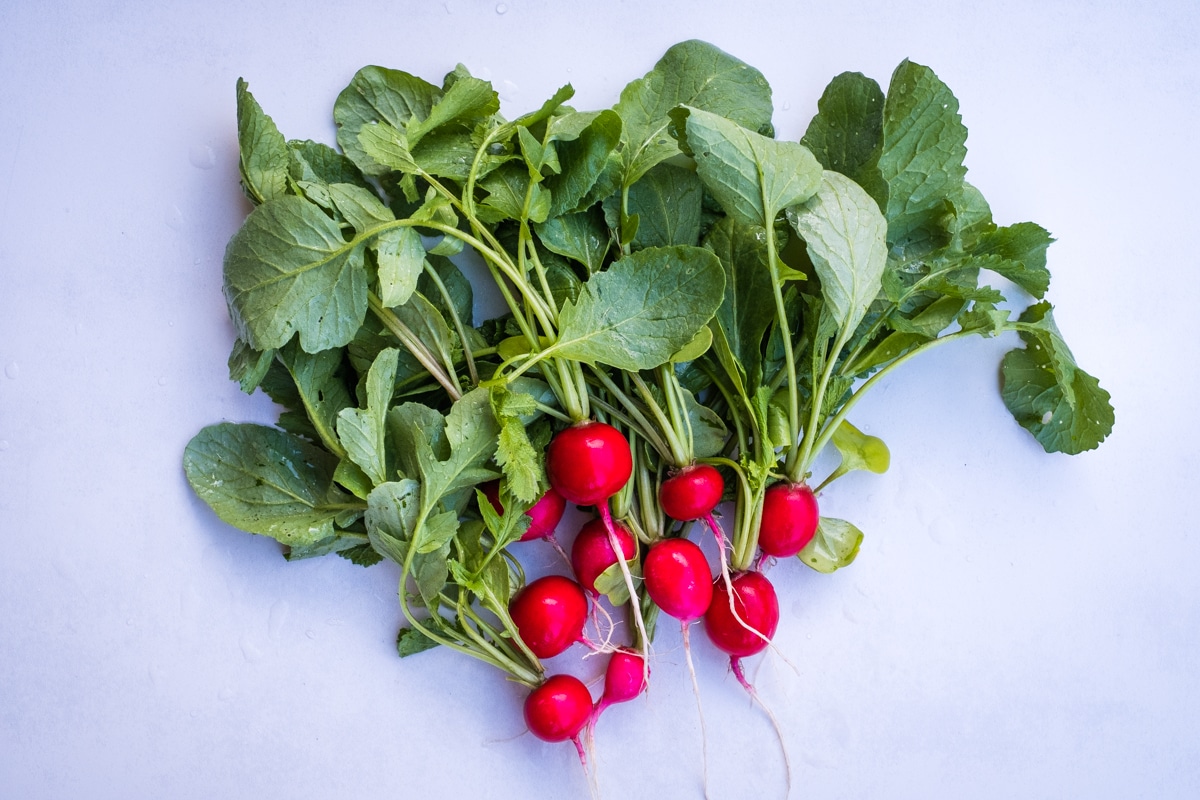 Yes, yes, yes! Not only they are good to eat, but they are very nutritious and super tasty. The radish greens have up to 6 times more vitamin C than the radish bulb. They are also packed with vitamin B6, magnesium, phosphorus, iron, calcium, vitamin A, potassium, and folic acid.
How to eat radish greens?
Firstly, when you buy radishes, get those that have bright and firm leaves, without blemishes and preferably organic. If getting them from the farmers' market, ask the farmer if they spray the tops with something, but in general, radishes are easy crops that don't need much help.
Separate the leaves from the bulb and wash them really well. They tend to hold a lot of dirt on them, even if they apparently look clean. You can make pesto, sautee them with extra virgin olive oil and some of the bulbs, as a side dish, or add them to another mix of sauteed vegetables. Another way to enjoy them is to add them to salads.
My favorite way to eat them is to make a radish greens pesto.
How do radish greens taste?
While some say they have a strong taste, I consider them mild compared to other leafy greens. They taste earthy and fresh and have a very mild peppery flavor, nothing compared to arugula. Also, they are not bitter or strong like mustard greens or dandelion greens. That's why I love making pesto with them.
What's in the radish greens pesto?
The ingredients I used for this radish greens pesto are:
radish greens
scallion
green/spring garlic (normal garlic can be used, or just skip)
toasted pine nuts
lemon, zest and juice
extra virgin olive oil
salt and pepper
water (optional)
You need a high-power blender to mix everything to a creamy consistency. I add a little bit of water so the blender works well and the pesto is not too thick, but you can skip or add more extra virgin olive oil. You can add even more water if you want more of a drizzling consistency – to use as a salad dressing for example.
How to serve the radish green pesto?
You can use the radish green pesto as a dipping sauce, to eat with all types of grilled meats or chicken, or roasted vegetables, or eggs.
I love making this chicken or turkey salad. I mix pre-cooked chicken or turkey with a few tablespoons of pesto, toasted pine nuts, some olives or olive paste, a drizzle of extra virgin olive oil, and fresh lemon juice. Goes perfectly well with the radish bulbs.
For more pesto recipes, check out: Lacinato Kale Pesto, Your New Favorite Green Sauce and Spinach and Walnut Pesto.
*This post contains affiliated links, which means I get a small commission if you choose to purchase something via one of my links, at no extra cost to you.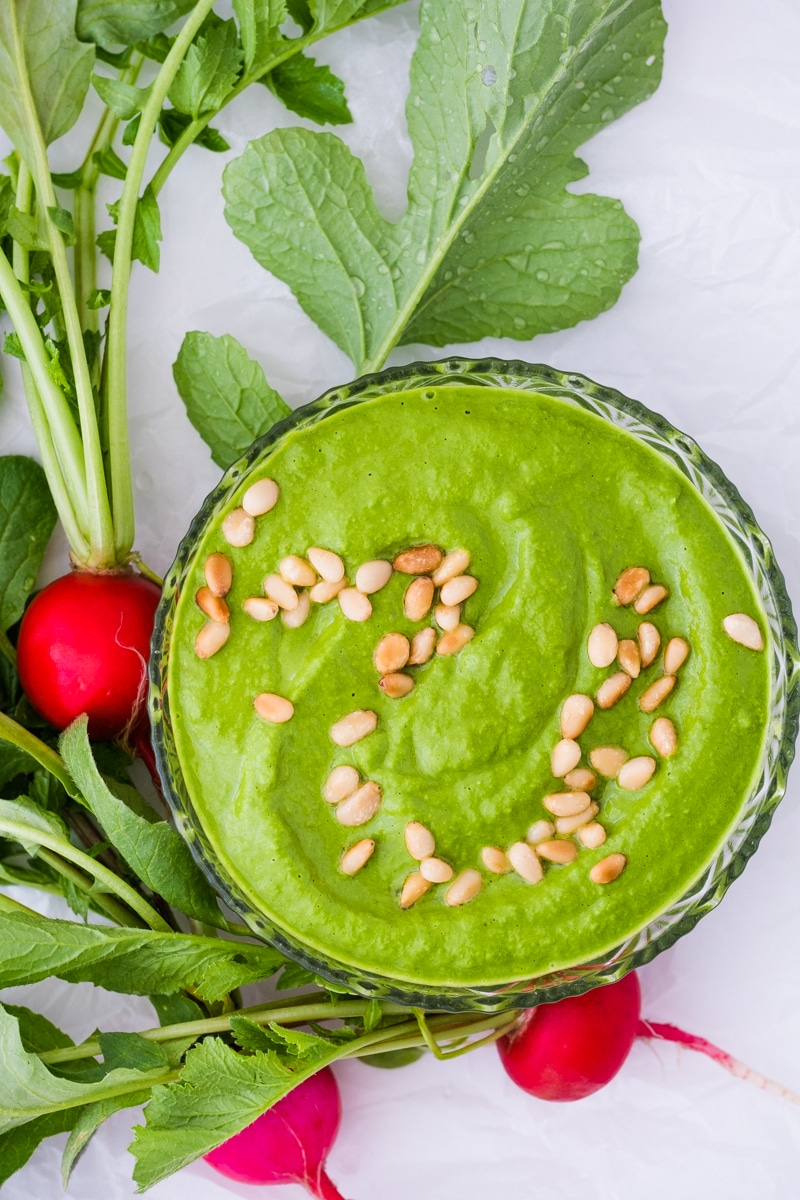 Print Recipe
Easy Radish Greens Pesto
And easy and delicious way to eat those radish greens that are full of nutrients.
Ingredients
2 1/2 cups of chopped, well-washed radish greens (super packed)
1 scallion
1 green garlic (or 1 garlic clove)
zest of one organic lemon
1/4 cup extra virgin olive oil
30-40 grams pine nuts
1/8 cup filtered water
salt and pepper to taste
lemon juice to taste
Instructions
1

Toast the pine nuts in a skillet, on very low heat, until golden and fragrant. Keep an eye on them as they can burn easily. It will take about 7 minutes. Let them cool down.

2

Add all the ingredients to a high-power blender and blend until all creamy. Taste and add more salt, pepper, and lemon juice if necessary.

3

If you want a more drizzling consistency, add more water or extra virgin olive oil.

4

Store in the fridge in a closed jar. Use in salads, as a dipping sauce or green sauce for grilled meats and chicken, or roasted vegetables. Check the post above for a recipe suggestion.