I've been experimenting with this herb dressing for quite some time. Now I feel completely happy with how it turns out and how it compliments so many different dishes. I love herbs but you know, unless you are my father, you can't really eat herbs like you eat salad leaves. I don't know, I just don't feel like biting from a fresh bunch of parsley or cilantro, like my dad used to do when we were kids (and still does, with a grin on his face).
Herb dressing, green is the color
I was listening to a podcast the other day. The interviewee said we need to eat the color green every day, and that we don't eat enough herbs. And what's a better way to eat herbs than mixing as many of them into a herb dressing.
I've used this herb dressing as a dipping sauce for crispy chicken wings, as a green sauce for meat and lamb. I'm about to make shrimp ceviche with it (adding some extra lemon). It lasts in the fridge for few days, so you can make a big quantity in advance and store it in the refrigerator in an air-tight glass jar.
Ingredients in the herb dressing
So what are the ingredients? Cilantro, parsley (you can use either dry or fresh), mint, red radishes, roasted garlic, spring onion, extra virgin olive oil, red wine vinegar, lemon juice, salt and pepper. I think is very important to used roasted garlic, if you use fresh it will overpower the other ingredients.
Not all olive oils are created equal
One more thing, I don't think I have to mention how important the quality of the olive oil is. How do you choose a good quality olive oil? It has to be extra virgin, cold-pressed, which means no heat or chemicals have been applied to the process of making the oil. It has to be fresh, from the latest harvest, and the closer the processing date is to the harvest date the better the oil.
Single-origin
Look for oils from a single origin, which means olives coming from the same place, as opposed to oil made of different harvests, different origins, all gathered from different places.
You will see oils that are made with olives from three different countries. They might be appealing because they are cheaper, but for sure they are of lower quality.
Olive oil has to be protected from light
Look for a dark, glass bottle, as the oil has to be protected from light. Olive oil in a plastic bottle is a no, no, can and dark glass are ok, although I had amazing olive oils from a transparent glass too.
Olive oil from Europe
Organic is maybe not necessary, especially if the oil comes from Europe (in the US there is a lot of roundup contamination), but organic means, according to Kasandrinos.com, practices that are environmentally friendly, a high level of biodiversity and the preservation of natural resources.
Organic farmers in the European Union are obliged to respect the health of the soil, water, plants and animals while making responsible use of energy and natural resources. So let's say that by going organic you are just going one step further. Also, if you have the possibility to taste olive oil, you will feel a strong peppery taste in your throat, just know, the stronger the taste the better the oil.
You can buy Kasandrinos olive oil from their website Kasandrinos.com, using my discount code 'creativeinmykitchen' for 10% off. Alternatively, you can find them on Amazon: Kasandrinos Organic Extra Virgin Greek Olive Oil". I absolutely love their travel packs and bottle, they are a lifesaver when on the road.
*This post contains affiliated links, which means I get a small commission if you choose to purchase something via one of my links, at no extra cost to you.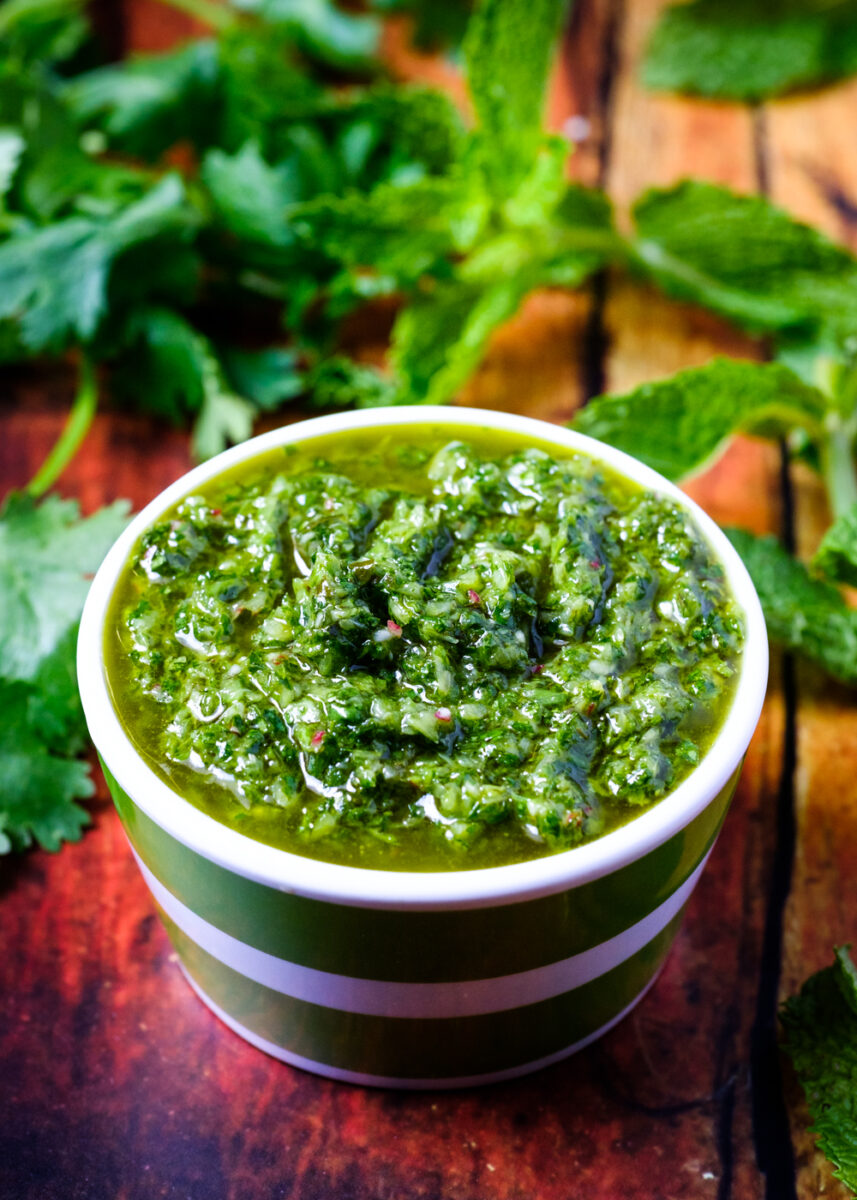 Print Recipe
Green Dream Herbs Dressing
Ingredients
1 big bunch fresh cilantro

1/2 bunch fresh parsley OR 3 tbsp dry parsley

about 10 medium leaves of fresh mint

1 bunch of spring onion / scallions

3 roasted garlic cloves (roasted previously with skin on)

2 small to medium red radishes

1/2 cup extra virgin olive oil (more or less depending on the consistency you want)

2 tsp red wine vinegar (or more to taste)

1 tsp lemon juice (or more to taste)

salt and pepper to taste
Instructions
1
Wash and dry well all your herbs.
2
Mix all the dry ingredients in a food processor until finely chopped and well mixed and start adding the olive oil and the other liquids until you get the desired consistency.
3
Taste and adjust as desired.
4
You can eat immediately or store in a glass jar, in the refrigerator, for few days.
Notes
I like to make more at once and use it to dress different meals during the week. Once in the fridge, the oil might get a little cloudy or the consistency will change, but it's because the olive oil gets harder at cold temperatures. If that's bordering you, just take it out 30 minutes before using to allow the oil to melt completely.