I recently bought a NutriBullet and I was hoping that it would work to make my pestos and herb concoctions I love so much, and it didn't disappoint. Here in Denmark, we started to find organic carrots with beautiful tops everywhere, so I decided to use the carrot tops to make a salad dressing. It was perfect.
Since I started my low histamine journey, I've been pretty limited with dressings. I avoided any type of vinegar, mayo, citrus and mustard, coconut aminos, anchovies. Dressing a salad without using any of these ingredients is hard, almost impossible, but I'm lucky because I can enjoy my salads with just olive oil, salt and pepper.
Herbs concoctions or pestos make for great, creamy dressings when mixed with extra virgin olive oil and water, a little bit of garlic, salt and pepper. You just need a powerful blender, and I have to say the NutriBullet PRO 900wt does a great job. I never got such a creamy texture with my Ninja. When we left Dallas we gave all the appliances to a friend, as they would not work in Europe, and now we are still not sure where our base will be next, so I wanted something inexpensive but powerful, hence the decision to try the NutriBullet. No regrets. Love it.
Are carrot tops edible?
Carrot tops are edible, packed with nutrients and are tasty, having a sweet, earthy flavor. Whenever I find vegetables with greens that look fresh, I can't get myself to discard them. It would be such a waste. If you grow carrots even better. For about one cup of dressing, you need tops of about eight carrots. I trim some of the thick stems. Wash them and dry them, but if you add water to your blender, you don't even have to dry them.
The recipe is super simple, and you don't have to follow the quantities exactly. The quantity of water and olive oil will depend on the consistency you want but also on what's the minimum amount of liquid your blender could handle.
Even though I called it a carrot tops salad dressing, it can be used the same way you would use a pesto, inclusive on pizza.
More green sauces and dressings
This carrot tops salad dressing recipe is part of 10 green sauce recipes for healthy and tasty meals. Check it out for more delicious and satisfying green sauce ideas.
*This post contains affiliated links, which means I get a small commission if you choose to purchase something via one of my links, at no extra cost to you.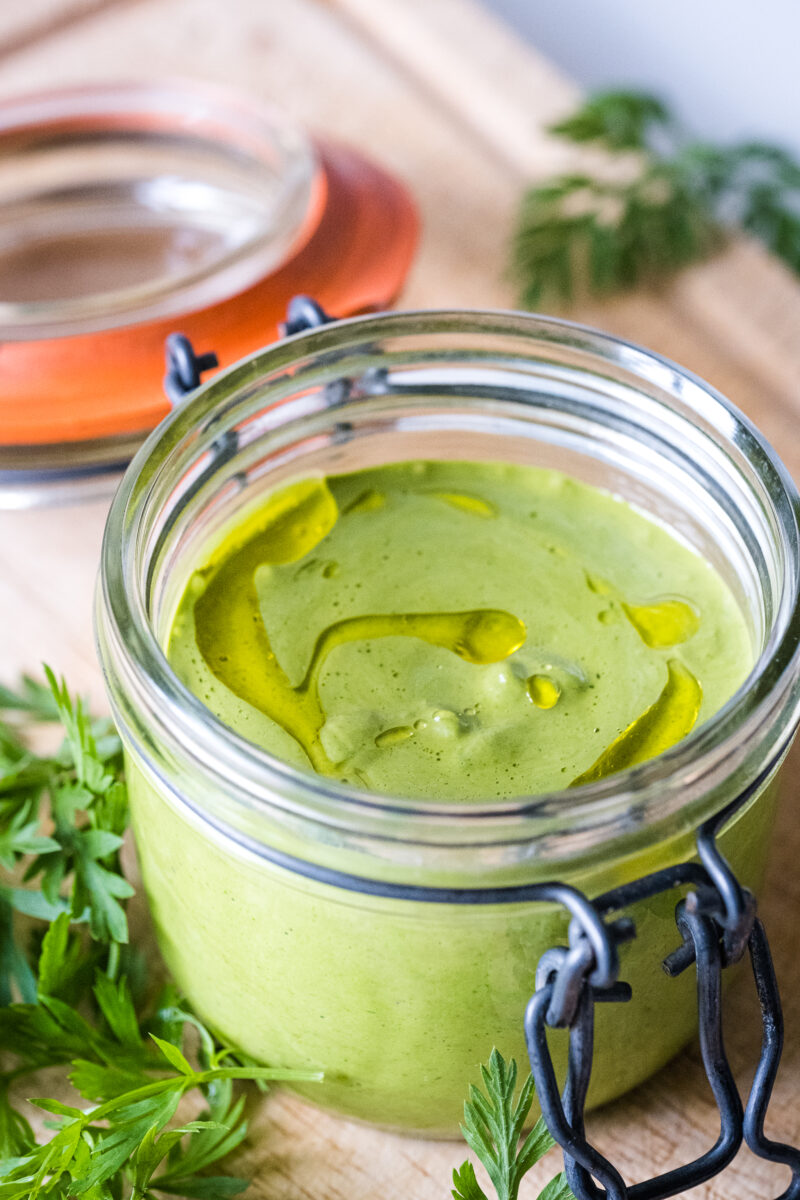 Print Recipe
Carrot Tops Salad Dressing
A salad dressing made of carrot tops. The tops are edible, packed with nutrients, and are tasty, having a sweet, earthy flavor.
Ingredients
Carrot tops from about eight carrots (about one cup if super packed)
1/4 cup extra virgin olive oil
1/8 - 1/4 cup water
1 small garlic clove
salt and pepper to taste
a squeeze of lemon, optionally (if you don't have histamine issues)
Instructions
1

Wash and trim the tops, discarding some of the thick stems and making sure everything you use is fresh.

2

Pat dry them and add them to a blender (the NutriBullet works perfectly for this size), add the garlic, salt and pepper, lemon juice if using and add the olive oil. Start with 1/8 cup water, try to see if your blender works with this quantity of liquid and if it doesn't add a little bit more water and/or extra virgin olive oil. When I use it for a salad, I like it to have a drizzling consistency, so I don't mind adding more water.

3

Once blended, taste and add more salt and pepper if necessary.

4

Store in a glass container for up to two days and use for salads, as a dip or to drizzle on top of your meals. You can also use it as a sauce for pizza.
Notes
Makes about one cup of pesto/dressing.