Gremolata is the name of an Italian chunky mix of fresh parsley, lemon zest, and garlic. I started with the traditional Italian condiment formula and transformed it into a multi-purpose, delicious sauce: mint gremolata. Use it fresh. It will brighten up any meat, eggs, or roasted vegetables or use as a marinade or salad dressing.
We have so much parsley in the garden, and our lemon tree was brimming with lemons. We still have plenty of fresh spring garlic in our greenhouse. And my mom brought home a big bag of fresh mint. I constantly have to find new ways to use all these beautiful herbs in the best possible way.
Ingredients of an Italian gremolata
Parsley, lemon zest, and fresh garlic are the basic ingredients in the classic recipe. But I wanted to make it a chunky sauce and add some mint to it since I have so much of it. The result was delicious, and I wanted to share it with you.
I used spring garlic and just one piece, as lately I've been making a lot of very garlicky green sauces, and I wanted to tone down the garlic a little bit. Plus, while my dad and I can handle a lot of garlic, my mom and my husband are not big fans. If you use garlic cloves instead of spring garlic, use one or two, depending on how strong you want the garlic to taste.
To make it into a sauce and be able to store this green concoction, I added extra virgin olive oil and lemon. For spices, I used only salt and freshly ground pepper.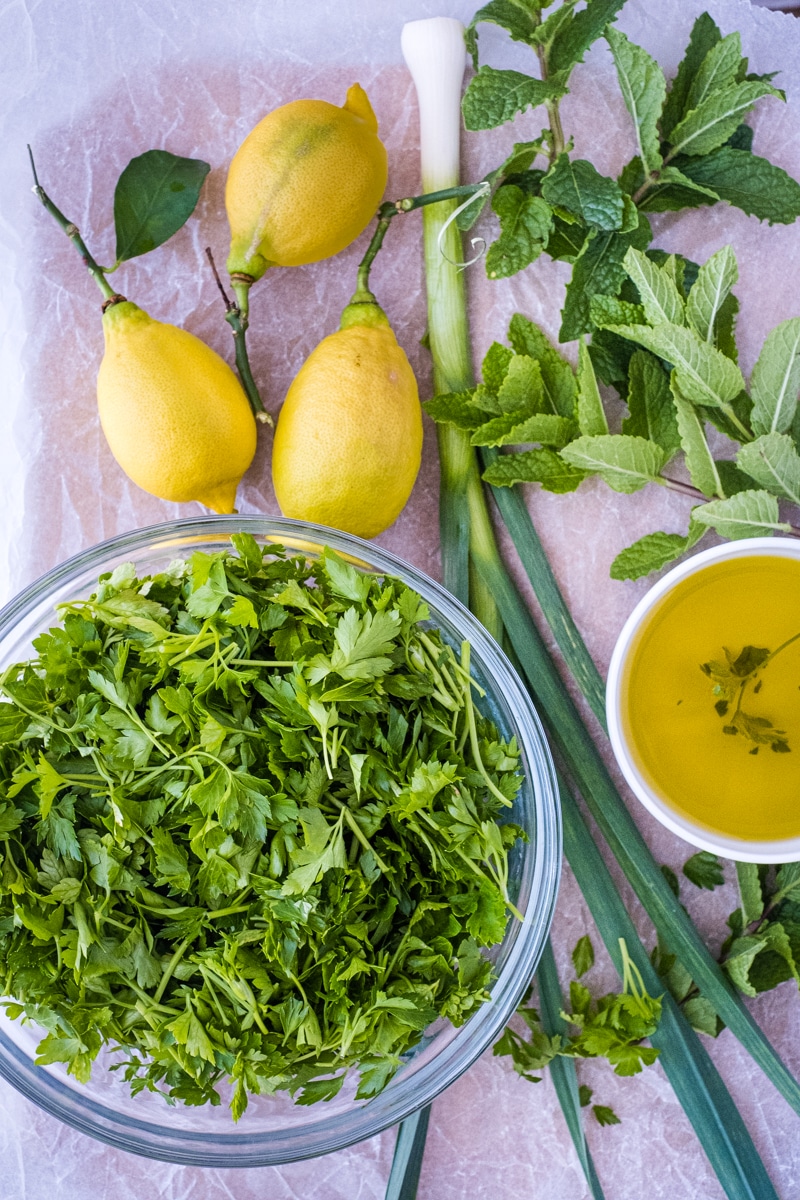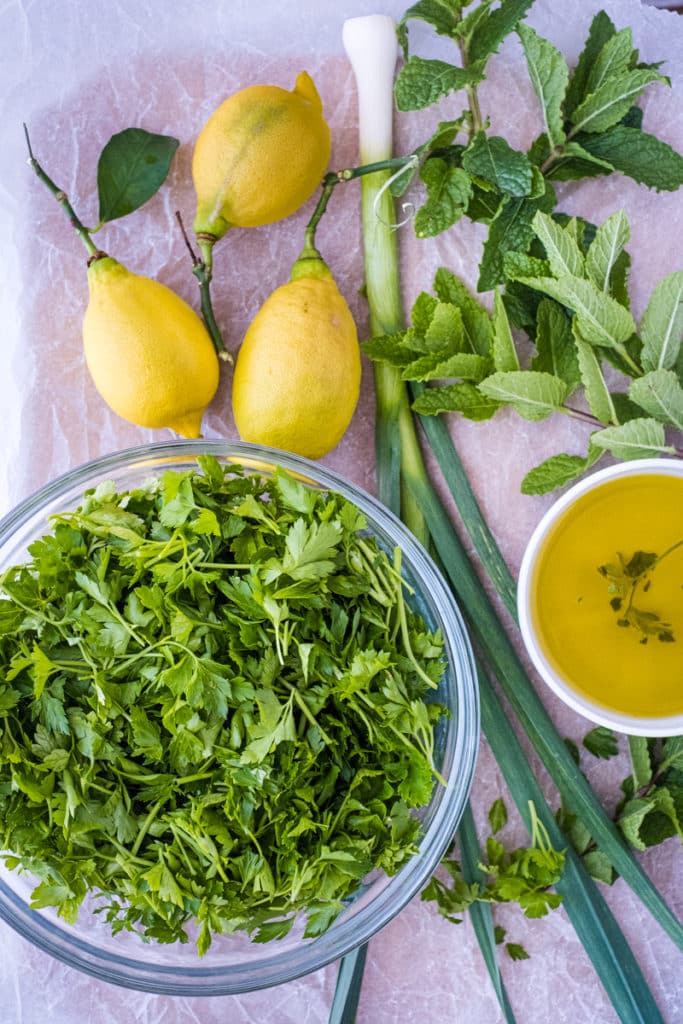 What tools do you need to make a mint gremolata sauce?
Although I use a blender for many of my green sauces, for this one, I like it to be chunky, so I use a food processor. You can even finely chop them by hand with a chef's knife if you have the patience and the skills. Traditionally, that's how gremolata is made. If you use normal garlic cloves, it's better to grate them before you put them in the food processor. For the lemon, use a lemon zester, and make sure you use organic lemons.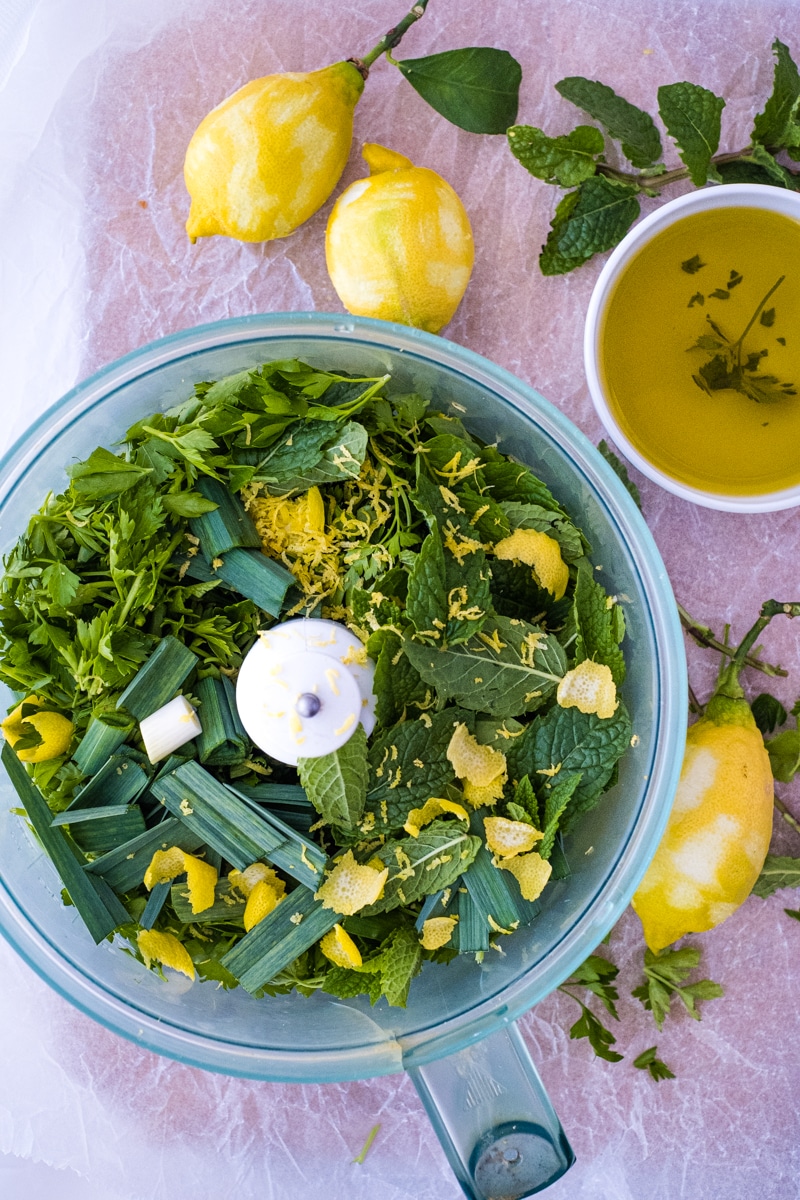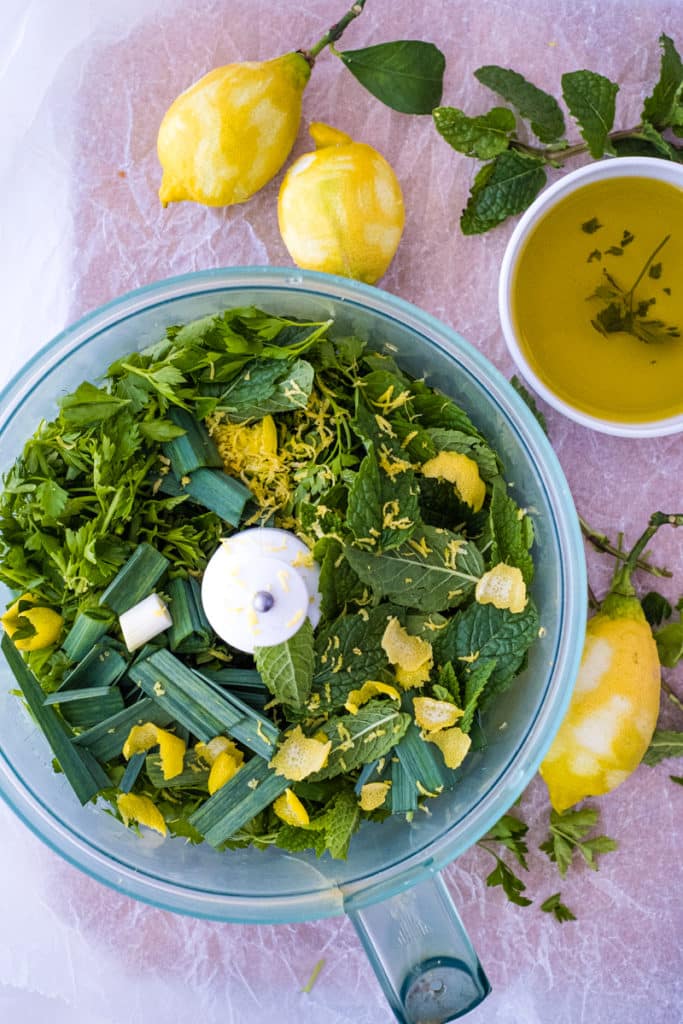 How to use the mint gremolata
I am a fan of green sauces, and I think this gremolata recipe goes with everything. I like to top chicken, meat, and any cooked animal protein. It goes perfectly with scrambled eggs, sweet potatoes, cauliflower, and roasted, sauteed, or steamed vegetables. This recipe makes a great, simple marinade and can be added as a salad dressing.
I also use it to marinate the lamb when I make grilled lamb chops. Lamb chops and mint, plus some other Italian herbs and garlic, are a match made in heaven.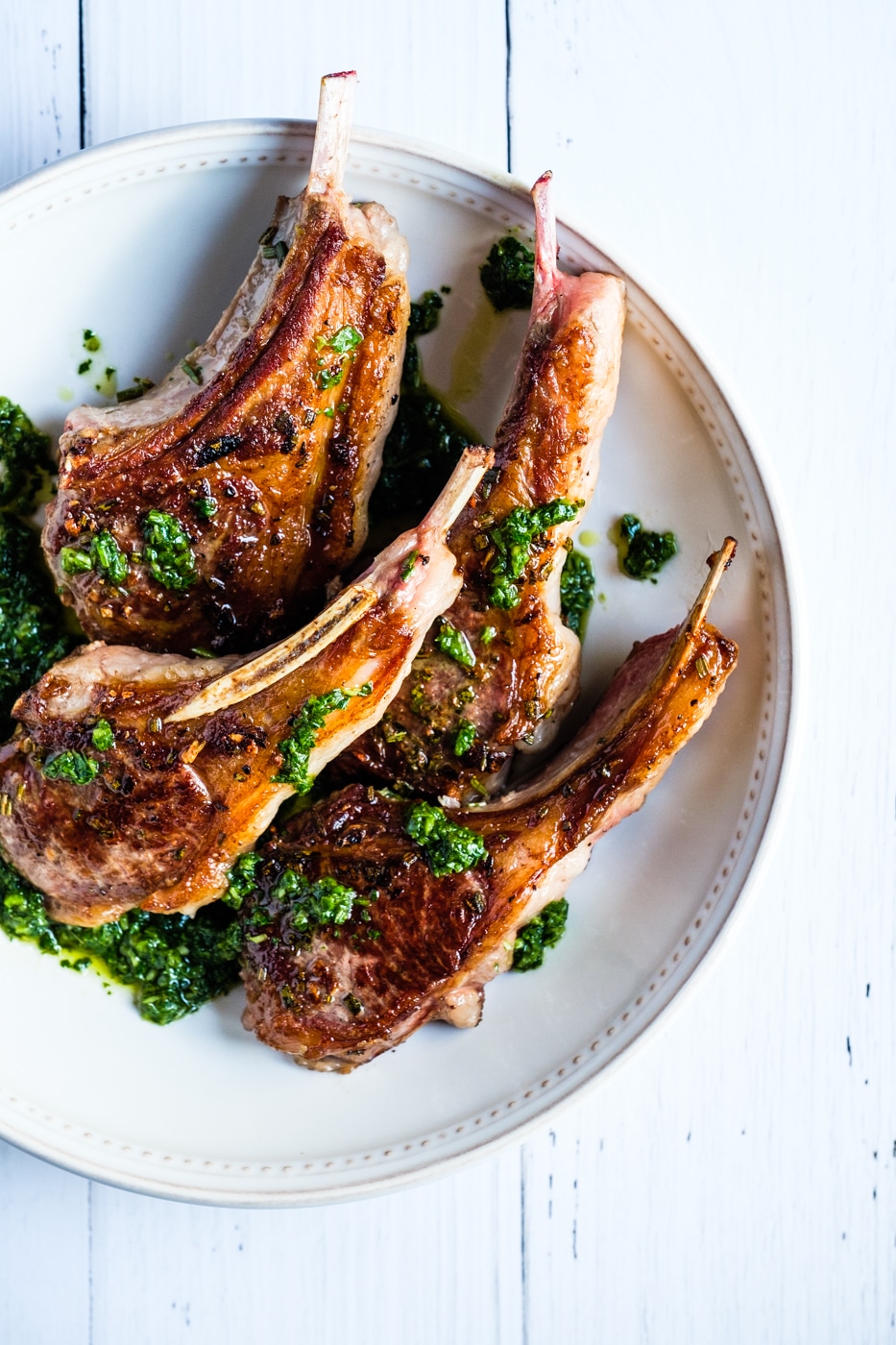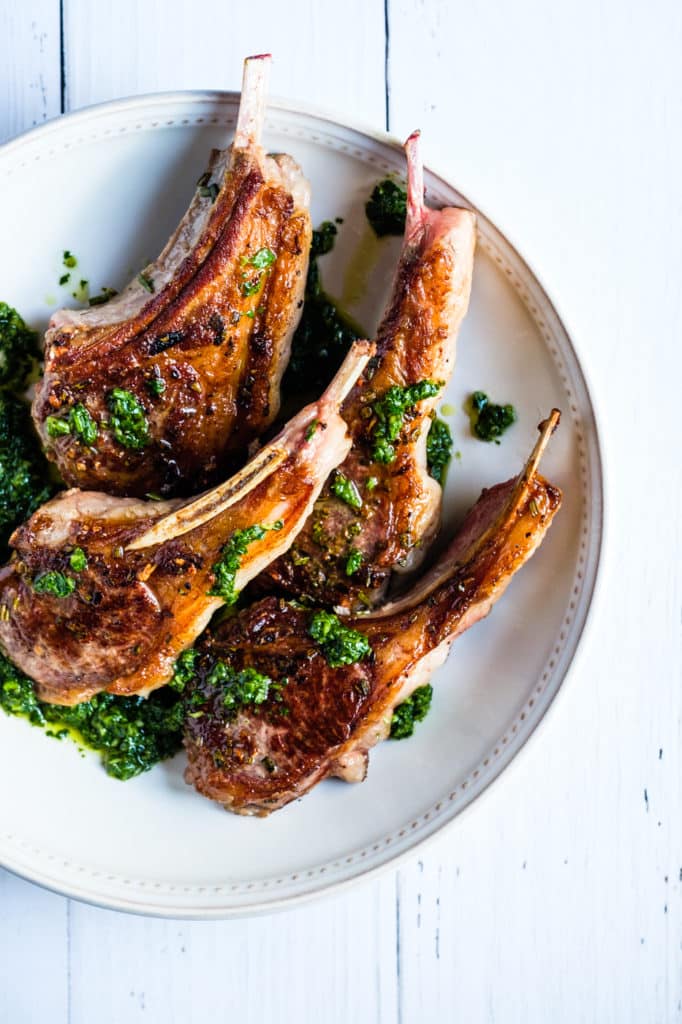 More green sauce recipes to try
*This post contains affiliated links, which means I get a small commission if you choose to purchase something via one of my links, at no extra cost to you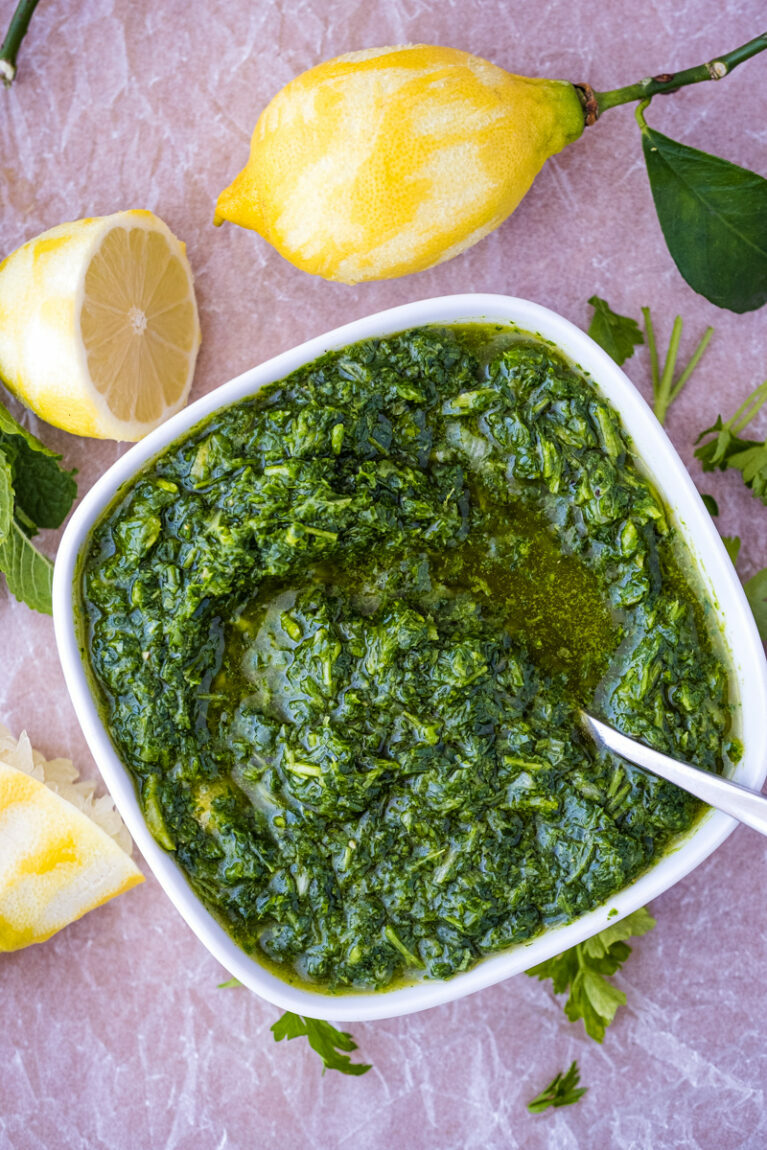 Print Recipe
Easy Mint Gremolata Sauce
This mint gremolata sauce is a multi-purpose sauce that will brighten up any kind of meat, eggs, or roasted vegetables. Or use it as a marinade.
Ingredients
2 1/2 cups of chopped parsley (washed and dried)
a handful of fresh mint leaves (washed and dried)
1 spring garlic, chopped / or 2 garlic cloves, grated
1/2 cup extra virgin olive oil
zest of 2 organic lemons (grated)
juice of 1/2 lemon (or to taste)
1/4 teaspoon salt (or to taste)
1/8 teaspoon freshly ground pepper
Instructions
1

Add the parsley, mint, and garlic to a food processor (not a blender). Blend until all chopped. It's ok to have a rougher look, that's how gremolata should be. Start adding the oil and continue to mix until you added all the oil.

2

Add the lemon juice, lemon zest, and spices and combine.

3

Serve or store in a glass jar in the fridge for a few days.