A lot of the lectin-free recipes I decide to make are born from conversations with people. The seed for this beef and cabbage casserole recipe was planted by my sister, a few weeks ago.
This is a recipe originating from Transylvania, Romania. It's more or less an easier version of the famous Romanian cabbage rolls. Let's say a deconstructed version of cabbage rolls. And from now on, also a lectin-free one.
Beef and cabbage casserole – a warming recipe for the cold season
My family is from the Southern / Western part of Romania, so we are used to the cabbage rolls version, but really, even for me, that's a little bit of work, especially when you have to use fresh cabbage.
Traditionally both this casserole and the cabbage rolls are made with fermented cabbage, which is much softer and easier to roll than the fresh version. Anyway, if you are tempted to make the rolls, I have converted them to a lectin-free version, and you can find it here:
ROMANIAN CABBAGE ROLLS WITH SORGHUM AND PAPRIKA
Now back to the cabbage casserole. As far as records go, it is known that this recipe was first printed (at least in its Romanian version, I am aware there are Nordic versions of this dish – 'Kalpudding', anyone?) in a cookbook published in 1695, but it originated in a Franciscan monastery in Transylvania. The original recipe is made with fermented cabbage (sauerkraut, except that in Romania we ferment the whole cabbage heads, not chopped).
I'm not sure if rice was a thing at that time, most probably not. Today's version of this dish includes rice and minced pork. Some today's recipes have tomato paste, some not, but considering tomatoes arrived in Europe in the 16th century and only started to be commercially cultivated in the 19th century, the original one most probably didn't include them.
How to make this casserole
To replace the rice I decided on sorghum, which is my favorite lectin-free grain. I love how it tastes and love the texture. Since this is a layered dish I thought sorghum will be perfect. You can totally skip it if for some reason you don't like it or can't have it.
Other than that, the only ingredients are cabbage (a lot of it), some sauerkraut for taste (optional), onions (also a lot) and ground beef (make sure is 100% grass-fed). But, what for me really makes this dish so good and flavorful, are the spices: caraway seeds, smoked paprika, fresh dill.
The smoked flavor can also be given by adding some smoked compliant sausage or bacon. I decided to keep it beef-focused because it's so much easier to find clean, quality beef. If you have access to quality pork meat, you can even replace the beef entirely or mix it half-half, or use ground beef and add some smoked sausage or bacon for more depth of flavor. But the smoked paprika does a really good job too.
BOB'S RED MILL SORGHUM WHOLE GRAIN
As per the fat, I used a mix of lard and avocado oil, mainly because I had some leftover lard from a pork belly I cooked a while ago. And I thought that's the perfect occasion to use it. It adds something to the dish but it's not necessary. If you have it use it, if you don't, use avocado oil. Just don't use coconut or olive oil, you need something more neutral tasting.
How to serve the beef and cabbage casserole
Oh, and about sour cream, some of the recipes online use a lot of it, as the final layer, but I only drizzled one tablespoon for looks and my husband added fresh sour cream when serving. It pairs really well with this dish but I prefer to keep dairy and saturated fat as low as possible so I didn't feel I need the extra for this dish. You can also replace sour cream with sheep or goat yogurt.
This quantity will need an 8×8 thermo resistant dish (I measured the bottom, but mine gets a little larger on top), minimum. Don't be afraid to reheat it, the more you do the tastier it gets.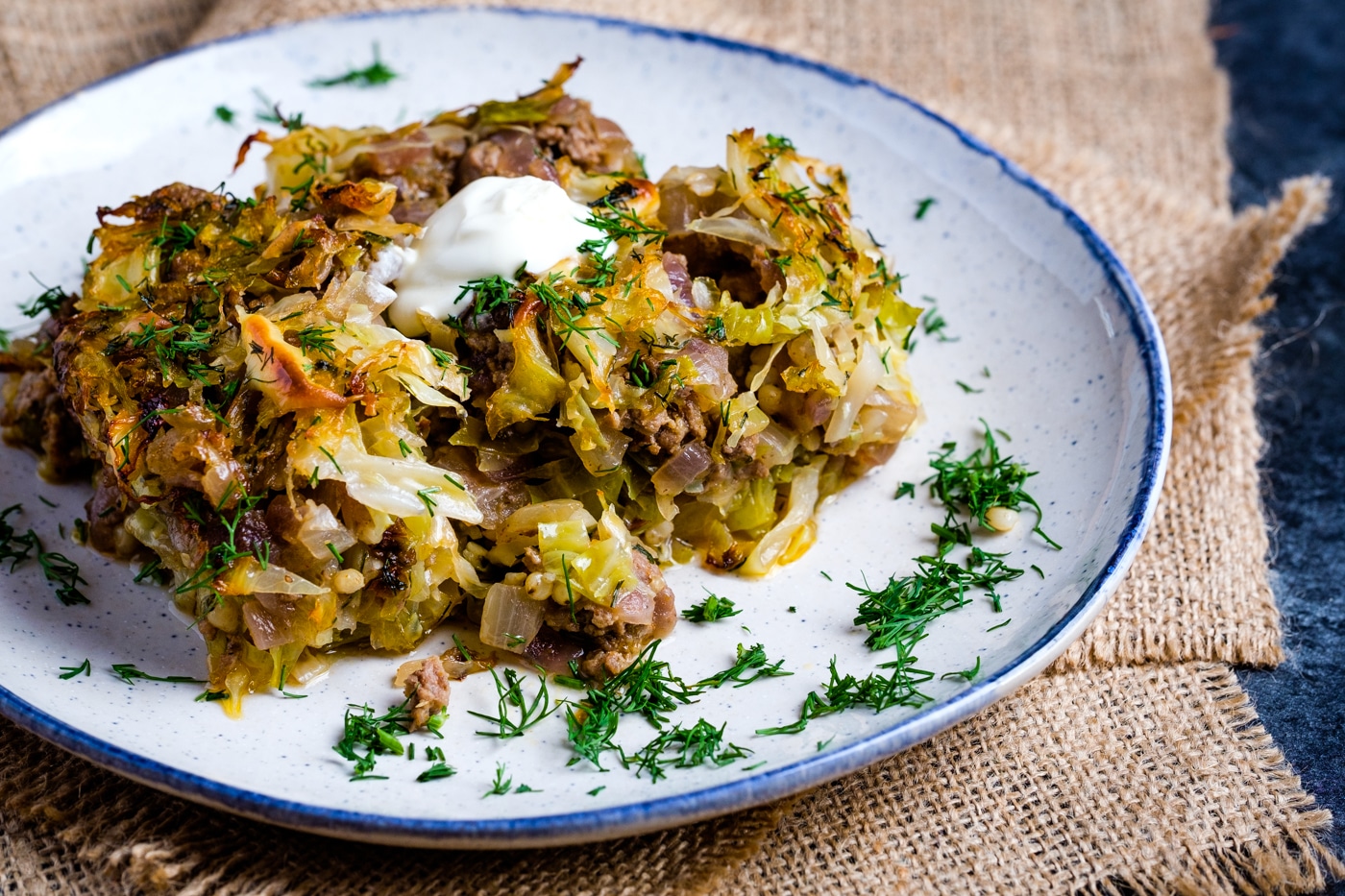 *This post contains affiliated links, which means I get a small commission if you choose to purchase something via one of my links, at no extra cost to you.
Print Recipe
Beef Cabbage Casserole, Romanian Style
Ingredients
2 small green cabbage heads OR one very big one, finely shredded

1 lbs 100% grass-fed ground beef

2 big onions (one red and one yellow), chopped

1/2 to 1 cup sauerkraut with juice (to taste or optional)

1 cup cooked sorghum (make sure it's cooked in advance, it can take one hour for the sorghum to be cooked)

1 tbsp red wine vinegar (or more if not using sauerkraut)

1 bunch fresh dill

2 tsp smoked paprika

1/2 tsp caraway seeds

1 small bunch of fresh thyme, or 1 tsp dry thyme

2 tsp salt (or more to taste)

pepper to taste

Lard + avocado oil for cooking
Instructions
2
TO MAKE THE MEAT: You will need 2 big sauteeing pan, or if you only have one (like I did), prepare the meat first and then in the same pan prepare the cabbage. Chop the onions and sauté them in a mix of lard and avocado oil in the pan until translucent. Add the meat and thyme and sauté until the meat is not red anymore (you can leave the bunch whole and take it out when assembling the dish or add only the small leaves, I used it whole, its easier). Add the paprika, caraway seeds, let all the spices infuse, stir well and if you are using the same pan, remove the meat and onion mixture in a bowl, and let aside.
3
TO MAKE THE CABBAGE: Add more lard/avocado oil to the pan, add the finely shredded cabbage, and sauté until moist and loses some of the volumes (at the beginning the pan may seem small but cabbage loses about half of its volume when cooked). Add the sauerkraut and some juice if using (I had about 1/2 cup with juice), and cook for few more minutes. Add salt and pepper to taste and fresh chopped dill. Add one tbsp of red wine vinegar. This dish is traditionally made with only fermented cabbage, that's why it needs a little bit of sauerkraut to give it a similar taste, plus some more vinegar (it needs to taste a little sour).
4
TO ASSEMBLE THE DISH: Layer the dish starting with a 1/2 of the cabbage, followed by 1/2 of the sorghum, followed by 1/2 of the meat. Continue with 1/3 of the cabbage, the rest of the sorghum, and then the rest of the meat. Cover all layers with the 1/3 of the cabbage left. Optional, you can add some sour cream on top, as much as you'd like (I only drizzled one or two tablespoons).
5
Bake in the oven for about 35 minutes. Sprinkle some fresh dill and serve.