The Romanian in me couldn't resist giving this Eastern European and Mediterranean staple a chance to become a part of the Plant Paradox menu. Despite its reputation of being a heavy meal, I think this can easily be a healthy food choice. To make the Romanian cabbage rolls lectin-free, I had to replace the rice with sorghum, omit the tomatoes and tomato paste and reduce the amount of animal protein.
Romanian cabbage rolls for special occasions
We mostly make cabbage rolls for special occasions, such as Christmas, New Year's Eve and Easter. And mostly in the winter, because traditionally they are made with fermented cabbage (made in big barrels over the winter).
Cabbage rolls are made with a lot of pork, fat and tomato paste. People tend to eat a few too many next to other festive foods. Therefore it got the bad reputation of being a heavy food, hence an occasional treat.
Comfort food made healthy
If we replace the pork with more lean meat like chicken and/or beef and increase the proportion of veggies versus meat, plus remove tomatoes, this is in fact a gut-friendly, healthy dish.
If you are in Phase 3 of the Plant Paradox program and are reintroducing rice, you can use Indian basmati rice instead of sorghum. And if you are vegan, you can replace the meat with mushroom (maybe add some walnuts too). In fact, Romanians make vegan cabbage rolls during lent periods (and Orthodox lent is vegan, not only vegetarian, and amounts for about 170 days in one year).
So the lectin-free cabbage rolls experiment was a success. Even my husband who's favorite food is not really cabbage, loved them and gave them a compliment.
An easier version of the Romanian cabbage rolls would be the Beef Cabbage Casserole, Romanian style.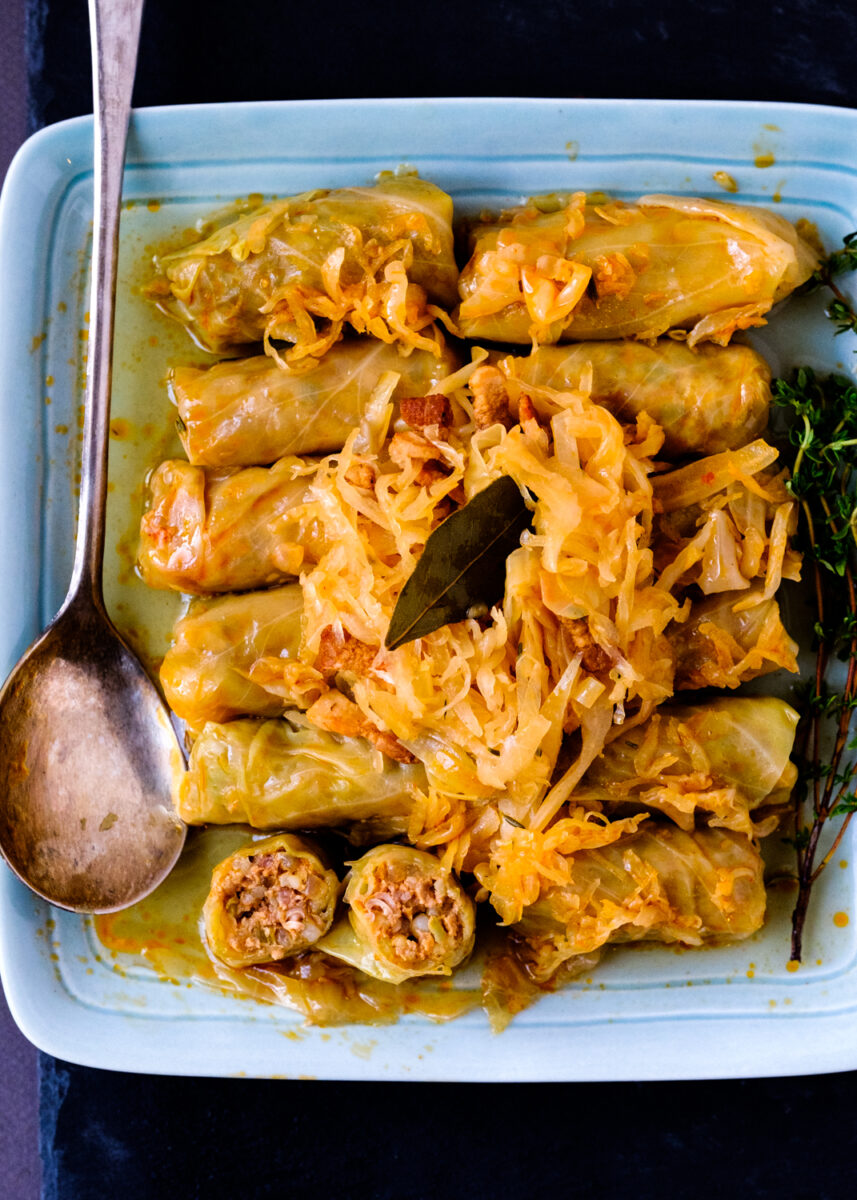 Print Recipe
Romanian Cabbage Rolls with Sorghum and Paprika
A lectin-free take on the traditional cabbage rolls.
Ingredients
2 big white cabbage heads

1 red onion + 1/2 yellow onion, chopped finely

1 medium parsnip, chopped finely

2 stalks of celery, chopped finely

avocado oil

1/2 cup cooked sorghum

2/3 to 1 cup sauerkraut

2 tbsp apple cider vinegar

1/2 lbs ground pasture raised chicken + 100% grass fed beef

2 slices of (pasture, local, responsibly raised) pork belly

VEGAN option: replace meat with mushrooms

fresh thyme

4 bay leaves

salt & pepper

2 tbsp organic Hungarian paprika
Instructions
1
Blanch the two cabbage heads for about 10 mins. Take out and start peeling off, carefully, the leaves. Be careful not to break them. Only the few outer leaves will be soft enough to work as a wrap, leave the rest of the cabbage on the side. If the leaves are big enough, cut in half along the stem and remove the hard part. From one big cabbage leaf you should be able to make two wraps. You must have around 30 wraps in total from this quantity.
2
Chop all the vegetables and saute them in avocado oil until they are soft and brown. Add salt, pepper and 1 Tbsp paprika. Let cool.
3
In a bowl mix the raw meat + chicken with the cooked vegetables, the cooked sorghum, a generous amount of salt and pepper.
4
In a Duch or French oven (a heavy cooking pot with a lid) fry the pork belly cut in small pieces, until crispy. Remove the pork belly and throw away the excess fat, but don't wash the pot.
5
Start making the rolls. Add about one tbsp of the mixture to each leaf, roll carefully and close the two ends by pushing the ends inside the roll. It can also be wrapped like a burrito.
6
Cut some of the leftover cabbage and add a layer of chopped cabbage to the bottom of the pan. Arrange the cabbage rolls in circles, without leaving space in between them. (This also depends on how big your pot is and how big of a quantity you make). When the first layer is complete, add more chopped cabbage, a handful of sauerkraut (the german style), fresh thyme and 2 bay leaves, paprika.
7
Start another layer of cabbage rolls, and finish the the same way. Add few whole cabbage leaves on top and fill with water to cover them. Add 2 tbsp of apple cider vinegar. Heat on medium heat until they start boiling, turn heat to low, cover and simmer for about 1.45 hours.
Notes
Suggestion: If you have a big family and a bigger pot, make more at once, they are better reheated and last one week in the fridge. This quantity makes 30 rolls, but they are really small, so I would count 5 rolls per serving. Vegan version: replace the meat and chicken mixture with mushrooms.