Like with many of my recipes, this chicken and cabbage soup was created when a bunch of random ingredients in my fridge needed to be purposed, plus a day when I actually felt like a soup. This is so simple, made with ingredients available all year round, and surprisingly refreshing and soothing. Also, you know, perfect for those days when you feel like a cleanse and getting rid of some extra pounds. And, also a low histamine chicken and cabbage soup, if the chicken you use is prepared the right way.
How to make a low histamine chicken and cabbage soup
So let's start with the chicken, although it can be skipped altogether. When on a low histamine diet, we need to avoid eating leftover animal protein, or animal protein that was not fresh enough.
The only treatment that stops the formation of histamine triggering bacteria is actually freezing. So, I make sure the meat I buy is super fresh (processed as recently as possible), or has been flash-frozen after processing. Thawing can be done pretty fast in cold water (still in the original packaging). Please also read my guide to low histamine cooking and food preparation for more information.
After thawing give the meat a good rinse and pat dry well. Cook immediately, as fast as possible (pressure cooking, roasting, or cooking in a pan are absolutely fine, as long as they don't take hours). Leave the stews and harder pieces of meat for the pressure cooker.
So, I had prepared one of my spatchcocked chicken a day before, shredded and froze the leftovers. That's what I used for this soup. I just take them out of the freezer. Put them in a hot soup and in five minutes all is ready to eat. Again, you can totally make this soup vegetarian, but a little chicken gives it something extra soothing.
The rest is super simple. No additional explanations are necessary. I like to have a soup like this with some fresh sprouts (of approves vegetables), for some extra nutrition.
If you like this chicken and cabbage soup you might also want to try the Healing Vegetable Soup with Kale and Broccoli Sprouts.
For another low histamine, recipe try my Thai Style Curry, Low Histamine.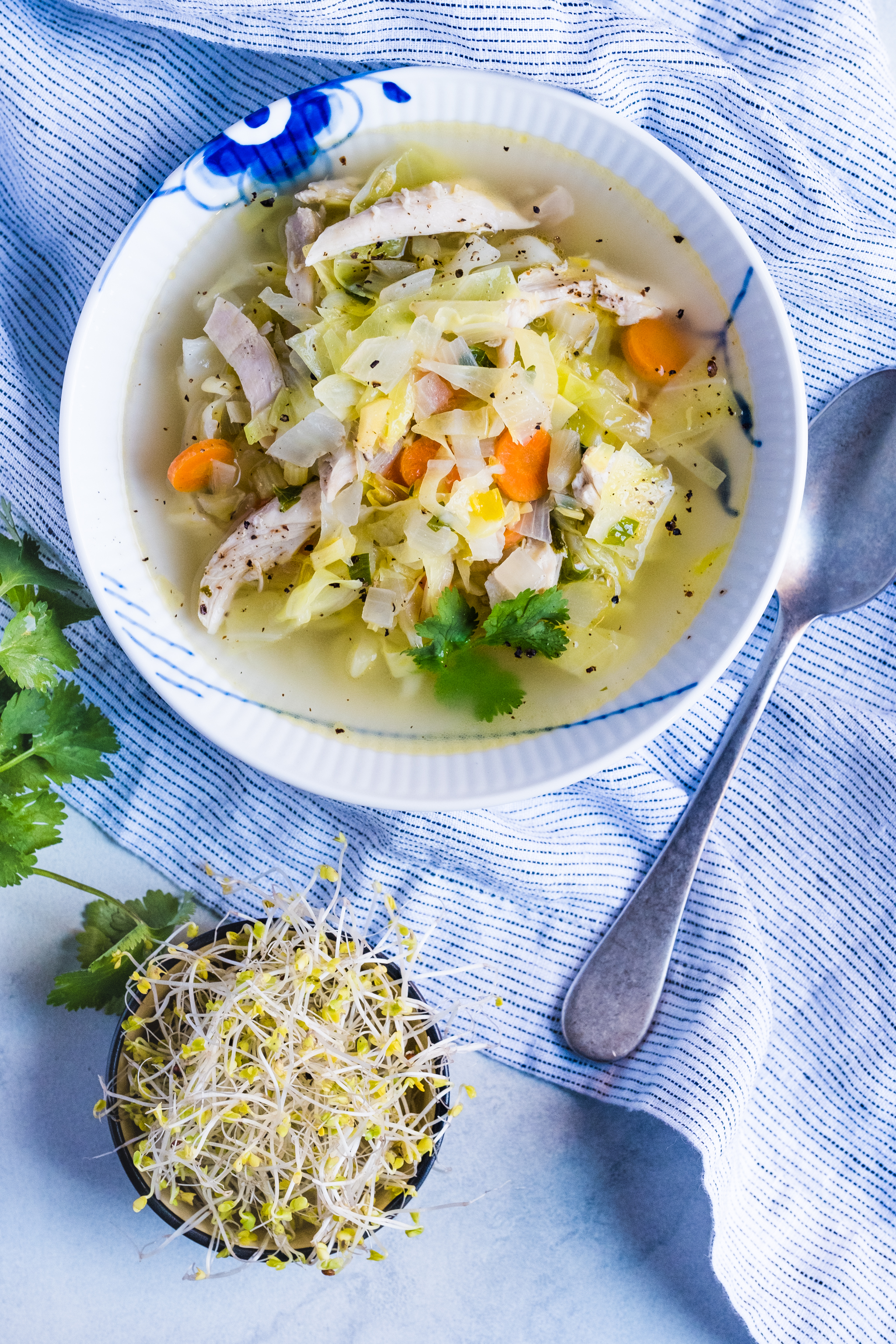 Print Recipe
Chicken and Cabbage Soup. Simple, Soothing, Low Histamine.
A low histamine chicken and cabbage soup, if the chicken you use is prepared the right way.
Ingredients
2 or 3 tablespoons extra virgin olive oil
1 yellow or sweet onion, chopped
1 small carrot, finely sliced
1 stalk celery, chopped
1 thumb size ginger root, peeled and finely chopped
1/2 white cabbage finely sliced/shredded
1 sprig of fresh thyme
salt and pepper to taste
about 5 cups warm water
Optional: cooked chicken (frozen)
For serving: fresh cilantro or parsley, vegetable sprouts, extra virgin olive oil
Instructions
1

Add the olive oil to a soup pot, generously covering the pot bottom. When the oil is heated, add the onions, carrot, celery and ginger and sauté for about 10, 15 minutes, stirring occasionally, until the onions are translucent and fragrant.

2

Add the cabbage, the sprig of thyme, salt and pepper. Stir well and add the warm water. Bring to a boil, taste for salt and pepper and add more if necessary.

3

Let simmer on low heat for about 10 minutes, or until the cabbage is soft but not entirely mushy.

4

If you are using cooked chicken, add it at the end, or five minutes before turning the heat off if the chicken was frozen.

5

Serve with vegetable sprouts, extra virgin olive oil, and even a squeeze of lemon if you prefer a more tangy taste.