"Ciorba de perisoare" – that's how we call this meatball soup in Romania. It's always been one of our favorites. Every time we come home we ask my mom to make some for us. Technically, in Romania soup is not exactly the term we use for this type of broth. We rather use the Eastern European term "ciorba". In Romania, a soup is sweet, while a "ciorba" is more or less sour, depending on taste.
Reducing the lectin content
This time I helped my mom to make this Romanian meatball soup and took down notes, so I can share it with you. I followed her instructions but changed a few elements to make it more friendly with the Plant Paradox program.
For those of you following the program, this is rather a Phase 3 recipe, as it contains tomatoes, peppers and a little bit of rice. But the tomato was peeled and deseeded and I used roasted peppers which were peeled and deseeded too (the lectins are in seeds and peels).
And for rice, I only used one tablespoon for the whole quantity, which honestly is nothing, unless you are extremely sensitive to rice. Also, I only use one tomato and one pepper. And everything was pressure cooked to reduce lectin content even more. Even if you give up the Phase 3 ingredients, the end result will still be great.
How to make meatball soup, Romanian style
The meatballs are made with pork, about 10% fat, but you can use any type of minced meat. To make it histamine friendly, we only ground the pork before we made the meatballs, using a meat grinder, as I don't eat ground meat from the store. If you have histamine sensitivity or intolerance, a meat grinder is a great investment. The grind for the meatballs has to be fine.
We add rice to the meatballs, but it is a very small quantity. Since the whole soup is pressure-cooked, I don't think that's a problem. I tend to make them a little bigger, but my mom insisted I should make them smaller 😆. They kind of fit in a spoon when you serve the soup and can be had in one bite. I don't think it's a problem if you make them bigger. You also need to roll them really well so there is no air left inside or cracks on the surface, otherwise, they might break.
A few words about how you make this Romanian meatball soup sour. We used something very popular in Romania (and Eastern Europe in general), call "borsch". This is the Wikipedia definition.
If you don't have borsch, and don't feel like trying making your own (it's fermented so low lectin and there are plenty of recipes online), use lemon juice or apple cider vinegar, to your taste. You can even use sauerkraut juice (I do that sometimes). And if you don't find lovage, parsley is a great replacement.
For another lectin-free Romanian soup check out the Romanian Style Beef Soup (Ciorbă de Văcuță).
*This post contains affiliated links, which means I get a small commission if you choose to purchase something via one of my links, at no extra cost to you.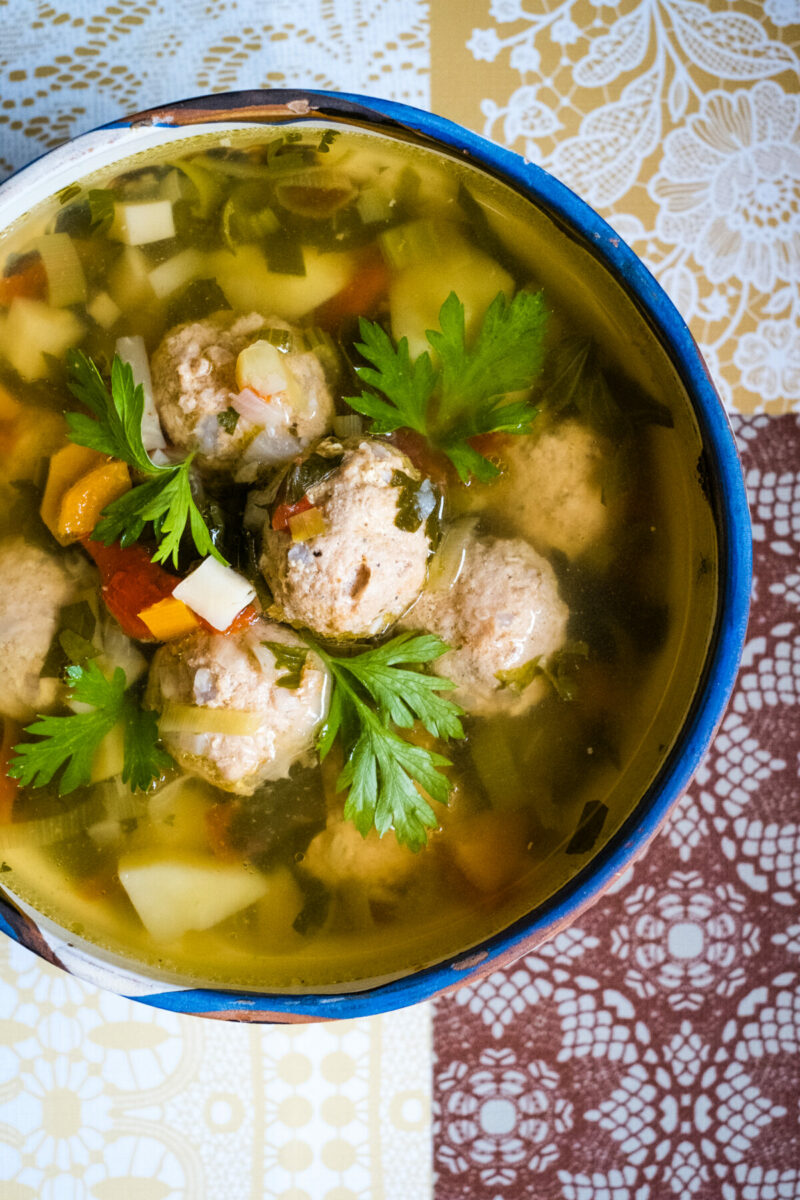 Print Recipe
Low Lectin Meatball Soup, Romanian Style. In the Pressure Cooker.
A Phase 3 compliant Romania-style soup for the whole family. Kids usually love this soup.
Ingredients
1 big carrot
1 big parsnip
1 leek
1 onion
1/2 small celeriac
2, 3 celery ribs with leaves
1 tomato, peeled and deseeded
About 1/2 cup roasted pepper (peeled and deseeded, you can use the one in stores)
2 white potatoes, peeled and cubed, bigger size than the rest of the veggies (can be skipped)
Salt and pepper to taste
Bors / apple cider vinegar/lemon juice/sauerkraut juice to your taste
FOR THE MEATBALLS
1 lbs finely ground pork about 10% fat (can be replaced with chicken or beef)
1 tablespoon rice, uncooked (can be skipped but they make the meatballs airier)
one small onion, grated or ground in the meat grinder after you are done with the meat
1 egg
1 teaspoon salt
1 teaspoon pepper
TO SERVE
fresh lovage or parsley
sour cream (optional)
Instructions
1

Peel and deseed the tomato and chop all the vegetables.

2

Add about 3 liters of water to your pressure cooker / Instant Pot, add the vegetables and bring to a boil (don't add the lid yet).

3

Grind the meat if you don't use already ground. Grind or grate the onion.

4

In a bowl mix well the pork (meat/chicken) with the egg, onion, rice, salt and pepper. Shape them in small balls (the size that can fit in the spoon you will serve the soup with), making sure there is no air left inside or cracks on the surface.

5

When the liquid is boiling, add the meatballs one by one to the boiling soup. Add more salt and pepper (you can always add more later).

6

Close the lid of the pressure cooker / Instant Pot and pressure cook for about 40 minutes.

7

Release pressure and adjust for spices and add the souring liquid you are using.

8

Add fresh lovage or parsley to the pot and serve. If you eat dairy you can serve with sour cream.
Notes
Leftovers can be frozen if you are histamine sensitive or can be kept in the fridge for 2 days.