Since I came to Denmark, I have cooked variations of this casserole dish so many times I figured out what was my favorite combination and wanted to share it with the world. The cabbage I find here is particularly beautiful and tasty, and someone in Australia told me this variety is called sugar loaf. For this baked red cabbage and leek casserole, any cabbage would work, although if you want it to look pretty, choose a red one.
An easy way of cooking healthy
Our living situation at the moment is still temporary. All my stuff, including my favorite All-Clad cookware, is in a container. So I had to find creative ways to cook delicious and healthy meals. I have quite a few ceramic and porcelain baking dishes so cooking in the oven is my favorite way to prepare my meals right now. I love it because most of the cooking time is passive, and there is not much to clean after.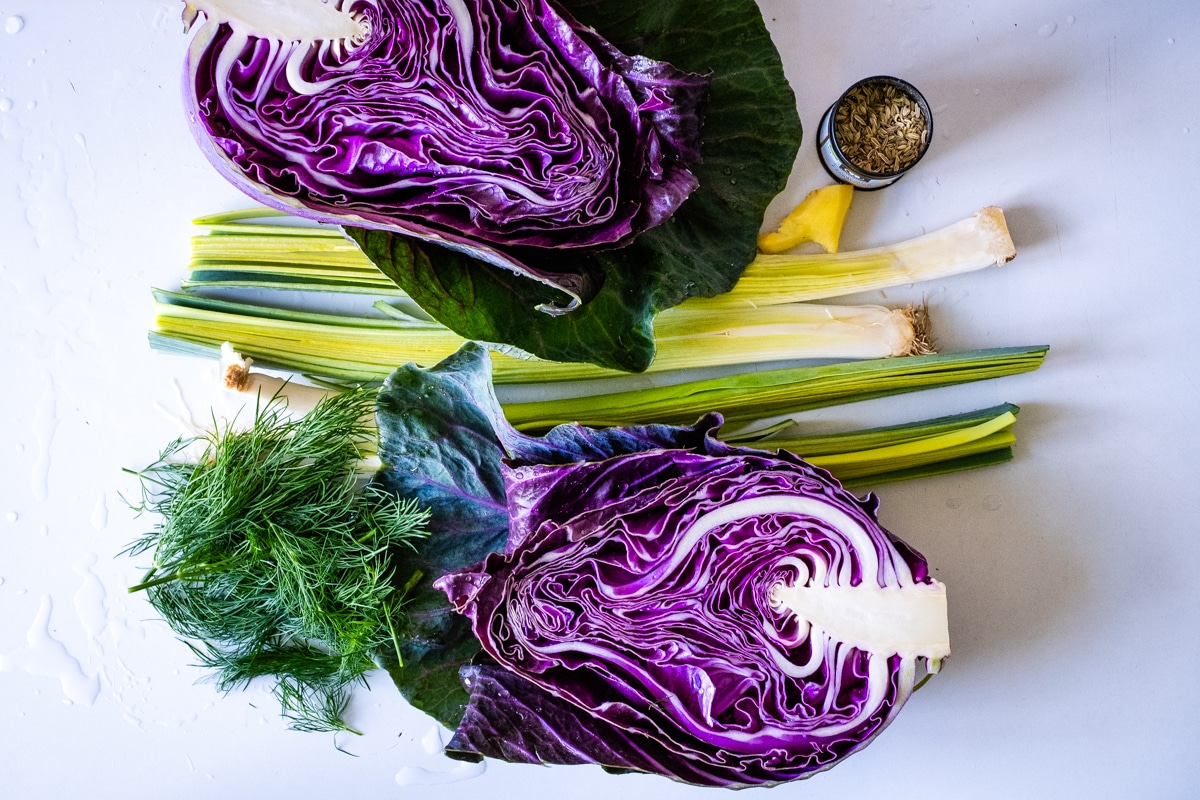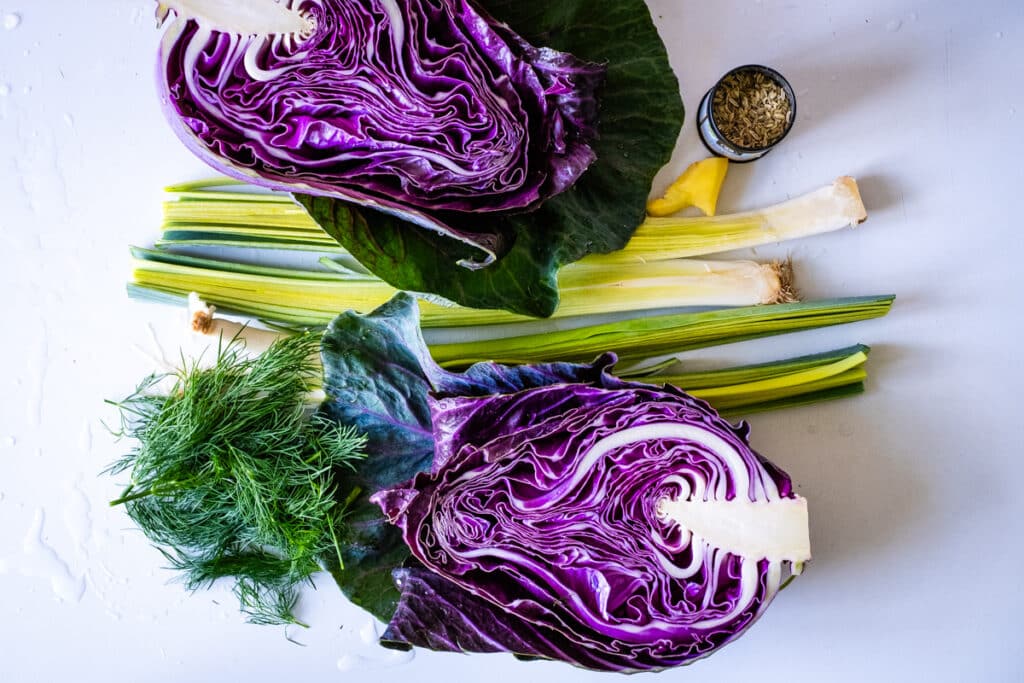 Red cabbage always looks beautiful
Cabbage is quite popular in Denmark, so easy to find and always looks beautiful. I used various combinations of cabbage and other ingredients. But this one I found particularly tasty and so easy to make. You can have it as it is, as the main course, serve it as a side dish, or add some cooked chicken to it at the end.
I like to meal prep chicken and freeze it. So when I feel like adding some protein, I add 2-4oz of cooked (frozen) chicken in the last five to ten minutes of cooking. The combination is delicious. You can separately cook chicken breasts and serve them next to the cabbage or have some compliant sausage or roasted pork.
If you are vegan and want some extra protein, you can sprinkle some hemp seeds on top or have some pressure-cooked chickpeas mixed in or on the side.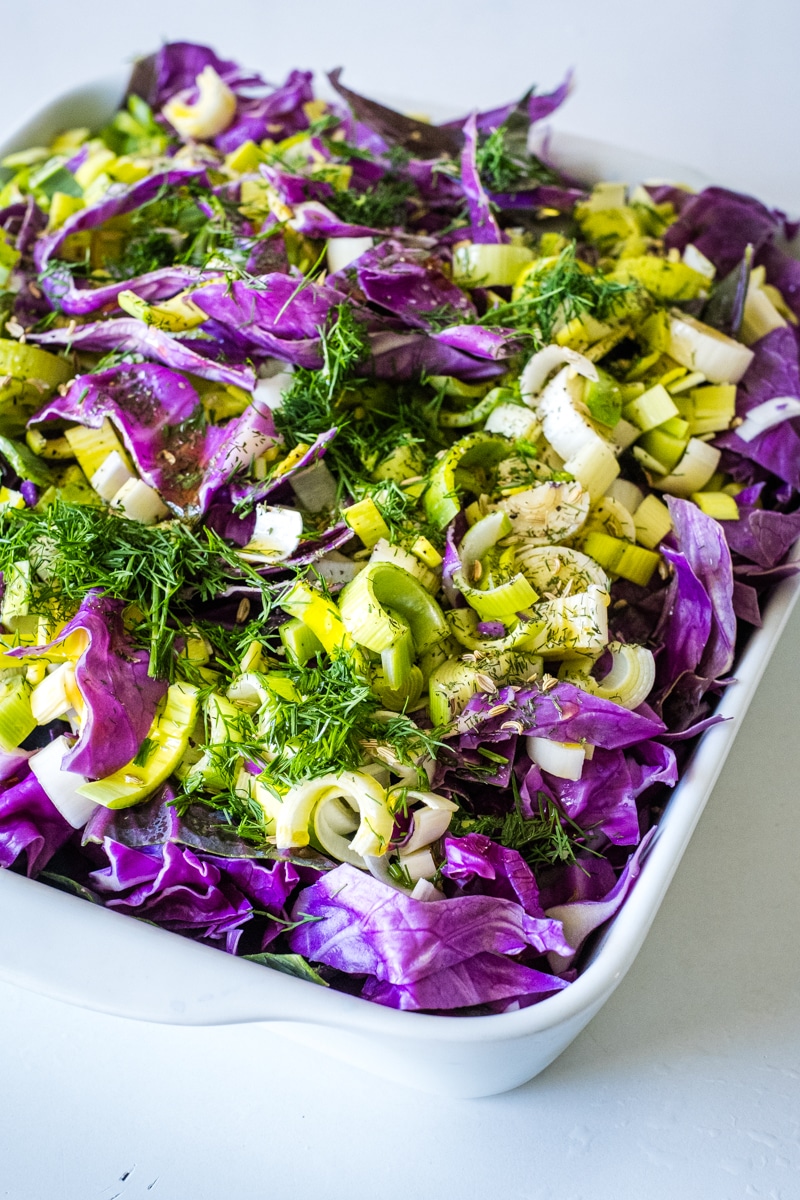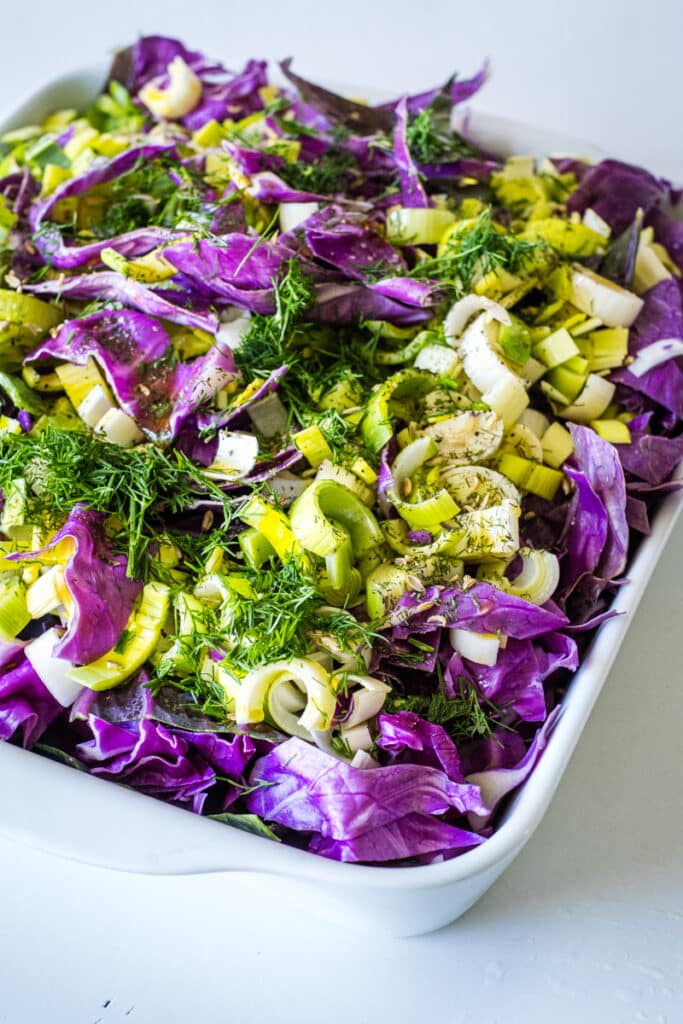 Add fresh or dry dill to the baked red cabbage and leeks casserole
The day I cooked this red cabbage casserole, I had it for lunch with my vegan friend. So we didn't add anything to it, and it was enough for both of us. If you don't have fresh dill, you can use dry or even use both: add dry dill first before cooking and sprinkle with fresh dill when serving.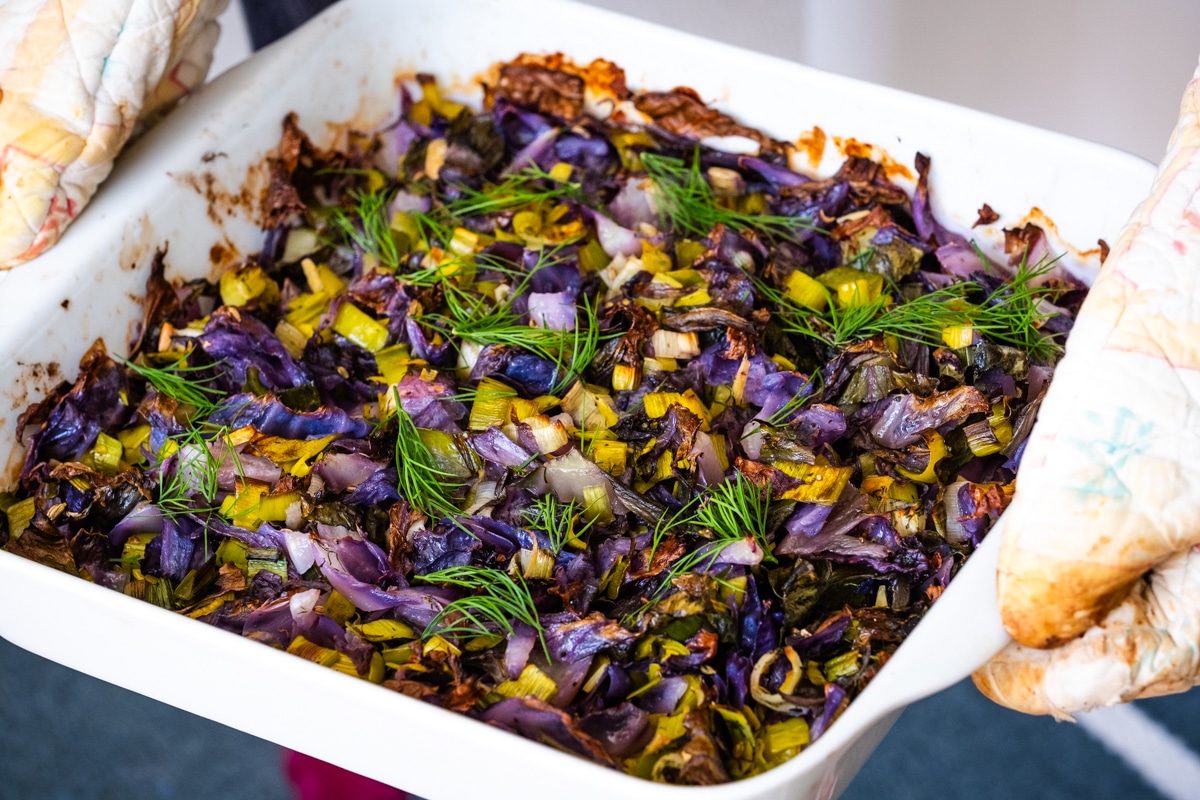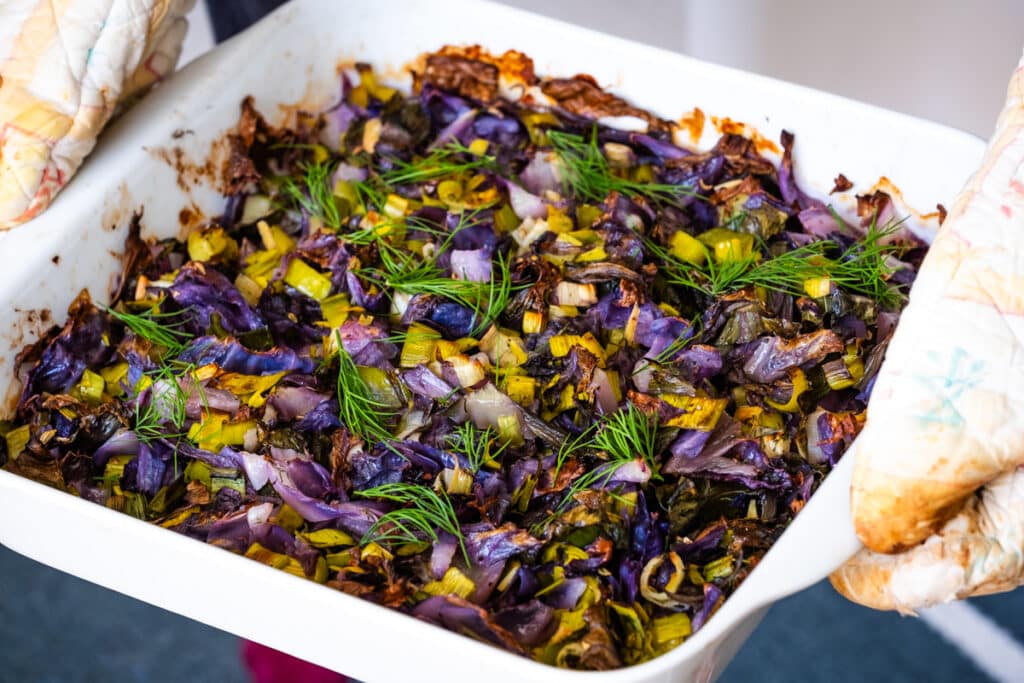 More cabbage recipes
And if you are up for more cabbage recipes, check out:
*This post contains affiliated links, which means I get a small commission if you choose to purchase something via one of my links, at no extra cost to you.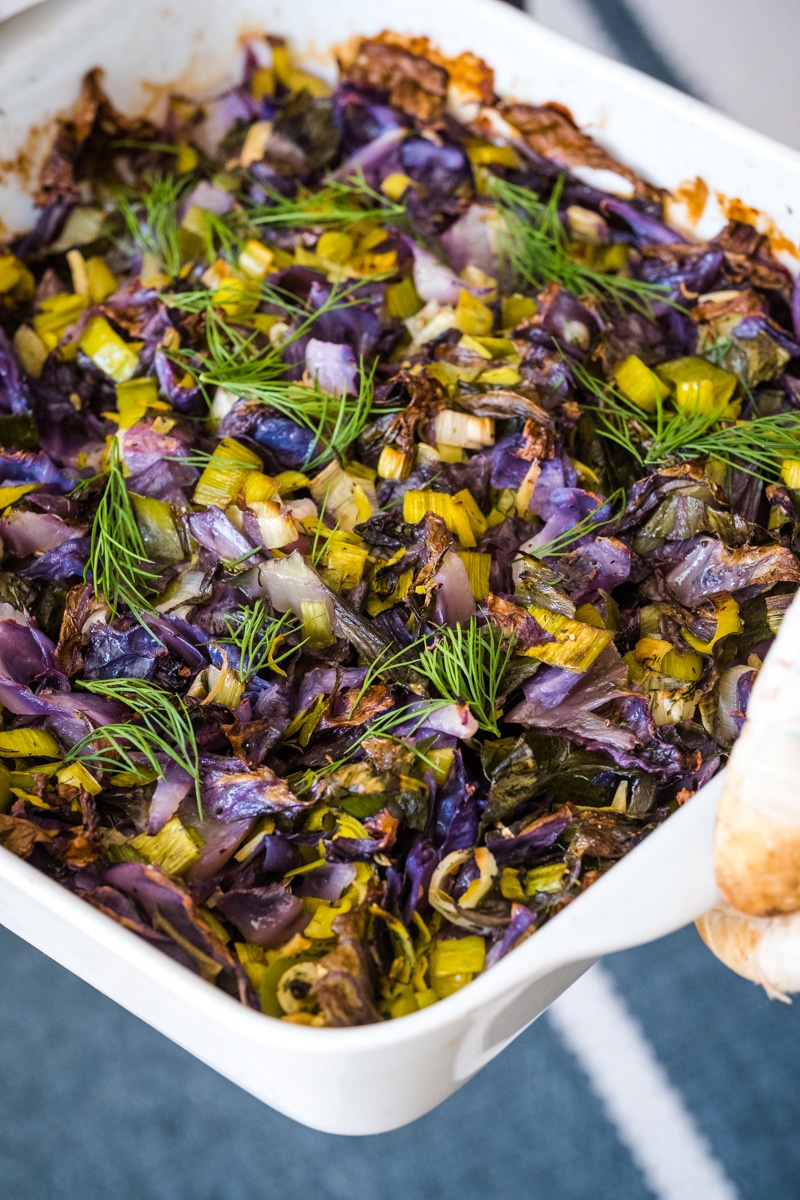 Print Recipe
Baked Red Cabbage and Leek Casserole with Dill
A delicious, healthy and easy main or side dish.
Ingredients
1 medium red cabbage (white will work too, but it will not look the same, obviously), shredded
2 medium leeks, washed well and chopped
1/2 teaspoon fennel seeds
1 bunch fresh dill or one teaspoon dry dill (or you can use dry for cooking and fresh for serving)
salt and pepper to taste
extra virgin olive oil
Instructions
1

Preheat the oven to 400F (200C).

2

Add the shredded cabbage to a large baking dish. Don't worry if it looks a little too full, the cabbage will soften up and lose volume in the first 10-15 minutes of cooking.

3

Add the leeks, fennel, dill, salt and pepper and drizzle with olive oil. I use one to two tablespoons. Toss everything together

4

Cook on the middle rack for about 10-15 minutes, take out and toss everything together. Put it back and bake for 20 more minutes or until the vegetables are soft.