I think one of the most important things for my health I learned by adopting The Plant Paradox way of eating (and living) is how to eat more veggies and how to look for creative ways to incorporate greens and vegetables into my diet. And contrary to what some may believe, my diet is now way more diverse than it was before eating the Plant Paradox way. Creating lectin-free recipes such as this napa cabbage and mushroom miso stir-fry is fun and healthy.
Napa cabbage and mushroom miso stir-fry – Lectin-free, diverse, nourishing
How so, you may ask, since many people complain that this way of eating is super restricting, with main veggie groups like nightshades and legumes being eliminated?
Well, before eating the Plant Paradox way I was eating nightshades and even legumes every single day (tomatoes, cucumbers, potatoes, zucchini, etc) and completely ignoring all the amazing green leaves, bitter greens and many more exotic veggies that I was not used to. I have always been intimidated by the big green leaves such as collard greens and Swiss chard, and even by something 'weird looking' like napa cabbage.
Since starting the lectin-free lifestyle I've been exploring every single vegetable I find in the stores and markets I go to. And there is not one that I didn't like.
Napa cabbage raw, cooked or fermented
That being said, napa cabbage has become one of my favorite types of cabbage to cook with, although I am a fan of anything cabbage and cruciferous.
I love napa cabbage raw or cooked, and of course, fermented in the form of Kimchi. It's not often I find napa cabbage in my neighborhood Whole Foods (the closest store to my house which I can walk to). So every time I do find it I get one and try to create new ways to eat it. These days I'm in an Asian-inspired food kind of mood, easy and mostly plant-based kind of meals.
Ingredients for the napa cabbage and mushroom miso stir-fry recipe
For this miso stir-fry recipe, I used fresh ginger, coconut aminos, rice cooking wine (Mirin), and a light sweet miso paste. That's it. Super simple and fast, just a few ingredients and really tasty.
You can cook this in an oak, but if you don't have one stainless steel will work just well. Something where you can stir and fry your ingredients (obviously!) at medium to high heat (I am a fan of medium heat cooking) in a safe way. That means using a high heat healthy oil, like avocado oil and cookware that is safe for you (free of toxic chemicals). Preferably a lighter pan, I wouldn't do a stir-fry in a cast-iron skillet.
More stir-fry recipes
For other stir-fry recipes, you might like:
*This page contains affiliated links, which means I get a small commission if you choose to purchase something via one of my links, at no extra cost to you.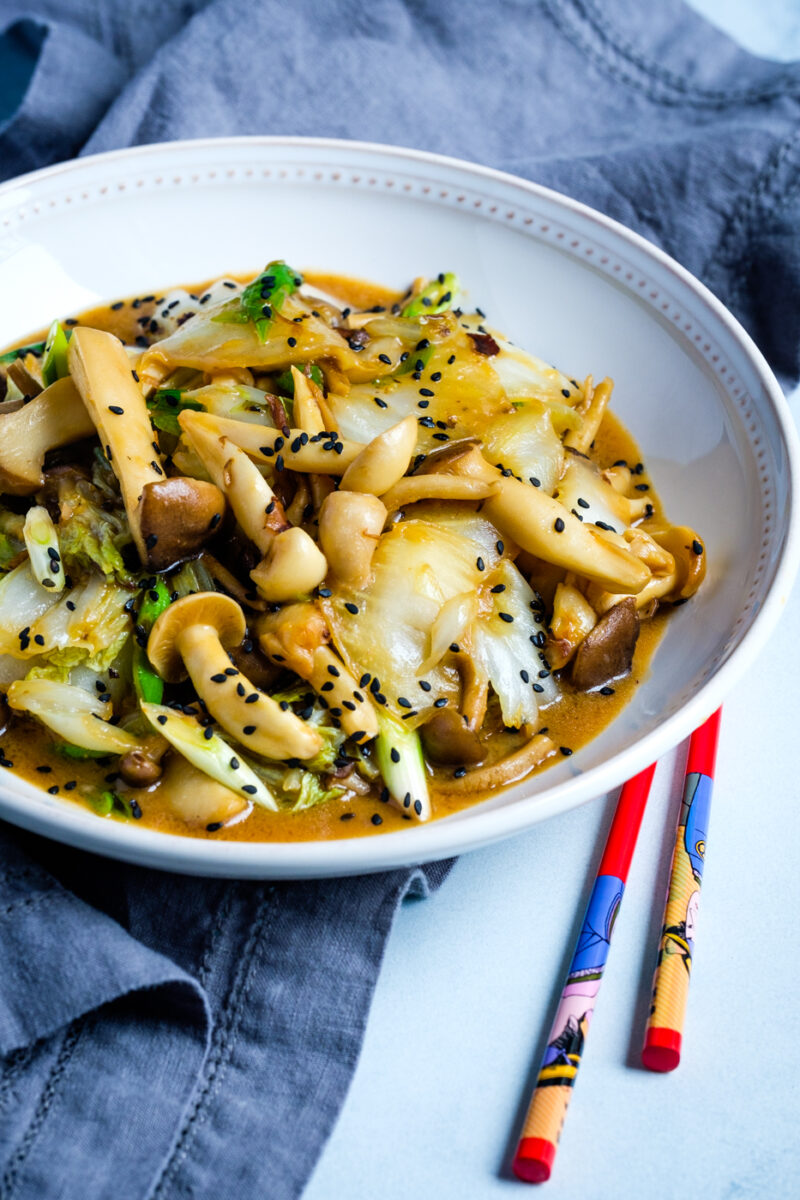 Print Recipe
Napa Cabbage and Mushroom Miso Stir-Fry
An easy and healthy lectin-free, plant-based meal.
Ingredients
8 oz mixed mushrooms (I used trumpet royale, brown clamshell, forest nameko)

1/2 big Napa cabbage, sliced into bite-size pieces

4 stems of green onion, sliced diagonally

2 tbsp coconut aminos

1 tbsp rice cooking wine

2 tbsp Miso paste

1 tbsp fresh ginger, grated

avocado oil for frying
Instructions
1
Mix the coconut aminos, the rice cooking wine and miso paste.
2
In an oak or a stainless steel skillet add avocado oil, the mushrooms and cook until fragrant and golden, on medium heat. Take out on a plate. Add more avocado oil to the pan, add the bite-size napa cabbage and the ginger and stir fry for a few minutes, until the green(ish) part of the cabbage is wilted but not overcooked. Add the mushrooms back to the skillet and the sauce. Stir and cook for a couple of minutes more, add the green onions. Add to serving bowls, sprinkle with black sesame seeds and serve.