I've been away from our Dallas home, traveling in Europe, for more than three weeks, and I'm still away while I'm writing this. One of the highlights of this trip was chestnuts. First freshly boiled chestnuts in Romania, then discovering chestnut flour in Denmark. So I've been making this lectin-free pie with seasonal root vegetables and a mix of chestnut and tigernut flour and I loved it so much I couldn't wait to share it.
A super simple pie recipe
This chestnut pie is a super simple, unpretentious treat to make, and one of my favorite parts about it, it does not need any sweetener. The carrots and parsnip are sweet enough, and both the chestnut and tigernut flour are naturally sweet.
You will see that the flour amount you add will depend on your consistency preference. For more of a pie texture, creamy and denser, add less flour, for more of a cake consistency, more dry and fluffy, add more flour. The batter will be similar to a pancake batter, and will still be runny even if you add 350 grams of flour.
In Denmark, chestnut flour is pretty easy to find in supermarkets (the brand is Biogan.dk if you are in Denmark or Europe) but I found this Organic Chestnut Flour on Amazon for us in the USA. Where ever you are in the world, do a search online, I'm sure there will be options. Tigernut flour is much easier to find in the USA, there are several brands available online and in stores.
How to make and serve chestnut pie
I made this pie in a ceramic pie dish, but you can use any baking dish you'd like. Just don't forget to grease it – I did once – it will stick to the bottom. Also careful with the baking time, if you use less flour, a moist cake will take longer to bake, but if you use more flour, it might be ready quicker. Check it often after the 30 minutes mark.
Also, ovens are so different and I feel ovens here in Europe run hotter, at least hotter than mine in Dallas, so consider that too. Usually, a sign your pie/cake is done is the golden brown color on top, the smell and the cake should be hard/settled when you press with your finger on top.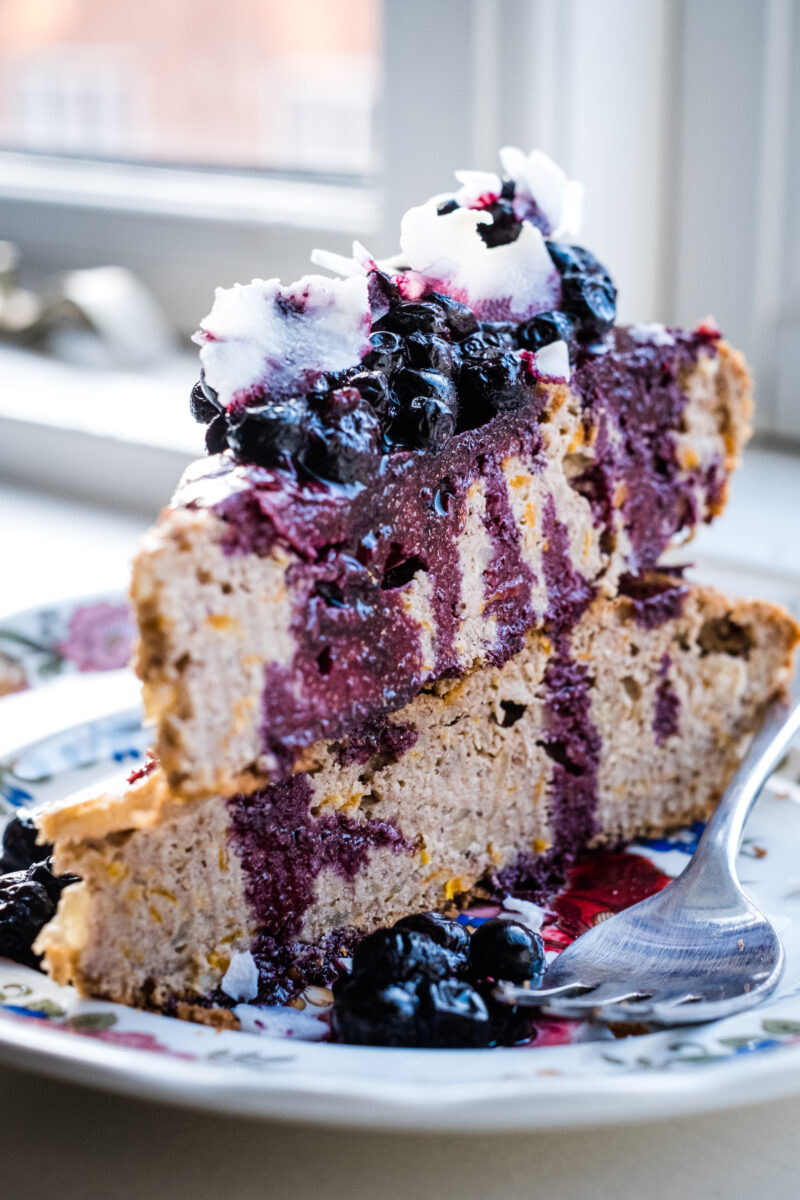 I loved to eat mine with warm wild blueberries. I buy them frozen and just warm them before serving. If you have a sweeter tooth, add some yacon syrup or some honey on top, or mix a sweetener with the berries. Can also be served with nut butter.
And speaking of nut butter, if you want to make this cake nut-free (except for the chestnuts), you can replace the hazelnut butter with olive oil, avocado oil or softened coconut oil or butter. Or, if you don't have hazelnut butter, any nut butter will work. Hazelnuts have a great taste though.
TO CHECK ALL PLANT PARADOX BAKING PANTRY ITEMS IN ONE PLACE CHECK MY SHOP PAGE
Enjoy!
*This post contains affiliated links, which means I get a small commission if you choose to purchase something via one of my links, at no extra cost to you.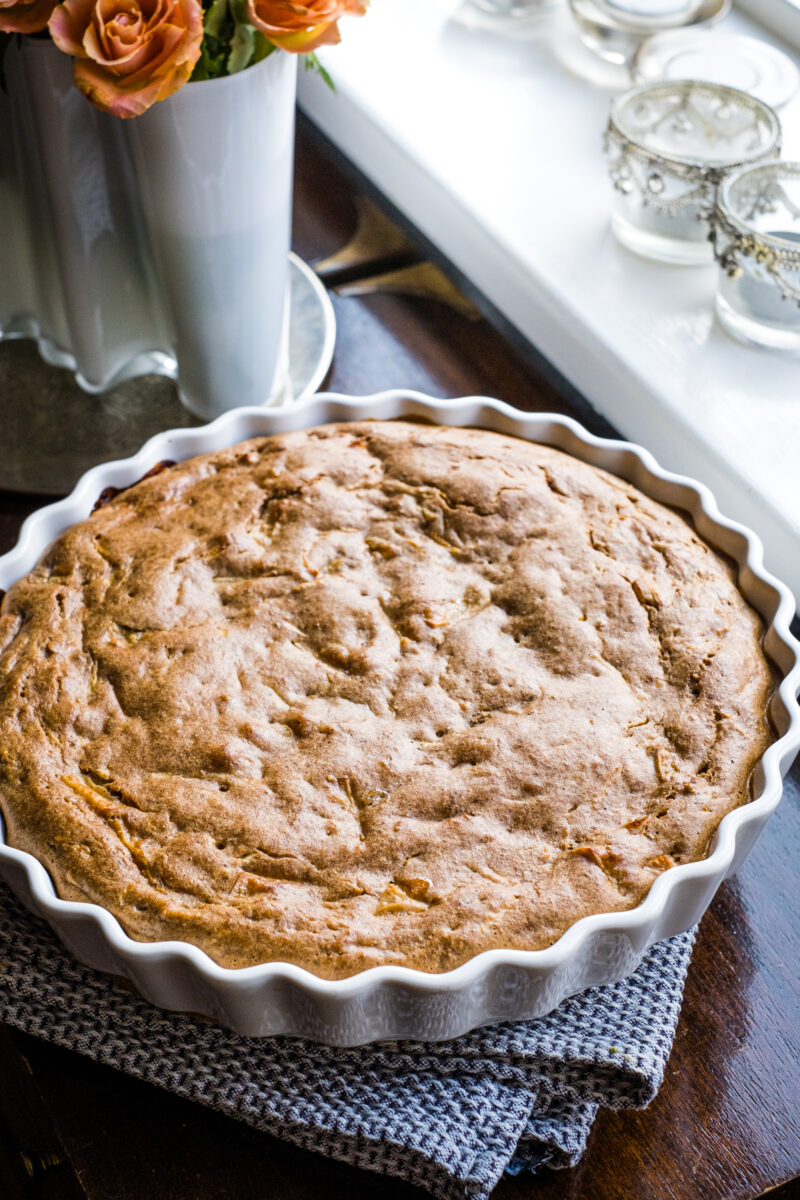 Print Recipe
Chestnut Pie with Root Vegetables
A healthy and delicious lectin-free and gluten-free pie made with chestnut and tigernut flour.
Ingredients
1 tablespoon coconut oil
4 pastured eggs
pinch of sea salt
300 ml coconut cream OR full-fat coconut milk
150 grams hazelnut butter (softened and well mixed)
2 inch vanilla pod, seeds scraped OR 1 tablespoon vanilla extract
1 tablespoon baking powder
250 to 350 grams of chestnut + tigernut flour (mixed, equal parts)
2 medium carrots, grated
1 medium parsnip, grated
1 small apple, cut into small cubes
optional, 1 teaspoon cinnamon or other fall flavor spices
Instructions
1

Preheat the oven to 350F.

2

Prepare a 9-inch pie dish by greasing it well with coconut oil (you can also use parchment paper on the bottom for easier release).

3

In a big bowl, beat the eggs, vanilla, and salt. Add the coconut cream and hazelnut butter and beat until all combined and creamy.

4

Start adding the flour mixed with the baking powder and continue to mix. If you add 250 grams, the consistency will be more that of a pie (more moist and dense), if you add more flour the consistency will be more that of a cake (more dry and fluffy). Both are delicious. The batter will be runny, like a pancake, or a little thicker, but still runny. Add the carrots, parsnip, cubed apple, and cinnamon if using and mix with a spatula.

5

Pour the batter into the prepared pie dish (you can use any baking dish though).

6

Bake for 35 - 40 minutes or until the top is golden brown, no longer soft to touch.
Notes
I love it best after one day in the fridge. You can also freeze it. Serve with warm wild blueberries, nut butter or yacon syrup.