These absolutely delicious sweet potato waffles are gluten-free, lectin-free, sugar-free, dairy-free, easy to make, and taste like sweet potato pie. A waffle recipe that is perfect for breakfast, as a sweet treat with coffee or tea and can even be included in a savory meal.
What is a safe(-er) waffle maker?
Recently I got a new waffle maker, one that is ceramic-coated and has removable plates. The reasons I never made waffles in the past were the teflon-like non-stick coating and the fact that they were hard to clean. Needless to say now I'm obsessed with making waffles, both sweet and savory, and I have so many ideas.
As far as I know, the safest waffle maker available is one with ceramic coating, resistant to scratching. The one I got is Breville DuraCeramic, but I can't find it on Amazon in the United States. Two other options that have ceramic coating are these two (none of them has removable plates, though):
My waffle maker makes 2 waffles. When it comes to instructions on how to use the waffle maker, the easiest is to follow the instructions on your waffle maker like the quantity of batter you need to add and the timings. With the below quantity, I made 8 waffles.
What are the ingredients for these sweet potato waffles?
At the time I'm writing this is almost Thanksgiving, and sweet potato pie is the star of the season. The ingredients are easy to find anywhere in the world, and this recipe is so easy even a kid can make it.
It's the perfect recipe if you have some leftover sweet potatoes.
These sweet potato waffles are perfect with coffee for breakfast, but they can be included in a savory breakfast or any other meal if you like the sweet addition. My dad had sweet potato waffles with braised red cabbage and duck.
While there is plenty of natural sweetness from the sweet potato and the other ingredients, these sweet potato waffles are sugar-free and as a sweetener, I only used 2 tablespoons of inulin powder.
For the lectin-free, gluten-free flour mixture, I used chestnut flour and sorghum flour. If you don't have chestnut flour, you can use only sorghum flour, but the chestnut flavor makes a difference in the final result, adding extra sweetness and earthiness to the sweet potato waffles.
I add a small quantity of pecan butter to the waffle batter, but if you don't find it, any nut butter will work. Roughly chopped pecan nuts are essential to the texture and taste, so don't skip them.
The spice mix is made of: cinnamon, nutmeg, licorice powder, vanilla extract, but you can use any sweet potato pie combo you like. I think adding cloves, and ginger will make it very Christmas-y.
Alternatively, choose our Warming Spice Blend recipe.
The other ingredients are pasture-raised eggs, coconut cream, extra virgin olive oil, and salt.
How to serve and store the sweet potato waffles?
I love serving sweet potato waffles as a late breakfast, drizzled with pecan or hazelnut butter, with coffee or tea. But they also make a great base for a savory sandwich, next to eggs and bacon.
I prefer these sweet potato waffles cold. They are great even the second day after they've been stored in the refrigerator in stasher bags.
I haven't tried it yet, but I don't see why freezing them would not work. They can be reheated in the oven or in a toaster.
*This post contains affiliated links, which means I get a small commission if you choose to purchase something via one of my links, at no extra cost to you.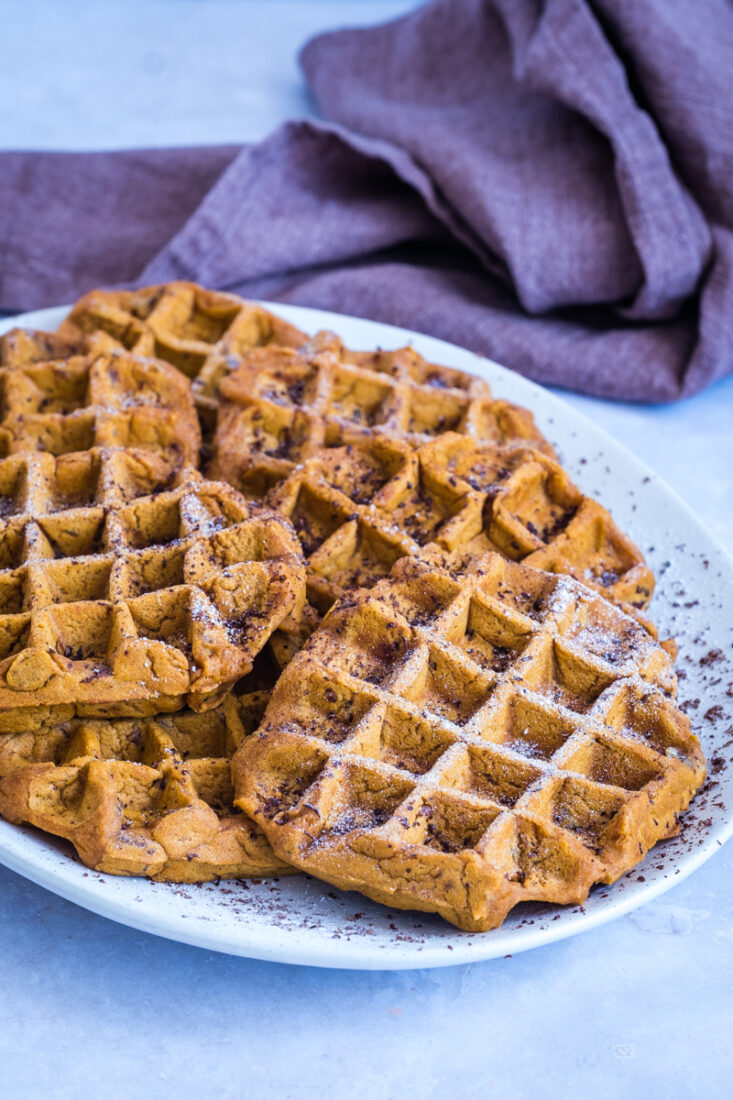 Print Recipe
Gluten-Free Sweet Potato Pie Waffles (Sugar-Free)
These absolutely delicious sweet potato waffles are gluten-free, lectin-free, sugar-free, easy to make and taste like sweet potato pie. Perfect for breakfast, as a sweet treat with coffee or tea and can even be included in a savory meal.
Ingredients
2 cups mashed cooked sweet potato
2 pasture-raised eggs
4 tablespoons coconut cream
2 tablespoons pecan butter
1 tablespoon extra virgin olive oil
1/4 teaspoon nutmeg
1 teaspoon cinnamon
1/4 teaspoon licorice powder
1 teaspoon vanilla essence
1/8 teaspoon salt
2 tablespoons inulin powder (or another powder sweetener)
1/3 cup chestnut flour
1/2 cup sorghum flour
1/2 cup chopped pecans
2 tablespoons grated dark chocolate (above 85%)
1 teaspoon inulin powder for dusting
Instructions
1

Blend the sweet potato, eggs, coconut cream, pecan butter, and olive oil until creamy.

2

Add the blender content to a mixing bowl, add the spices and combine.

3

Add the chestnut flour, through a sieve, as it tends to clump.

4

Add the sorghum flour and combine with a spatula until all the flour is incorporated. You will get a thick batter.

5

Follow the instructions on your waffle maker to cook the waffles (I don't use extra fat on mine, but maybe you will need that).

6

When they are ready, dust them with inulin powder and sprinkle with grated dark chocolate.

7

They can be eaten warm or cold (I prefer them cold).

8

Store in a stasher (silicon) bag in the fridge.