To me, boiled chestnuts are the perfect winter snack. They are warm, sweet, savory, and nourishing, providing a lot of fiber and nutrients. Cooking chestnuts in a pressure cooker is a quick and easy method to prepare them, and you won't need an 'open fire.'
I love fall and all her offerings, but fresh chestnuts must be one of the main reasons I can't wait for October to come. I'm in Romania again, my native country, and fortunately, I live in an area where edible chestnuts are grown and popular. So, they are everywhere in farmers' markets at this time of the year.
Chestnuts nutritional profile
Chestnuts are a starchy type of nut and, unlike most other nuts, have a higher carbohydrate content and a lower fat content. Not only are they rich in fiber, but they are also rich in manganese, potassium, vitamin C, and B vitamins, including folate and copper (see the nutritional label at the end of this post).
I'm not the one to count calories, but to give you an idea, ten chestnuts are about 200 calories. I'm not sure if it's because of the potassium and other vital nutrients I mentioned above, but when I eat chestnuts, I feel good.
They feel like comfort food because they are warm, sweet and savory, and nourishing, precisely the type of food we need for colder days. Isn't it amazing that nature provides us with what we need when we need it?
Just a funny note: Some people don't like chestnuts, and one of those is my mom. She always says they taste like sweet, boiled potatoes (not the sweet potato variety, but the white potatoes, if you would add sugar).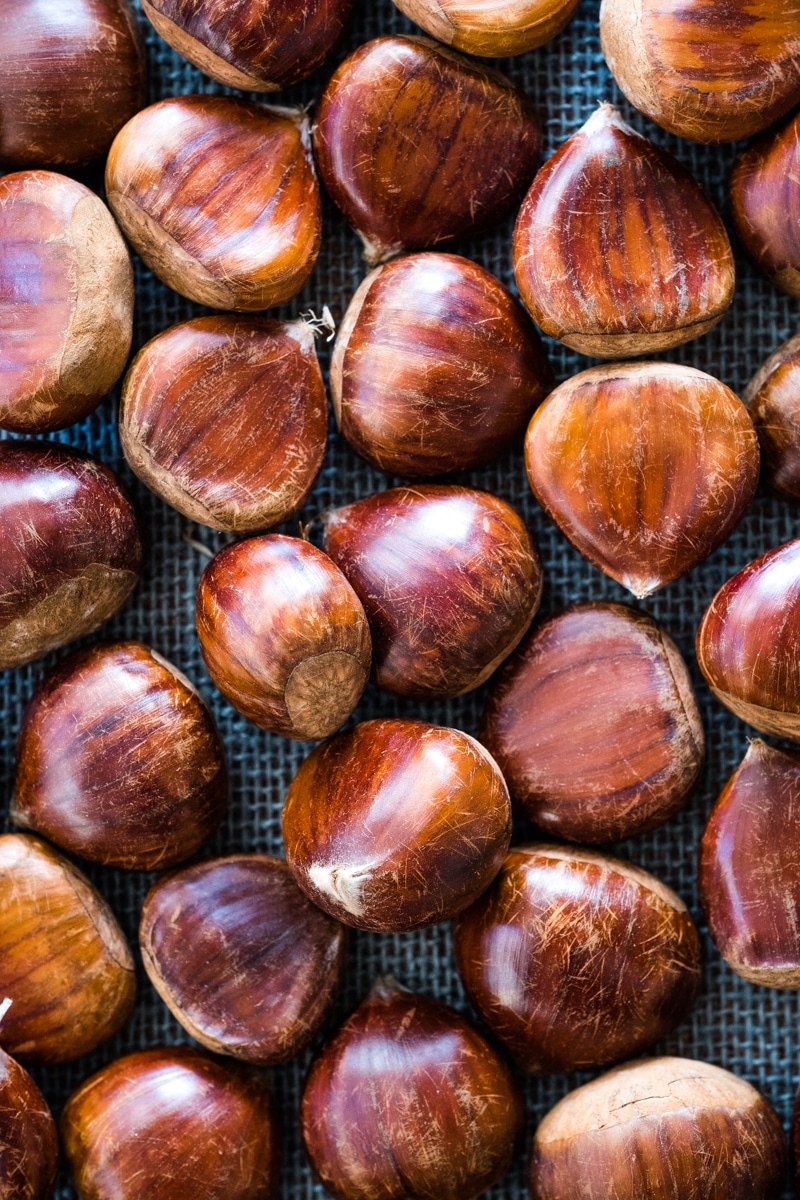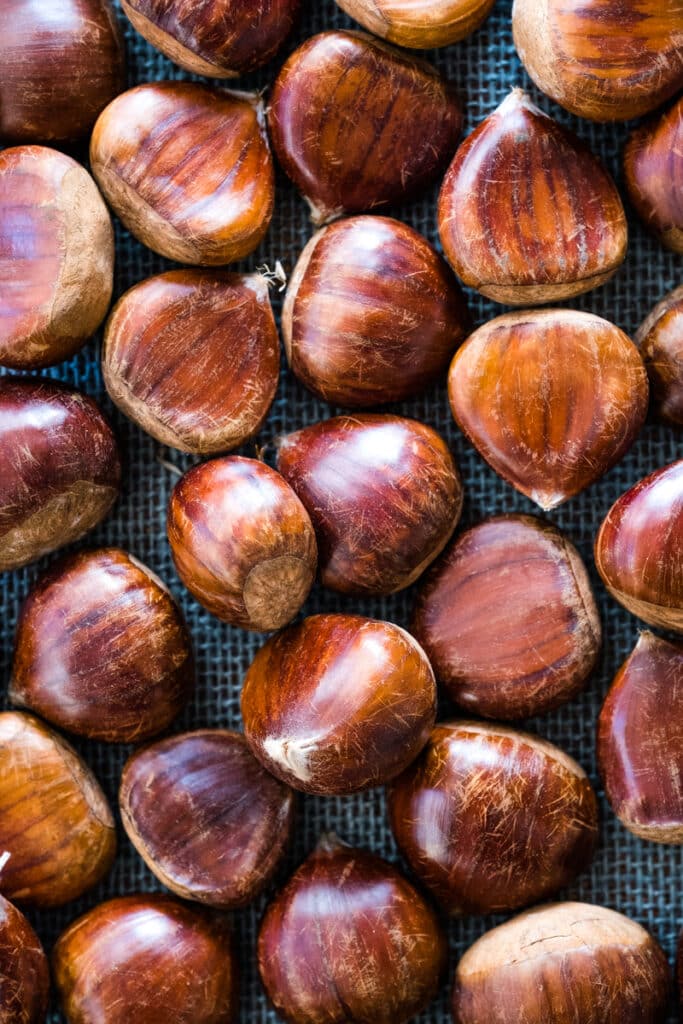 What does a chestnut look like?
The edible chestnut is the fruit of the chestnut tree. Its size can vary depending on the species (the ones in the picture are the European variety).
The edible white, creamy flesh is enveloped in a thin, light brown layer, also called the inner shell, followed by a hard one, brown and shiny, also called the outer shell or peel.
The fruit has a pointed end with a small tuft and a flat end on the opposite side, like an eye, with a wood-like texture.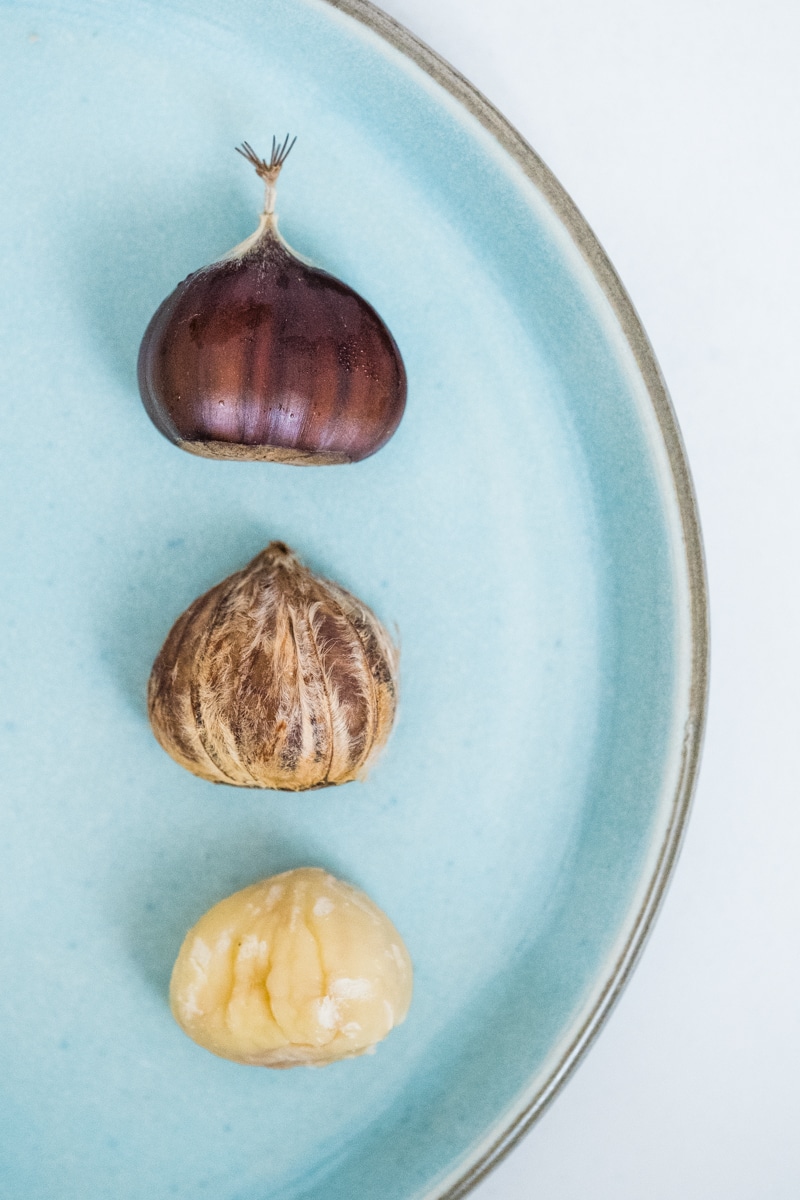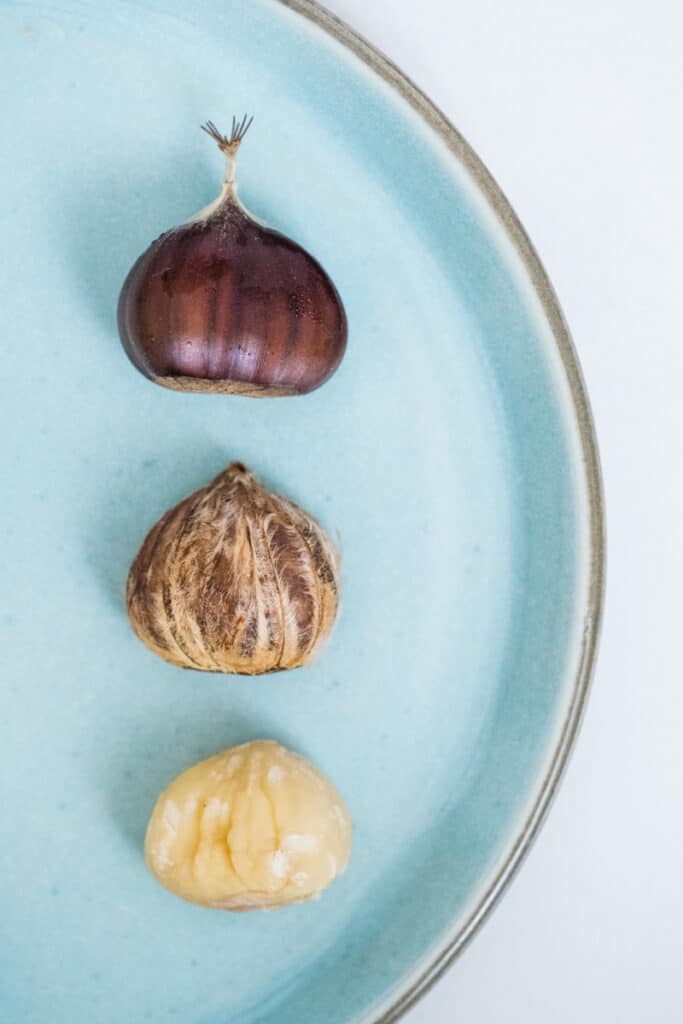 Type of chestnuts and how to prepare them
The type of chestnuts we have here in Romania is called Spanish or European Chestnuts, but from my experience, they are not that different from the American chestnuts. I don't think I've ever had the Asian variety.
Cooking chestnuts
While roasted chestnuts are popular in other countries, I grew up eating boiled chestnuts. And I still prefer them to roasted ones. However, they need about one hour to cook, which I always thought was a lengthy process. Good that my mom was making them for us.
Some people like scoring chestnuts before boiling them, but I really don't like that. If there is any chestnut that opens while boiling, I don't eat it.
Last year was the first time I figured out how to make the boiling process easier by using a pressure cooker. Add the rinsed chestnuts to the pressure cooker, top with cold water, and cook for 7 minutes on high pressure, with natural release.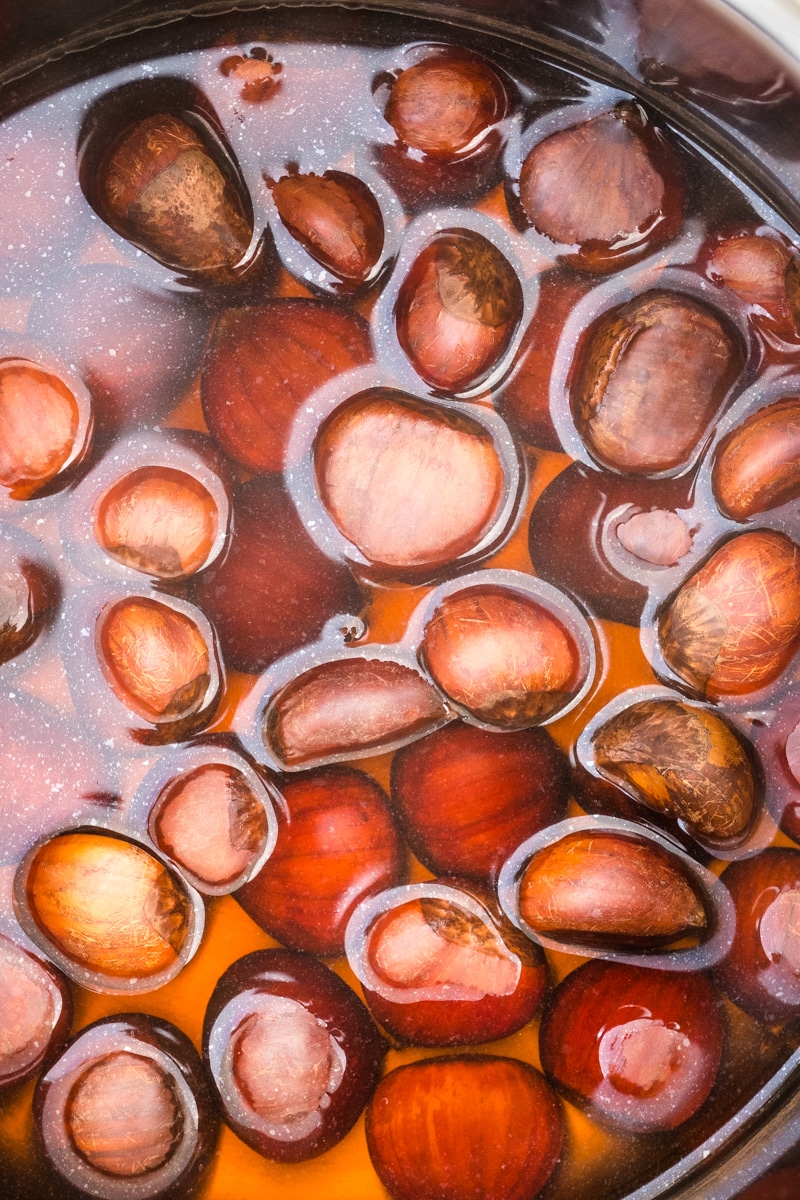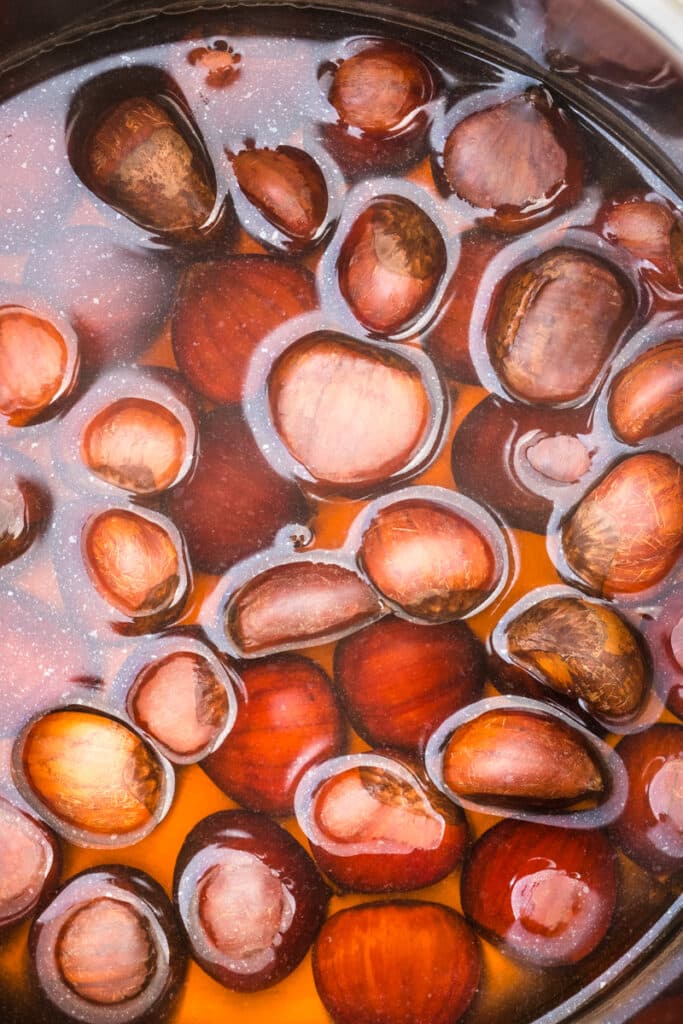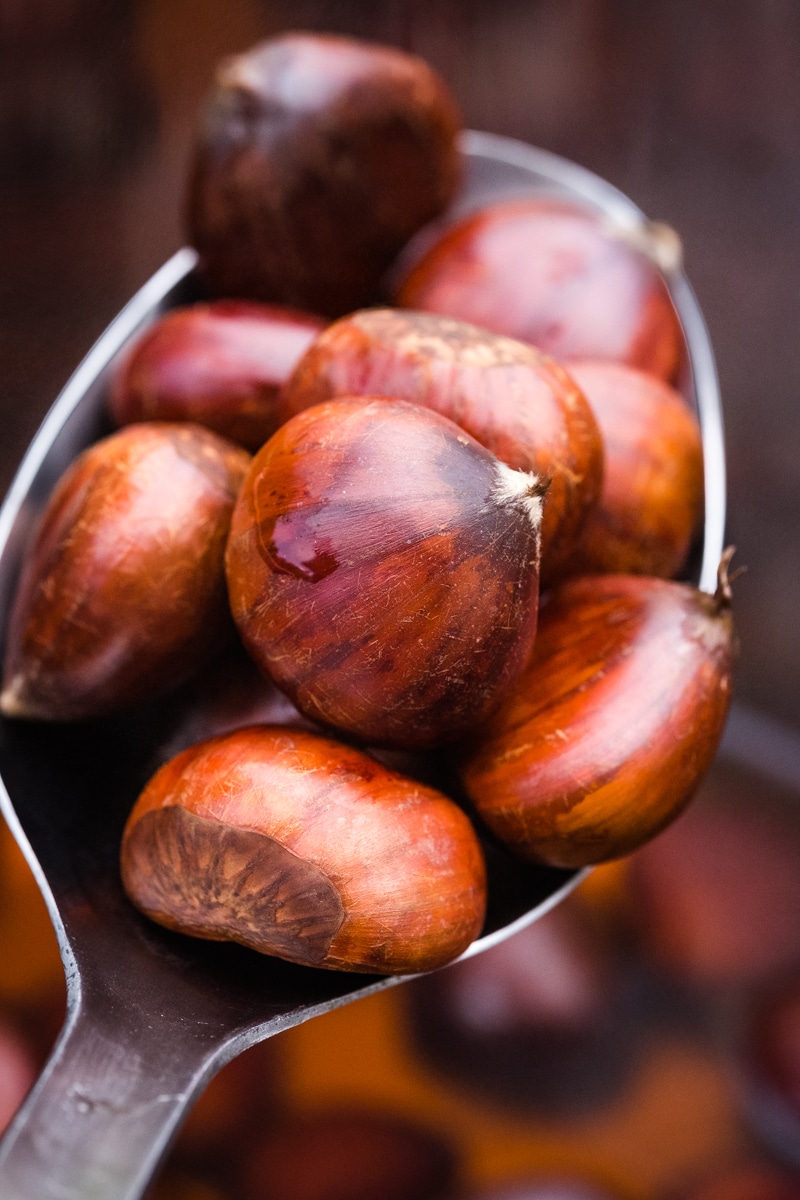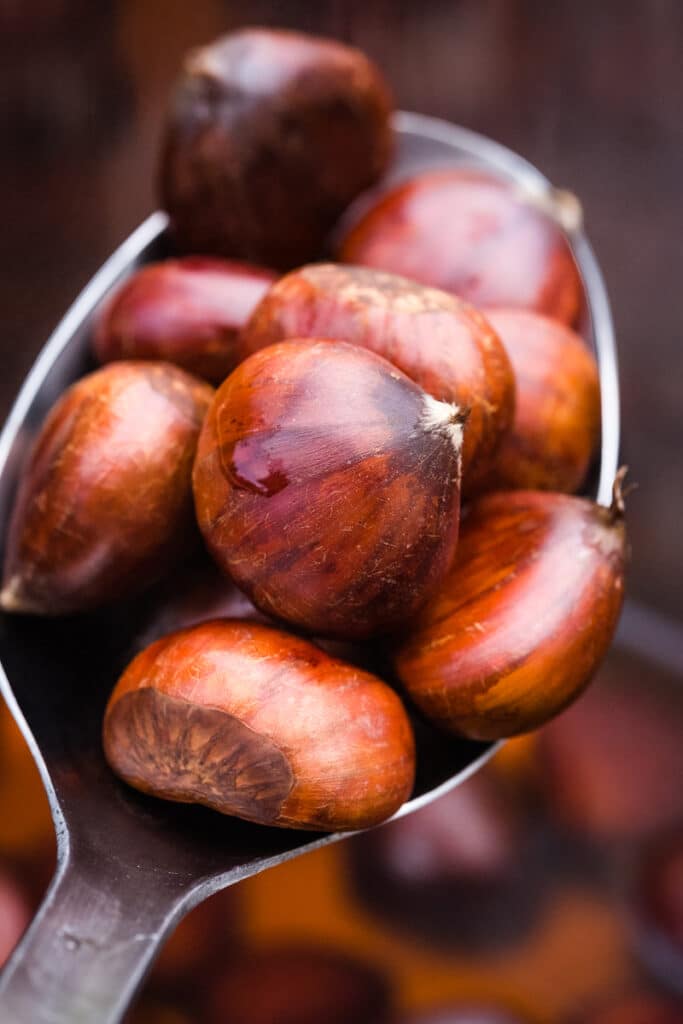 How to peel and eat chestnuts
I think most people are not familiar with peeling boiled chestnuts and how to eat them. I remember once I was so excited when I found them in Dallas, that I went to a meeting with friends with boiled chestnuts. They had no idea what they were and what to do with them.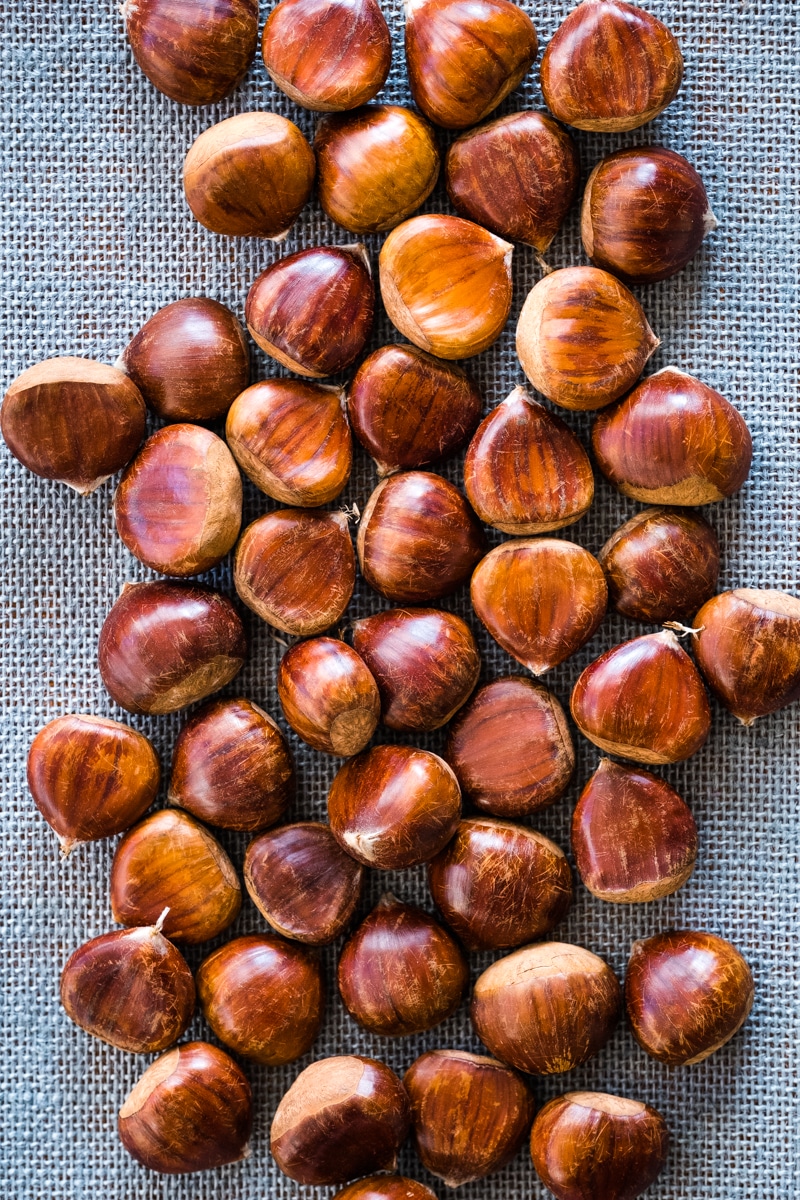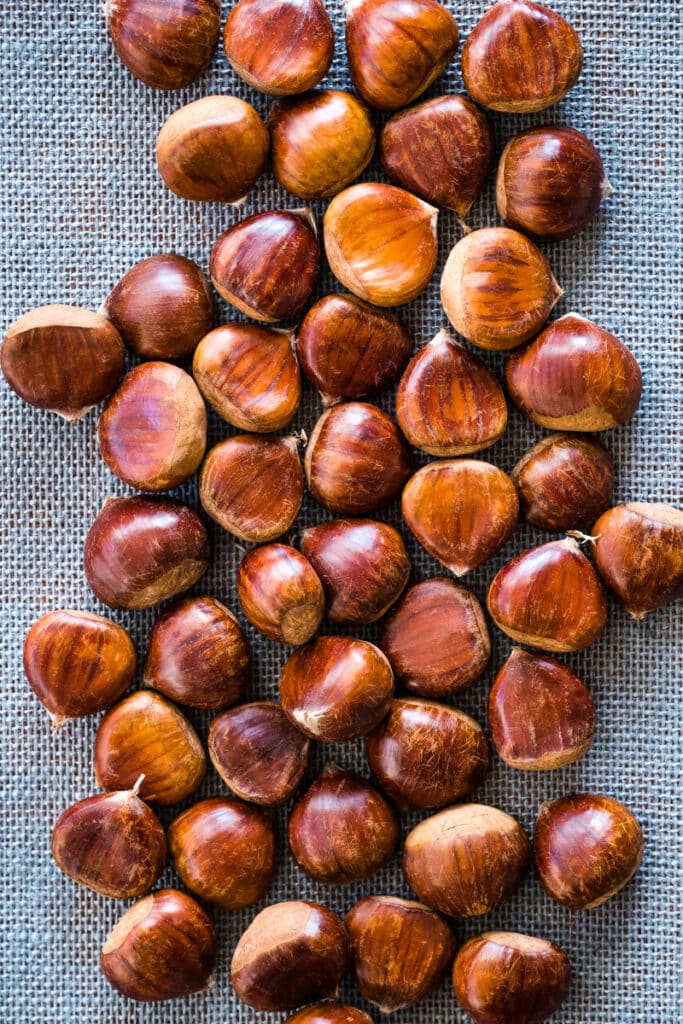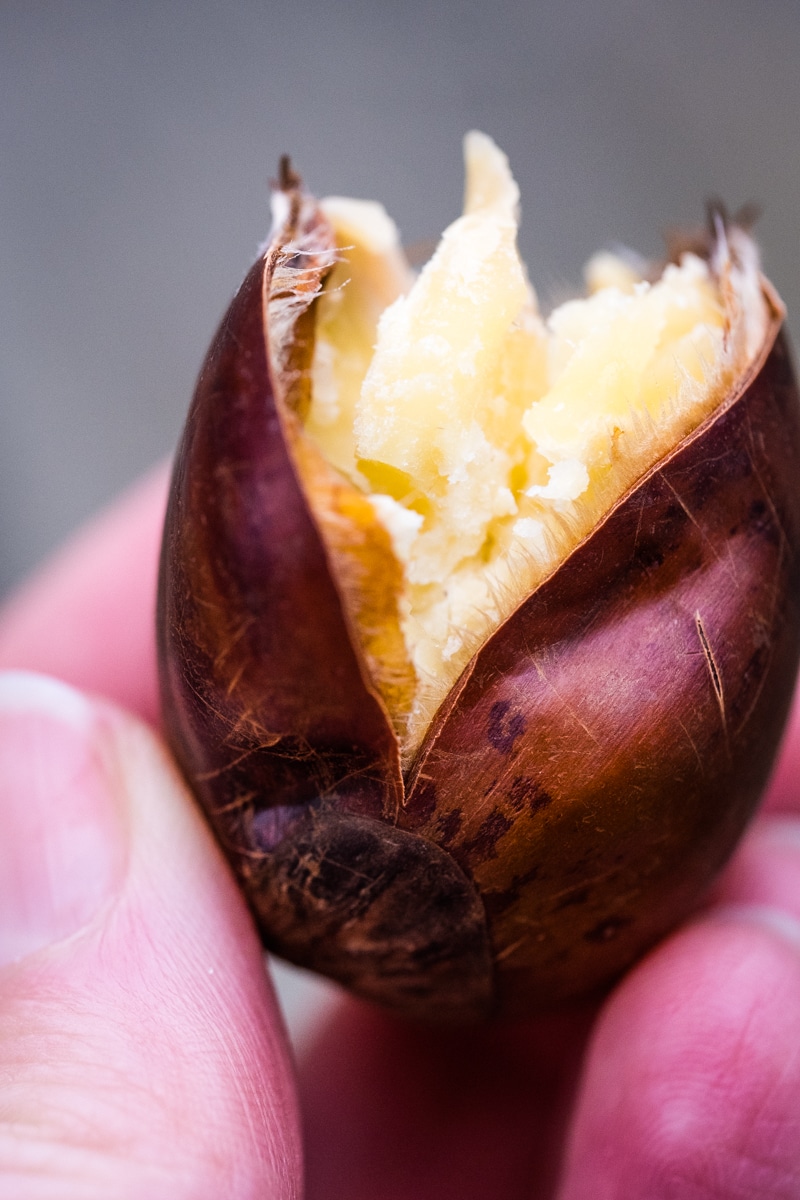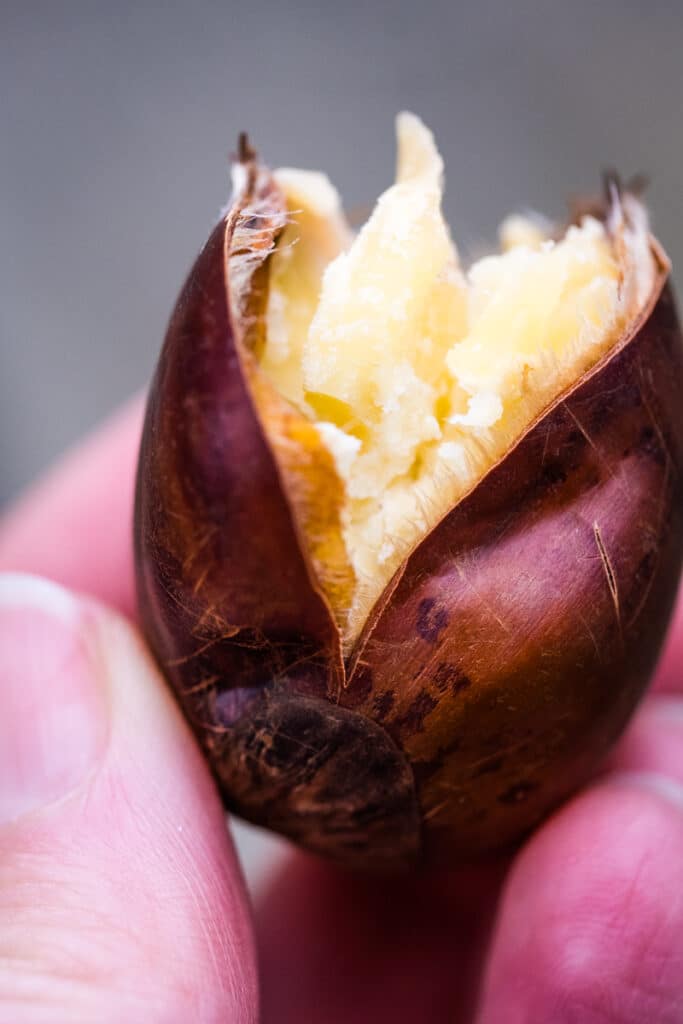 I am pretty 'Sauvage' when it comes to chestnuts, I break the skin with my teeth, starting at the tip end, and scoop the white, creamy flesh with my teeth. You can also eat them more elegantly by slicing them with a knife or even peeling them with a pairing knife.
You can even get a specially designed chestnut knife that makes it easier to peel a chestnut. It's a question of practice and if you have company or not 🙂
In fact, chestnuts have two skins, one hard one (the outer shell), brown and shiny on the outside, and another thinner one, adhering to the seed itself, which is the edible white, creamy part.
Peeling the chestnuts is best if you plan to use them for something else, like this Parsnip and Chestnut Puree with Chives.
Chocolate-Chestnut Truffles
One way to use these boiled chestnuts is to make chocolate-chestnut truffles.
These chocolate chestnut truffles are an exquisite, delicious, healthy sweet treat for the holiday season. They are made of a creamy, flavorful filling of chestnuts, spices, and nut butter, covered in dark chocolate, and sprinkled with ground pistachios. They are sugar-free, gluten-free, lectin-free, dairy-free, and vegan.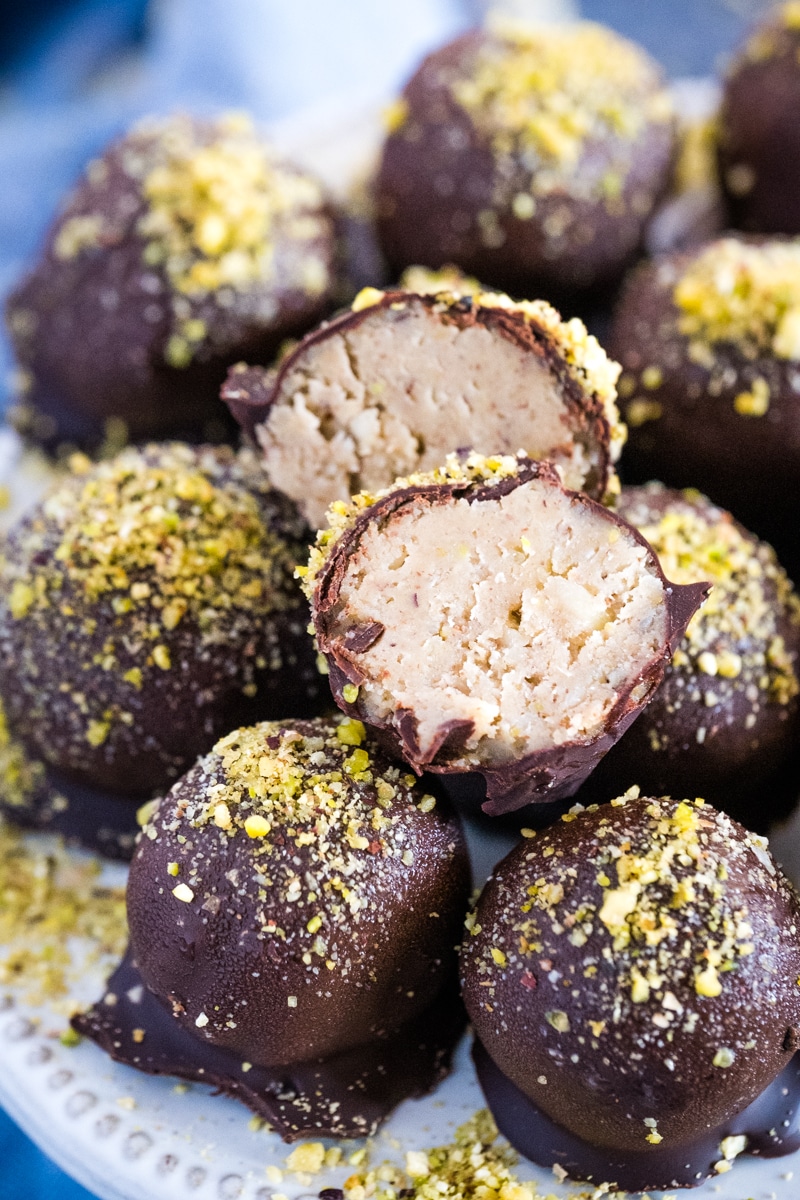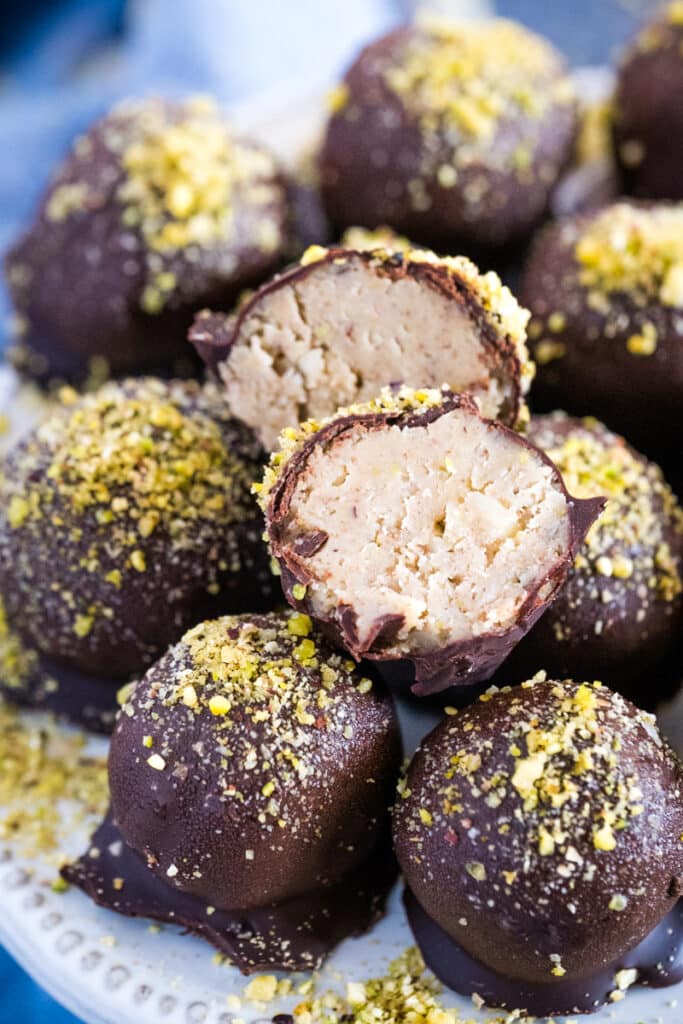 Chestnut Flour
No, I won't give you a recipe to make chestnut flour, but I wanted to mention how much I love chestnut flour. I use it a lot in my baking because it is naturally sweet and gives great texture in baking. Since I discovered chestnut flour, I have rarely added any sweetener to my baking.
When I started working with chestnut flour, there were barely any options to buy it in the US (except for Nuts.com). Now there are quite a few options on Amazon. I like to believe I contributed a little bit to that by encouraging many of you to look for it.
In Europe, chestnut flour is more popular and can be easily found in gluten-free sections of stores or online.
I have many chestnut flour recipes, but my favorite has to be the Chestnut Lectin-Free Crepes.
*This post contains affiliated links, which means I get a small commission if you choose to purchase something via one of my links, at no extra cost to you.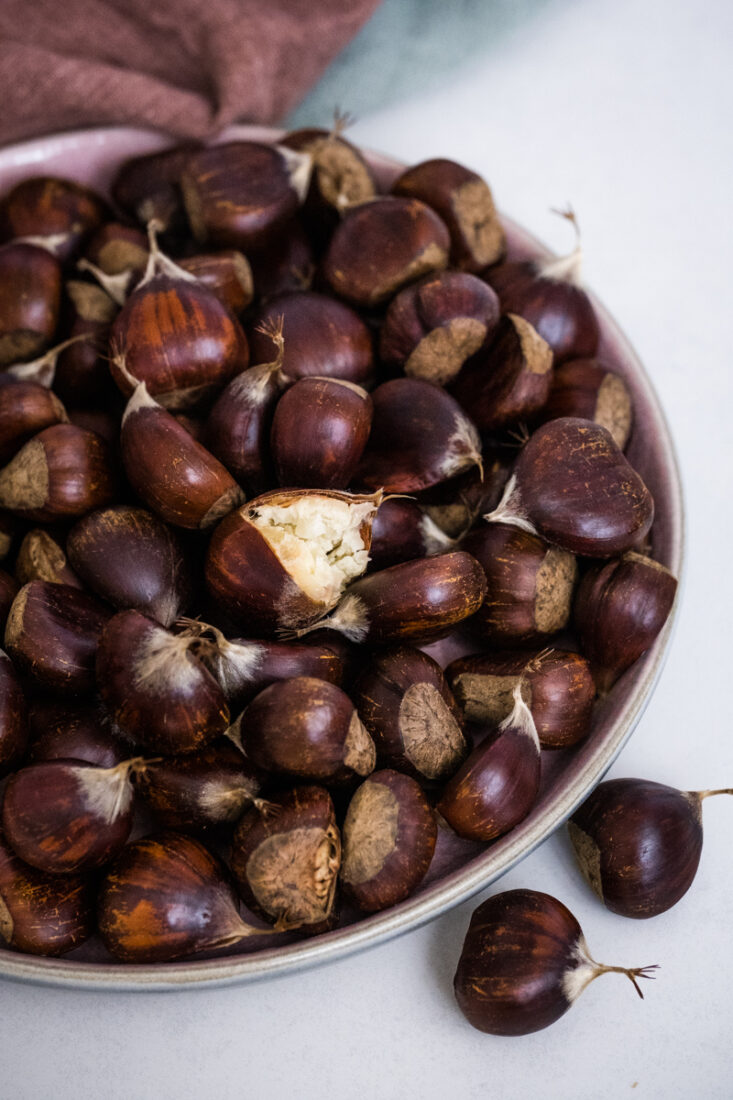 Print Recipe
Boiled Chestnuts, the Perfect Lectin-Free Snack (In a Pressure Cooker)
Warm, sweet, and nourishing, boiled chestnuts are the perfect winter snack. This is a quick method to prepare them, you won't need an 'open fire'.
Ingredients
1 kilogram / 2.2 lbs chestnuts
enough water to cover them
Instructions
1

Rinse the chestnuts well. Put them in your pressure cooker and cover them with water.

2

Set your pressure cooker to 7 minutes on high pressure and let the pressure release naturally.

3

When the pressure is released, drain the water and serve, warm or cold.

4

To eat the flesh, you must break the skin with a knife or with your teeth at the tip end and eat the white part. Or you can peel them with a pairing knife.
Notes
Boiled chestnuts will also be good the next day. You can store them at room temperature.