I'm finally falling in love with my Instant Pot. I love it for the convenience when having to cook this type of meal. A steak cooks unattended until super soft while I prepare the rest of the ingredients. And since I'm not a planner, a fast cooking device suits me much better than a slow cooker. We rarely can decide what we are going to eat a few hours in advance. This instant pot beef taco bowl is delicious, healthy, lectin-free and with few modifications, low-histamine.
Taco bowl with easily made tostones
I love, love green plantains and was a fan of oven-baked green plantain chips until I discovered how to properly and easily make tostones. Maybe is just a phase, but at the moment I love the addition of tostones to my meals, specifically if they are tacos.
Tostones are basically double-fried slices of green plantains. Don't be scared about the word fried. I use shallow frying, with extra virgin olive oil, but you can use avocado oil instead. Also, don't be scared to use a good quality extra virgin olive for cooking. Olive oil is one of the most stable oils for cooking out there.
For a great extra virgin olive oil, check the olive oils from Gundry MD. In general, when it comes to stove cooking, I never feel the need to use more than medium heat, that is enough even for shallow frying these green plantains.
For a step-by-step guide to preparing tostones check out this post How to Make Tostones (Double-Fried Green Plantain Slices).
A delicious instant pot taco bowl, easy to make low-histamine
If you don't care about your meal being low-histamine, you can use Adobo spice mix for the meat. But if you do care, check the Notes in the recipe for the modifications you will need to make.
I had the low histamine version, although some may consider cumin high-histamine. I figure that if I use just a little and seeds instead of powder, doesn't really affect me. Some people can even have small amounts of avocado. Do your own research and test to see how your body responds to certain foods considered triggers.
A DAO enzyme, taken before meals, can help to break down histamines from food. I use this one from Seeking Health, but I use it sparingly because, well… see the price. For continuous support to break down histamines, I use this Quercetin supplement called HistaAid, from Quicksilver Scientific.
According to Dr. Steven Gundry, a Rosmarinic Acid supplement and Perilla Oil can also be helpful with regulating histamine response.
Back to this awesome instant pot taco bowl. I hope you love it, it will certainly become a staple in our home. Just remember, for it to be low histamine, the beef should be fresh or quickly thawed in cold water, and eaten immediately after cooked. Leftovers animal protein are high in histamine and in fact the biggest triggers of histamine response of all, more than any vegetables on the list.
*This post contains affiliated links, which means I get a small commission if you choose to purchase something via one of my links, at no extra cost to you.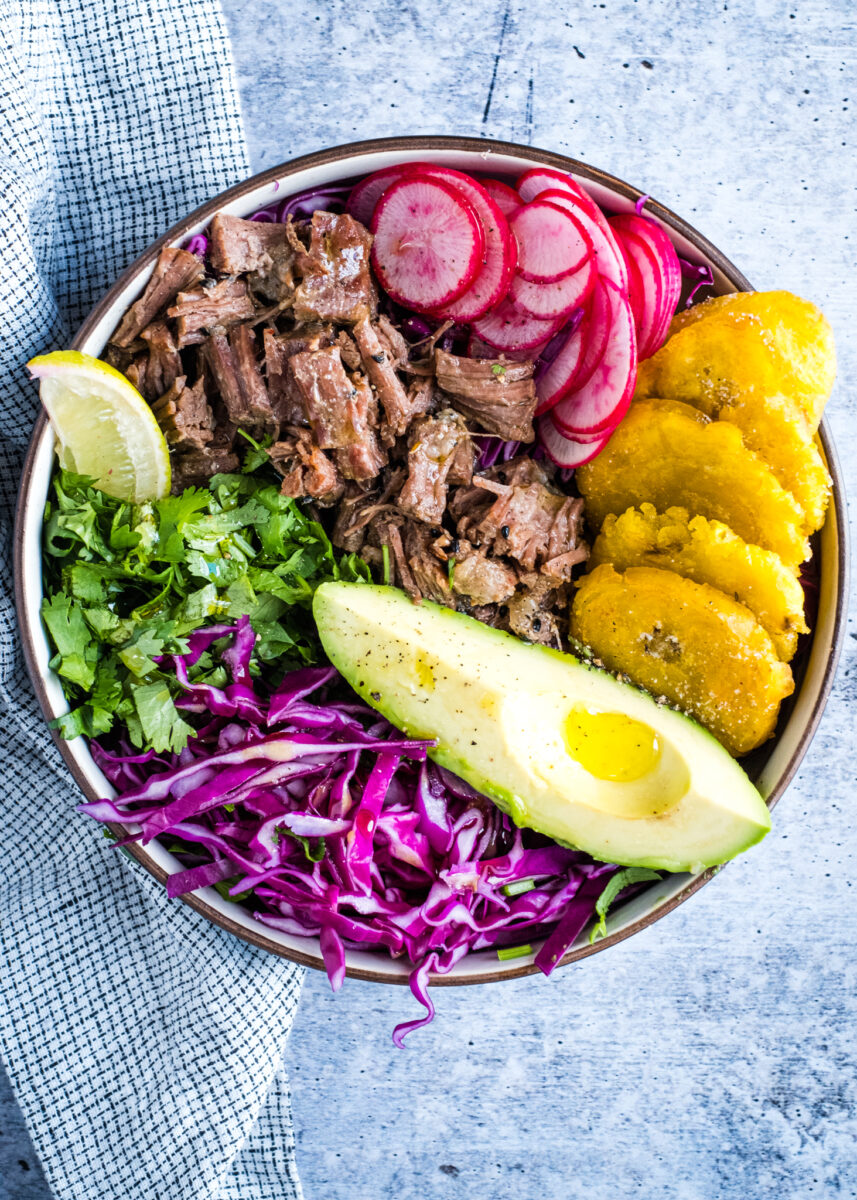 Print Recipe
Instant Pot Beef Taco Bowl with Tostones
A delicious lectin-free, low-histamine beef taco bowl.
Ingredients
FOR THE BEEF

extra virgin olive oil

1 pound grass-fed grass-finished flank steak

1 red onion chopped

2 garlic cloves, peeled and smashed

1/4 teaspoon cumin seeds

1/4 teaspoon coriander seeds

2 allspice berries

1 teaspoon salt

1/4 teaspoon freshly ground pepper

1/2 teaspoon nigella seeds

2/3 cup water

FOR TOSTONES

olive or avocado oil

1 green plantain

FOR THE BOWL

1/2 red cabbage, finely shredded

1 bunch cilantro, chopped

1 avocado

1/2 lime, cut in wedges

4 red radishes, finely sliced

optional: goat or sheep yogurt

optional: raw onions, finely sliced

extra virgin olive oil
Instructions
1
MAKE THE BEEF: Slice the steak against the grain, in one inch thick pieces. Start your Instant Pot on the Saute option. Add a generous amount of olive or avocado oil and when hot add the chopped onion and garlic. Saute until translucent and fragrant. Add the sliced beef, add all the spices, a generous amount of sea salt and pepper. Brown on one side and flip. Once browned on the second side, add the water, scrape the bottom of the pot well with a wooden spatula. Cancel the saute option, seal and turn the Instant Pot on high pressure, set the time to 35 minutes. After 35 minutes let the pressure release naturally for at least 10 minutes. take the meat out in a bowl and shred with two forks. Add some of the juices.
2
MAKE TOSTONES: While the beef is cooking, make the tostones. Peel and cut the plantain at an angle, in 1/3 inch slices. Heat a generous amount of olive or avocado oil in a frying pan, medium heat. Fry on one side, for about 4 minutes, flip and fry on the second side, for about 4 more minutes. Take them out on a cutting board and slightly smash them with the bottom of a mug or something heavier, like the bottom of a mortar. Put them back in the pan and fry for about 2, 3 minutes on each side or until golden brown. Take out in a bowl and generously sprinkle with sea salt, cover with a towel until ready to serve.
3
MAKE THE BOWLS: Prepare all the veggies while the beef is cooking. Once the meat is ready, add the shredded red cabbage, cilantro, avocado, lime, radishes to two bowls, add the meat, raw onion and yogurt if using.
Notes
For a low histamine version of this bowl (what I actually had), skip the avocado, lime, yogurt and possibly raw onions. Cumin seeds may be also skipped (I am fine with using seeds instead of powder, but if you are very strict skip cumin). Nigella seeds are in fact anti-histamine, so you can use more of them.