September is here, and so are my cravings for soups. But this healing vegetable soup with kale and broccoli sprouts was born from my attempt to pack as many power veggies as possible in just one easy-to-make and delicious dish. Smoothies, salads, and soups are the three most straightforward ways to combine various ingredients and have them in one go. But soups must probably be also the easiest on digestion for everyone.
A healing journey
I've spent some good hours watching the Square ONE modules by Chris Wark from Chris Beat Cancer these past few days.
Square ONE is a guide for people diagnosed with cancer to help them in their healing journey and an excellent guide for healthy living in general or cancer prevention.
Although there are quite some differences compared to the Plant Paradox program, in the end, the core of Chris' program is the same:
Give up processed foods and refined sugars and (most) grains
Eat whole foods, from the earth, mostly organic, eat as little animal protein as possible (but if you are trying to heal from cancer stay away from it for at least for 90 days)
Introduce fasting to your diet
Detoxify your life by choosing safe household and personal care products
Minimize exposure to toxic chemicals, environments and toxic people as much as possible
Move, breathe deeply, minimize stress
A healing vegetable soup made with top cancer-fighting ingredients
A lot of what Chris recommends makes sense. His guide inspired me to find ways to cook and eat more of the foods that have proven anti-cancer properties, such as: cruciferous vegetables (broccoli, cabbage, kale, collard greens, cauliflower, mustard greens, etc), rutabaga, garlic, onions, leeks, cooked mushrooms, spinach, carrots, beets, celery, ginger, turmeric, oregano, cayenne pepper, cumin, fermented foods, and apple cider vinegar.
These are not all, but right there on top. I plan to use them more in my cooking from now on. For the first time in my healing journey, I feel I am motivated to reduce animal protein even more, and maybe ready to move on to Phase 3 of the Plant Paradox program. This means re-adding some lectin foods to my diet (like pressure-cooked beans) but reducing animal protein to a minimum (not more than 2oz a day).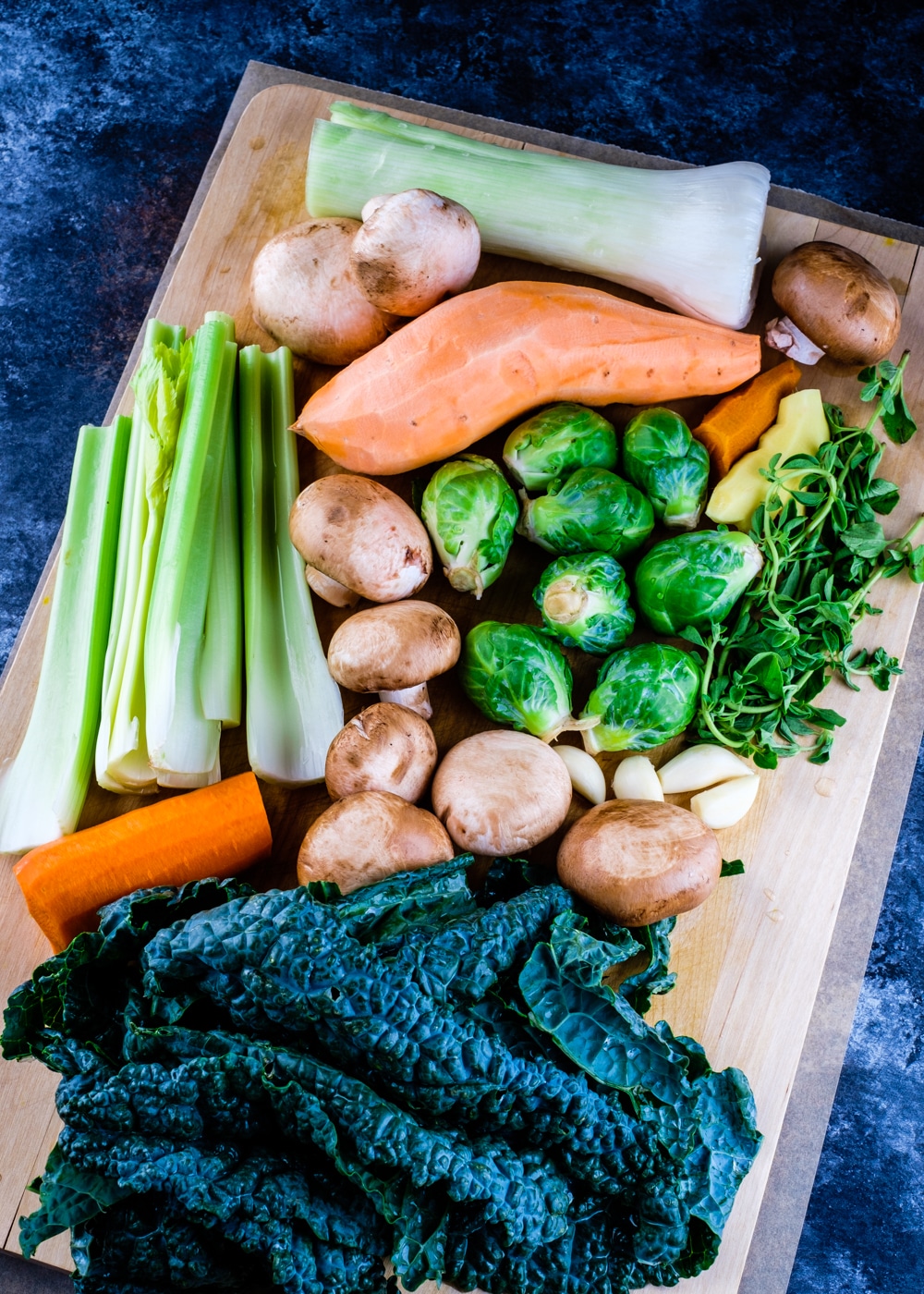 A super easy soup recipe your body and immune system will love
This vegetable soup with kale and broccoli sprouts is entirely plant-based. It has no milk or cream of any kind, no pre-packed ingredients, just veggies and herbs, water, salt, and pepper.
The soup is also minimally cooked, making it easier to digest for people with digestive issues and sensitivities to cruciferous, and easy to blend while keeping all their nutritional properties.
And if there wasn't enough healing power in this soup, the add-on of sautéed kale and broccoli sprouts brings it to a new level of goodness. Dr. Axe calls broccoli sprouts one of nature's top cancer-fighting foods.
This is a soup that all the cells of your body will love.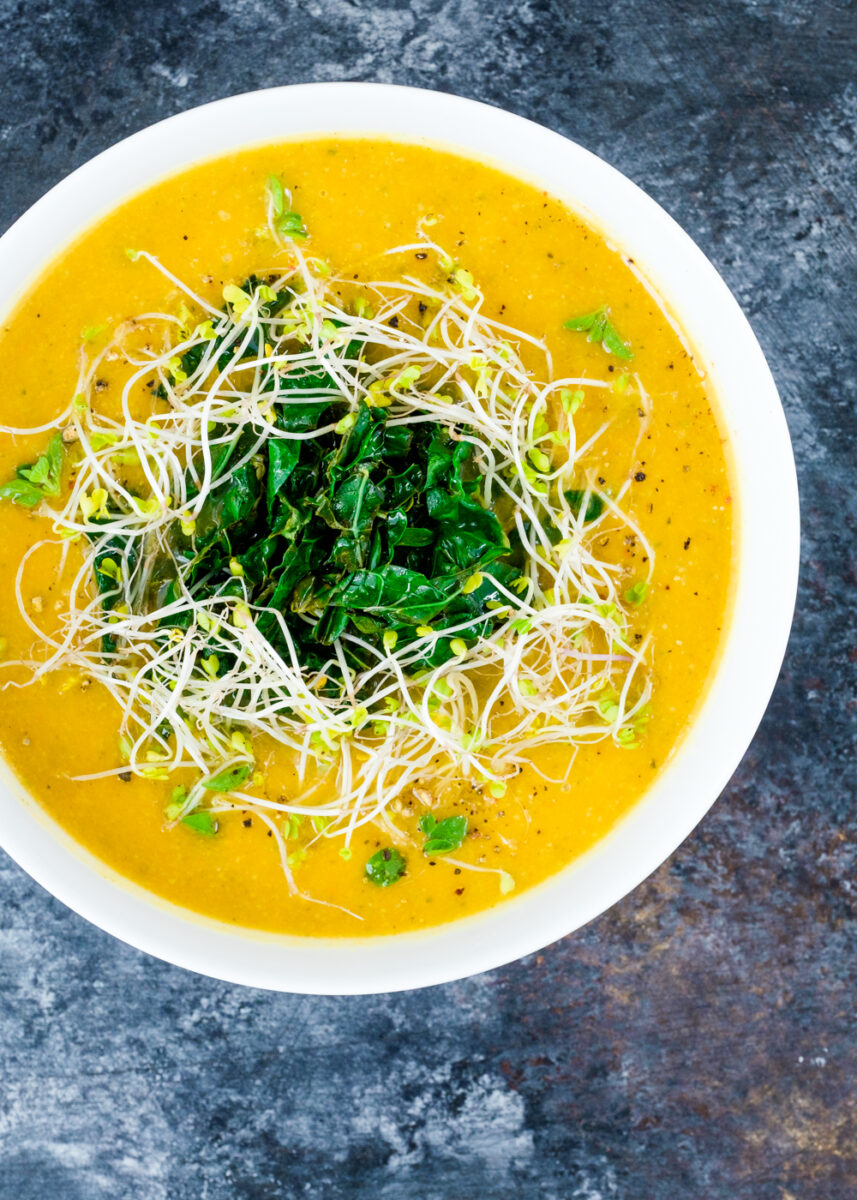 Print Recipe
Healing Vegetable Soup with Kale and Broccoli Sprouts
An easy-to-make and delicious soup that uses some of the most powerful ingredients nature has given us.
Ingredients
3-4 stacks celery, finely chopped

1 medium leek (the white part), sliced finely

1 medium sweet potato, peeled and finely sliced/chopped

9-10 medium mushrooms (mini Bellas, crimini, or button), sliced

8 big Brussel sprouts (put more if they are very small), finely sliced

1 small carrot. finely chopped

4 garlic cloves, peeled and smashed

1 thumb-size piece (or slightly bigger) fresh ginger, sliced

1 thumb-size piece of fresh turmeric, sliced

a small handful of fresh oregano leaves

salt and pepper to taste

extra virgin olive oil for sauteeing

about 45oz water

TOPPING:

5-6 Lacinato kale leaves (remove stems), finely chopped

few handfuls of broccoli sprouts
Instructions
1
Wash and chop all veggies.
2
Make sure you have about 1.5 QT water warm ready on the stove.
3
Add the oil to a big sauteeing pan (enough to cover the bottom), heat on medium heat and start adding the veggies. Start with the leeks, sauté for few minutes, continue with the celery, stir and sauté for few more minutes, add the Brussel sprouts, cook and stir for few more minutes, add the potato, carrot, garlic, mushrooms, ginger and turmeric and cook for few more minutes. Add the oregano leaves, and stir and cook for few more minutes. You just want everything to get coated with the oil and release their specific flavors (You don't want anything to get burnt or overcooked). Once that's done, transfer the content of the sauteeing pan to a soup pot, add the warm water, salt and pepper, bring to a boil and simmer for about 10 minutes. Let cool a little bit before you add to a blender.
4
Blend the content of the soup pot until creamy, adjusting the thickness to your taste, by adding more boiled water. Taste and add more salt and pepper if necessary.
5
Add more oil to the sauteeing pan (no need to wash it) and cook the kale for few minutes until wilted.
6
Serve the soup with a topping of sautéed kale and a handful of broccoli sprouts.
Notes
This makes about 2 Liters (about 70 oz) of soup.