There are many occasions when my husband doesn't necessarily like the food I make and feels the need to add something else to his meals, but he always loves when I make curries, especially Thai-style curry.
We had a lot of these while living in Dubai. Of course, this goes quite far from the traditional one, but it is delicious, healthy, and even a low histamine curry.
Making a low histamine curry
It is a very straightforward meal, super easy to make. You can start with cooking the chicken thighs or use leftover chicken to make it even easier. If the leftover chicken has been frozen, it remains a low histamine dish. Make sure your chicken is pasture-raised, low lectin if possible, and fresh.
You will see in the recipe that I recommend rinsing and pat drying the chicken. This is in general a good technique if you are trying to eat low histamine with any animal protein. See my article The Complete Guide to Cooking Low Histamine Recipes, for more tips.
When I keep my meals low histamine, I avoid adding pre-made ingredients like the Thai curry paste. I only add a little bit at the end for my husband's portion. It will give a kick to the curry, which my husband loves, but I'm ok without it.
Cauliflower adds more nutrition
You don't see cauliflower in Thai curries, but I love that it adds more nutrition. It can replace the rice that is usually eaten with Thai curries.
Suppose anyone in your family still wants rice. In that case, you can use Indian basmati rice, preferably organic, cook it in a pressure cooker and let it cool down completely before serving it. This way, it becomes a resistant starch.
The dish can also be served with cauliflower rice. You can find a step-by-step on how to make cauliflower rice at home in this recipe Lectin-Light Beef Burrito Bowl with Cauliflower Rice.
Suppose you haven't worked with lemongrass before. In that case, you need to peel the outer layer, cut the stick in two, and smash each stick, leaving one end intact, so the woody leaves don't fall apart and mix with the rest of the meal; this way, the lemongrass will release its fragrance and can be easily discarded once the meal is ready. I use the handle of a big knife to smash it.
Normal basil will work just fine if you don't find Thai basil.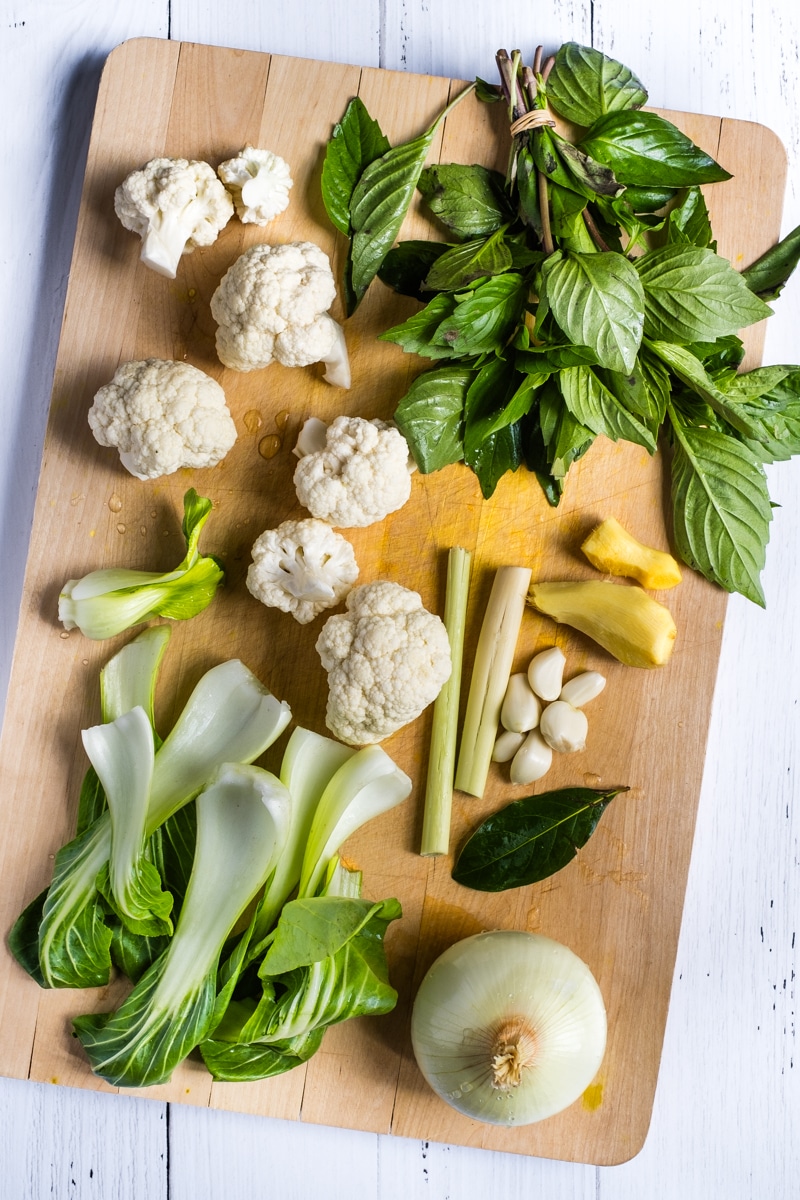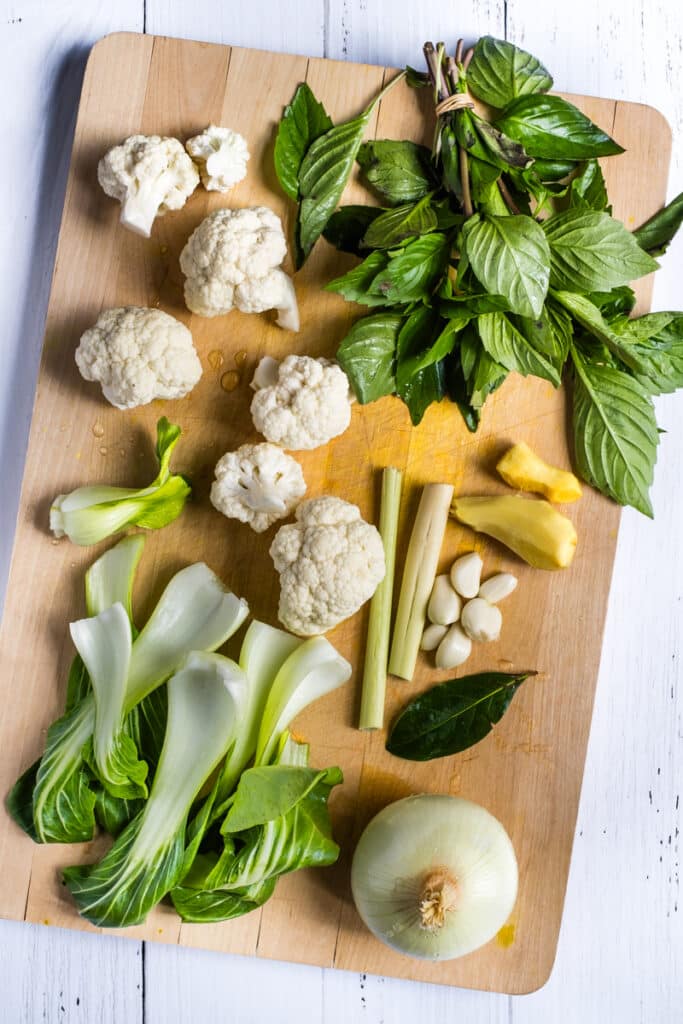 Let me know if you make and love this low histamine curry, Thai Style.
More low histamine recipes
If you want to try other low histamine recipes, you may like our:
And also remember to see my article The Complete Guide to Cooking Low Histamine Recipes for more tips on cooking low histamine meals.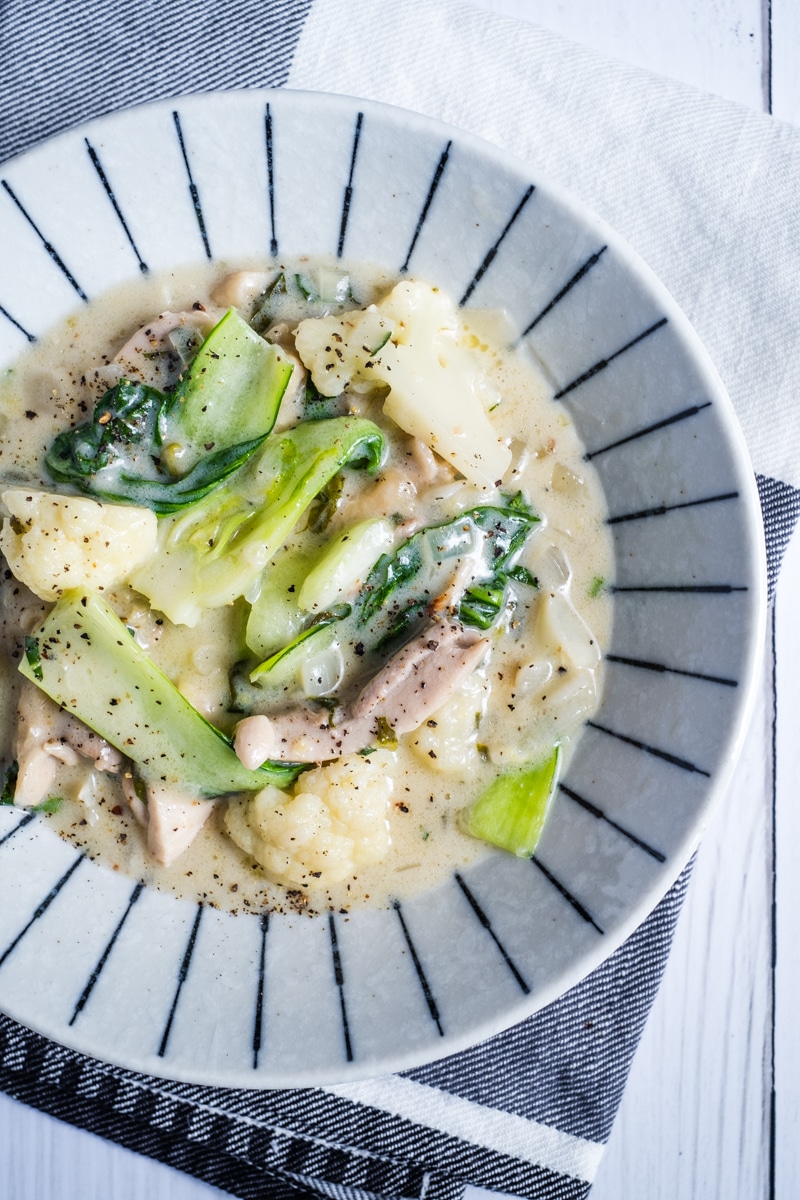 Print Recipe
Thai Style Curry, Low Histamine
An easy and delicious weeknight meal
Ingredients
extra virgin olive oil or avocado oil
4 chicken thighs
1 medium sweet or yellow onion, chopped
4 garlic cloves, minced
1 thumb-size piece ginger, grated or minced
1 stick lemongrass
1 bay leaf
1 or two baby bok choi, leaves apart
1/2 medium cauliflower, cut in small florets
1 can full-fat coconut milk
1 bunch of Thai basil (use normal basil if you don't find Thai)
salt and pepper to taste
lime juice/wedges
optional: Thai chili paste
Instructions
1

Rinse well and pat dry the chicken thighs.

2

Add oil to a big sauteeing pan and add the thighs, first skin down, on medium heat. Sear for about 10 minutes, and flip (you can cover with a lid during this process) and cook for 10 more minutes.

3

Take the chicken out, remove the meat from bones and cut or shred the chicken (It's ok if it's not completely cooked, it will cook more in the sauce).

4

Add the onions to the same pan, completing with more oil if necessary. Cook the onions for about 5 minutes, then add the ginger and garlic. Smash the lemongrass stick leaving one end intact so it doesn't break during cooking and you can take it out when it had done its job. Add the lemongrass to the pan and stir well. If any of the aromatics start to stick to the pan, add a little bit of water, you don't want anything burnt as it will become bitter. At this point, if using, add one teaspoon Thai chili paste, or to your taste.

5

Add to the pan the chicken coconut milk, cauliflower, bay leaf, salt and pepper. Stir well and let simmer on low heat for about 7 minutes. Add the bok choy leaves. Let simmer for 5 more minutes.

6

Finish with chopped basil leaves, lime juice, salt and pepper to taste.