This Asian-inspired soup was one of the best meals we had lately. It is healthy, Plant Paradox compliant, keto-friendly, and warming and refreshing at the same time. Even husband approved. Lately, I've been talking a lot about food with a Vietnamese friend, so I guess these discussions inspire me and make me want to explore Asian flavors more. Really proud of how this chicken coconut soup turned out.
Warming and refreshing, nutritious and light chicken coconut soup
This recipe is really simple. Most of the time required to cook it is actually passive time. The soup is just simmering on heat, so it is really worth it even if you make just one or two portions. You can make more though, it will be as delicious the day after.
What you need to start: lemongrass, garlic, coriander seeds, fresh ginger, pasture-raised chicken – I recommend pieces on bones, like drumsticks or thighs or, if you make soup for a bigger family, you can also use the whole chicken. You can use fresh shiitake mushrooms, but the dry ones will give more flavor to the soup. I bought a 1oz pack from a local shop, but you can find them in any Asian market or online. The shiitake mushrooms I bought were similar to these at this link here. You need a can of full fat, coconut milk; for cooking, I always use the 365 brand from Whole Foods that is organic and BPA free. For fish sauce, I use Red Boat.
Use organic lime for the chicken coconut soup
Since you will be adding lime slices with zest to the soup, I recommend getting an organic one. But if you can't just make sure you wash it well before using.
You probably know that, but just in case, I would like to stress how important the quality of the salt you use is. I have few favorite types, but for cooking, I used Redmond Real Salt, which is the purest you can get and naturally rich in minerals and iodine.
That's it, I'd love to hear from you if you make it.
If you like this Asian-inspired soup you might also want to try my Thai Style Curry, Low Histamine.
*This post contains affiliated links, which means I get a small commission if you choose to purchase something via one of my links, at no extra cost to you.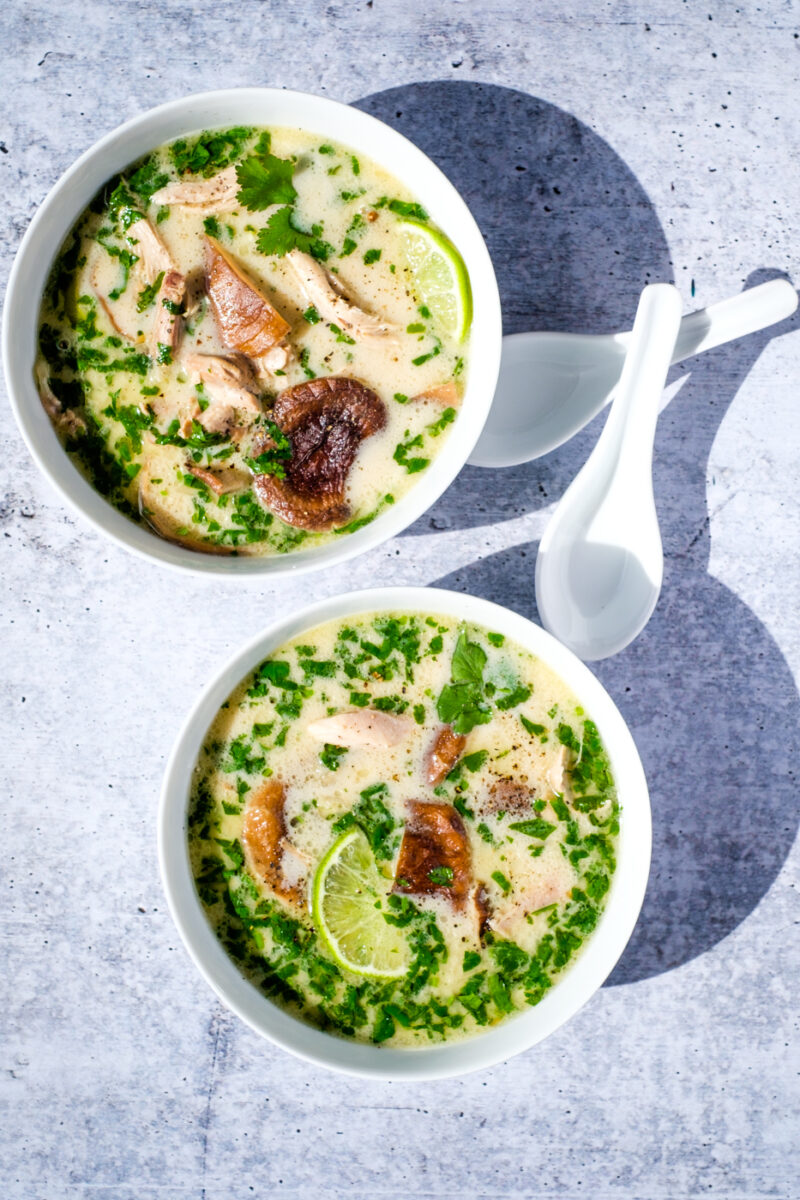 Print Recipe
Chicken Coconut Soup with Shiitake Mushrooms
Warming and refreshing, nutritious and light chicken coconut soup
Ingredients
4 chicken thighs or drumsticks with bones (pasture-raised chicken)

1 can full-fat coconut milk

1 stick lemongrass, smashed and cut in 1-2 inch pieces

1 thumb size or bigger piece of ginger, cut into smaller pieces

1 tbsp coriander seeds

2 big garlic cloves

1 tbsp fish sauce

1 oz dry shiitake mushrooms

1 bunch fresh cilantro

salt and pepper to taste

1 organic lime

avocado oil
Instructions
1
Start with adding the ginger, lemongrass, garlic and coriander seeds to a mortar and pestle and smash them slightly, just to release more of the flavors. Add them to a heated soup pot with a little avocado oil. Fry and stir slightly until fragrant. Add the pieces of chicken that were seasoned with salt and lightly cover with oil and spices on all sides just to seal the juices, you don't need to actually fry them. Add the coconut milk, the fish sauce and complete with water (to cover all the chicken). Add the dry shiitake mushrooms (which need about 30 minutes to rehydrate, which is about the same time that the chicken will need to be cooked). Add some more salt, juice of 1/2 lime and let it simmer for about 30 minutes.
2
When the chicken is all cooked through, strain the soup (you want to remove all the hard pieces of lemongrass and ginger), remove chicken from bones, and add the chicken and mushrooms (you can slice them in half if you wish) back to the strained liquid. Put back on the heat, taste, season with salt and pepper if necessary, and let simmer for few more minutes. Add slices of lime and fresh cilantro and serve.
Notes
You can use boneless chicken, but the bones add extra flavor to this soup, so I recommend you use chicken that has bones.