A staple for meal prep, this tarragon chicken salad is easy to make and store in the fridge for a few days. It can make an excellent base for other dishes or have it by itself.
I like to add avocado. If it's made for meal prep, I prefer to add the avocado to the dish just before I eat it; otherwise, it won't store well.
A chicken salad that is tasty and makes life easier
Because you can make it on the weekend, as I did, and have it every day in different forms: chicken salad sandwich, Chicken salad salad, Chicken salad nori rolls (yes, I actually made these).
You only need pasture-raised chicken breast, celery, dry cranberries, fresh tarragon (you can also use dried tarragon if fresh is not accessible, but I prefer fresh), avocado mayonnaise from Primal Kitchen, or homemade mayo (for convenience's sake, I used the Primal Kitchen one), lemon, salt, and pepper, some oil for cooking the chicken and some extra virgin olive oil to add to the mayo dressing.
If you make this tarragon chicken salad for kids and are unsure if they dig the tarragon flavor, start with adding bit by bit and taste before you add the whole bunch.
Where to find unsweetened dry cranberries
Finding unsweetened dry cranberries can be a pain, so this is what I buy and use. Since it's a 1 lbs bag (and these cranberries are super light), I freeze the whole bag and take them out whenever I need some.
And just a little reminder, to avoid endocrine disruptors found in plastic, use glass containers to store food.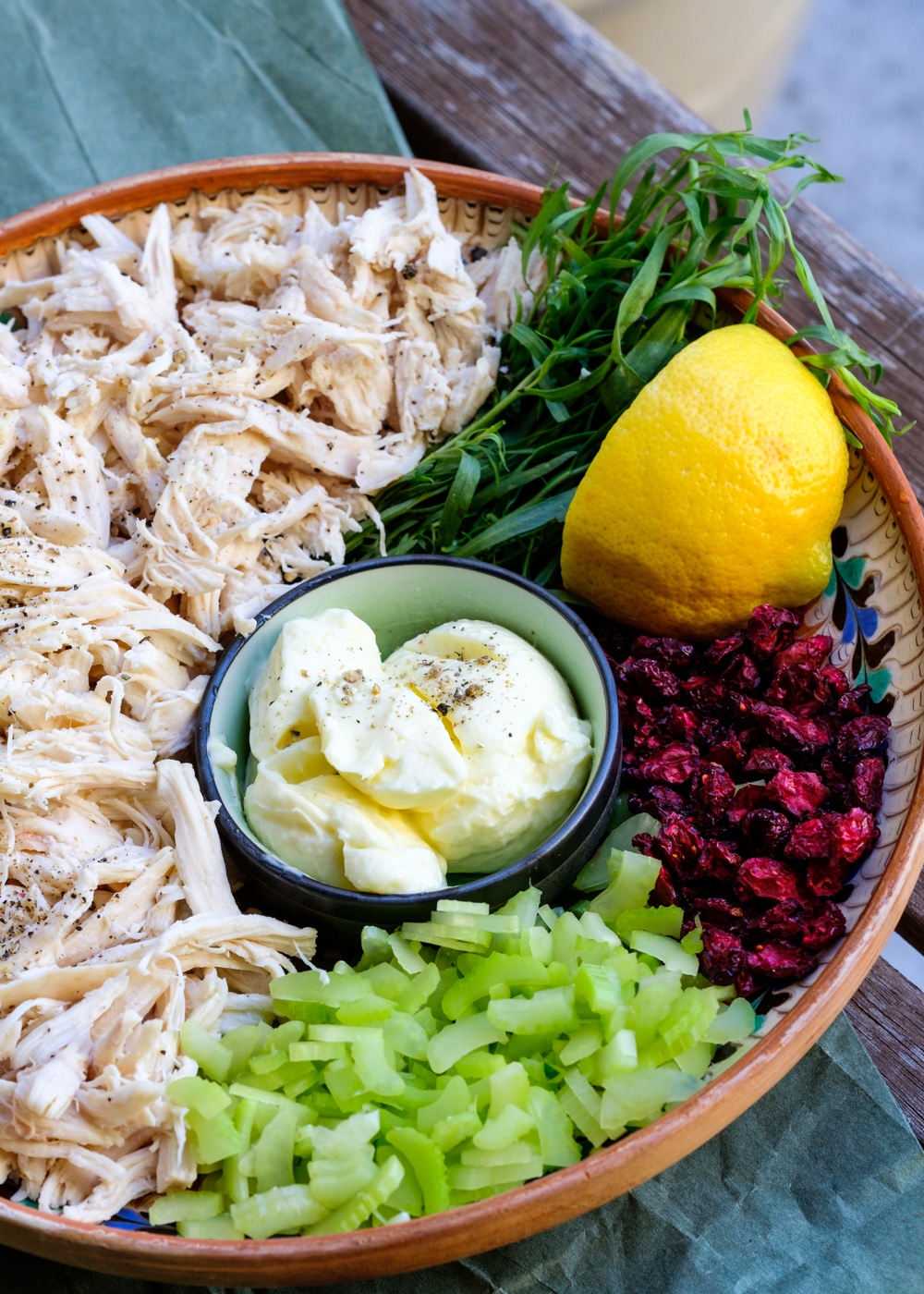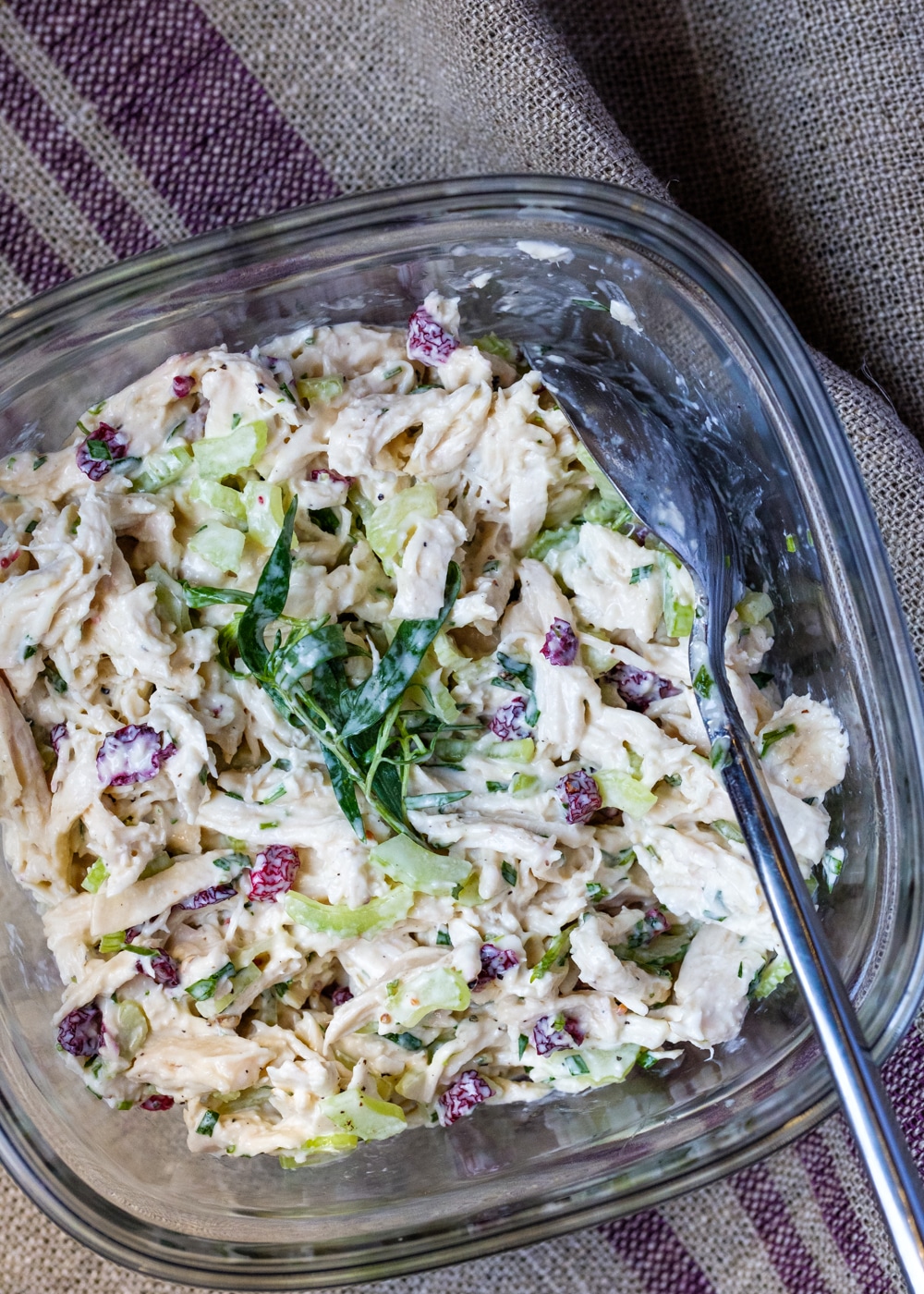 How to serve tarragon chicken salad with cranberries and avocado mayonnaise
Other than the nori rolls, this tarragon chicken salad can be used for sandwiches. I use California Country Gal bread baking mix, which is grain-free, sugar-free, and lectin-free, and you can buy it HERE. All the baking mixes are the same, but they have different recipes on them.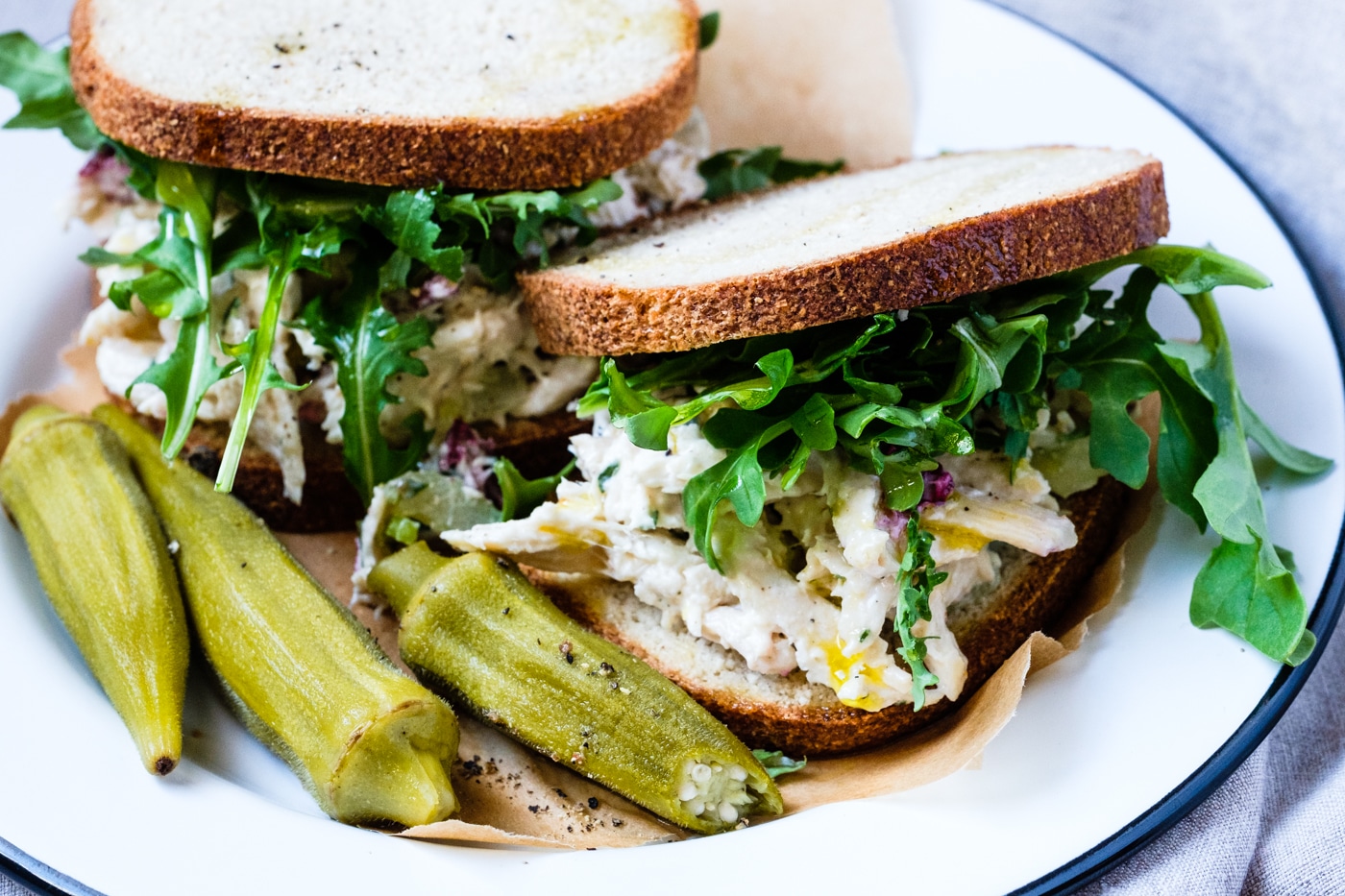 More chicken salad recipes
If you like this recipe, be sure also to try my other delicious and easy chicken salad recipes:
*This post contains affiliated links, which means I get a small commission if you choose to purchase something via one of my links, at no extra cost to you.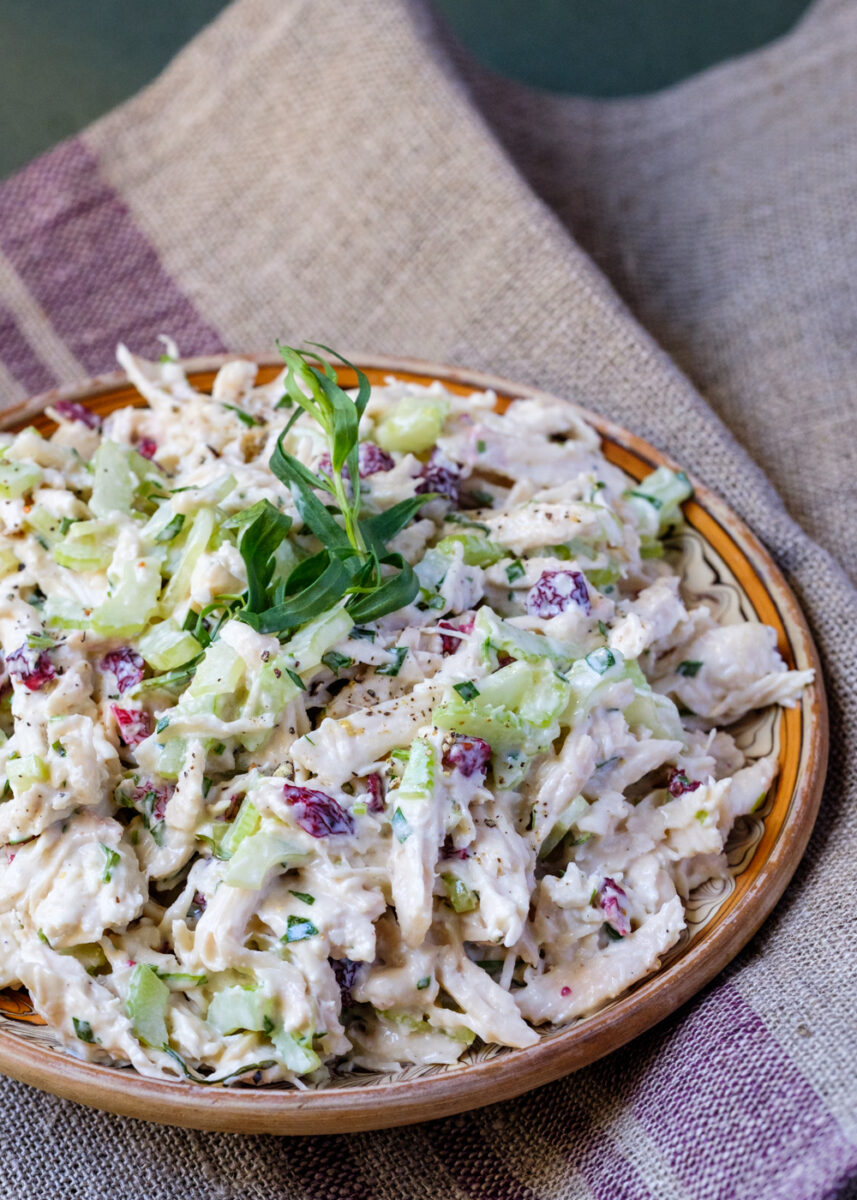 Print Recipe
Tarragon Chicken Salad with Cranberries and Avocado Mayonnaise
A simple chicken salad that can go a long way. You can prepare it in advance, store it in the fridge for days, make sandwiches or add it to lunch boxes.
Ingredients
2 pasture-raised chicken breasts (mine were almost 7oz each, 13oz together)

Lemon and avocado oil, salt and pepper for cooking the chicken

2-3 stacks celery, finely chopped

a handful of unsweetened dry cranberries

few stems of fresh tarragon (about 2 heaped tbsp finely chopped)

1/2 cup avocado mayonnaise (that means made with avocado oil)

1/4 lemon, juice

salt and pepper to taste
Instructions
1
MAKE THE CHICKEN: Preheat the oven to 370F.
2
Put the two chicken breasts in a pyrex pan, drizzle with avocado oil and lemon, add few slices of lemon on top, sprinkle with salt and pepper. Cover the pan with aluminum foil (without touching the chicken) and bake for 30 minutes, covered.
3
Take out, let cool and shred the chicken in small pieces. Alternatively, you could chop it with a knife.
4
MAKE THE SALAD: Finely chop the celery, tarragon, and, if the cranberries are too big for your taste you can chop them more. Mix with the shredded chicken, add the mayonnaise, extra virgin olive oil, lemon juice, salt and pepper. Adjust taste if required.
5
Store in an air-tight glass container.
Notes
I don't go crazy on using many flavors and spices on this dish once because I really want to feel the flavor of tarragon, and also because I'll be using this as a base for different recipes, and I want a clean taste. And sometimes, less is more. If you make this for kids and not sure if they dig the tarragon flavor, start with adding bit by bit and taste before you add the whole bunch.