Eating and cooking healthy food doesn't start and stop with the quality of our ingredients. Changing the food we consume is a big important step, but there are a few other disruptors we need to pay attention to for optimal health. One of them is to reduce our plastic exposure and consumption.
In the Plant Paradox book, Dr. Steven Gundry lists the seven deadly disruptors wreaking havoc on our gut health: broad-spectrum antibiotics, non-steroidal anti-inflammatory drugs, stomach acid blockers, artificial sweeteners, endocrine disruptors, genetically modified foods, and the herbicide Roundup and blue light.
Plastic goes under the endocrine disruptors category, chemicals that interfere with the normal functioning of our hormones.
Reduce your plastic use and exposure
Besides the fact that plastic has a negative impact on our health, it is significantly damaging our ecosystem and the planet. So it is our duty as inhabitants of this planet to make an effort and reduce our plastic consumption and plastic pollution.
When you think that almost everything in our modern living is built around plastic, this task might be daunting and we may feel too small to make a difference, but this is not true.
"Each piece of single use plastic NOT used, is a step in the right direction" – @PlasticFreeFoodie (Instagram)
That's why I love the above quote so much. It inspires me to take little steps in the right direction every day and that no matter how small that step is, it truly matters.
I am not preaching here because I know I only scratched the surface, and I have lots of work to do myself. Still, by sharing these four steps, in my opinion, the most straightforward and most accessible to absolutely everyone, I hope to inspire you to make a slight change (if you are not doing that already).
I feel that these four steps are perfect for anyone who wants to start from somewhere but are overwhelmed and has no idea what to do first.
1. Replace plastic food storage items with thermo resistant glass, stainless steel containers or silicone bags
Some have silicone lids, some have glass plus silicone lids, and some plastic lids, but anything is better than full plastic containers (which are unhealthy and not environmentally friendly). If they are thermo resistant, you can also use them in the oven; I make cakes, salmon, veggies, and chicken in them, you name it.
Glass containers
You can find them anywhere in specialty stores, but this humungous set from Amazon is fantastic. The price is excellent, and these will last you for ages. What I learned though, is to avoid those with plastic only covers. They break over time and you will end up with a glass container without a lid which is pretty useless.
These look amazing, a set of nine containers, free shipping with Prime, for 28$, oven safe and freezer safe. I built my collection over time. If I had to buy a set now, I would get this one (you can click on all the pictures below to get to the Amazon link):
Additionally, glass jars – like Mason jars – compliment the containers perfectly. They can be used for flour, nuts, and the storage of the pantry staples, and you know, you can even make salads in jars. Also perfect for storing liquids and dressings in the fridge.
Stainless steel containers
If you have a little more budget available, a few stainless steel lunch containers are fantastic, especially for kids, just a little expensive (not when you think they'll last you a lifetime though).
More than 8 million tons of plastic are dumped in our oceans every year.
I own one of these LunchBots stainless steel containers and it's perfect for boxing a lunch.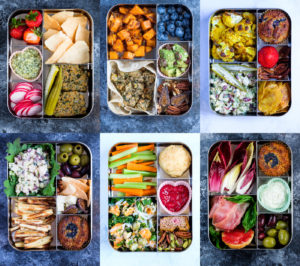 Or these beautiful containers from Tavva Kitchen, made of stainless steel and silicone covers, are perfect for travel, I carry snacks in them, or I use them for storing. You can find them on Amazon.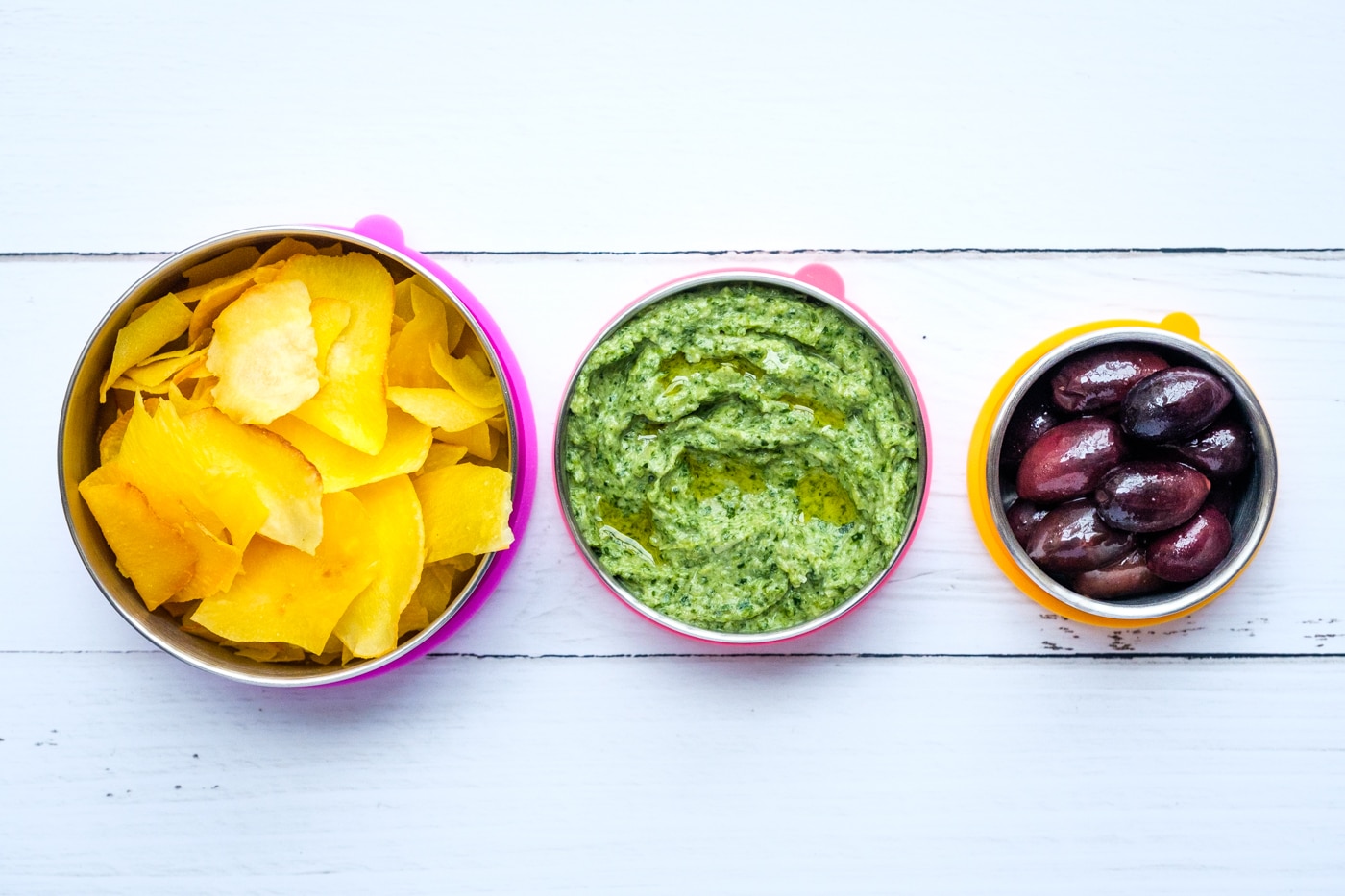 Stasher silicone bags
My newest obsession and possibly the best invention ever are the Stasher Silicone Bags. They are reusable, microwavable, and heat resistant. You can even do sous-vide cooking with them. Of course, they are excellent for food storage. They are easy to wash, and I do it both by hand or in the dishwasher.
I have ten of them, three different sizes in white, blue and some pink and green, and I can't wait to get more. The only downside is that they are pretty pricey, but they are worth it. You can buy them on Amazon (click on the picture below). I think you might also be able to find them in Target and Whole Foods.
Souper Cubes
One more great invention I got to use recently is these SOUPER CUBES, made of silicone, with a protective lid. You can portion and freeze soups or other prepared meals, and they are amazing and I highly recommend them. You can buy them directly from Souper Cubes' website.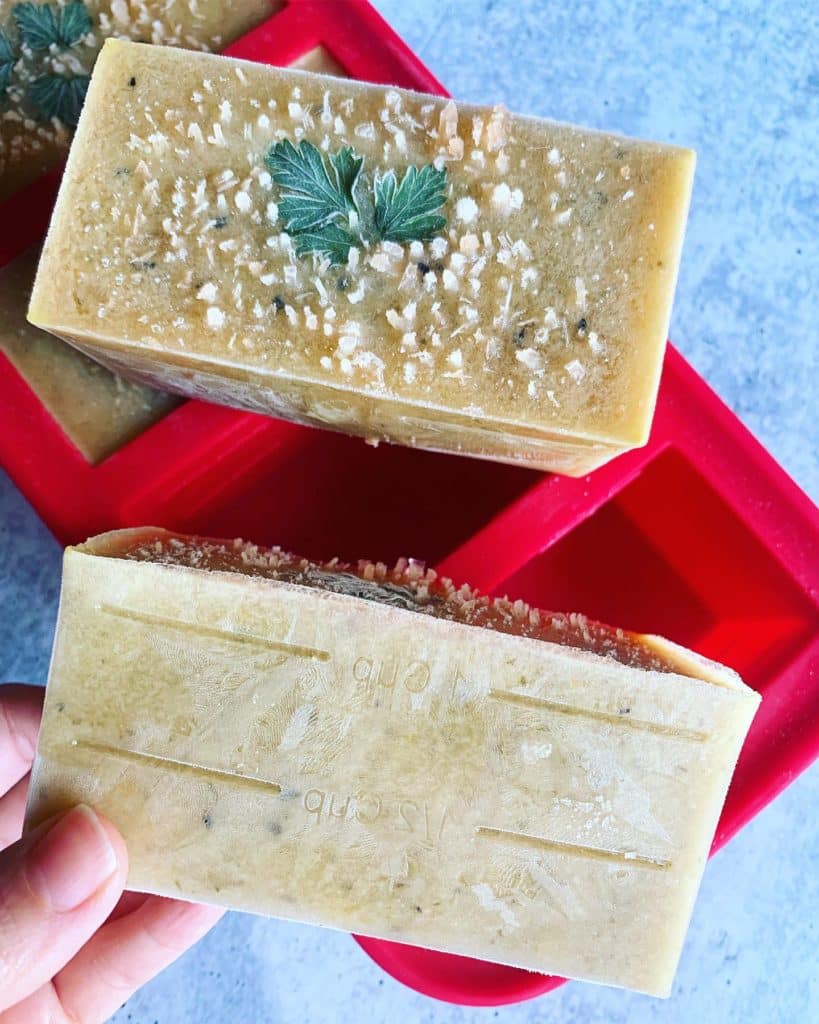 2. Replace the single-use plastic produce bags that are free to grab in grocery stores with cotton bags
You will save so many bags and dramatically reduce your plastic packaging waste by doing this. Additionally, buy reusable bags from the store and use them every time you go shopping. I have two reusable bags from Whole Foods, and I use them everywhere.
One million plastic bags are used every minute. 500.000 billion disposable plastic bags are use worldwide each year. It takes 1,000 years for a plastic bag to degrade.
Organic cotton produce bags
I also have a set of organic cotton produce bags made by a small family business (Asmallfish). They are machine washable and can be used for bread, produce, and even fridge storage. I always take a few with me in the bag when I go to grocery stores. They are inexpensive and of excellent quality. I got them on Amazon:
3. Replace single-use plastic utensils with reusable ones, whenever possible
Straws, cutlery, plastic plates, plastic water bottles, or coffee/tea takeaway cups are easy to replace. I bought this one for my husband and me, it has a bamboo spoon, fork, knife, chopsticks, stainless steel straw, and straw cleaning brush, but you have a few more alternatives below. What I like about them is that they work: the knife and spoon can do the job, unlike other wooden utensils I tried.
Straws
Straws – I don't own one yet because I rarely use straws, but I will order soon to complete my reusable collection. This seems like a good one, especially if you have a bigger family:
Americans use 500 million plastic straws every day.
Hydro flask
Hydro Flask – I have this reusable water bottle, in mint color, and I love it. It works for tea and coffee. Alternatively, get a reusable coffee cup and take it with you when you buy coffee. I have a few of those, one I bought from Starbucks, but I rarely buy coffee to go.
16,000,000,000 paper coffee cups are used in America every year. The plastic used in coffee cups lids is polystyrene or styrofoam, a carcinogen and a neurotoxic especially when heated. It is NOT biodegradable or recyclable.
Portable reusable cutlery
Portable Reusable Cutlery – this is one of my favorites.
And if you prefer stainless steel, this is my favorite:
4. Invest in a water filter and a glass or stainless steel water bottle
Drinking good quality water is essential, and a good filter is the best way to do it. Plastic bottles are not completely safe and think how many plastic bottles go to waste every day.
We bought our Berkey Water Filter about six months ago, and it was a great investment. We got the travel size, it's perfect for two. This saves a lot of plastic bottles being used and gives us better quality water.
More inspiration to reduce your plastic exposure and consumption
For continuous inspiration on how to reduce our plastic consumption, improve our environmental footprint and just be a little friendlier with our planet, follow Christine Wong on Instagram: @consciouscooking and @plasticfreefoodie.
I am just beginning to scratch the surface of being more environmentally friendly. But she helps me every day to take it a little step further.
Among the top ten trash items found in the world's oceans are caps and lids, straws, cups, plates and cutlery, plastic bags, cans.
*This post contains affiliated links, which means I get a small commission if you choose to purchase something via one of my links, at no extra cost to you.