Sweet Potatoes are one of my favorite foods. They are so tasty and nutritious, and so many ways to cook them. Today I was trying to find a way to have some Turmeric Tonic because I'm having a little bit of sinus pressure. Turmeric Tonic always helps, but I did not want a warm drink. So I decided to cook a small potato on the stove and add the turmeric elixir at the end. 
So much goodness and healing properties in a simple meal
This post will be really short, but I wanted to have this simple recipe for further reference because it was so tasty and an excellent carrier for my turmeric.
If you've been following my posts and Instagram for a while, you know how obsessed I am with this turmeric. It's the best tonic and anti-inflammatory you could have, and it helps with menstrual discomfort, sinus pressure, headache, or fatigue.
The mix, which contains a magical blend of superfoods and adaptogens, is made by Further Food. If you want to order from their website, you can use the code CREATIVEINMYKITCHEN10 for 10% off your first order (just between us, if you've used the code already, ask a neighbor, colleague, or family member to place an order for you). SHOP HERE.
How to make turmeric sweet potato
Back to our sweet potatoes. I made a single serving using a super small sweet potato, but you can make a big batch in an even bigger pan for a big family.
I used avocado oil and added a little bit of onion with the potatoes. The turmeric tonic I only added at the end because you don't want that to cook, but it needs to be mixed with something hot and fatty to activate the curcumin in turmeric.
You can eat them immediately. You can serve them as a side dish. I had them cold because I wanted to test how they would work in a lunch box. They are super tasty, making them perfect for a lunch meal prep. Of course, there are so many other ways to prepare sweet potatoes in advance, and this sweet potato recipe is just one.
In case you are wondering, the frying pan I used is an All-Clad D3 ARMOR, 8inch (I also have the 10inch), and it is one of my favorite cookware items I own. The lunch box is the Bento Cinco from LunchBots (4 cups, 5 compartments). You can also check out my shop site for the cookware and gadgets.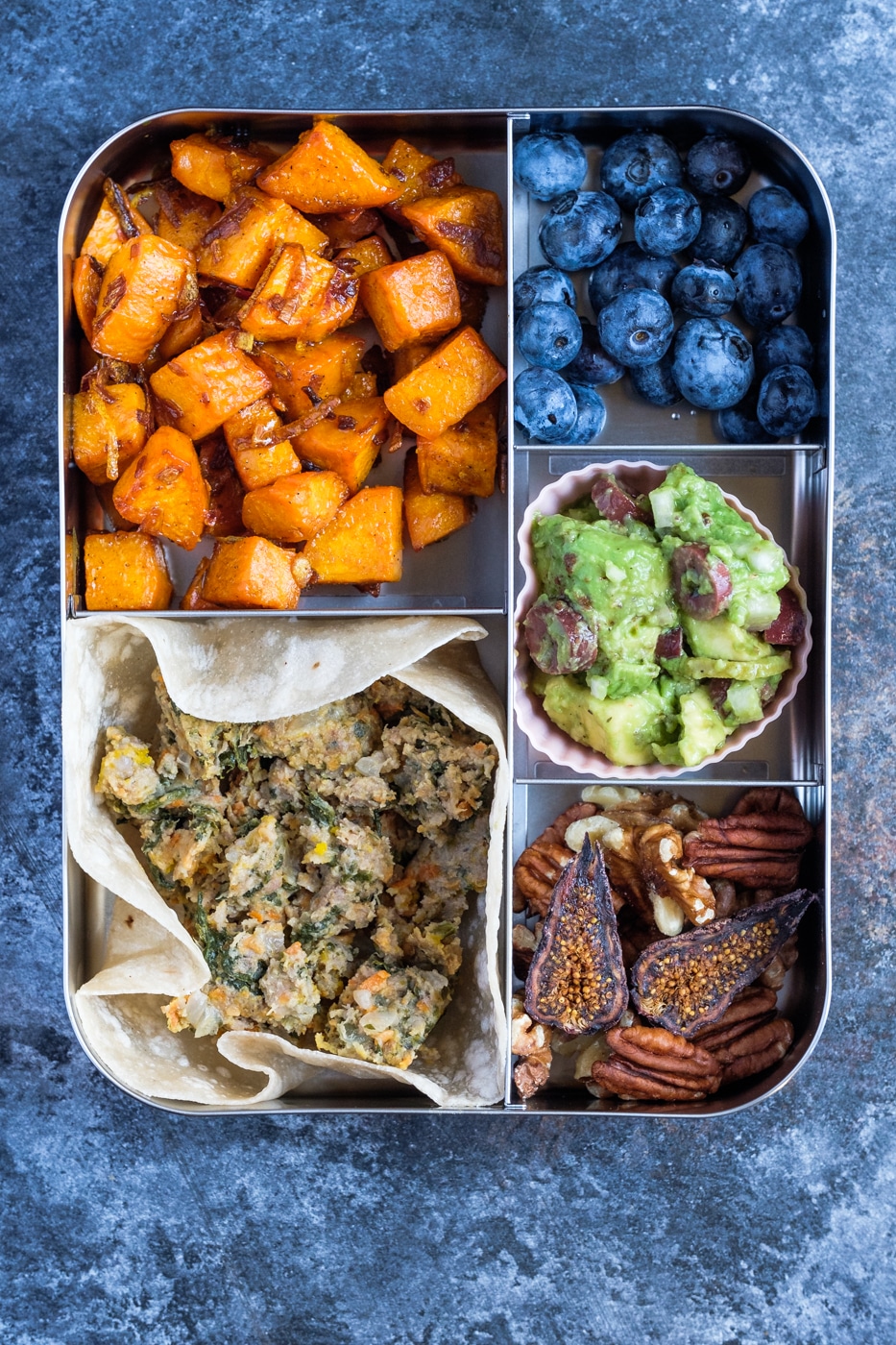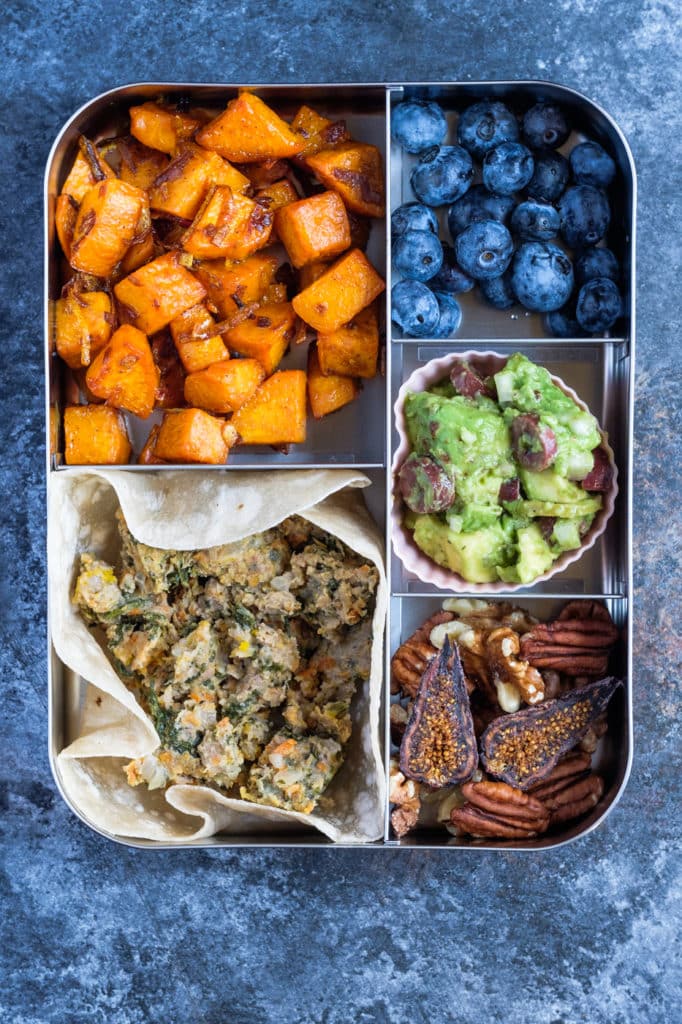 *This post contains affiliated links, which means I get a small commission if you choose to purchase something via one of my links, at no extra cost to you.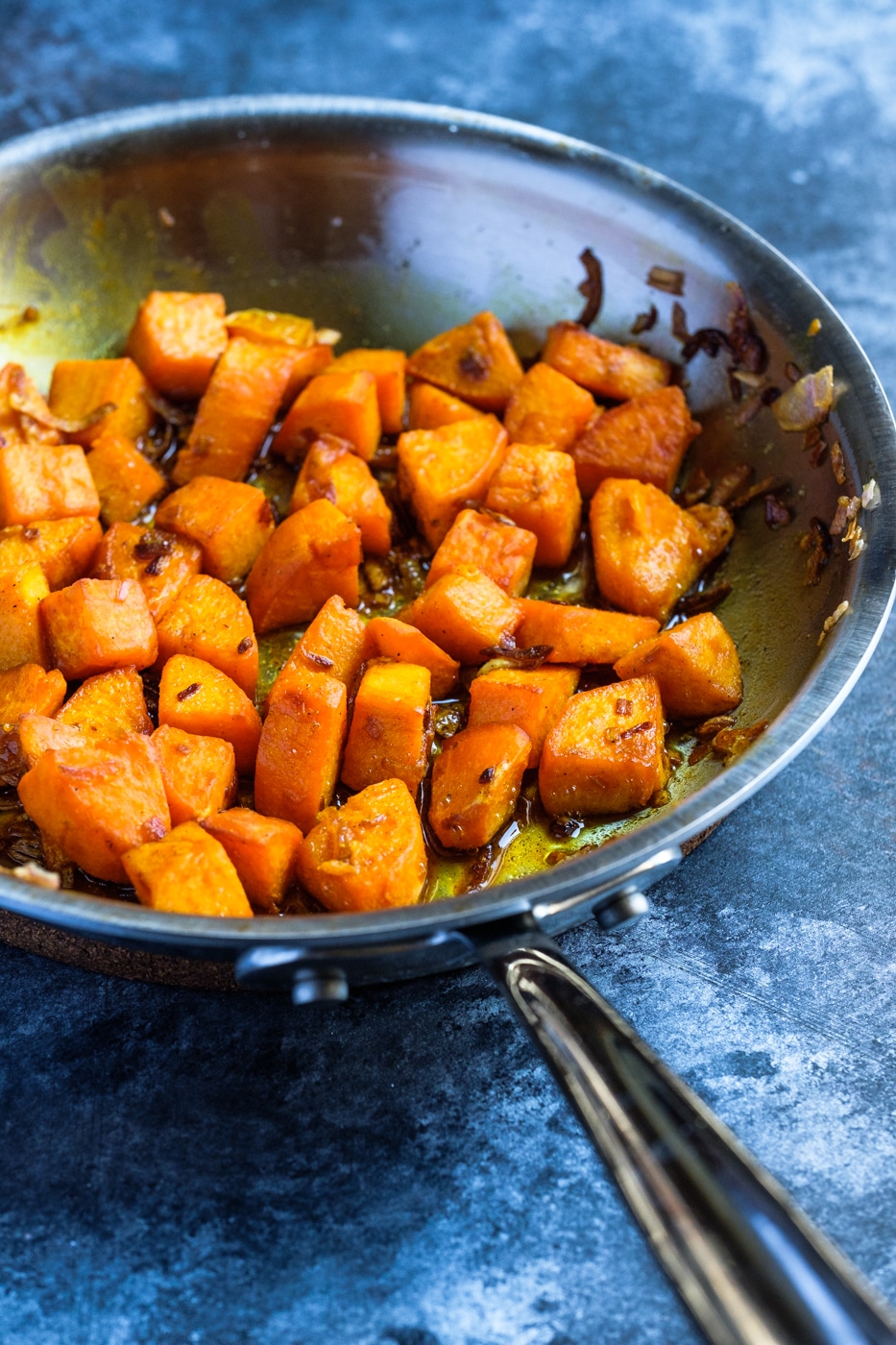 Print Recipe
Turmeric Sweet Potato
An easy and delicious way to enjoy a sweet potato and benefit from the healing properties of turmeric and adaptogens
Ingredients
Avocado oil for frying

1 small sweet potato, cubed

a small handful of finely sliced red onion

1 scoop turmeric tonic (Further Food)

salt to taste
Instructions
1
Peel and cube the sweet potato and finely slice the onion.
2
Heat a generous amount of avocado oil in a frying or sauteeing pan (to cover the bottom of the pan), heat on medium and add the potatoes and the onion. Stir well so everything is coated with oil and let them cook on one side. Stir again so you cover the other sides. Don't stir too much otherwise they can become too soft and break. Cook for about 15 minutes or until they are slightly golden brown. Add one scoop of turmeric tonic, take off the heat and stir well to coat the potatoes with the powder. Add salt to your taste.
3
Serve immediately or store in a glass container for later use.