I don't know what's with me today but I'm in a cooking mood (more than usual) and I have all kinds of funny (and refined) cravings. The tapenade craving came in fact about a week ago when I saw a jar of tapenade in the supermarket. But when I looked at the ingredients it was made with some non-compliant oil. So I bought a jar of artichokes with the thought of making it myself. And I did today. This is my artichoke tapenade with mixed olives.
The best way to eat the marinated artichoke hearts
I have to say I'm not the biggest fan of marinated artichoke hearts (or however you call them, the ones we buy in brine, or water in a jar) and looking for interesting ways to use them. Because they are a nutritious addition to our diets. This to me is by far the most delicious way I had them.
It takes no more than 10 minutes to make it. It's a good carrier for extra virgin olive oil, it's a great salty spread for a snack or appetizer. You can have it with almond or flaxseed crackers or with any kind of compliant bread. Or feel free to keep it super low carb and dip with vegetable sticks like jicama, carrots, or celery.
How to serve artichokes tapenade with mixed olives
I like to serve the artichoke tapenade with bread made with California Country Gal baking mix. For making bagels I used the bread mix, topped it with Everything But The Bagel and baked it in a mini donut pan.
Later edit: For another great way to use artichokes try my Cauliflower and Artichoke Hummus with Roasted Garlic, it's super yummy and healthy.
*This post contains affiliated links, which means I get a small commission if you choose to purchase something via one of my links, at no extra cost to you.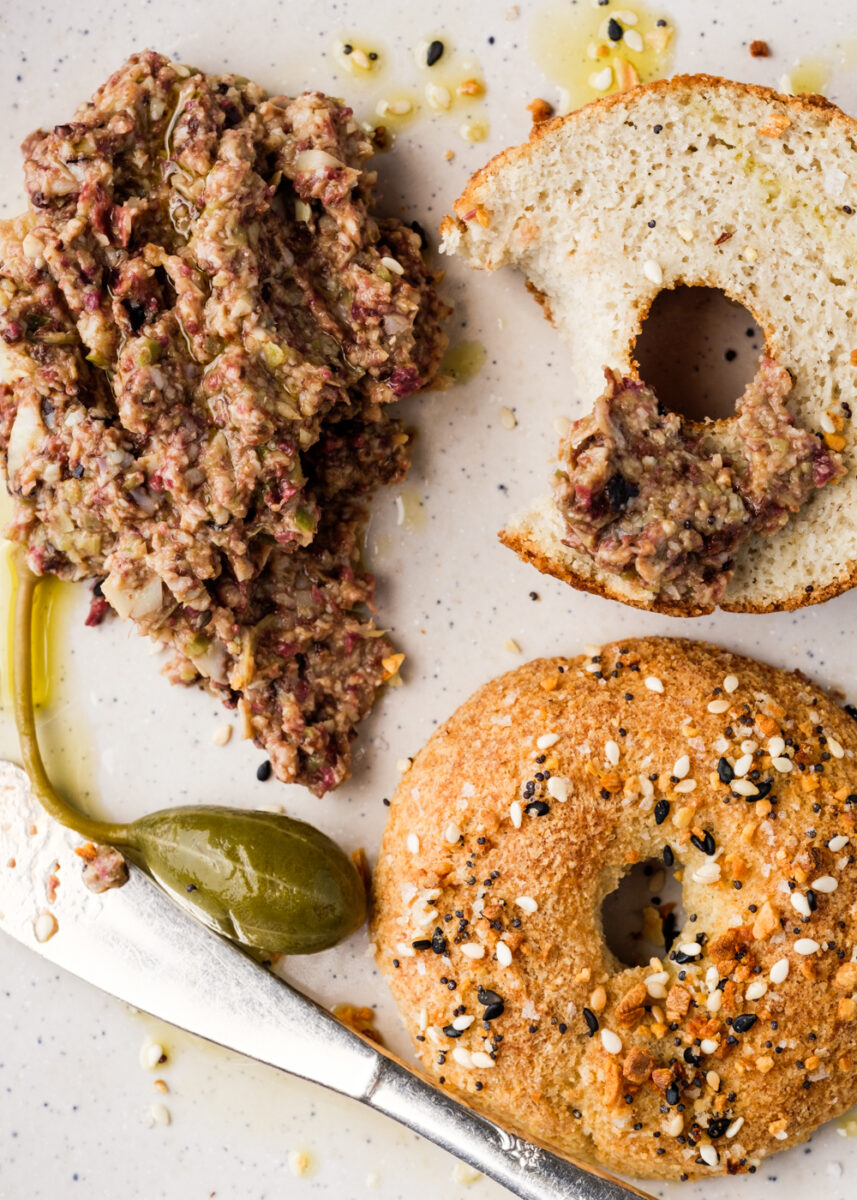 Print Recipe
Artichoke Tapenade with Mixed Olives
Ingredients
1 jar artichokes hearts (in brine), drained and pat dried - net weight approx 10 oz

1/2 cup chopped mixed olives - I used Kalamata, Beldi dry-cured and Castelvetrano

1 garlic clove

1 tbsp capers, rinsed and drained

2 tbsp extra virgin olive oil

1/2 tbsp lemon juice
Instructions
1
Mix all the ingredients, except the olive oil, in a food processor until you get a texture close to a paste (I left a little bit of texture in mine).
2
Add the olive oil and pulse again a couple of times until everything gets mixed.
3
Serve immediately or store in an air-tight glass jar in the fridge.
Notes
If you have to use just one type of olives, use Kalamata. But the intensity of dry-cured Beldi and the sweetness of Castelvetrano give a little extra depth to this spread.