Two days ago I came back from a road trip in West Texas. I had some vegetables in the fridge from before I left, so I needed to make use of them in a creative way. Those vegetables were one bag of riced cauliflower, one big turnip and some frozen spinach. I mixed them with a bag of Ziti from Miracle Noodles for a super delicious, comforting and healthy turnips, spinach and cauliflower casserole.
A low carb, lectin-free pasta casserole that feels like comfort food but it's healthy and nourishing
When I asked my husband what he would like to have for dinner, he said he could eat some carbs, like pasta (he is not following any diet but eats what I cook, sometimes adding his own stuff to it).
Lucky I had just received a package from the folks at Miracle Noodles, with some products I have never tried before. I've been using their products since I started the Plant Paradox program, in August 2017. Dr. Steven Gundry recommends them as a low-carb alternative to pasta and in fact, one of the few resistant starches we can have more than 'in moderation', which our gut bugs love.
My local Whole Foods and some other supermarkets around carry only the rice, fettuccine and angel hair. But there are many more other products that can be purchased online from their website.
Shirataki Ziti noodles make a great addition to the spinach and cauliflower casserole
Today I used the Ziti, which is a kind of rigatoni (has the form of a tube). Anyway, to cut this long story short, here is the recipe. It is super easy, nonexpensive and makes for a big family meal or even great for food prepping.
I had some organic, grass-fed heavy cream in the fridge which I used and some grated parmesan on top. This can easily be made vegan by replacing the heavy cream with coconut cream and the grated parmesan on top with nutritional yeast (it already has nutritional yeast inside).
If you like this turnips, spinach and cauliflower casserole with noodles, you may also like my other casserole recipes such as the Creamy Casserole with Asparagus, Cauliflower Rice and Broccoli Slaw.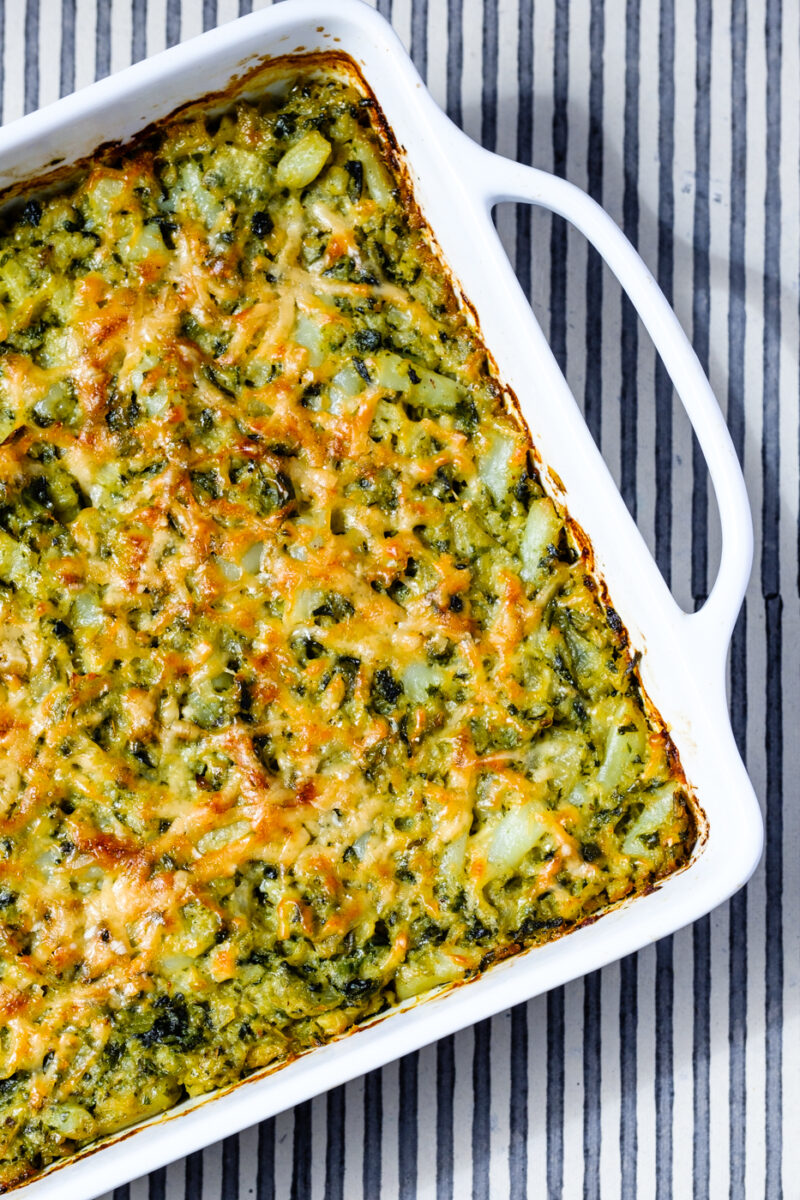 Print Recipe
Turnips, Spinach and Cauliflower Casserole with Shirataki Ziti Noodles
Ingredients
1 pack Miracle Noodles (Ziti) drained and rinsed (no need to dry them, just rinse them well under cold water)

12 oz riced cauliflower (I used the organic one ready-made from Whole Foods)

2 cups of frozen spinach

1 big pink turnip (about the size of a really big apple), or use more if you have smaller ones - peeled

1 medium yellow onion, chopped

3 tbsp nutritional yeast

2 tbsp ghee or butter (or skip if vegan)

1/4 cup organic, grass-fed heavy cream/coconut milk or cream for a vegan version

grated Parmigiano Reggiano for the top

Spices mix: 1/4 teaspoon thyme, 1/2 teaspoon oregano, 1/4 teaspoon cumin, 1 freshly grated nutmeg, 1 teaspoon dry parsley, 1 teaspoon salt, freshly ground pepper

avocado oil for sautéing
Instructions
2
Boil or steam the peeled and cubed turnip in salt water until soft. Drain.
3
In a big frying or sautéing pan, add enough avocado oil to generously cover the pan and saute the chopped onion until translucent, add the spinach and cauliflower rice, mix well and cover, cooking on small to medium heat for about 10 minutes, or until everything is soft and well mixed. Add all the spices to the vegetables, be generous and taste until you reach your desired flavor. I used dry spices but you can use fresh too, and you can play around with different ones if you wish.
4
Loosely mash the turnip, add the nutritional yeast, the heavy cream or coconut cream and ghee or butter if using. Mix well and add to the vegetable pan. Mix everything together and transfer to a baking dish. Grate Parmigiano Reggiano on top if using.
5
Bake for 30 mins at 375F.
6
Serve hot or cold, with a drizzle of extra virgin olive oil. It can also be reheated.
Notes
I loved having mine with fermented beets, and extra virgin olive oil, you can add any compliant pickles or fermented vegetables on the side, or have it with a green salad. Can also make a side dish to your animal protein of choice.