This one sheet pan easy meal was born from another attempt to find ways to eat artichokes. I don't know about you, but those artichoke hearts – frozen or from a jar – are not exactly the tastiest thing you can eat, and I'm a little bothered by texture. But these baked prosciutto-wrapped artichoke hearts might be the best way to eat them.
An easy and delicious one sheet pan meal
Yesterday was one of those days when I had plenty of choices for protein, but I was out of any veggies, except for a jar of artichoke hearts, and four forgotten mushrooms in my fridge. So I thought about a way to eat them, other than the Artichoke and Olives Tapenade I had the past few days.
Artichokes are feeding our good gut bacteria, so I'm trying to have them as often as possible, even though they are not exactly my favorite food.
I might have changed my mind though because these baked prosciutto-wrapped artichoke hearts were really good, and even approved by my husband, which is a big deal.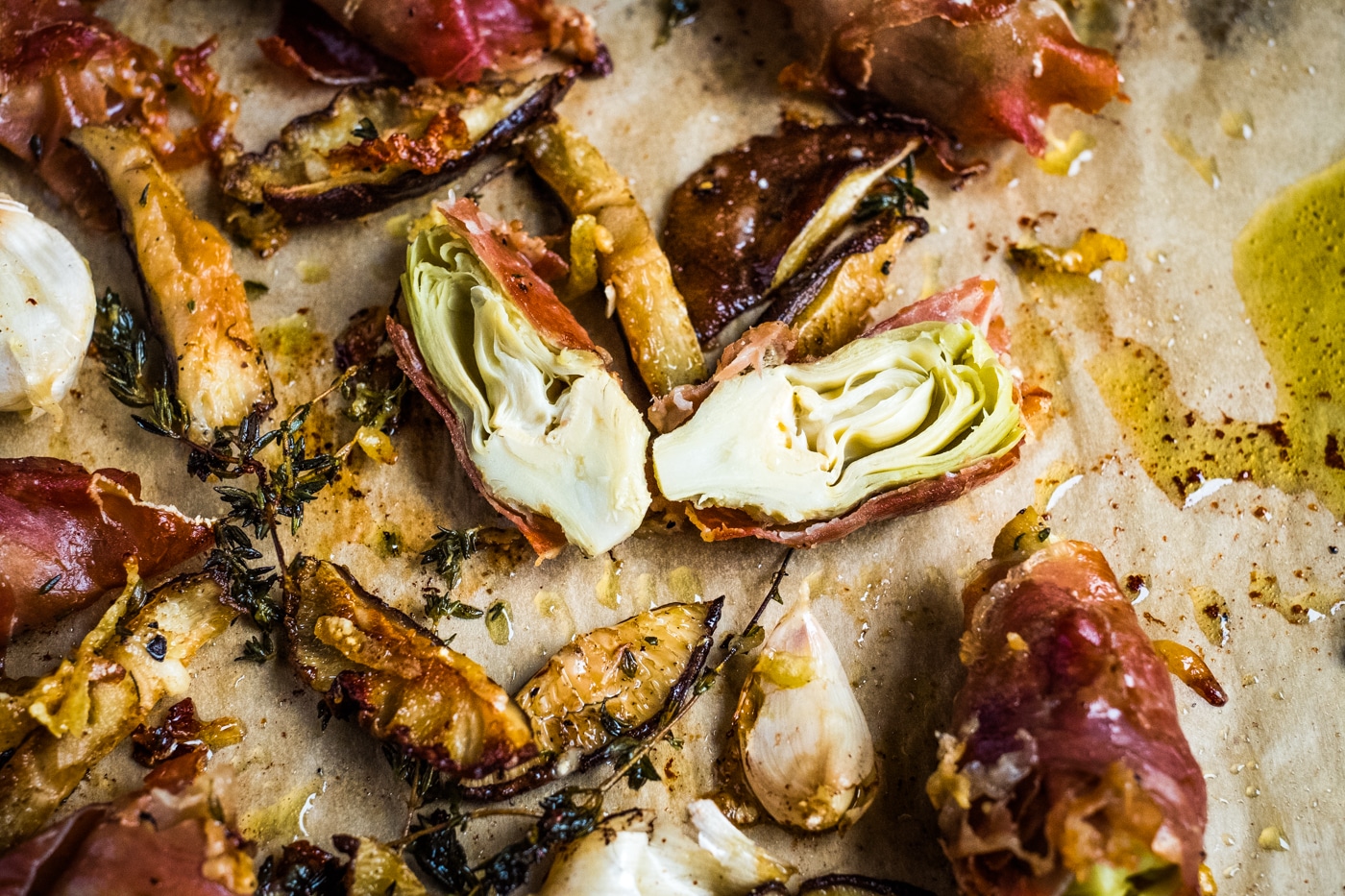 Ingredients for the baked prosciutto wrapped artichoke hearts
You just need a jar of artichoke hearts (or use frozen instead, just make sure they are thawed and pat dried), a few slices of Prosciutto di Parma, some mushrooms (any kind), a garlic clove, avocado oil, fresh thyme, and a little Parmigiano.
Finish with some dry oregano and extra virgin olive oil and this meal will actually taste like a deconstructed pizza, without the crust.
Or try it with pesto, we had this one day for dinner and it worked really well.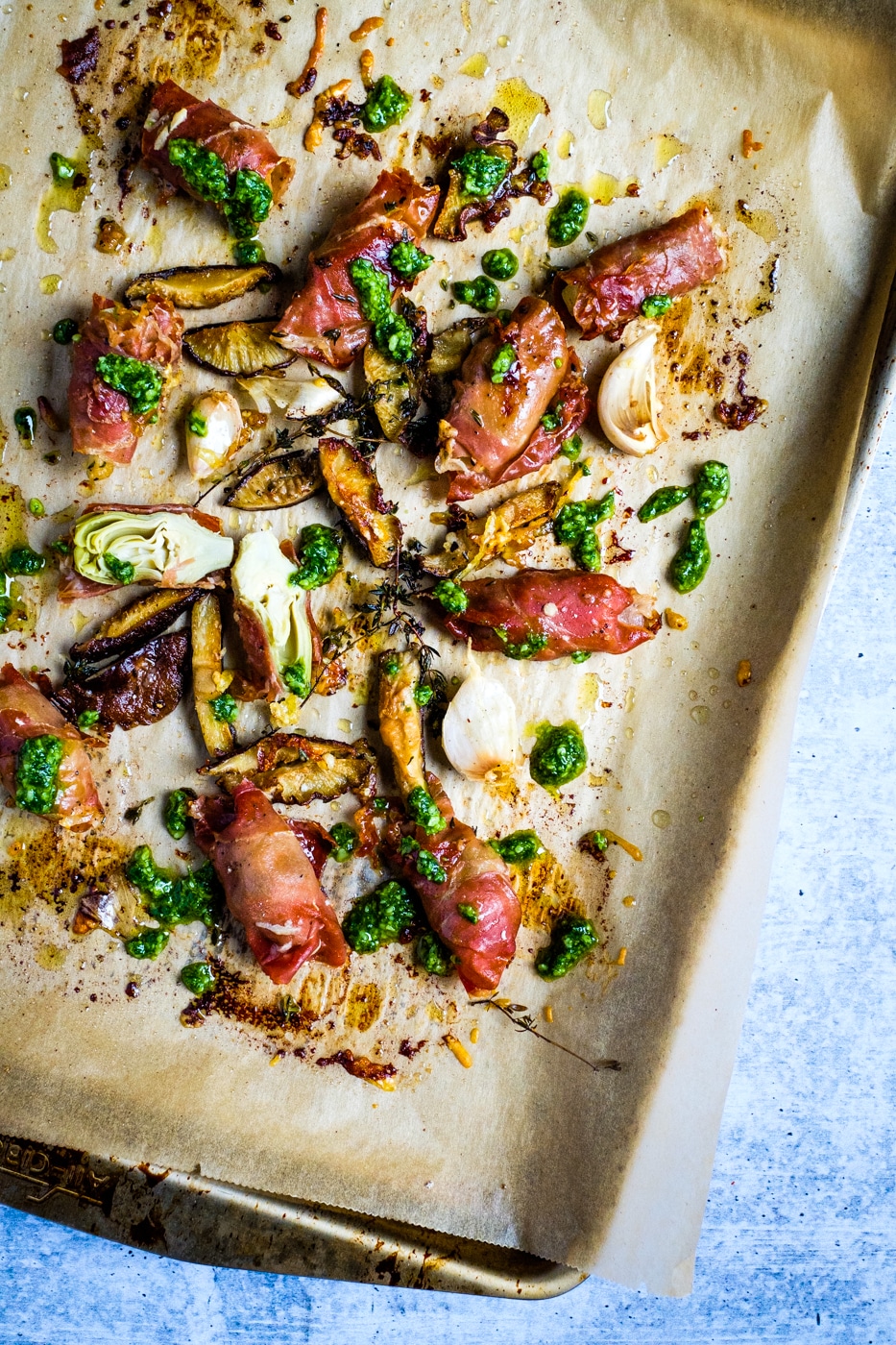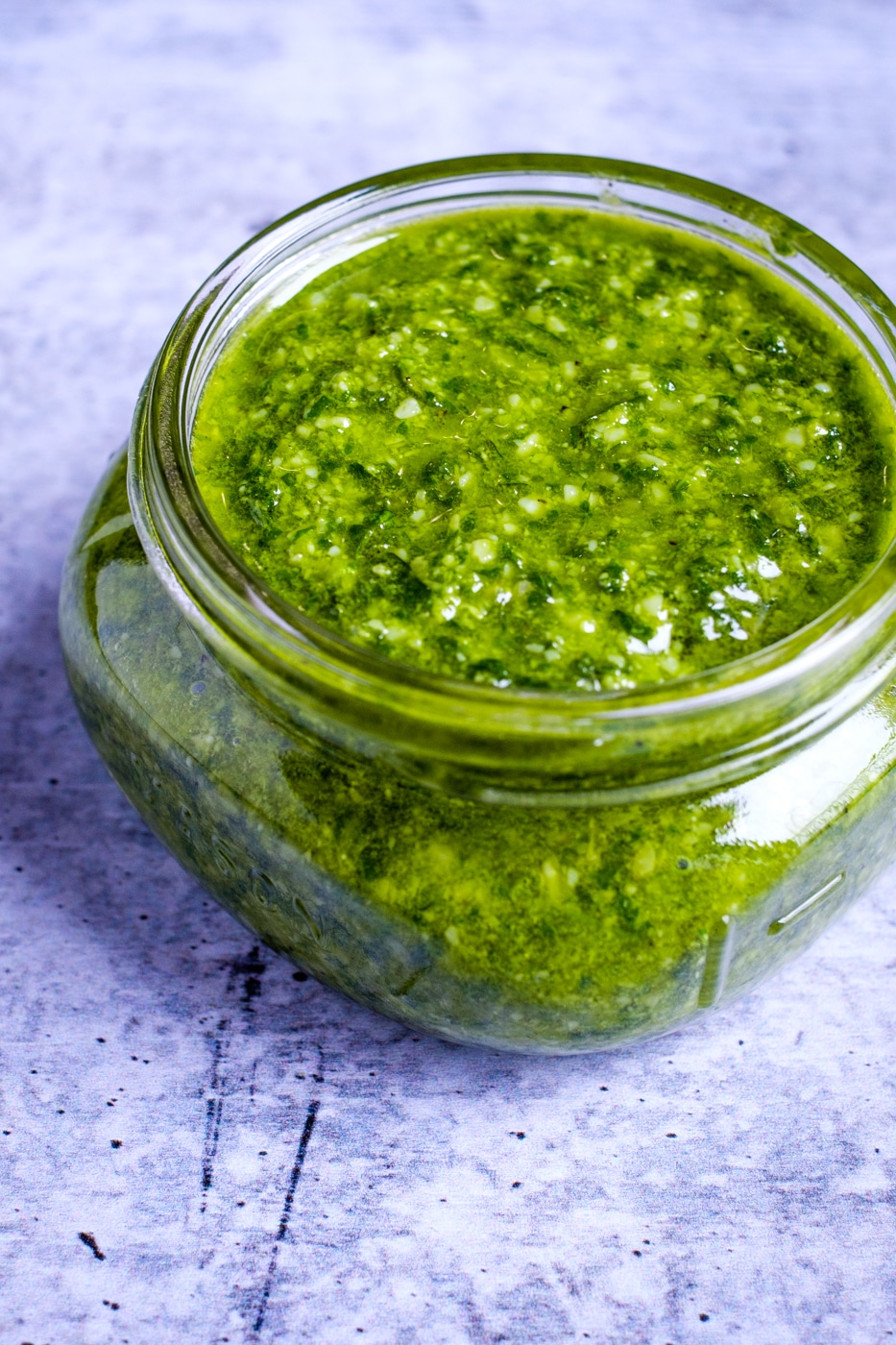 Let me know if you make these baked artichoke hearts.
*This post contains affiliated links, which means I get a small commission if you choose to purchase something via one of my links, at no extra cost to you.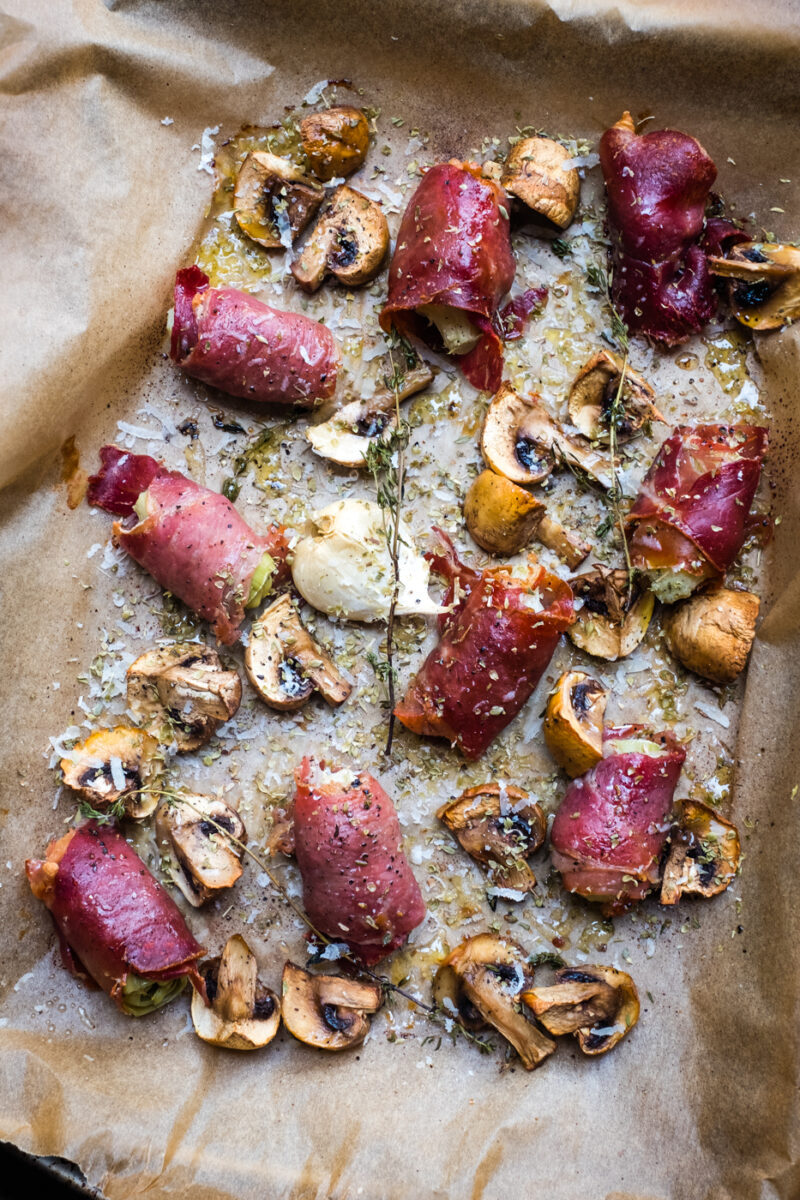 Print Recipe
Baked Prosciutto Wrapped Artichoke Hearts
A super easy and delicious one-sheet pan meal.
Ingredients
1 jar artichokes hearts (in brine), drained and pat dried - net weight approx 10 oz

few slices of Prosciutto di Parma (about 5, if they are big use only half)

1 garlic clove, whole, smashed

few mushrooms, cut in big chunks (about 6)

2 fresh thyme stems

a small handful of grated Parmigiano Reggiano

avocado oil for cooking + extra virgin olive oil for finishing

dry oregano
Instructions
1
Preheat the oven at 450F and prepare a sheet pan with parchment paper.
2
Make sure your artichokes are drained and pat dried in advance, take as much liquid out as possible without squishing them, as they'll break easily. Wrap each artichoke heart in Prosciutto di Parma. My slices were quite big, so I used half a slice for each artichoke. Once wrapped add them to your sheet pan, add the mushrooms, thyme, spray with soma avocado oil (or drizzle if you don't have spray), add some pepper and cook for 15 minutes in the oven. You can add some salt to the mushroom but go easy on salt, Prosciutto tend to have a lot already.
3
When done, take out, sprinkle some Parmigiano Reggiano and dry oregano on top, drizzle with extra virgin olive oil and serve.
Notes
If you feel like you can experiment with other veggies other than mushrooms. Broccoli would be great too and they's be nicely crisped too in 15 minutes.