And a hint of bourbon. I rarely make a birthday cake, mainly because they are too big for our small family and hard to eat it all. We shared this almond hazelnut cake with friends. But, it was my husband's birthday on Easter Sunday. So I thought this was a perfect occasion for a birthday treat. Plus, it is almost strawberry season.
Be careful; strawberries are #1 on the 2018 dirty dozen list (that means they are loaded with pesticides). You should only buy organic/local from a trusted source and wash well.
The Plant Paradox Way of Wishing Happy Birthday
Having a Plant Paradox compliant birthday cake in the recipe files (or my imaginary cookbook, as I like to say) was a must anyway.
Tiramisu was one of my favorite desserts. I used to make a perfect one using ladyfingers, but since those are out of discussion now, I've been thinking of making a layer cake with a similar texture and taste.
Almond hazelnut birthday cake
This almond hazelnut cake is not the same, but to be honest, for a layer cake is even better. I love the addition of roasted hazelnuts, and they make everything taste better (if you want to make it easier, you can make it only with almond flour, but it will not be the same).
There are some tools you need to make this cake, and these are an 8″ / 20cm round cake pan, preferably with removable walls, an electric mixer for whipping the egg white and mixing the egg yolks with mascarpone and the whipping cream, and a food processor for the hazelnuts.
Special note: this mascarpone cream is made with raw eggs, so if you have a problem with that, skip the eggs or make the filling of your choice. If you use raw eggs, make sure you use the freshest, best quality ones, always pasture-raised or omega 3.
More birthday cake ideas
For other birthday cake ideas, try my: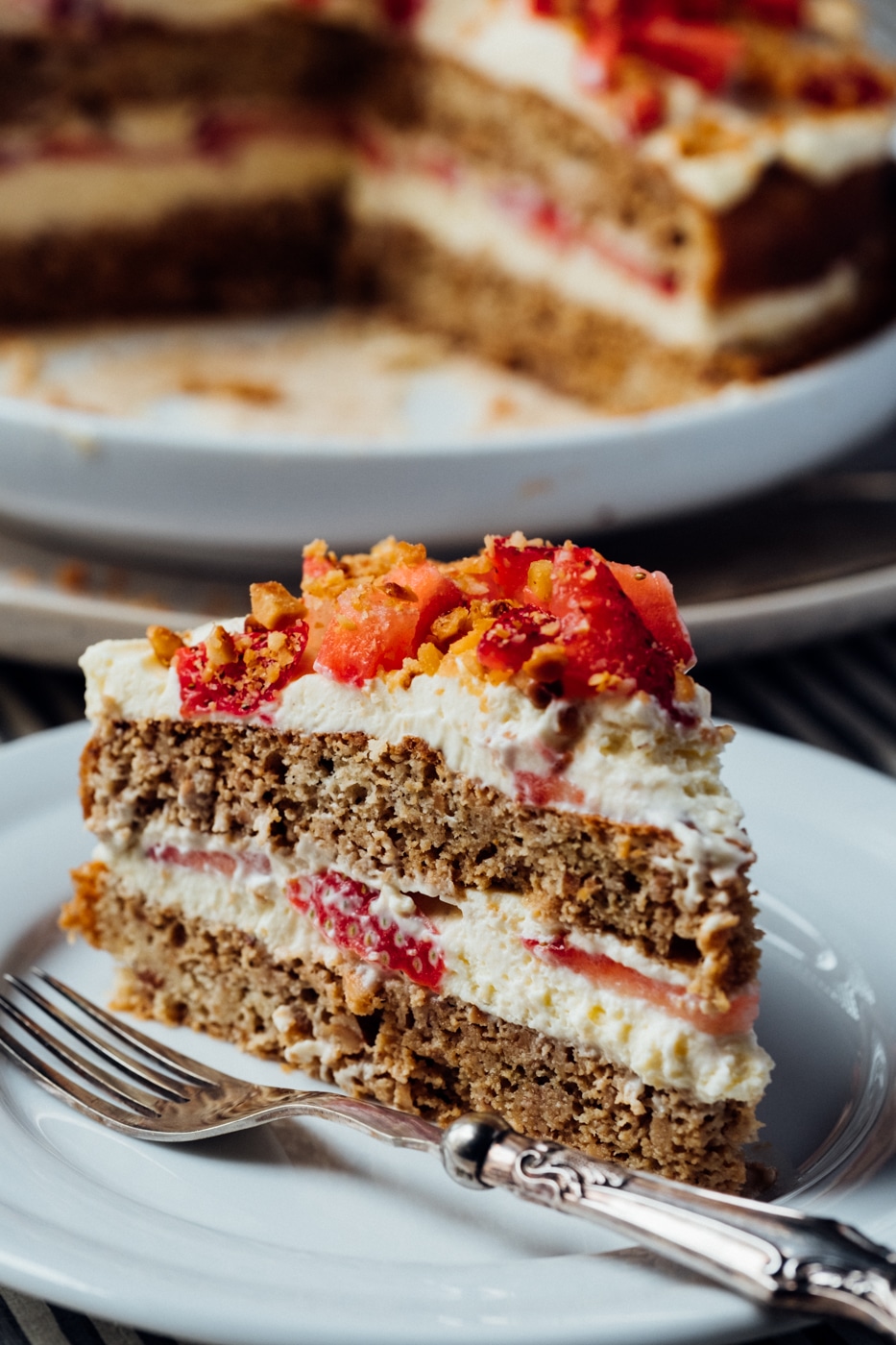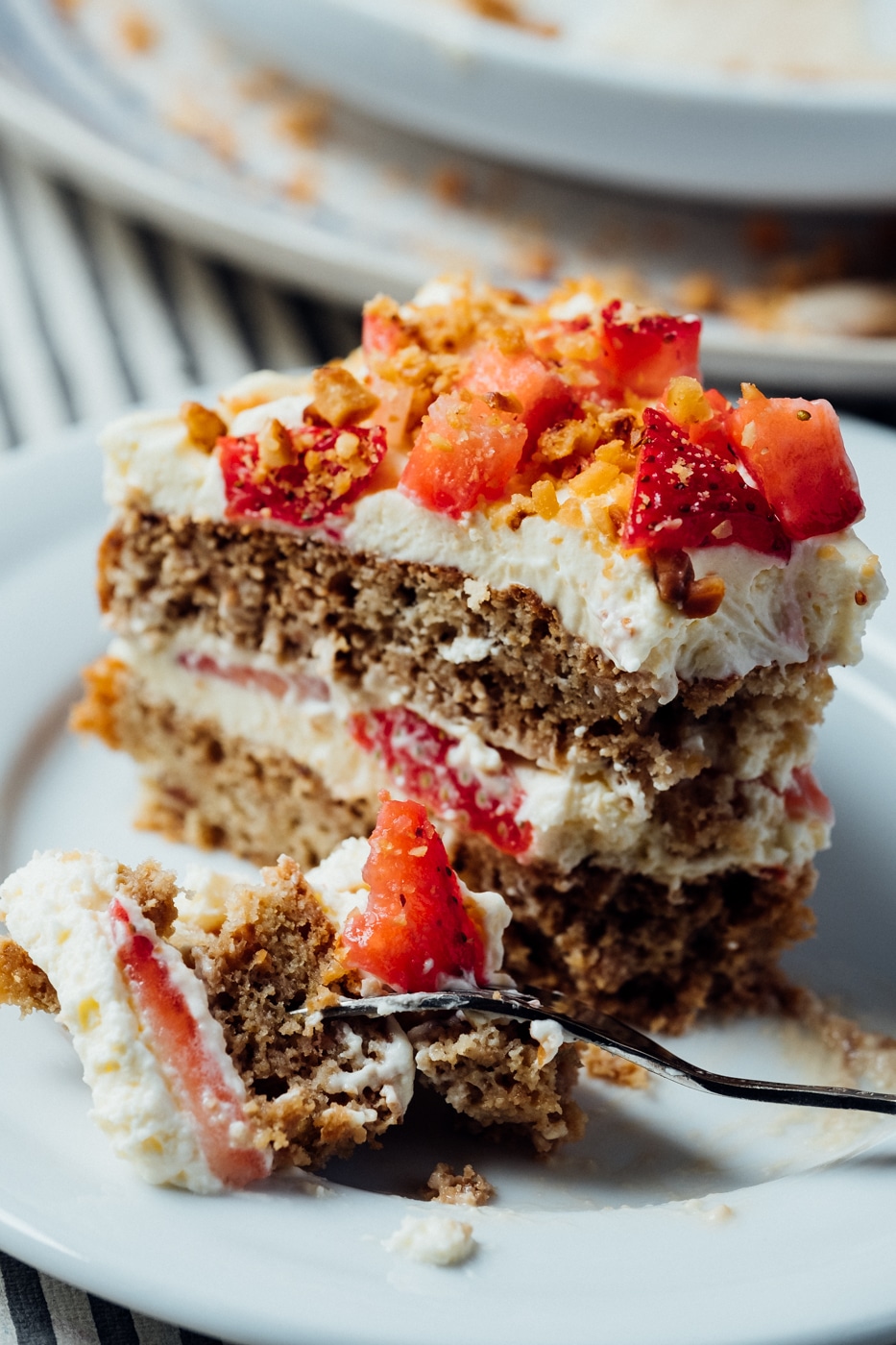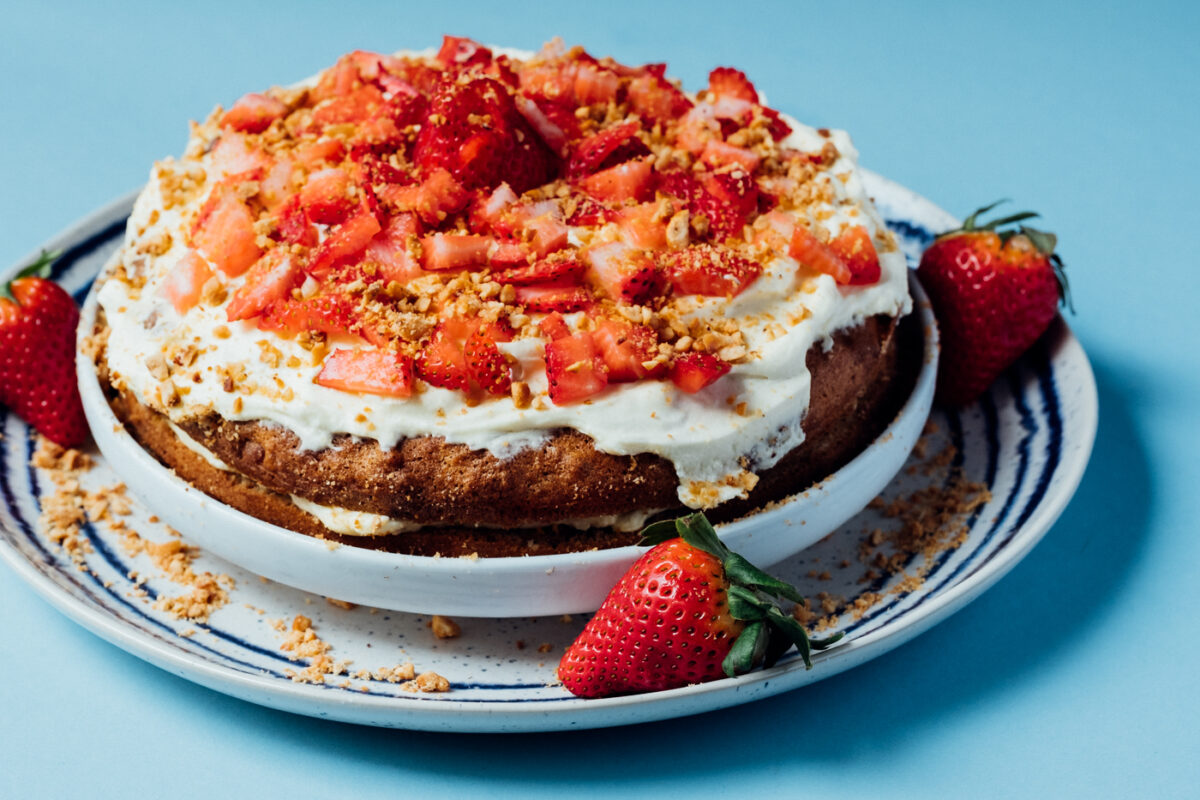 Print Recipe
Almond Hazelnut Birthday Cake with Mascarpone Cream
Ingredients
FOR THE LAYER CAKE

3/4 cup almond flour

1/3 cup hazelnuts flour or home-roasted hazelnuts minced in a food processor

1/4 cup cassava flour

2 tbsp coconut flour

4 eggs, separated

1 tsp baking powder

1 tsp pure vanilla extract

1/4 cup sweetener of your choice (Swerve or Monk Fruit)

1/4 tsp salt

orange or lemon zest - optional

FOR THE LAYER CAKE SYRUP

1 cup strong coffee or espresso

1, 2 tbsp of whiskey/bourbon or a compliant liquor of your choice (rum can be an option too)

FOR THE FILLING AND CREAM

250g of Italian Mascarpone (imported from Italy, not made in the US)

1/4 cup heavy whipping cream (organic, grass-fed)

1 egg, separated

2 tbsp swerve or sweetener of your choice

1 cup chopped/sliced strawberries (or more)

1/2 cup ground roasted hazelnuts

1 tbsp vanilla extract or vanilla bean
Instructions
2
If you roast the hazelnuts at home, put them in a baking sheet and roast them at 350F for about 10-12 minutes. After roasting, remove as much of the skin as possible and grind in a food processor until you get a textured flour, like a hazelnut meal. (You will need additional hazelnuts for the filling, so make sure you have enough - about 1 cup after ground)
3
Start preparing the layer cake by mixing all the dry ingredients in a bowl (except for the sugar!).
4
Separate the eggs and beat the egg yolks using an electric mixer with half of the sweetener and vanilla until soft and creamy. Use a larger bowl for this, as later you will add the dry ingredients to the egg yolks.
5
Beat the egg whites with an electric mixer until fluffy, add the other half of the sweetener and beat until the foam won't run if the bowl is turned upside down.
6
Add the dry ingredients to the egg yolks. Stir together, you will get quite a hard dough.
7
Start incorporating the egg whites, a few tbsp at a time, gently, with a spatula or a spoon, the dough will become soft and fluffy.
8
Pour the batter into an oiled 8 inches / 20 cm cake pan and bake on the middle rack, for 30 to 35 minutes. Keep an eye on it in the last 5 minutes and do the toothpick test.
9
Take out, let cool and remove from pan (I use a pan with removable walls, it's much easier to take out.
10
TO PREPARE THE FILLING / CREAM
11
(This is a cream made with raw eggs, tiramisu type, so make sure you use the freshest eggs).
12
Separate the egg and beat the egg white separately until foamy and solid.
13
Beat the egg yolk with sweetener until creamy, and start incorporating the mascarpone cream, one tbsp at a time. After all the mascarpone is added, add the heavy whipping cream and continue mixing. Add the vanilla, and start incorporating your egg whites, slowly.
14
Once the cream is done, if not used to fill the cake immediately, put it in an air-tight container and store it in the fridge).
16
Make the coffee, let it cool and add the bourbon or the alcohol you are using.
17
Once all this is done, cut the layer cake in two halves, add the syrup to the bottom layer with a spoon, until the surface is slightly moist but not soggy. Add half of the cream, top with the ground hazelnuts, and add half of the strawberries, sliced or cubed, whichever you prefer.
18
Put the second layer on top, add the syrup with a spoon, until slightly moist. Add the rest of the cream, ornate with strawberries and ground hazelnuts.
19
This cake should sit in the fridge for at least a few hours before serving, it is always better after one day in the fridge.
Notes
I recommend making the layer cake in advance and assembling the cake the night before serving, but as long as it rests few hours in the fridge you should be fine. There is a lot of room to play with this cake. You can make the cream of your choice, use the seasonal fruits of your choice, use the alcohol of your choice or just skip, but these ingredients together give it a nice depth of flavors. Also, you can roast and grind the hazelnuts in advance, so you don't have to make everything at once (or buy them already made if you find). They have to be roasted though, and so salt added.