Bolognese sauce was one of our recipes on a weekly rotation before I started the plant paradox lifestyle. And not to brag, but I did make it the traditional way every time, and it was delicious. Everyone loves a good bolognese sauce.
But I haven't made it in a long time because bolognese is all about tomatoes. I might prove you otherwise, so bear with me while I reveal how I make a delicious, creamy lectin-light bolognese sauce without tomatoes.
I always cooked bolognese the traditional, Italian way, without shortcuts. If you know me, I live up to my name and add bits and pieces that make it a little healthier or nutritionally denser.
And since I'm the only one in my family following the plant paradox, and have some pretty picky eaters in the house, I have to make it so that no one will suspect I strayed too much from the original.
I dare you: make this recipe for your family and don't tell them the details. They will not even suspect it doesn't have tomatoes. My dad and husband had no idea.
Why make a spaghetti bolognese sauce without tomatoes
But why without tomatoes, you would ask? Tomatoes can be made lectin-light by peeling and deseeding them, and unless you are very sensitive to lectins, that can be a great way to use tomatoes in your cooking.
But tomatoes are high in histamines, and in my opinion, we are using them so much. I don't understand what they add to a meal anymore, besides being a filler and adding color (and a lot of acidities).
I don't like tomato-based sauces anymore, and I prefer to eat fresh tomatoes, ripen from our garden, in season. I peel and deseed them, and they feel like a treat, more than when they are mashed in a sauce and added to every meal. So, now that I'm done with my tomato rant, what's in this recipe?
The ingredients in a lectin-light bolognese sauce without tomatoes
The mirepoix / The sofrito
A flavor base made of diced vegetables cooked with fat on low heat without browning for a long time. A familiar flavor base is made of onions, celery, and carrot, but I love adding fennel to mine. It works particularly well for this pasta sauce. I add garlic too, but later in the cooking process, and I use a lot of these vegetables.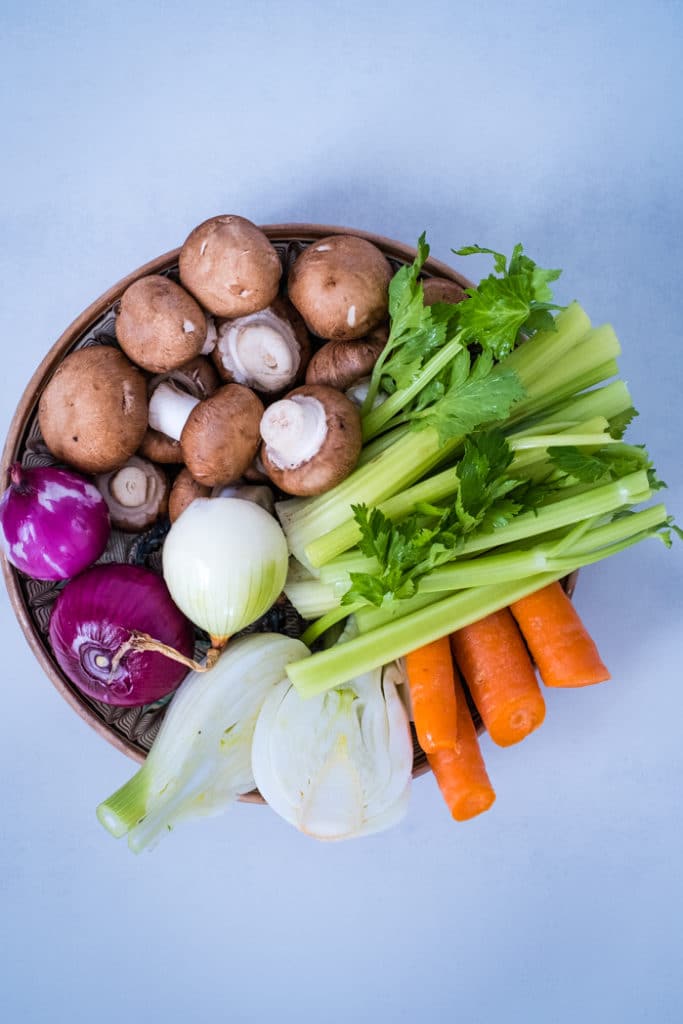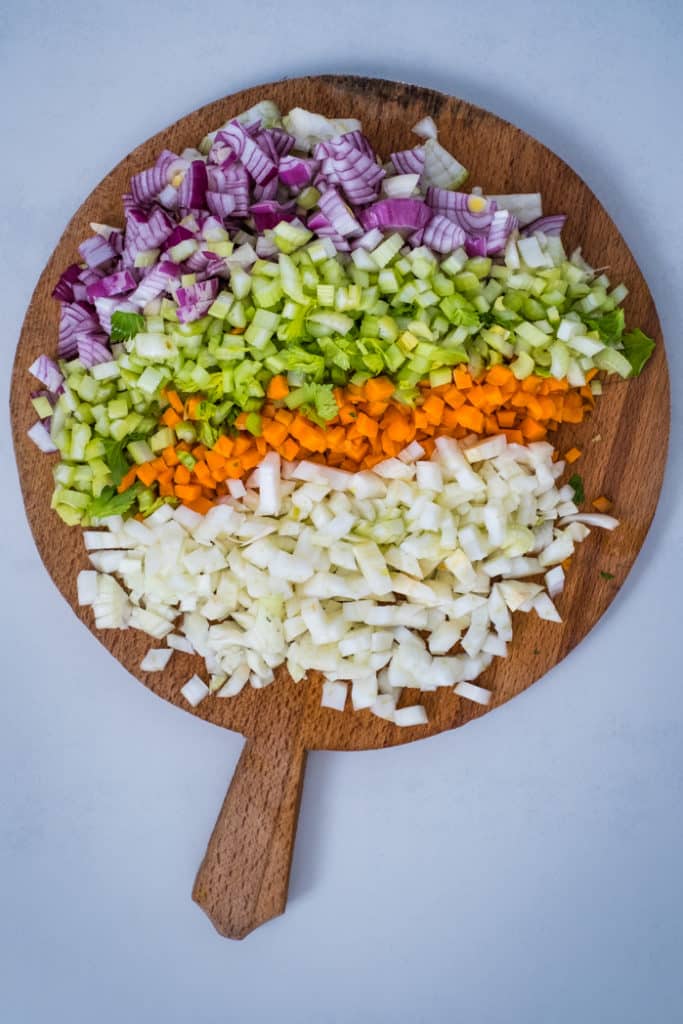 Mushrooms
I've been adding mushrooms to my bolognese sauce forever, I love the flavor profile they add, and it helps cut in half the quantity of meat you would need for this sauce. You can add more mushrooms and make it a meatless sauce, especially if you add some walnuts.
The greens
Are you surprised about this one? A lectin-light bolognese without tomato is the perfect excuse to sneak a lot of green into your family's meals.
We had a lot of fresh spinach and arugula from the garden, so I figured they'll not only make this brown sauce prettier but would add some more nutrition. I only add the greens at the end, and they'll wilt immediately when mixed with the hot sauce.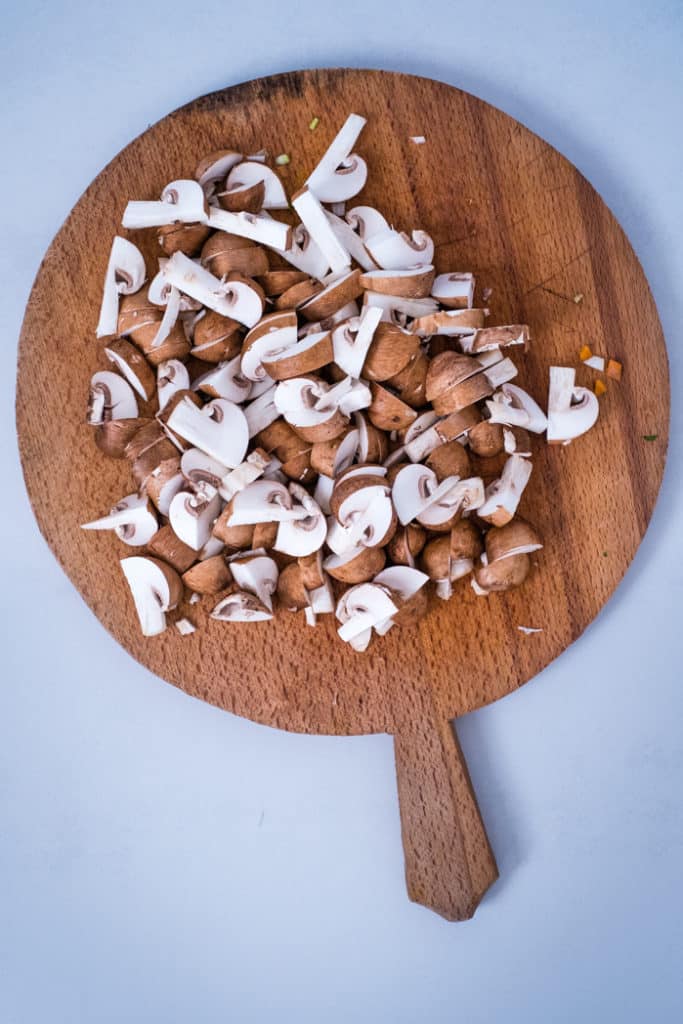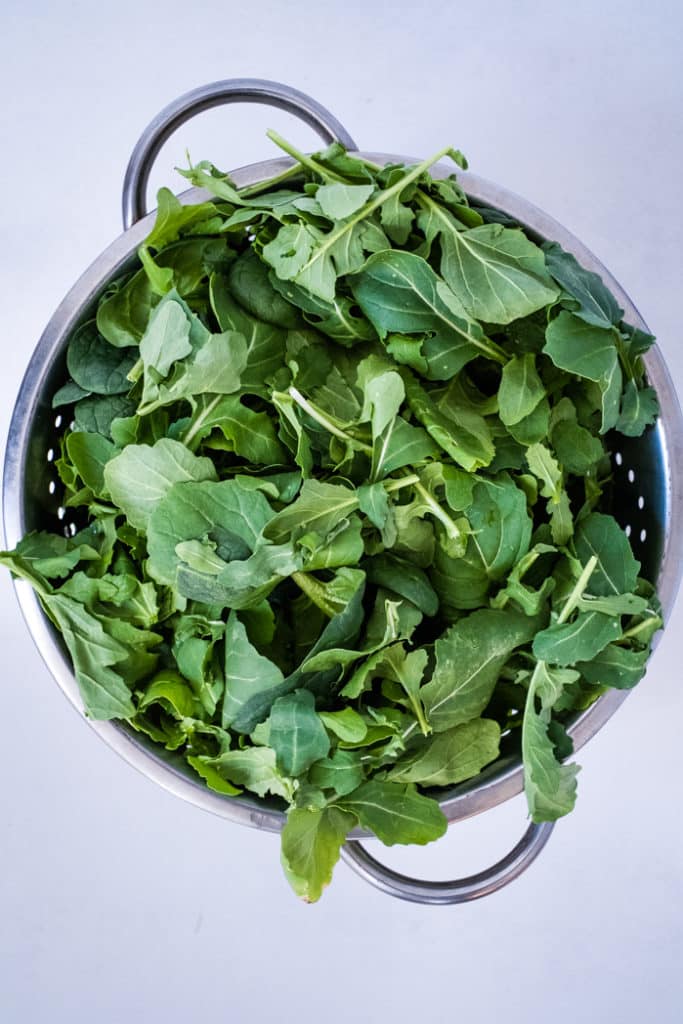 Ground beef
For 5-6 servings, I use 1lbs (400 grams) of ground beef (grass-fed, grass-finished).
The secret ingredient
You might not want to add this, and I have a substitute for you, but I think this is the best lectin-light ingredient to add to these kinds of sauces: roasted bell peppers. They are peeled and deseeded, so lectin-free. They have Quercitin and anti-histamine properties and add a lot of flavor and color to your dish.
You find them pickled in stores, and you need to rinse them and puree them in a food processor. They might have sugar listed as an ingredient, but it's usually under 2g per serving, and the sugar is mainly in the liquid.
I found this on Amazon, but you see more options in Whole Foods or Sprouts stores. You can also roast them at home, in the oven, or on a grill or griddle. You find more details here in my Zacusca recipe. My parents roast peppers from the garden in the fall and then freeze them. If you want to substitute, you can add a couple of tablespoons of organic sweet paprika – the best quality you can find.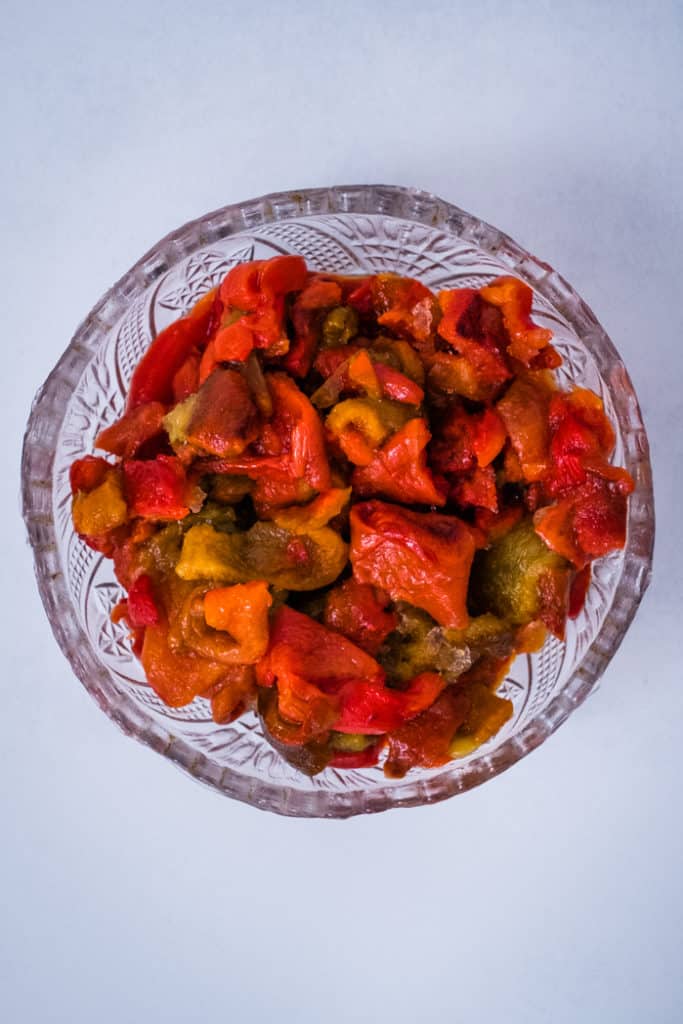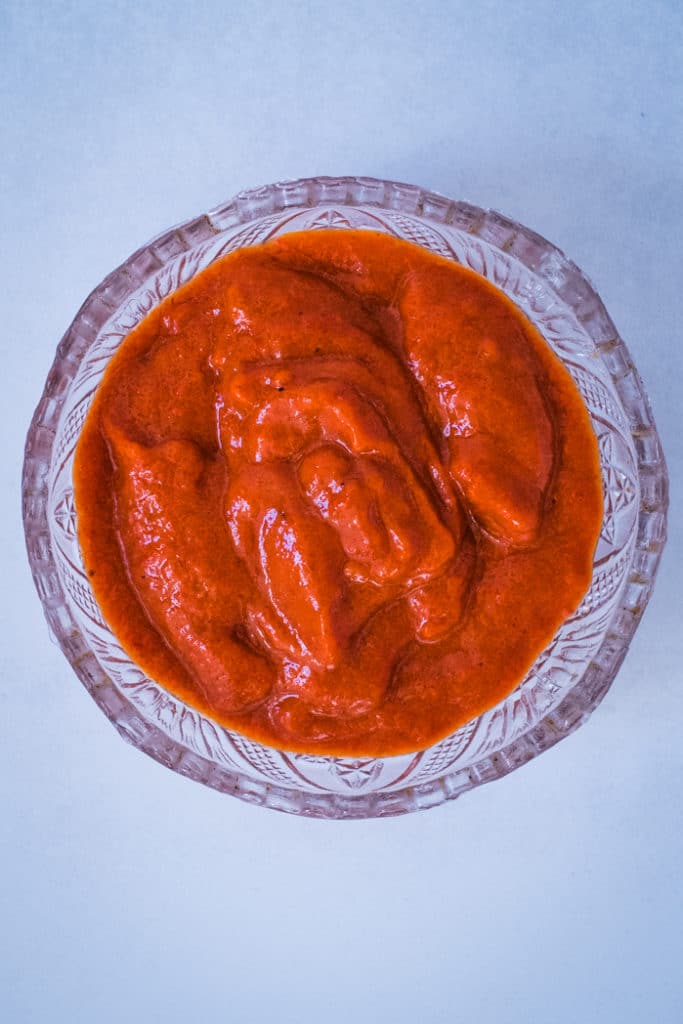 The spices
I like to use an Herbs de Provence mix, and for a bolognese sauce, I add basil, dry or fresh. If you don't have fresh basil, use dry. You can also use an Italian Herbs mix instead of Herbs de Provence.
And if you don't use the roasted peppers, you will use a couple of teaspoons of sweet paprika. Salt and pepper are essential, and an excellent extra virgin olive oil to start and end the cooking process.
The lectin-free pasta
Because who would want to eat a bolognese sauce without pasta? Finding lectin-free pasta is relatively easy in some places, like the US, but not that easy in others. It took me a few months until I found a plant paradox-approved pasta in Romania (where I am while I write this post), but I did find a good option.
The brand is called Eden Premium, and the pasta is made with water, millet flour, psyllium flour, and turmeric. Unfortunately, their website is only in Hungarian, but I think they have distributors in other countries in Europe. In Romania, I bought it from Naturking.ro. Even if I had the pre-ordering option for some of them and they were not in stock, they were still delivered in three days.
If you are in the US, I think at the moment, some of the best pasta available are Big Green, Jovial, and Cappellos. They have many varieties of lectin-free pasta. Always read the ingredients before buying.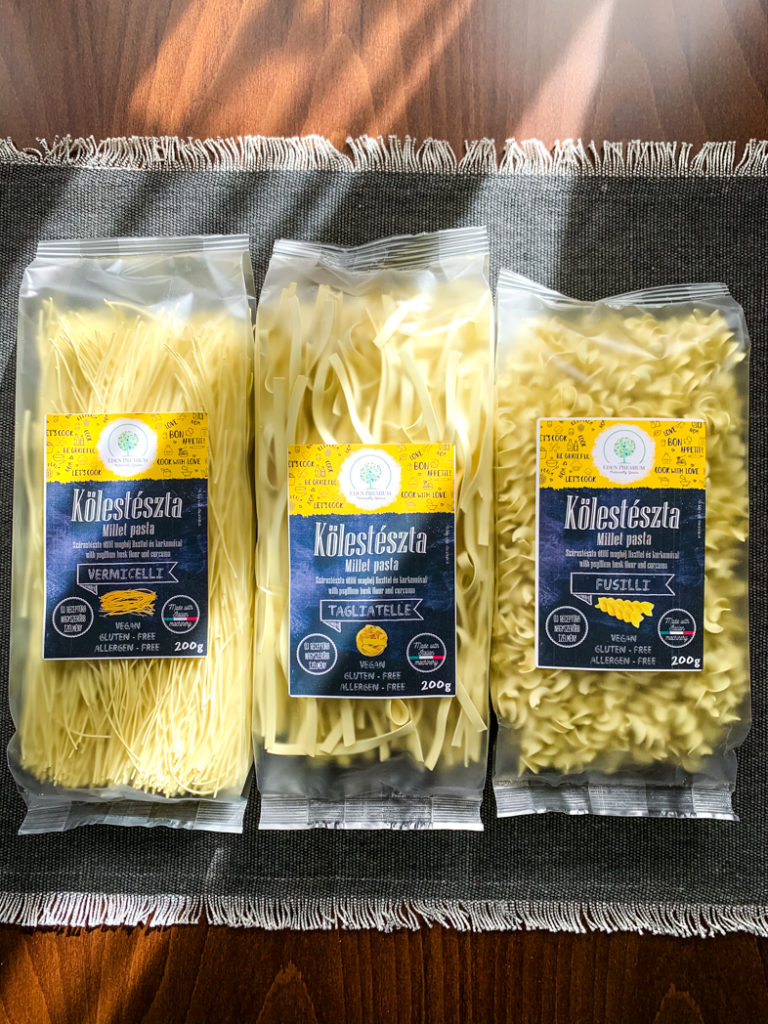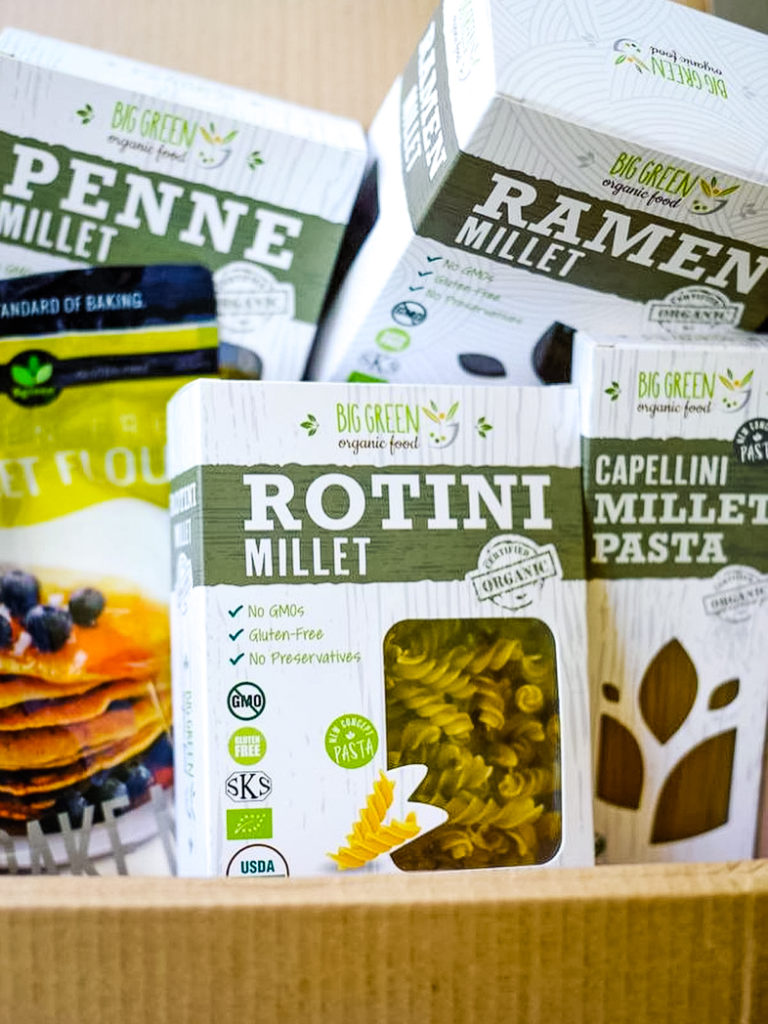 New Gundry MD lectin-free Sorghum Spaghetti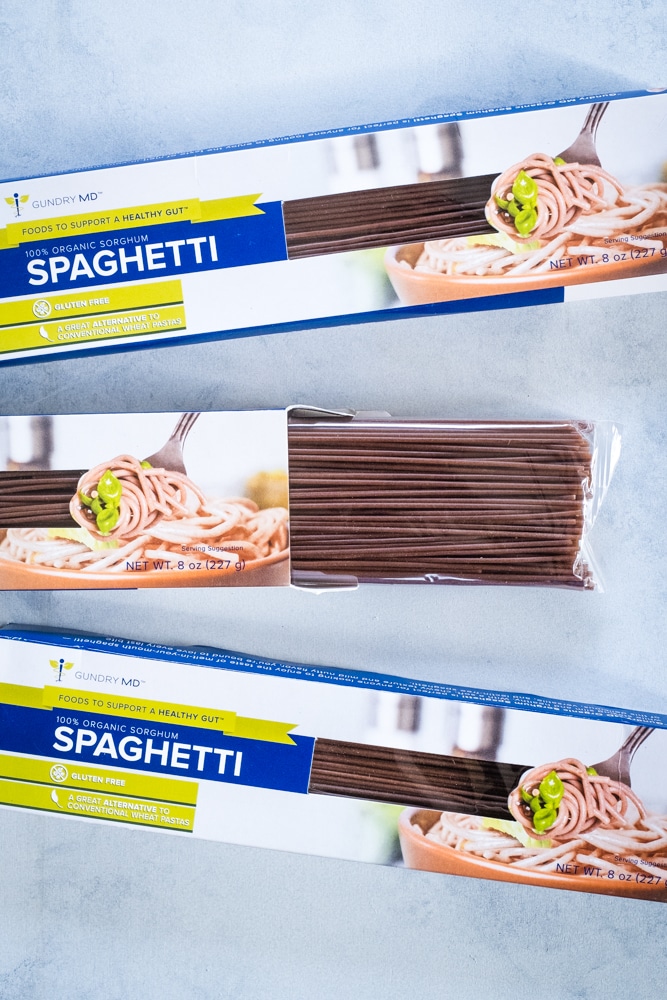 The cooking process of the lectin-light bolognese without tomato
Now that we know what goes in it, I think the most important thing about a bolognese sauce is that it takes time. I sped the process by cooking it only for approximately one hour. You can let it simmer on the lowest heat setting for double that if you have time.
You should not rush the cooking process. Keep the heat source low to medium, and after you add the water, turn it down to the lowest setting. There is no need for a lid. Stir occasionally and add more hot water when needed.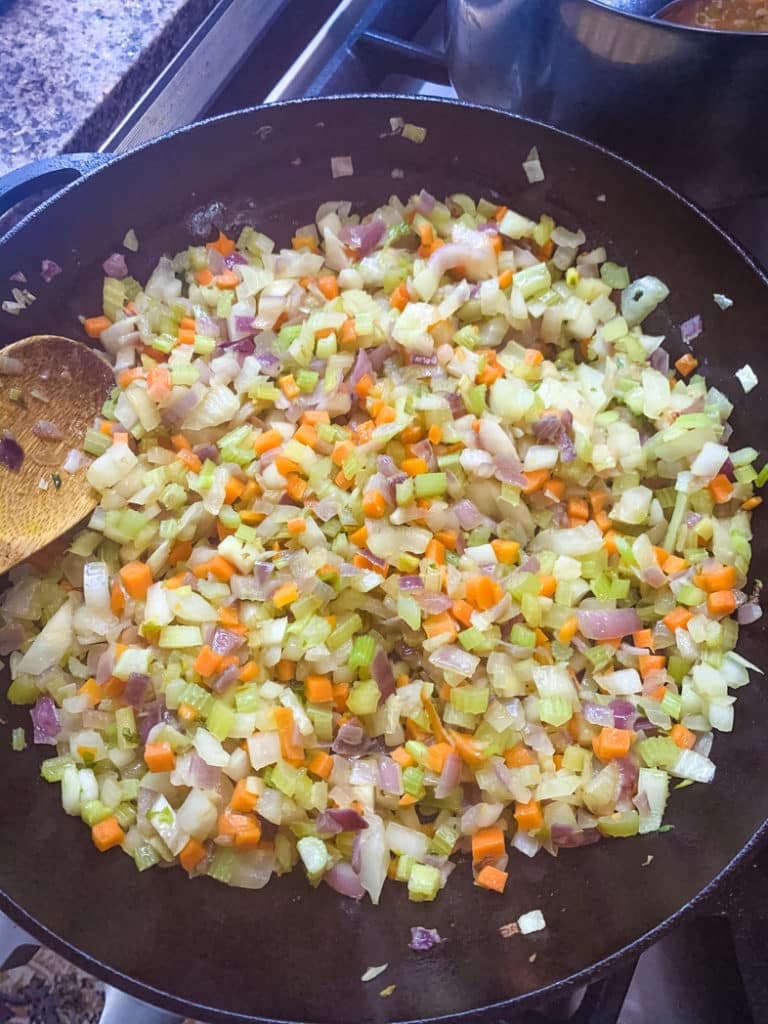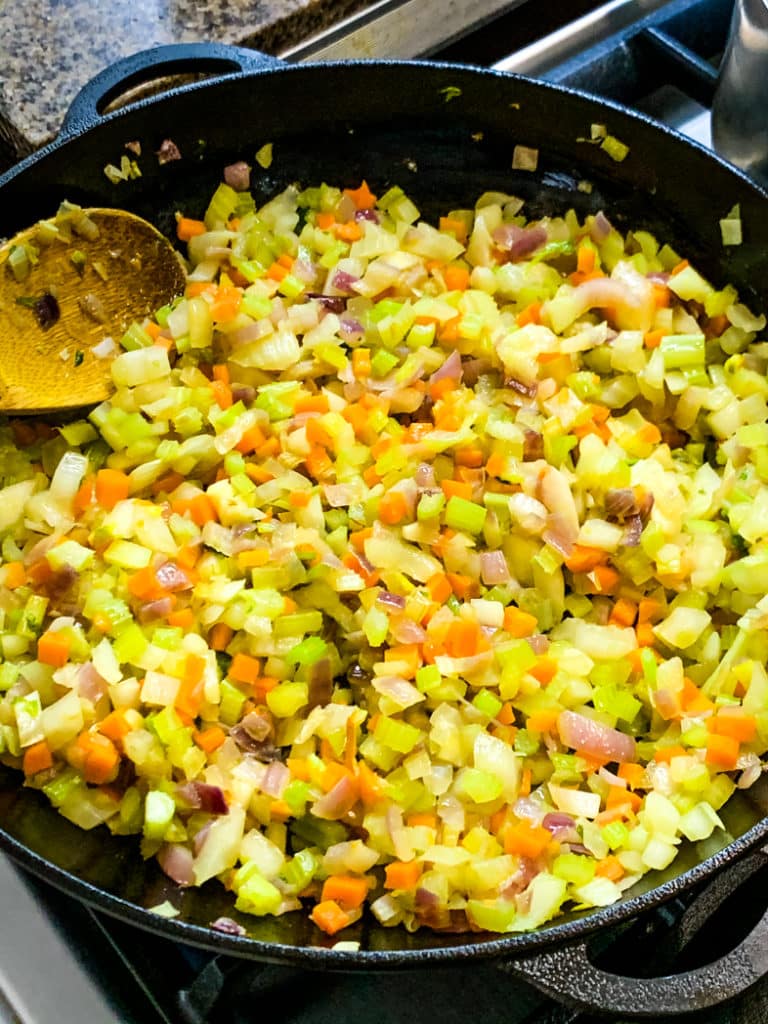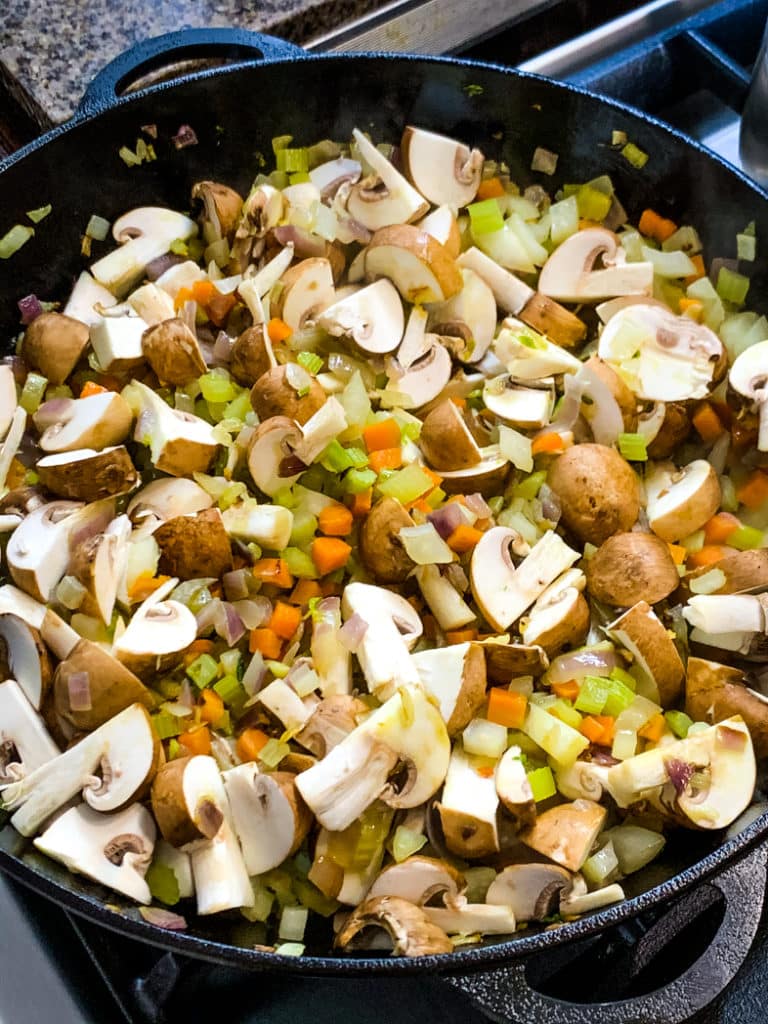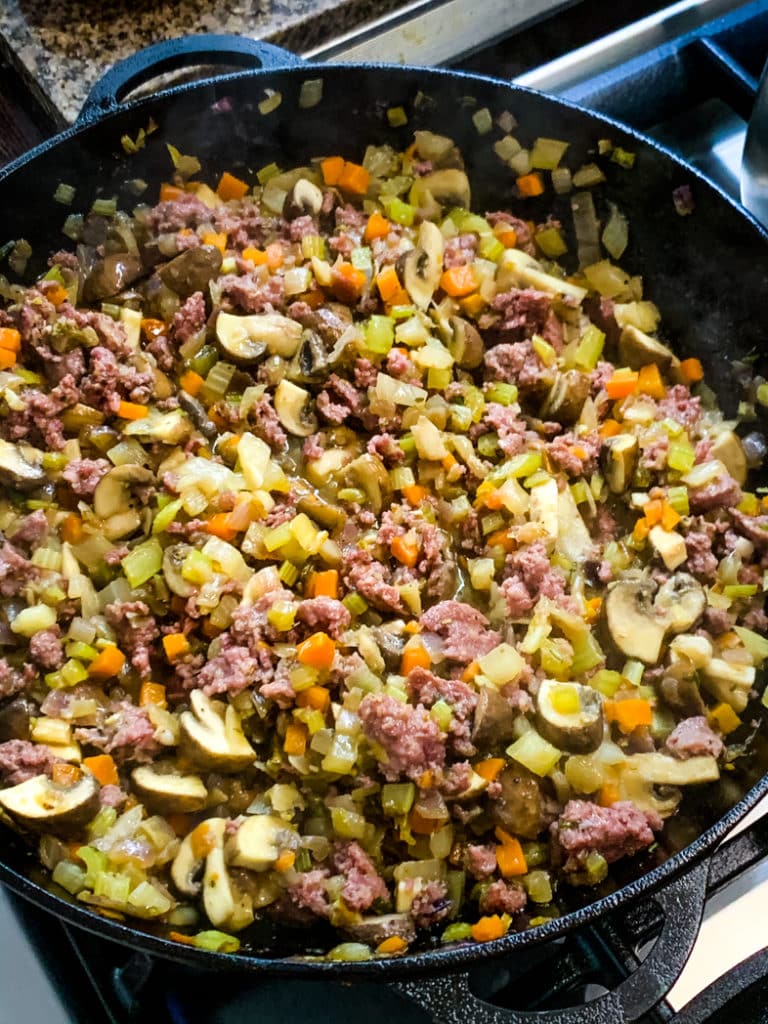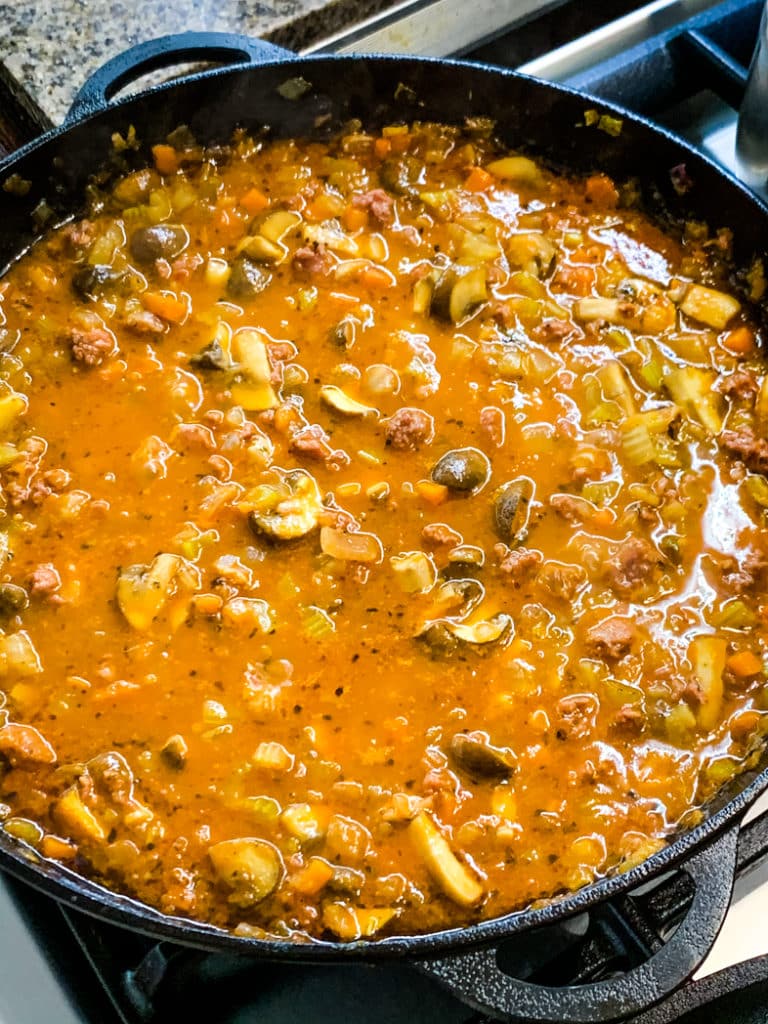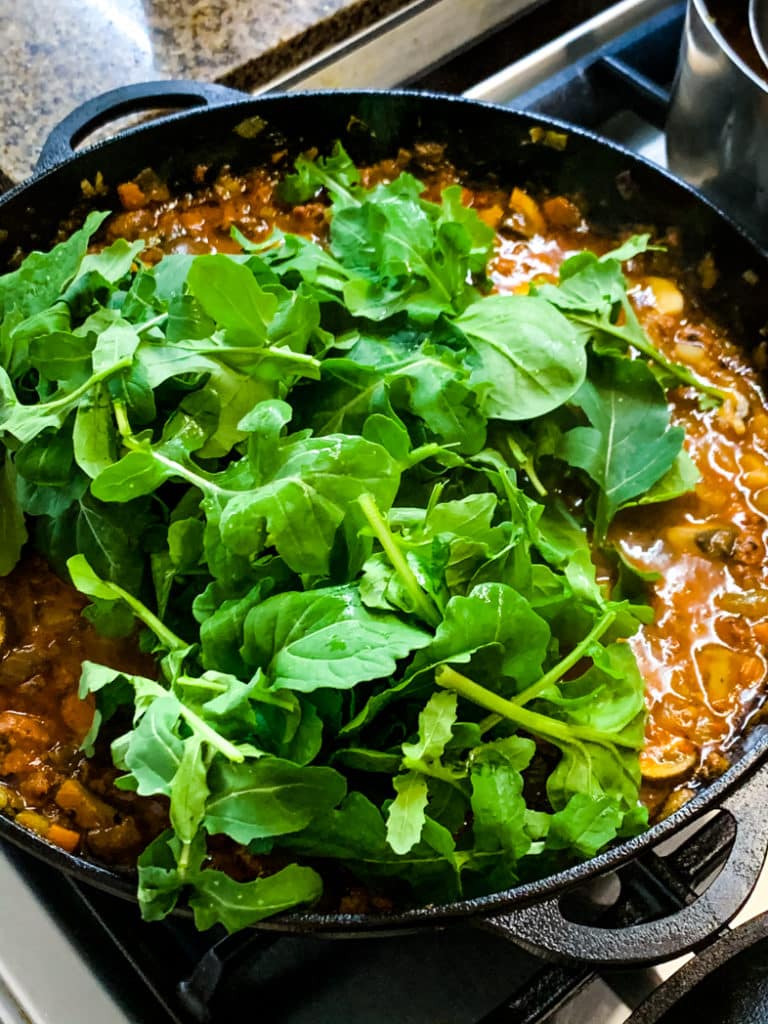 Serving and storage bolognese sauce without tomatoes
Serve the lectin-light bolognese sauce without tomatoes with your favorite lectin-free pasta. If you eat dairy, you can grate some Parmigiano Reggiano on top. And if you don't finish it all in one go, this is a perfect meal to freeze.
I recommend making a double batch and making this meal part of your meal prep rotation.
The best way to freeze a sauce like this is the Souper Cubes, the 1 cup or the 2 cups. So, when dinner time comes, you cook the fresh pasta and reheat the bolognese sauce.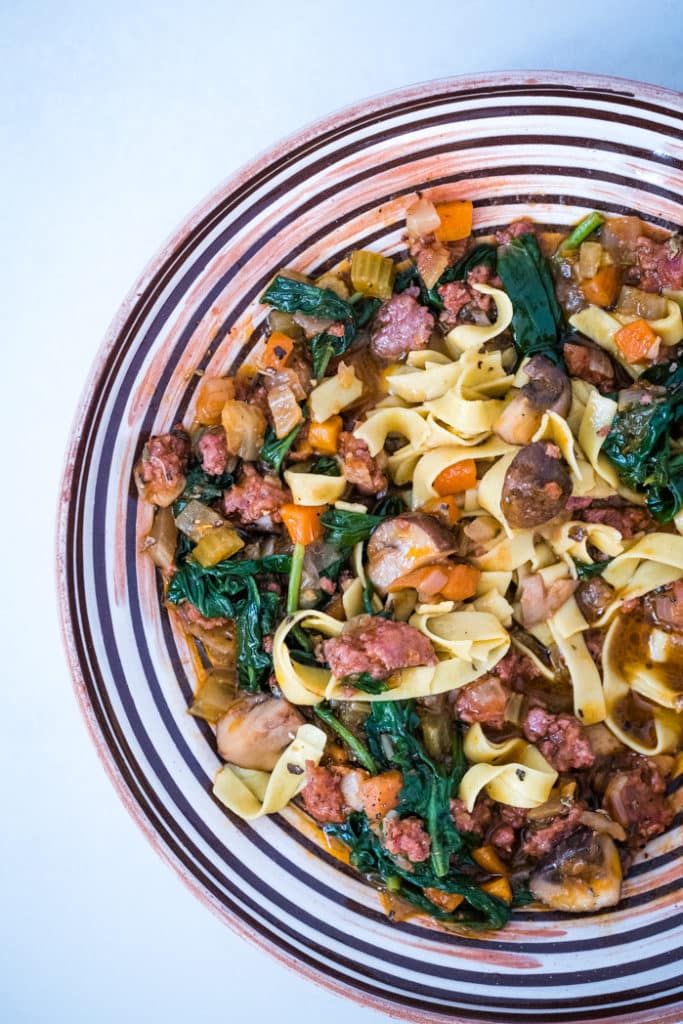 More spaghetti and pasta recipes
*This post contains affiliated links, which means I get a small commission if you choose to purchase something via one of my links, at no extra cost to you.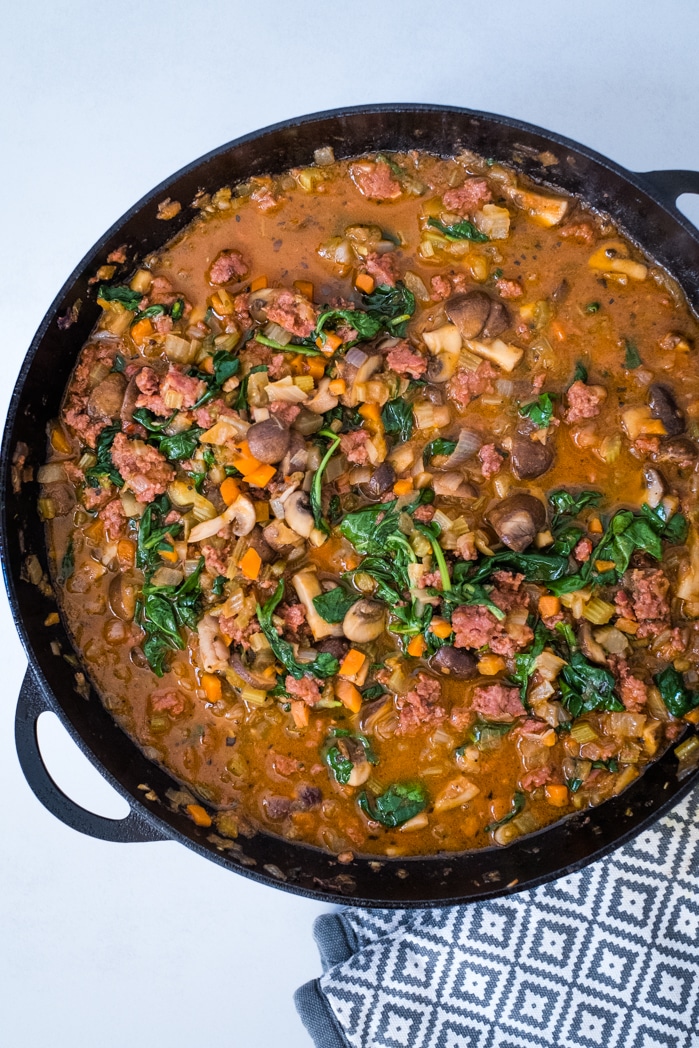 Print Recipe
Veggie Loaded, Lectin-Light Bolognese Sauce Without Tomatoes
This bolognese sauce without tomatoes served with lectin-free pasta is the perfect lectin-light family dinner. It's veggie-loaded and packed with flavor.
Ingredients
extra virgin olive oil
3 onions, chopped
6 celery sticks, chopped
2 carrots, chopped
1 fennel bulb, chopped
12 brown button mushrooms, roughly chopped
2 teaspoons herbs de Provence
1/2 teaspoon salt
1/2 tsp pepper
1 lbs ground beef (grass-fed, grass-finished)
1 cup pureed roasted red bell peppers (you find them pickled, in stores, rinse them and puree them in a blender)
warm water to cover everything
1 teaspoon dry basil or one cup fresh basil, chopped
a few handfuls of greens (I used arugula and spinach)
more salt and pepper to taste
fresh basil (if not using dry)
Instructions
1

Prepare all your vegetables, wash and chop. Prepare your ground beef. Make sure you have a few cups of hot water ready.

2

Add a generous quantity of extra virgin olive oil to a big skillet, on low to medium heat and sautee the onions, celery, fennel and carrot until they soften up and become fragrant. It might take about 15-20 minutes, and you have to stir quite often. At about half time you can add some salt (about 1/2 teaspoon) to help the veggies release more moisture. Do not brown them.

3

When the aromatics are done, add the mushrooms, herbs de Provence and pepper, stir well and cook for about 10 minutes. Add the beef, mince well with a wooden spoon and combine. Cook the beef for about 10 minutes before adding water (this is the time to add paprika if using instead of the roasted peppers puree).

4

Add hot water to cover everything, stir well and let simmer on low heat. After another 10 minutes add the dry basil (if you use fresh basil add at the end) and the roasted pepper puree if using.

5

Let simmer, on low heat, uncovered, for another 10-15 minutes, you can gradually add more water if required.

6

Add the greens at the end, combine them with the liquid until wilted (they don't need to cook more).

7

Taste and add more salt and pepper if necessary, finish with some fresh basil if you are using.

8

Serve with lectin-free pasta and if you eat dairy, grate some Parmigiano Reggiano on top.