'Zacusca' is a traditional Romanian spread made of onions, tomatoes, peppers, and eggplant. I used to love it and never thought I'd be able to eat again after starting a low-lectin diet. But, never say never, because I managed to make a lectin-light version yesterday, and I loved it.
BONUS RECIPE: cassava tortillas/flatbreads.
Nightshade vegetables and lectins
'Zacusca' is an Eastern European way of preserving vegetables for the winter, in the form of a delicious vegetable stew, canned and eaten as a cold spread.
Those who landed here without being familiar with the Plant Paradox program or a low lectin diet, tomatoes, peppers, and eggplant are part of the nightshade family. They are very high in lectins, proteins found in plants that are trouble for some people.
I used to love 'zacusca'. However, I would always get terrible heartburn after eating it. I completely surrendered to the idea that I'll never eat it again until I realized there was a way to make it low-lectin. So I tried, and I did not react to it.
Other than being problematic for those sensitive to lectins and nightshades in general, eggplant and tomatoes are also high in histamine, so double trouble. On the other side, onions and peppers contain quercetin, which might counteract the high histamine levels. For this reason, I will stick to the fresh version and eventually freeze leftovers instead of canning.
This is a great way to eat nightshades if you have them in your garden and during their season, in late summer. But we are all different, and you will have to try and see if it's ok for you. I gradually tried tomatoes and peppers until I knew I was ok eating them, and yesterday was the first time trying eggplant after three years.
How to remove lectins and replace non-compliant ingredients in the zacusca
Roasting peppers and eggplant makes removing their skins and even seeds easier. I was under the impression that eggplant seeds are difficult to remove, but it was straightforward. There are many ways to roast them, depending on your facilities. The best way is on an open fire, but the grill works well, a gas stove, or even an oven if there is no other option.
How to roast peppers and eggplants and remove the lectins
I tried to take as many photos of the process as the roasting will depend on your method (grill, stove, oven, open fire). The important thing is to roast them on all sides until the skins blister.
Then, add them to a bowl, sprinkle with salt, and cover them for about 15 minutes. The steam will release the skins even more.
After you peel them, open them and remove all the seeds. You can use water in the process. Let the liquids drain a little bit before using them. For 'zacusca' you have to chop them small.
We like to use a wooden spoon to chop the eggplant instead of a knife.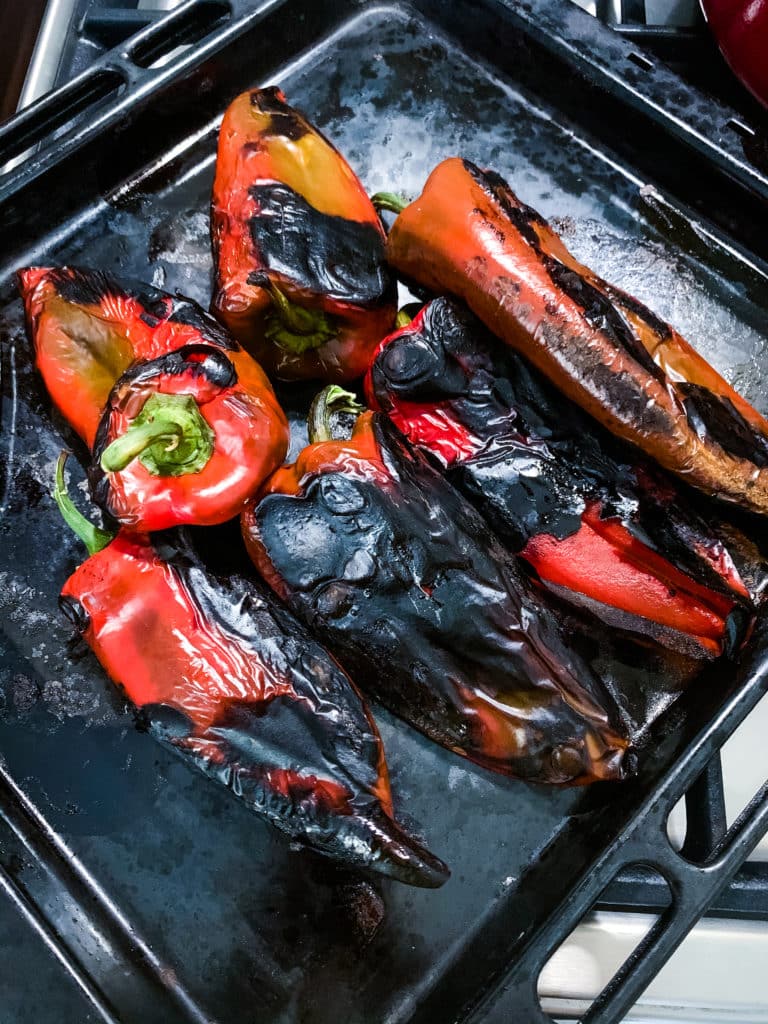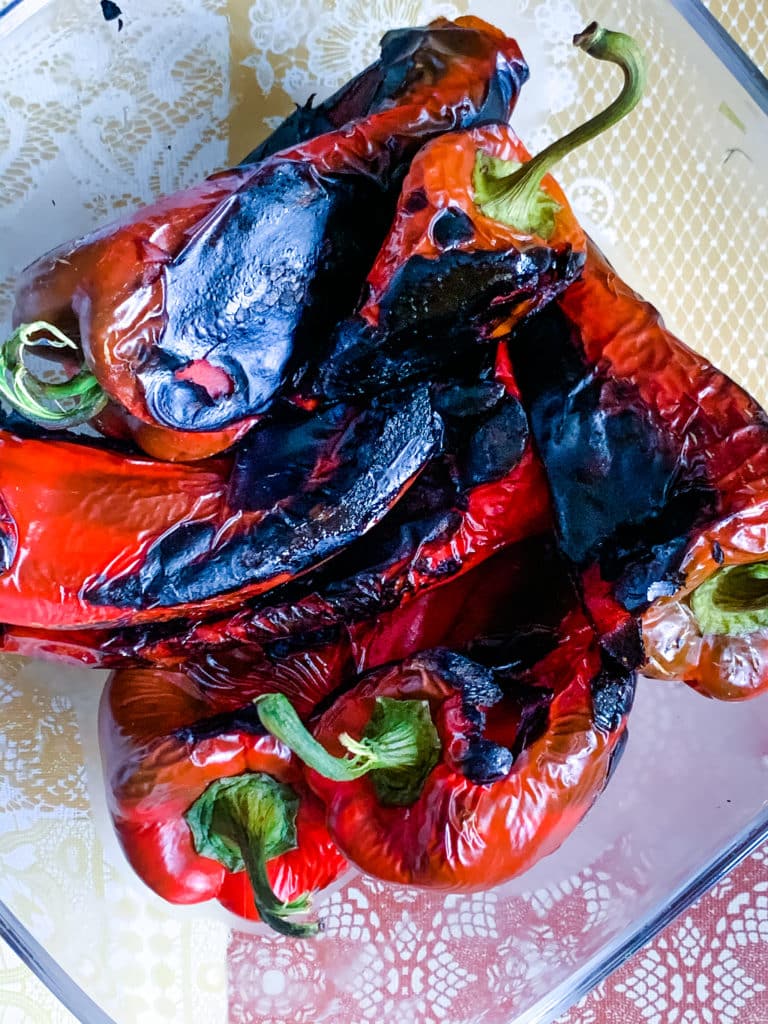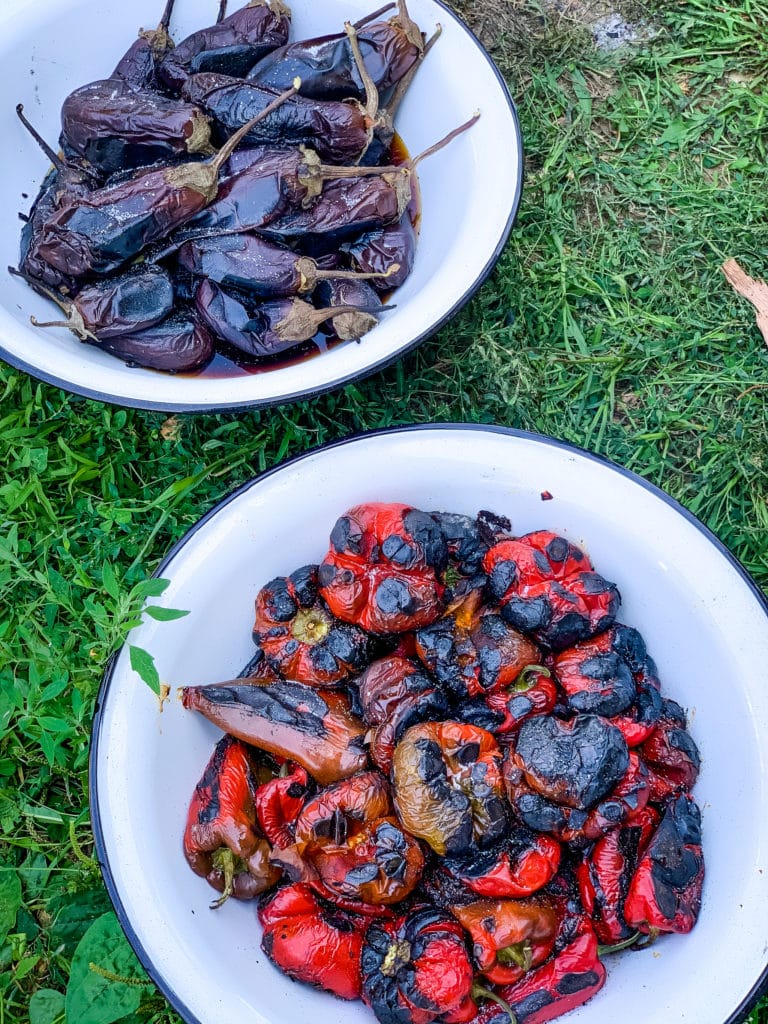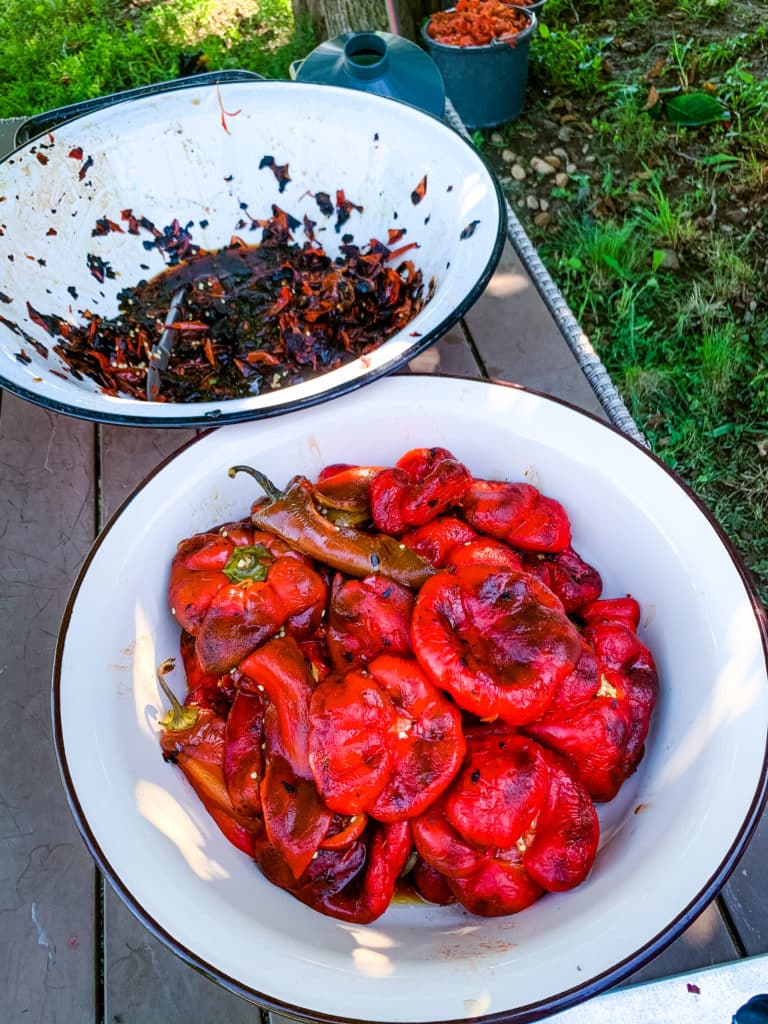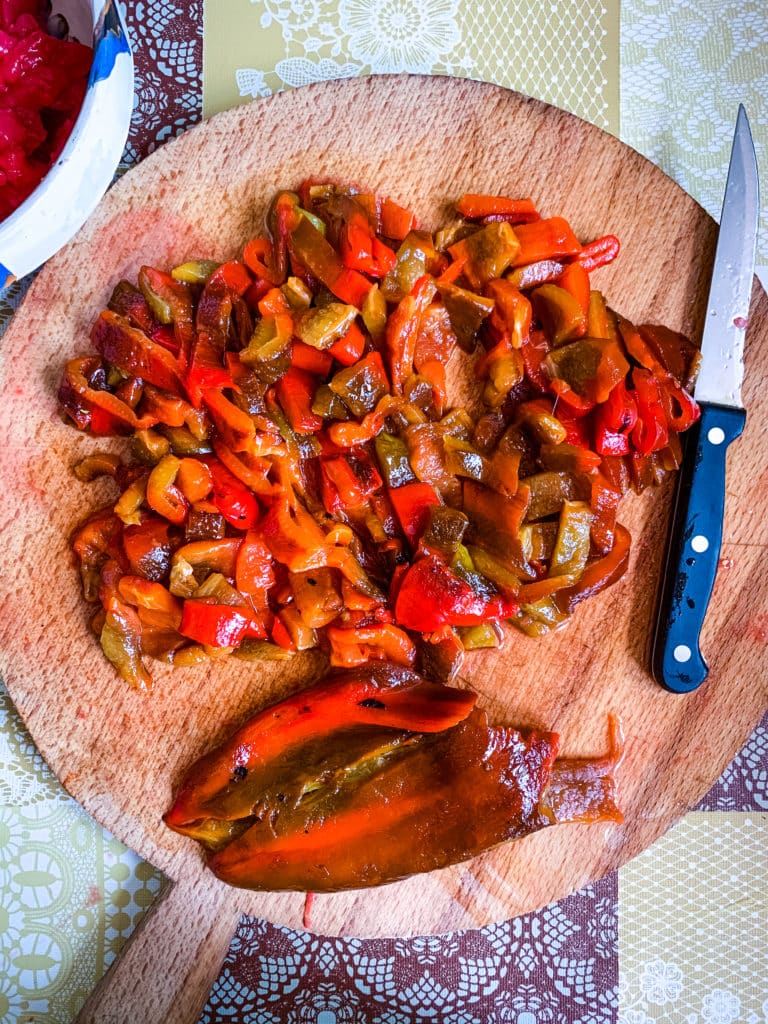 How to remove lectins from tomatoes?
You need to peel and deseed the tomatoes as the lectins are in the skin and seeds. The variety Liguria is very meaty and easy to peel and deseed. If you have a different sort, immersing the tomatoes in boiling water for a few seconds makes the skin easy to remove. Preferably use fresh heirloom tomatoes, always organic.
Extra virgin olive oil for the zacusca
Fortunately, one ingredient doesn't need any modification: onions. Use them generously, as they give a great taste to your 'zacusca'.
The oil used in Romania is mostly sunflower, and I replaced it with extra virgin olive oil. There is no need for spices other than salt and pepper, as everything is already very flavorful.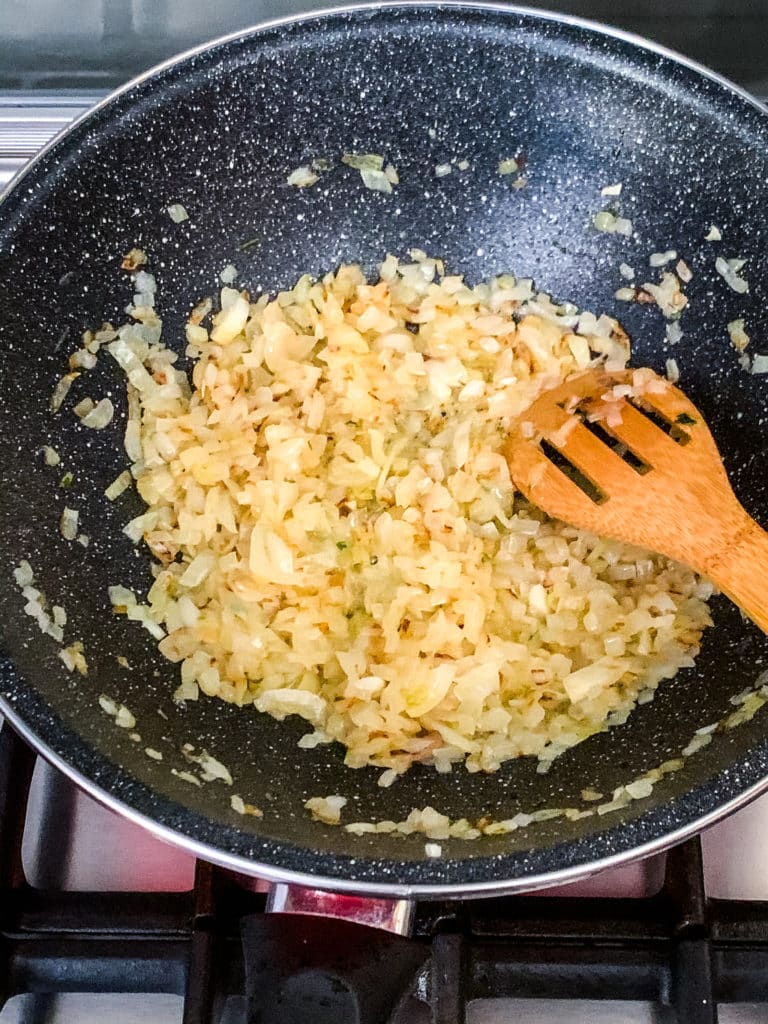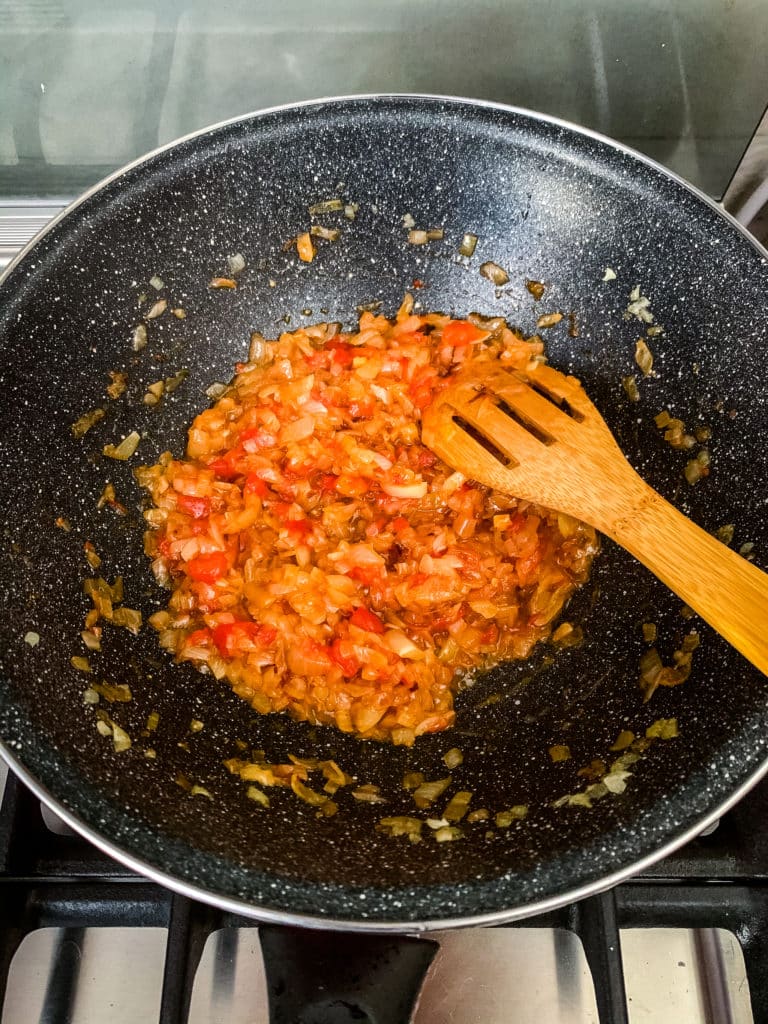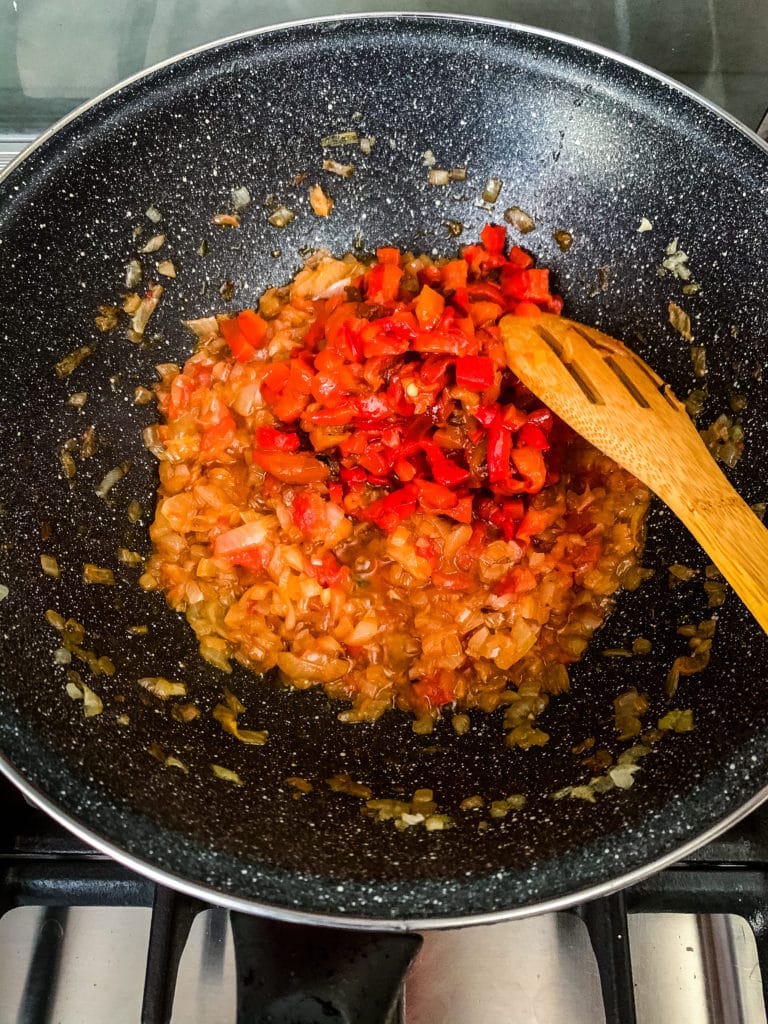 How to serve zacusca
Since this is a spread, you need a piece of bread next to it. I made cassava tortillas/flatbread, which paired perfectly with the spread. You can use a brand ready-made, like Siete, if you are lucky to live in a place where they are available. Even compliant chips would work, and you can serve it as a dip. Perfect for summer parties in the garden.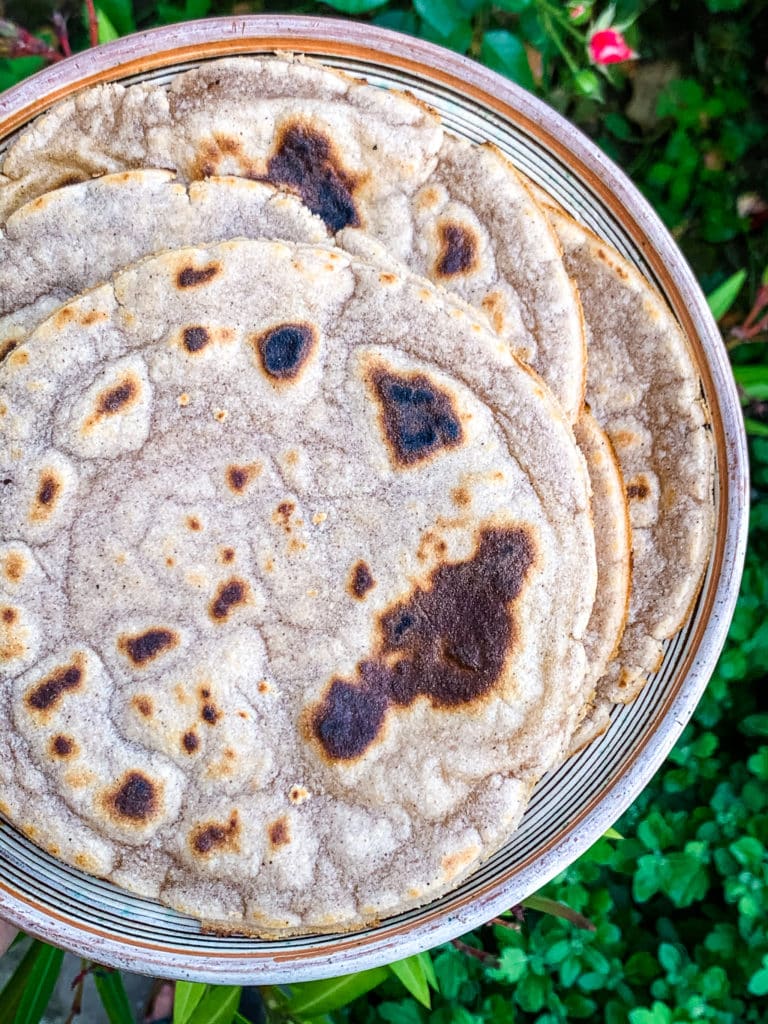 HOW TO MAKE CASSAVA TORTILLAS / FLATBREAD. It's the easiest thing to make, but it takes a little time if you cook them one by one. If you have a tortilla press, it will probably make the whole process faster, but I use a rolling pin and two sheets of parchment paper.
FOR 8 (8in) TORTILLAS, YOU NEED 200 grams of cassava flour, three tablespoons of extra virgin olive oil/avocado oil, a pinch of salt, and some lukewarm water.
HOW TO MAKE THEM: Add the cassava, olive oil, and salt to a bowl. Start adding water and mix with your hands until you get a dough that sticks together (it will be crumbly at first). Portion the dough into eight balls, and roll them in between two sheets of parchment paper. I cook them one by one, so I roll one while the other cooks.
Use a safe non-stick pan like a cast iron or ceramic coated and make sure it is hot enough. I use a bowl to cut them into round shapes. If you use a tortilla press, it will be easier. They need a few minutes on each side. Transfer them to a plate and cover them with a towel.
HOW TO MAKE EASY CASSAVA TORTILLAS / FLATBREAD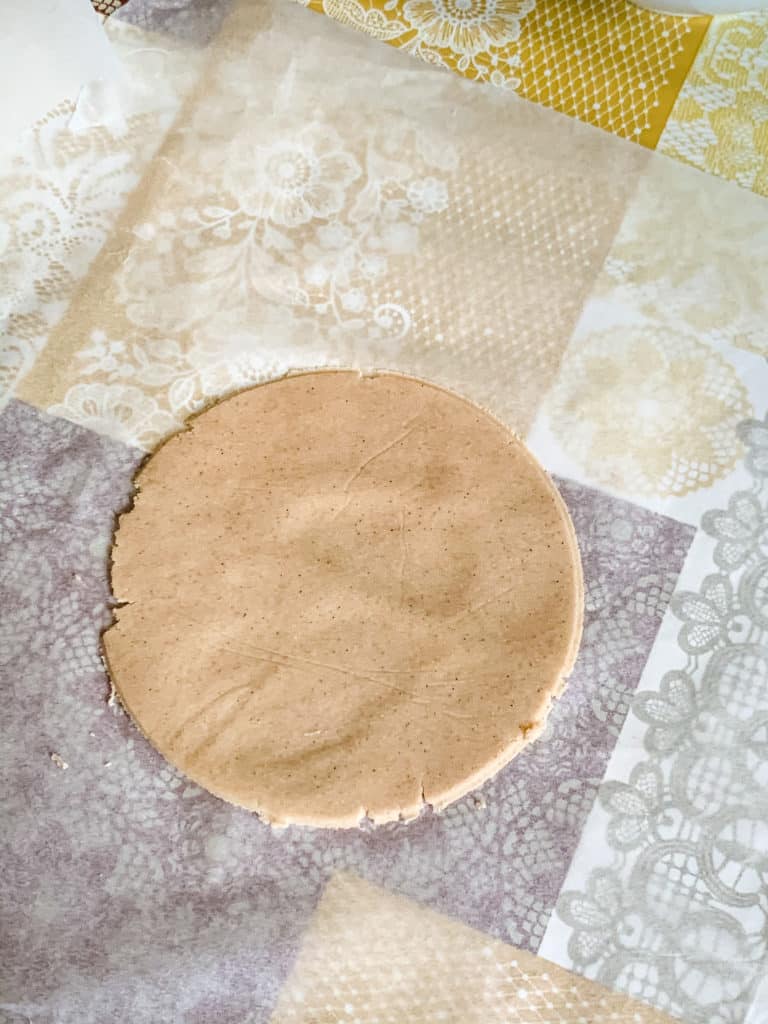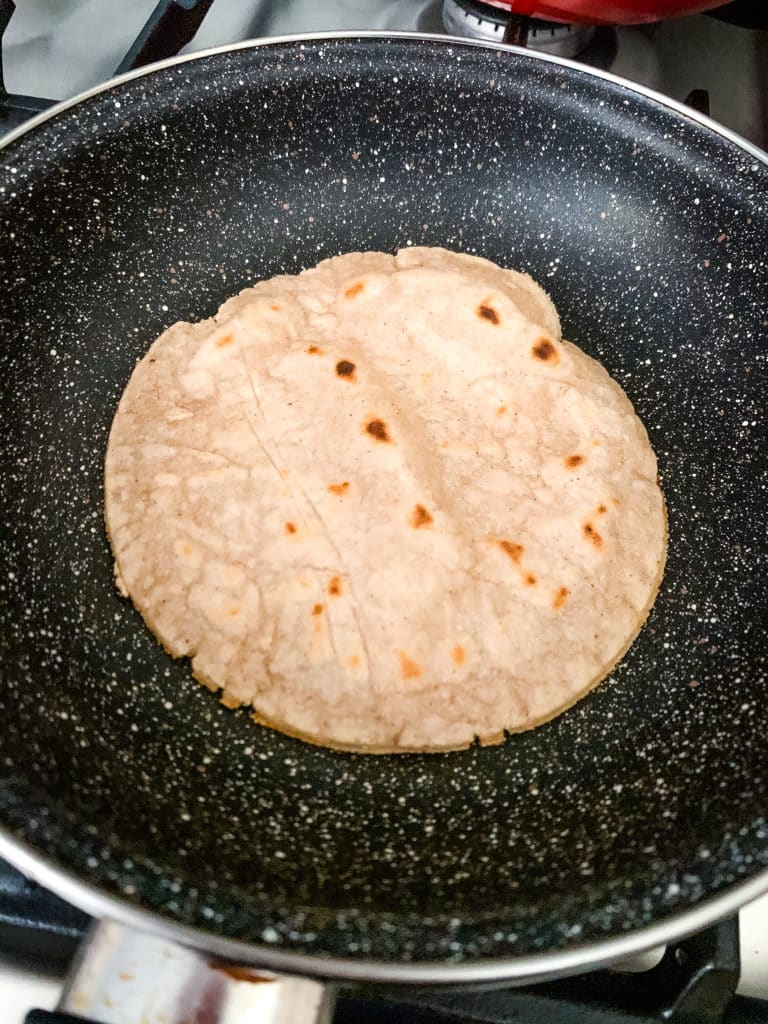 *This post contains affiliated links, which means I get a small commission if you choose to purchase something via one of my links, at no extra cost to you.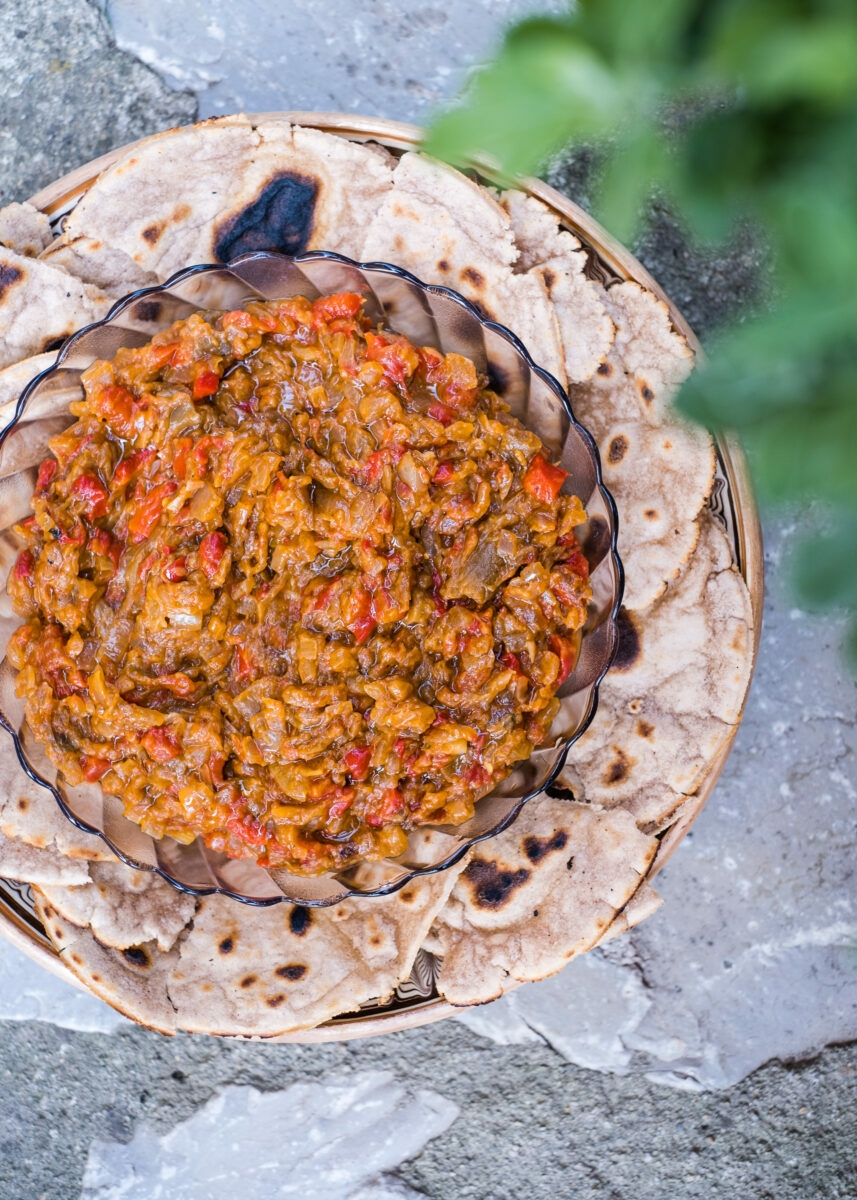 Print Recipe
'Zacusca' Nightshade Spread Made Low-Lectin
A delicious and low lectin way to eat those tomatoes, peppers and eggplants that are everywhere during summer.
Ingredients
extra virgin olive oil, to generously cover the pan
3 medium yellow / sweet onions, finely chopped
1 big tomato, peeled and deseeded, finely chopped
4 eggplants, roasted, peeled and deseeded, chopped with a wooden spoon
5 sweet red peppers, roasted, peeled and deseeded, finely chopped
salt and pepper to taste
Instructions
1

Add the oil to a sauteeing/stew pot and sautee the onions on low to medium heat for about 30 minutes. If they get too brown too quickly lower the heat.

2

When the onions are translucent, fragrant and start to brown, add the chopped tomato, stir and continue cooking for about 10 minutes.

3

Add the eggplant and the peppers and cook on low heat for about 30 minutes, stirring frequently.

4

Add salt and pepper to taste.

5

It's better served at room temperature or cold.
Notes
I didn't add the roasting time for the eggplant and peppers to the preparation/cooking time. That will take about one hour from start to finish, including setting up and peeling and deseeding. Read the entire post for details. If you are a fan of canning, you can make a bigger quantity and can the stew, or freeze the leftovers as I did.