After a few hours spent in our greenhouse today, attending to all the greens, I came back with tons of arugula, spinach, spring onions and garlic. I have to find creative ways to use them while they are fresh and vibrant, as there is so much salad one can eat. So I set on making green gnocchi with arugula, spring onion and garlic.
They are made with cassava flour, so they are gluten-free and lectin-free, but also low-histamine. These homemade green gnocchi will become a staple during spring and summer, and are one of my favorite ways of using arugula.
This post will be dedicated to just making the gnocchi. I'll come back with recipes using the homemade green gnocchi with arugula and cassava flour.
The process – homemade green gnocchi with arugula and cassava flour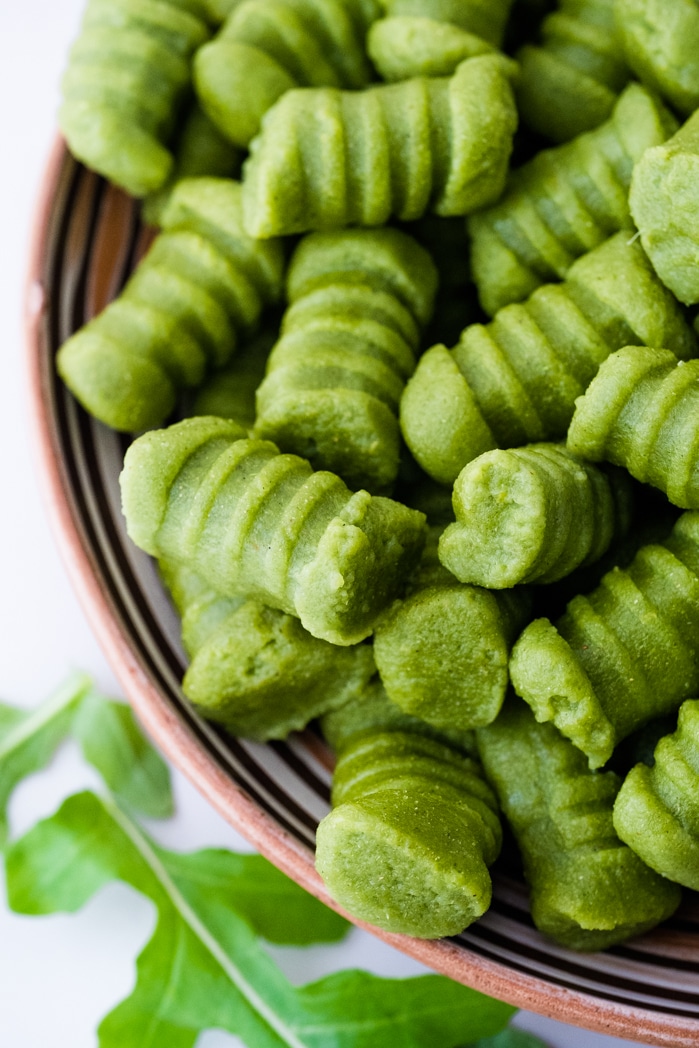 The first thing I like to do is to puree the greens. I add the arugula, onions and garlic to a blender with a little bit of water and extra virgin olive oil.
Then I add the rest of the ingredients to a food processor, saving 1/2 cup of cassava flour for kneading the dough. After the ingredients are mixed, add the green puree to the food processor. If your food processor is not big enough for this quantity, no worries, you can mix them in a bowl.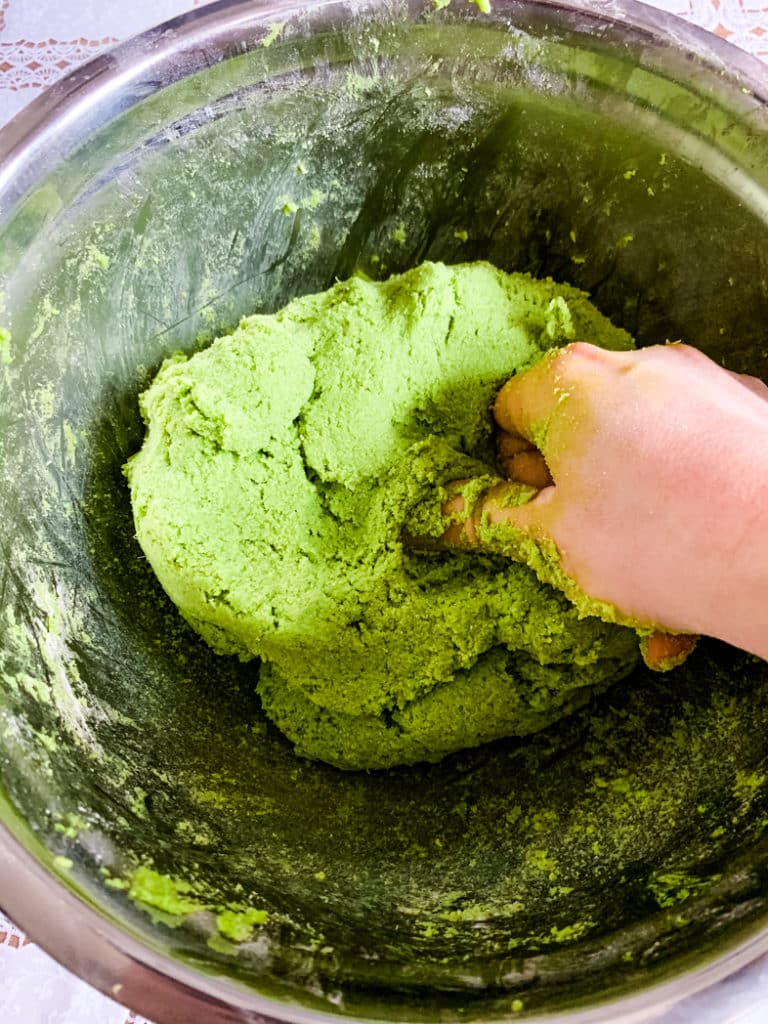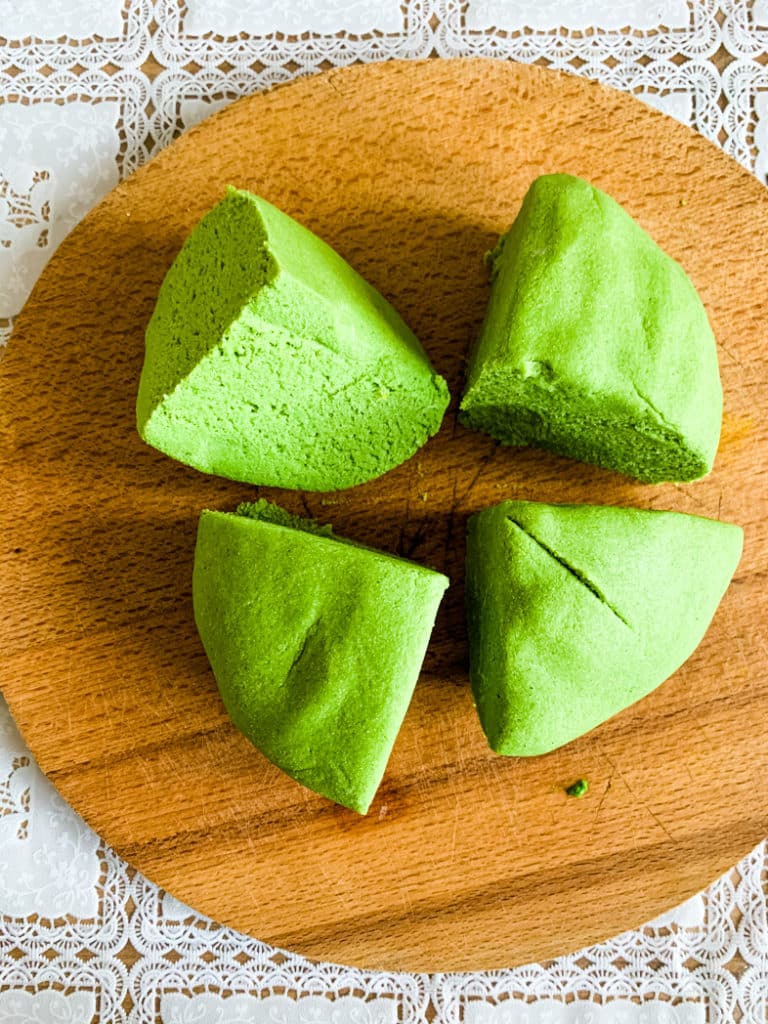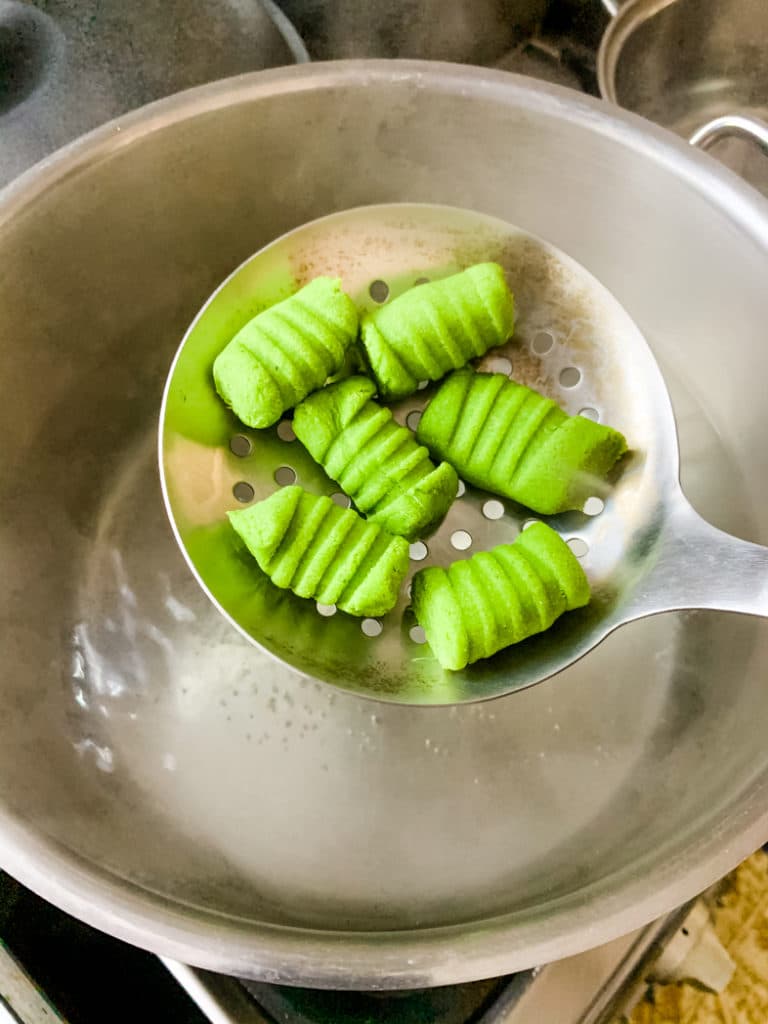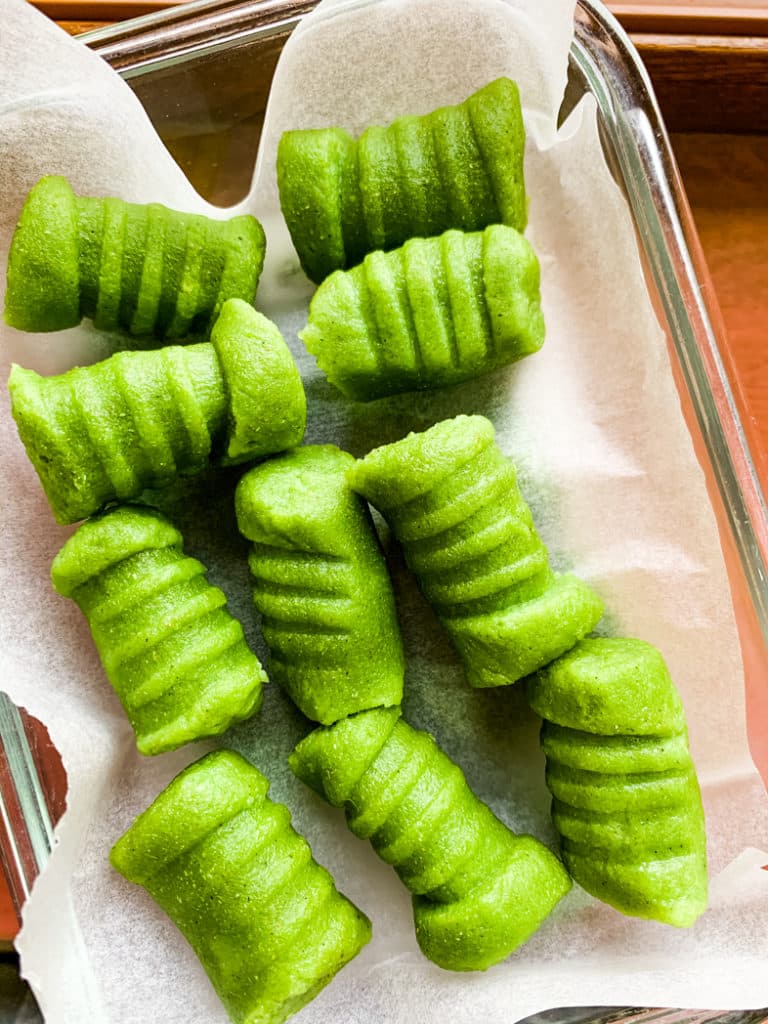 After these two elements are mixed, I transfer the soft dough to a bowl and start adding the remaining 1/2 cup of cassava flour. At first, you can mix with a spatula, but after the first 1/4 cup of flour, you will start kneading with your hands. You might have to add less flour or maybe more, just in case you end up with more liquid. Just add it gradually and knead while you do.
You will get a homogenous, elastic dough, even if at first it might look a little sticky. Shape the dough into a ball, then split the ball into four equal parts. Form each part you will make 2 logs, and x10 gnocchi out of each log.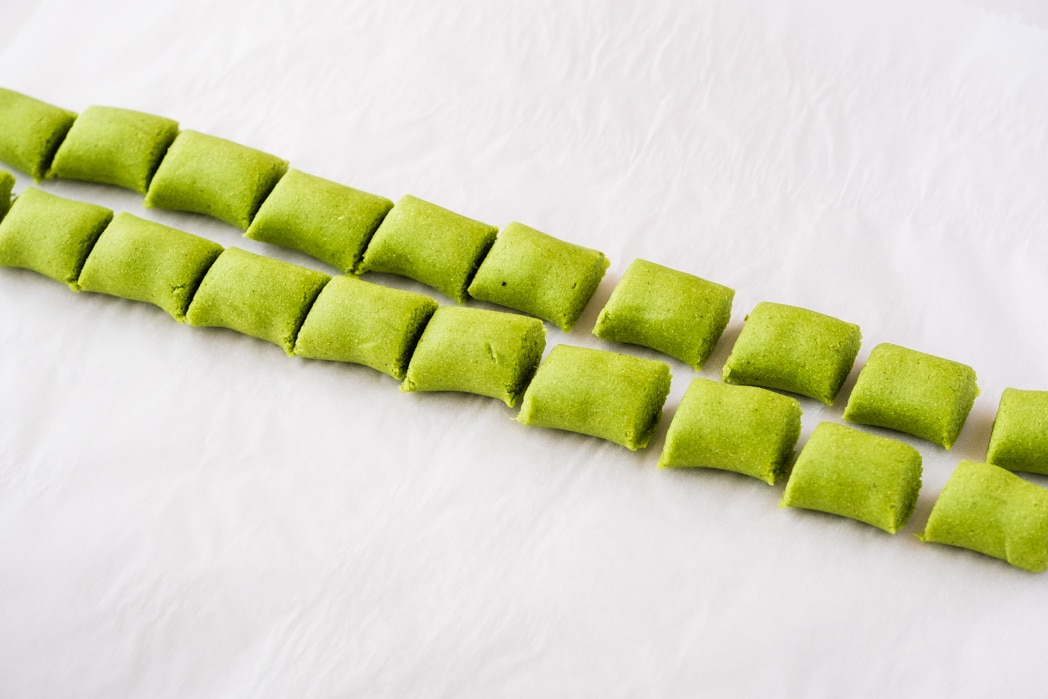 You can use them as they are, but why skipping the fun part? I love making the traditional gnocchi shape, even if I don't have a gnocchi ridger. A fork is all you need. Place the fork with the tips of the tines on the surface and gently roll each gnocchi down the tines. Or follow whichever method you are familiar with or like. You can even leave them as they are after you cut the logs. They still look cute.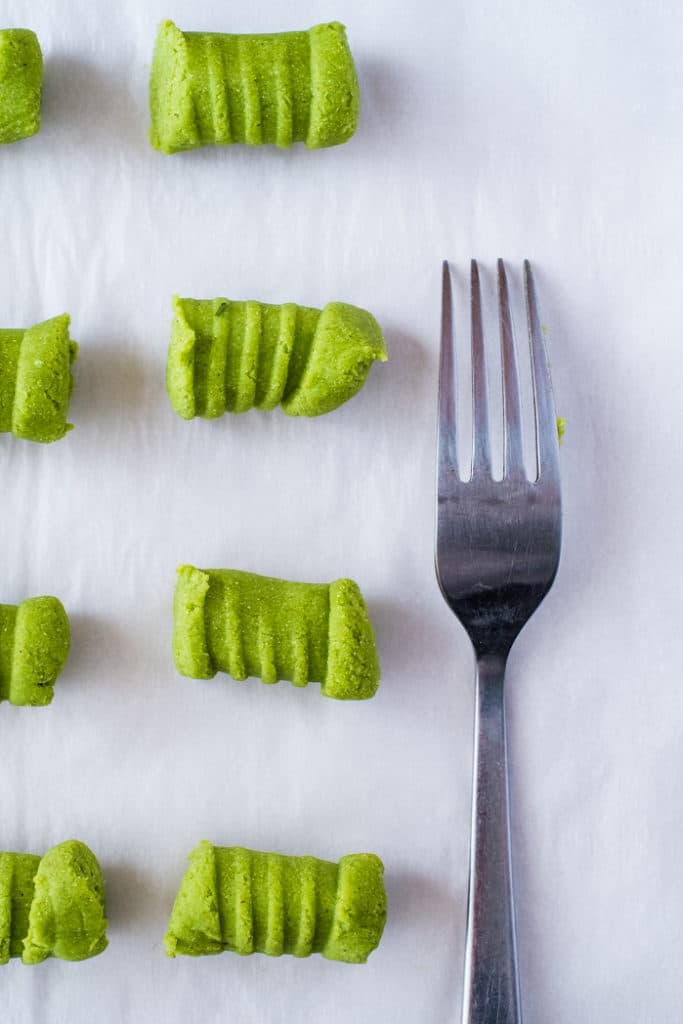 Servings and storage
So, in total, you will have 80 homemade green gnocchi with arugula and cassava flour. I used about 9, 10 per serving. You can prepare them fresh or freeze them. To freeze, use a glass container with a good lid. Add parchment paper on the bottom, add a layer of gnocchi, and continue, depending on how your container looks like. Add a layer of paper in between each layer of gnocchi and one on top before you close the lid.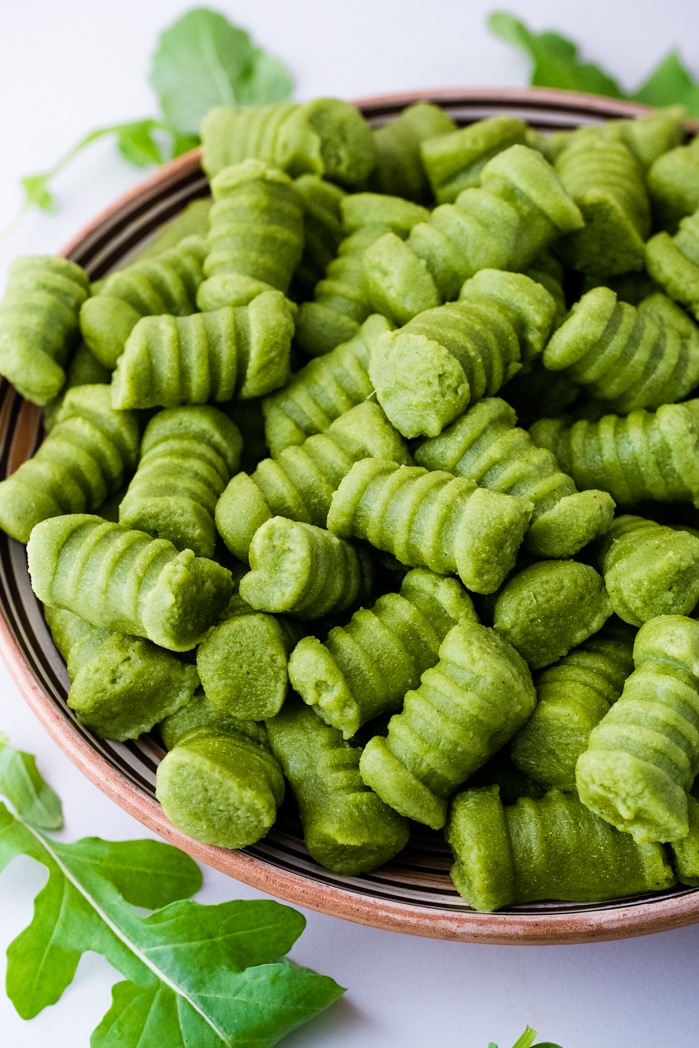 Preparation: Green Gnocchi with Sausage and Arugula
These homemade green gnocchi with arugula and cassava flour are already pretty flavorful because of all the greens, so the simplest way to eat them is to sautee them in olive oil with spring garlic and onion and maybe some fresh sausage. Serve with pesto, sprinkle some Parmigiano Reggiano if you eat dairy.
Try this quick and easy, delicious recipe: Green Gnocchi with Sausage and Arugula.
If you are as fascinated by all green things as I am, check out my Green Cassava Flour Tortillas.
*This post contains affiliated links, which means I get a small commission if you choose to purchase something via one of my links, at no extra cost to you.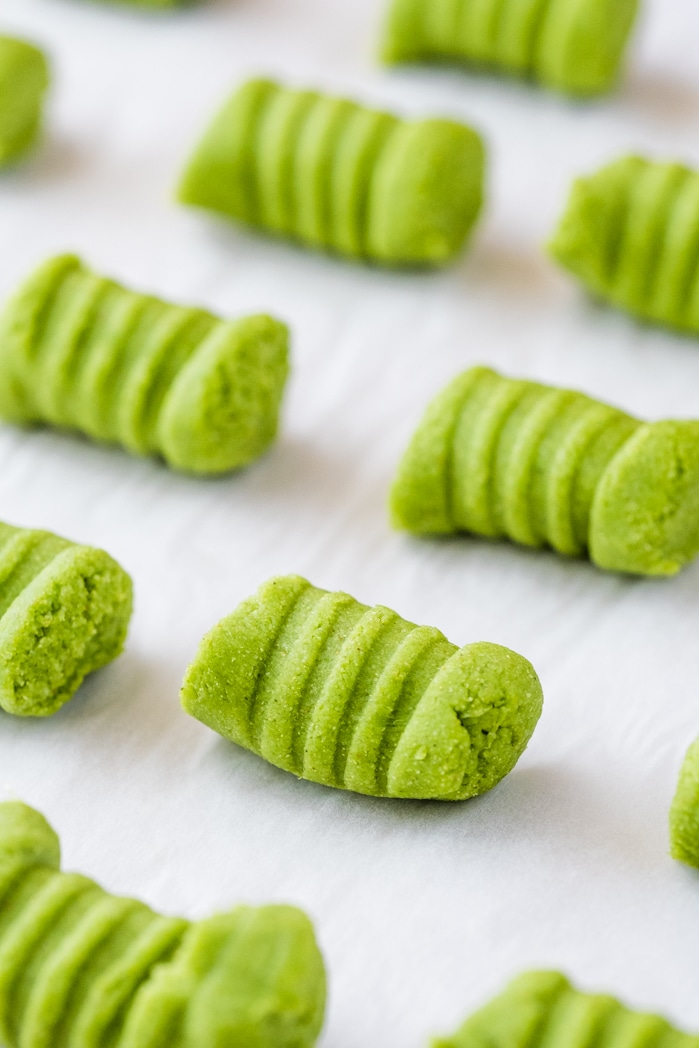 Print Recipe
Homemade Green Gnocchi with Arugula and Cassava Flour
Brighten up your meals with these homemade green gnocchi with arugula and cassava flour. Lectin-free and gluten-free, delicious and healthy.
Ingredients
TO MAKE THE GREENS PUREE:
2 1/2 cups arugula, super packed
2 spring onion
2 spring garlic
4 tablespoons extra virgin olive oil
1/4 cup water
1 teaspoon salt
TO MAKE THE DOUGH:
2 pastured eggs
1 1/4 cup hemp milk
1 1/2 cup cassava flour, divided into 1 cup and 1/2 cup
lemon zest from one organic lemon
2 tablespoons sparkling water
Instructions
1

Fill a big pot with water, about 2/3 full, and start heating the water.

3

Blend all the ingredients until liquid and smooth.

5

In a food processor add the 2 eggs, hemp milk, 1 cup cassava flour, sparkling water and lemon zest. Process until combined in a soft dough.

6

Add the green puree and pulse a few times until all combined. In case your food processor is not big enough, you can also combine the soft dough and the greens in a mixing bowl.

7

Start adding the remaining 1/2 cup of cassava flour gradually and mix with a spatula. When it becomes too thick, start kneading with your hands. You will get a homogenous, elastic dough, resembling playdough consistency.

8

Shape it into a big ball and then split it into 4 equal parts. From each part, you will roll two logs, about the thickness of your thumb. Each log will be about 10 inches long. You will cut 10 gnocchi from each log.

9

By this time, the water should be boiling. Turn the heat to low and add the first batch of gnocchi (x20), with the help of a slotted spoon. You can start preparing the second batch while the first one cooks.

10

After about 4 minutes, the gnocchi will start to float. Take them out with a slotted spoon and put them on a dry surface or plate.

11

Repeat with the next three batches.

12

When they are all ready, you can prepare them or let them cool completely, add them to a container separating each layer with parchment paper and freeze them (add paper on the bottom and on top too).