Carbonara is one of those classic pasta dishes that everyone likes. It is a super simple recipe, but many don't know that and assume there is a lot of cream in there to make the sauce.
My favorite source of classic recipes is Jamie Oliver – I love how much he respects the food and loves cooking, and has the same passion for good food as Italians have. So I've learned many tricks from watching his videos, including some for making the carbonara sauce.
If you have access to the right kind of pasta, making a grain-free fettuccine carbonara is quite easy. Of course, not only this recipe is grain-free, but also lectin-free.
Fettuccine Carbonara – A handful of ingredients and the right pasta
I am not at the stage of making pasta at home. So I use Cappellos fettuccine (made with almond flour), that have almost the same texture as the real pasta. They taste great and are ready in 90 seconds. My husband, who is not grain-free and still eats normal pasta, loves it and doesn't seem to be bothered by the difference. You can also find the fettuccine and other lectin-free pasta on my shop page under pasta and tortillas.
Now, I'm not sure Italians will agree with me that this is like the real deal. But I don't think we have a choice if we want to stay grain-free. So other than pasta, what are the ingredients for a classic carbonara?
While the classic Roman recipe is made with guanciale, a cured pork cheek, pork belly or pancetta (humanly, responsibly raised) are excellent replacements. Ideally, they should be smoked or cured. But I use fresh pork belly I buy at my local sustainable farm shop, Burgundy Pasture Beef (Dallas). It is sold in quite thick slices, about 1/3 inch each. I cut them into cubes/chunks.
You also need pasture-raised or omega 3 eggs, one garlic clove, pepper and cheese. The Romans use Pecorino Romano, but it is also very common for carbonara to be made with Parmigiano Reggiano. I even saw recipes where both are mixed. I love to use Pecorino Romana – an Italian sheep's milk cheese. That's pretty much it.
For other Italian-inspired dishes, be sure also to try my Veggie Loaded, Lectin-Light Bolognese Sauce Without Tomatoes and my Homemade Green Gnocchi with Arugula and Cassava Flour.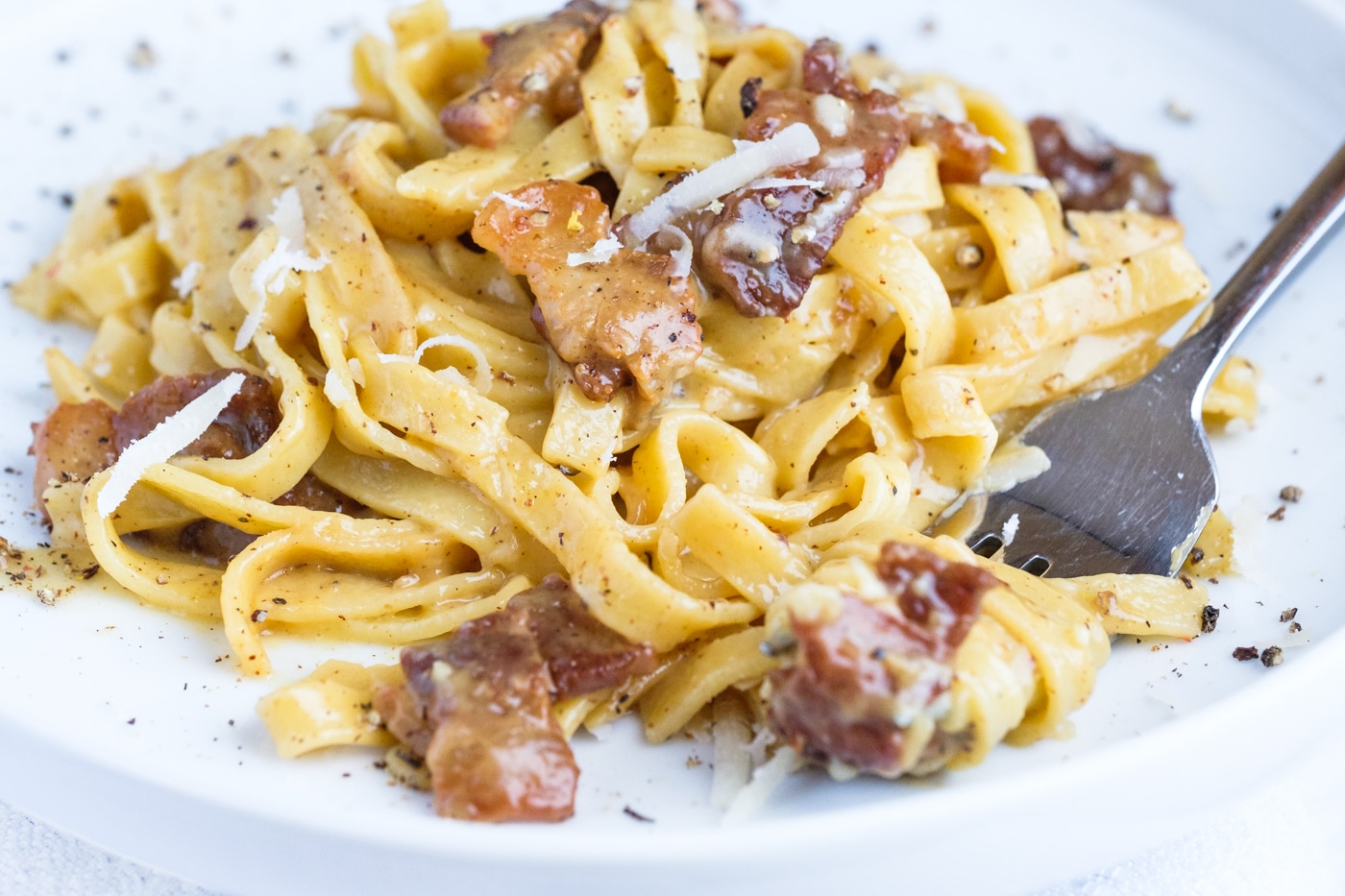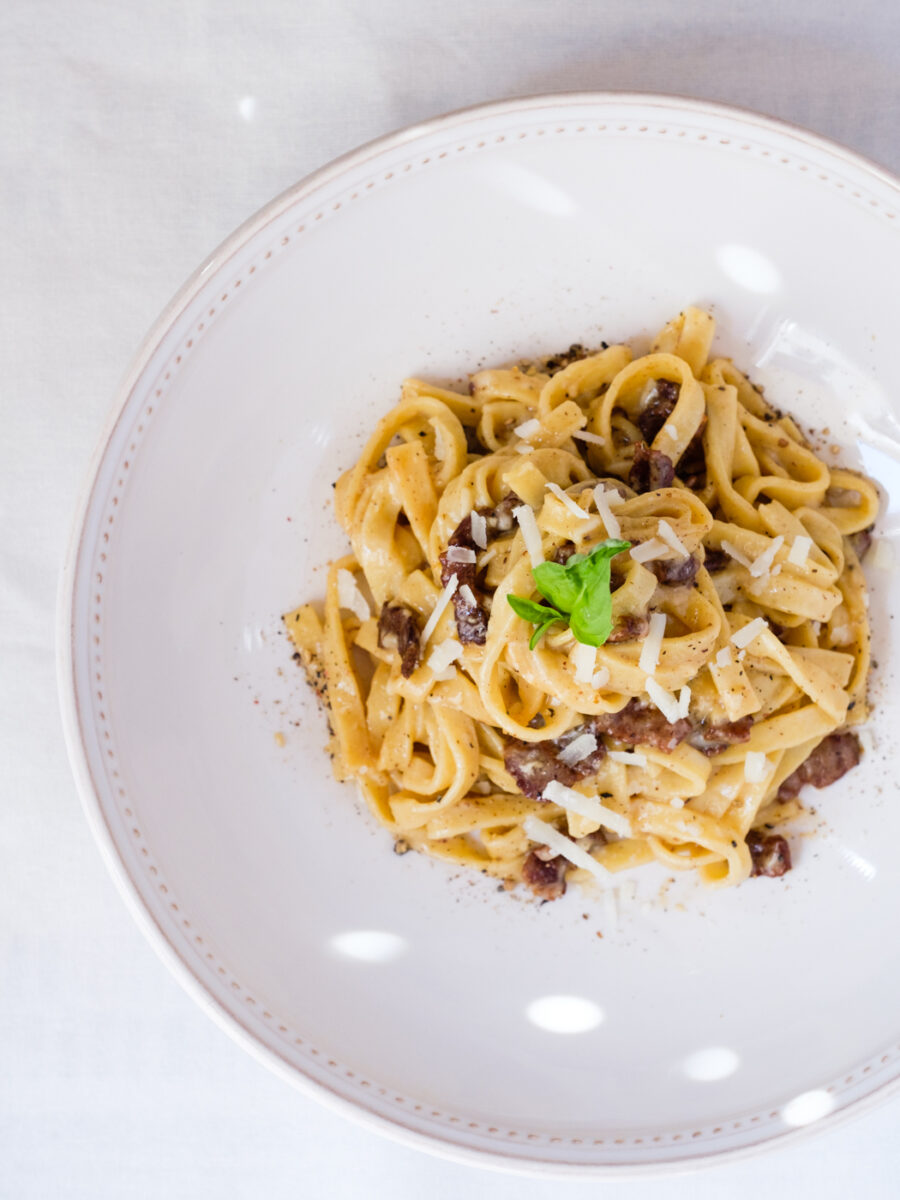 Print Recipe
Grain Free Fettuccine Carbonara
Ingredients
1 pack of Cappellos Fettuccine, or the lectin-free pasta of your choice (even homemade)

1 lbs (or less) of fresh or cured pork belly or other suitable replacement (even good quality bacon will work, or pancetta)

1 whole pasture-raised egg and 1 extra yolk

1/3 cup of grated Pecorino Romana (you can also use Pecorino Toscana or Parmigiano Reggiano or a mix of two)

Lots of coarsely ground black pepper (I use about 1 tsp, even more, I love the peppery taste)

1, 2 garlic cloves

zest from one lemon (optional but a tasty addition)
Instructions
1
Prepare a pot with boiling water for the pasta (make sure you have the water ready before your pork belly is cooked) - because Cappellos fettuccine is ready in 90 seconds and are not good if overcooked, so you have to be fast and precise here.
2
In a frying or sautéing pan (big enough so you can add the pasta later), start cooking the cubed pork belly. Because mine is fresh it takes a little while. Add a whole crushed garlic clove. Just mix regularly and let it cook at medium to low heat.
3
Meanwhile, prepare the sauce base. Whisk the 1 whole egg with the one extra yolk, add the grated cheese and lots of fresh ground pepper. Add salt if your pork belly is not cured or salted. Whisk well and set aside.
4
Once the pork belly is cooked (I like it crispy, but be careful it can burn fast), most of the fat should be melted. I remove the extra fat (put it in a jar and use it later for other dishes), leaving only enough to cover the pan and have a base for the sauce. I remove the garlic clove (I just need it to give some flavor to the fat). Now Italians cook the guanciale or pancetta in olive oil, but with the fresh pork belly I think it's not necessary.
5
When I return the pork belly to the stove (after I removed the extra fat), I set the heat to the lowest setting. I add the pasta to the boiling water and use my phone timer to give it 90 seconds, not longer.
6
After 90 seconds I add the pasta to the pork belly pan, adding a little bit of pasta water with it (few tablespoons). Turn the heat off, or take the pan to a non-heated surface. Add the beaten eggs, lemon zest if using and cheese mixture to the pasta and mix well. If necessary add few more tablespoons of pasta water. This is actually the tricky step of the recipe because you don't want your eggs you get scrambled, you want them to coat the pasta and be creamy (just make sure your pan is not on heat). That's it, you should serve immediately, this makes 4 small(ish) portions, depending on if it's your main dish or you serve it as Italians do in very small portions.
Notes
The 1 lbs of pork belly sound like a lot, but once all the fat is melted, the quantity of meat is not that big. You can certainly use less than this without affecting the quality of the final dish.