I honestly don't remember how I was eating cauliflower before I embarked on the plant paradox lifestyle. I vaguely remember that mix of steamed cauliflower, broccoli and carrots that was a regular healthy side in some restaurants, and I do remember a few times eating raw cauliflower with a mustard-mayo dipping sauce. But other than that, I wasn't consuming it much.
Well, now cauliflower is such a staple in a healthy, low-carb diet, that you can make brownies, birthday cakes and even ice cream with it. Cauliflower fried rice is probably one of the most popular ways to use cauliflower though. This Mediterranean cauliflower rice recipe is a lectin-free, healthy and nutritious side dish that is so easy to personalize.
Mediterranean herbs
While cauliflower fried rice involves some kind of Asian flavor profile, I tend to make it more on an aromatics base and with condiments that remind me more of the Mediterranean diet. I start with a base of onions, celery, carrots and fennel add some mushrooms for some umami flavor and protein and spice it with Mediterranean herbs mix such as herbs de Provence or Italian herbs.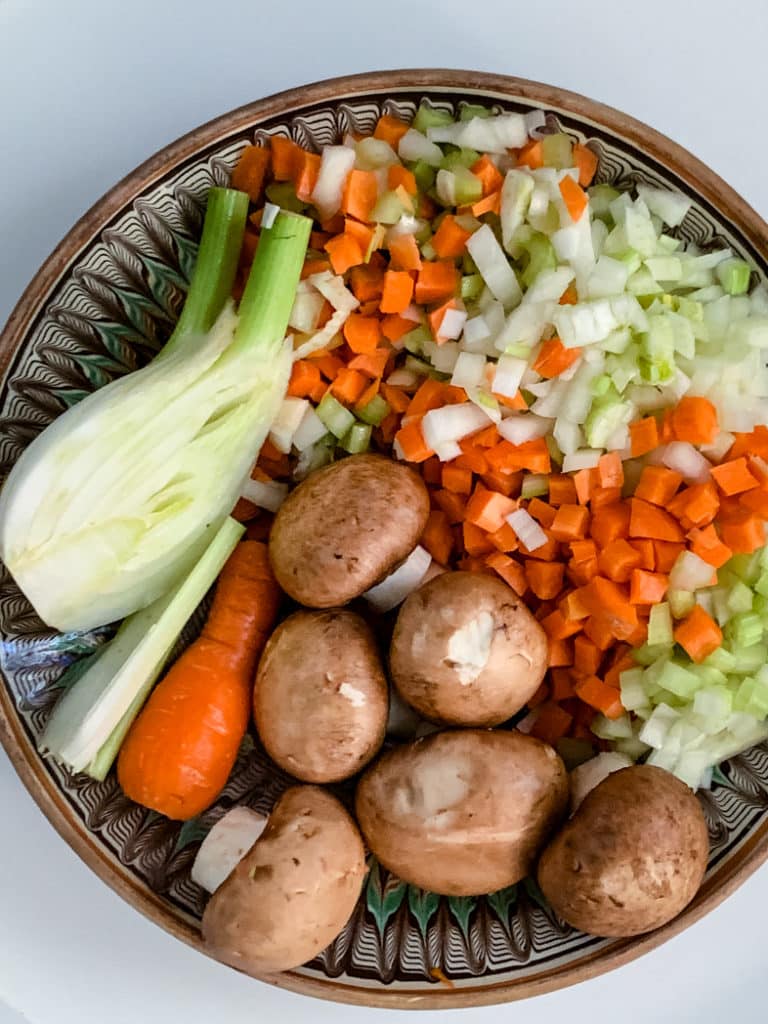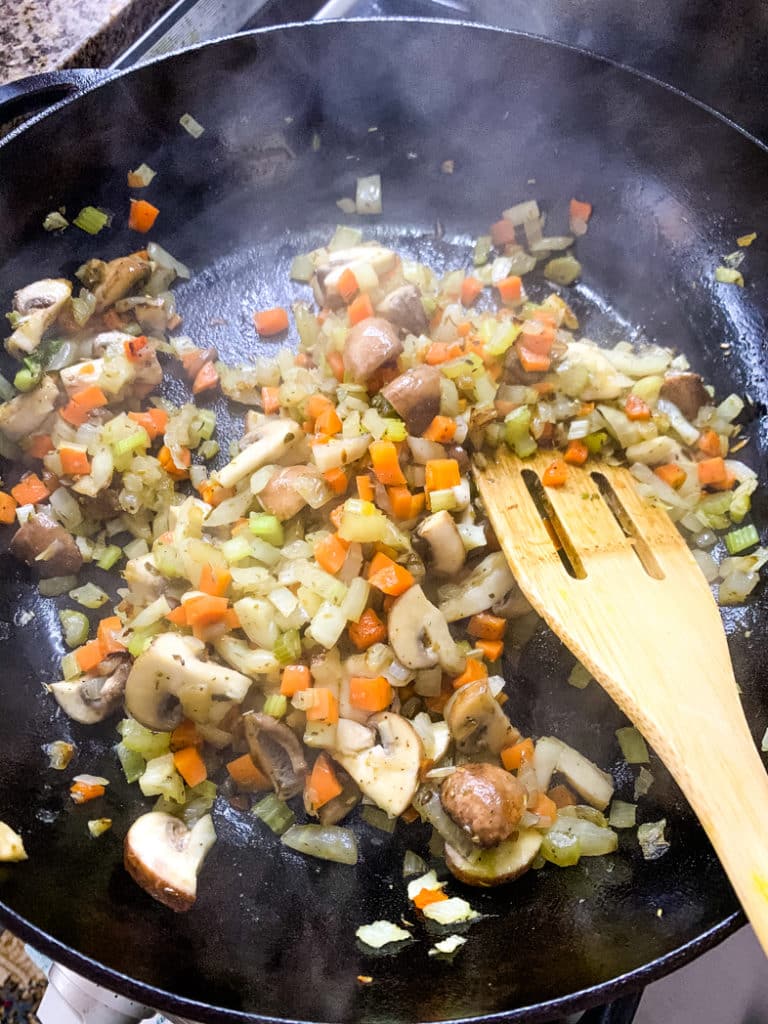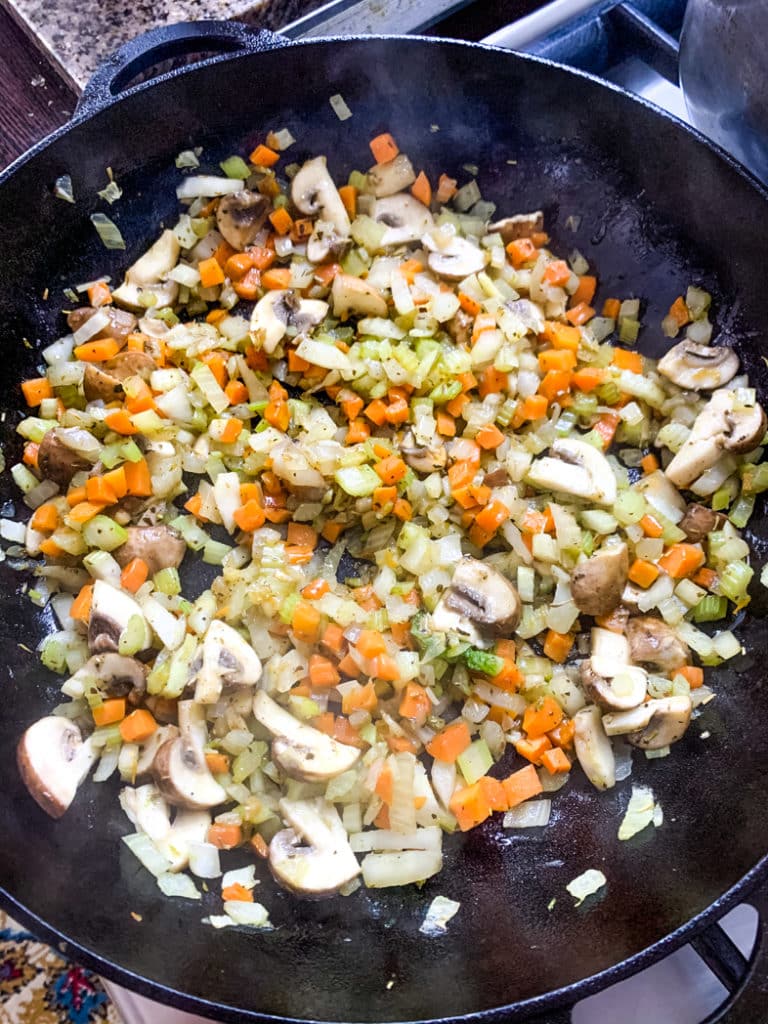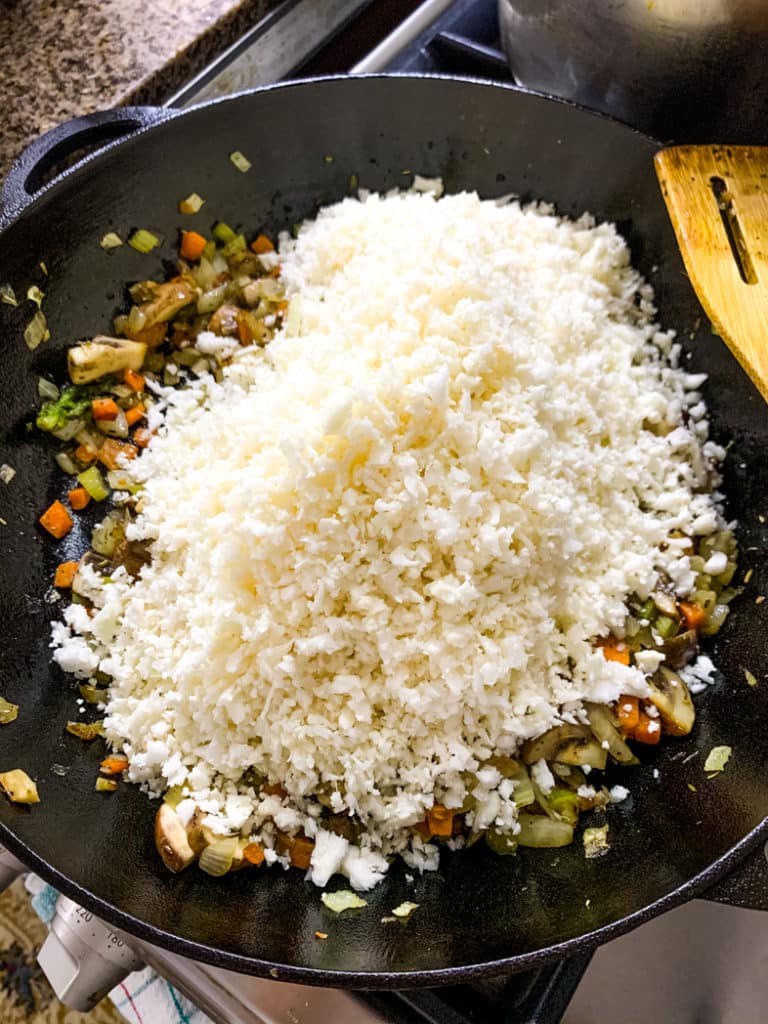 In many places, cauliflower rice is easily available in stores. If that it's not your case, like mine right now, in Romania, you can find instructions on how to make it HERE. You just need a food processor. For 6 cups of cauliflower rice, you will need about one small to medium size head of cauliflower.
How to serve Mediterranean style cauliflower fried rice
This Mediterranean-style cauliflower fried rice is a simple and easy recipe. You can use it as a nutritious side dish or as a base to build something a little fancier.
Add seafood, fish, chicken, or sausage for a more complete meal. You can finish with some Parmigiano Reggiano shavings if you eat dairy. You can add chickpeas or asparagus for more plant protein, color and diversity. The leftovers you can have for breakfast, with a fried egg on top or with scrambled eggs.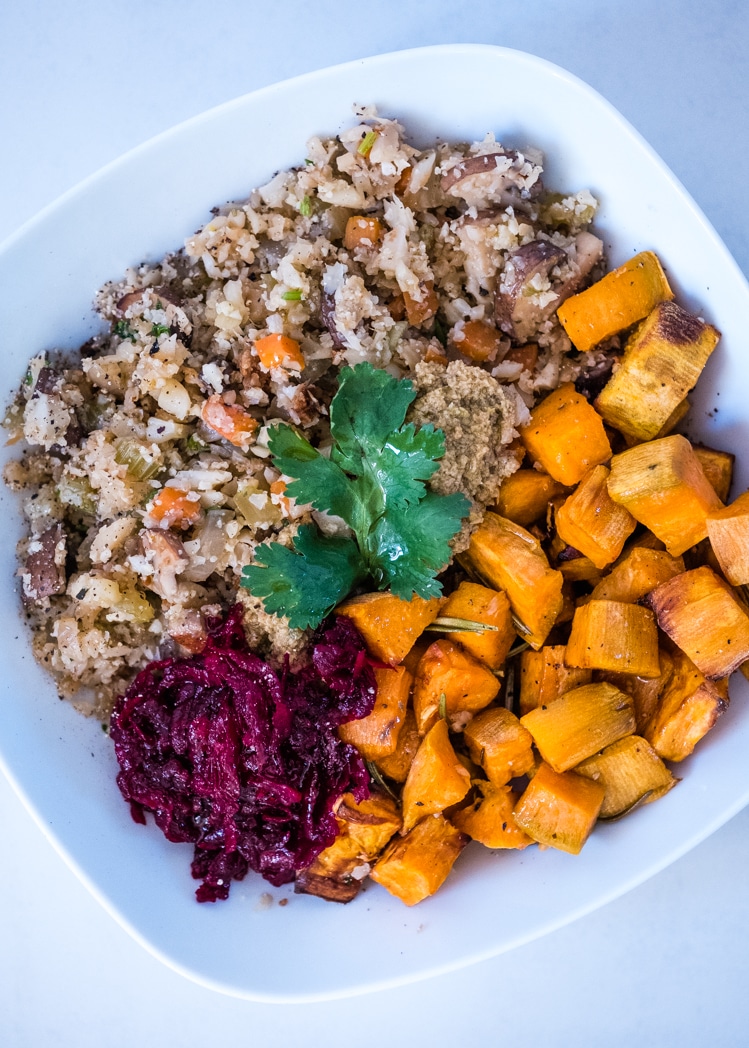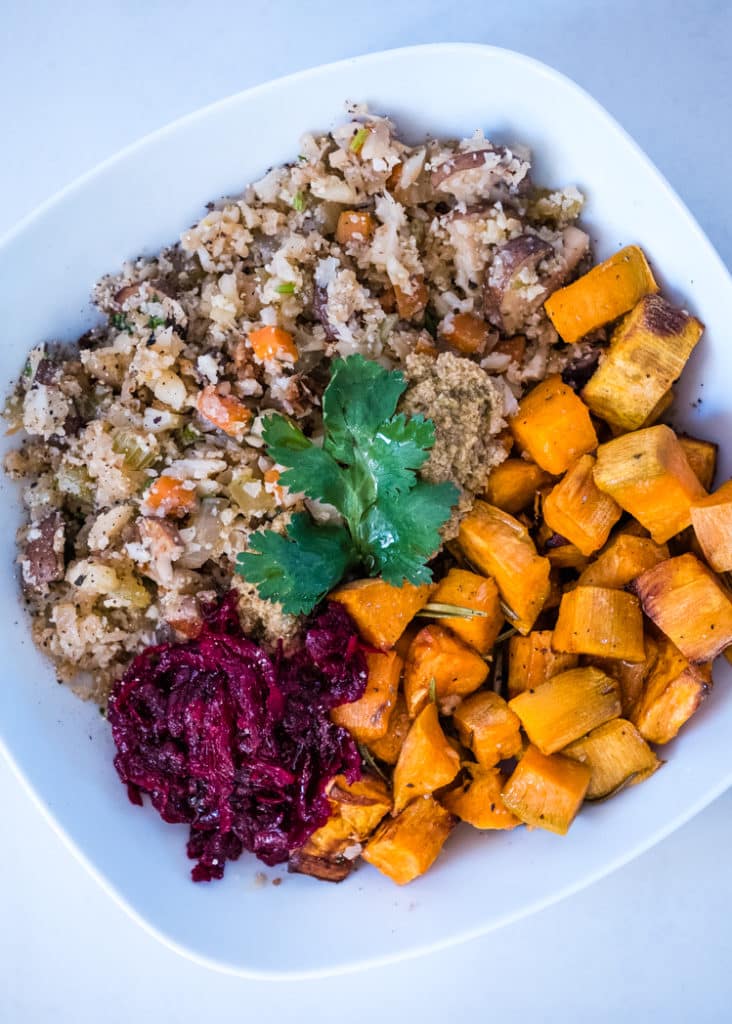 *This post contains affiliated links, which means I get a small commission if you choose to purchase something via one of my links, at no extra cost to you.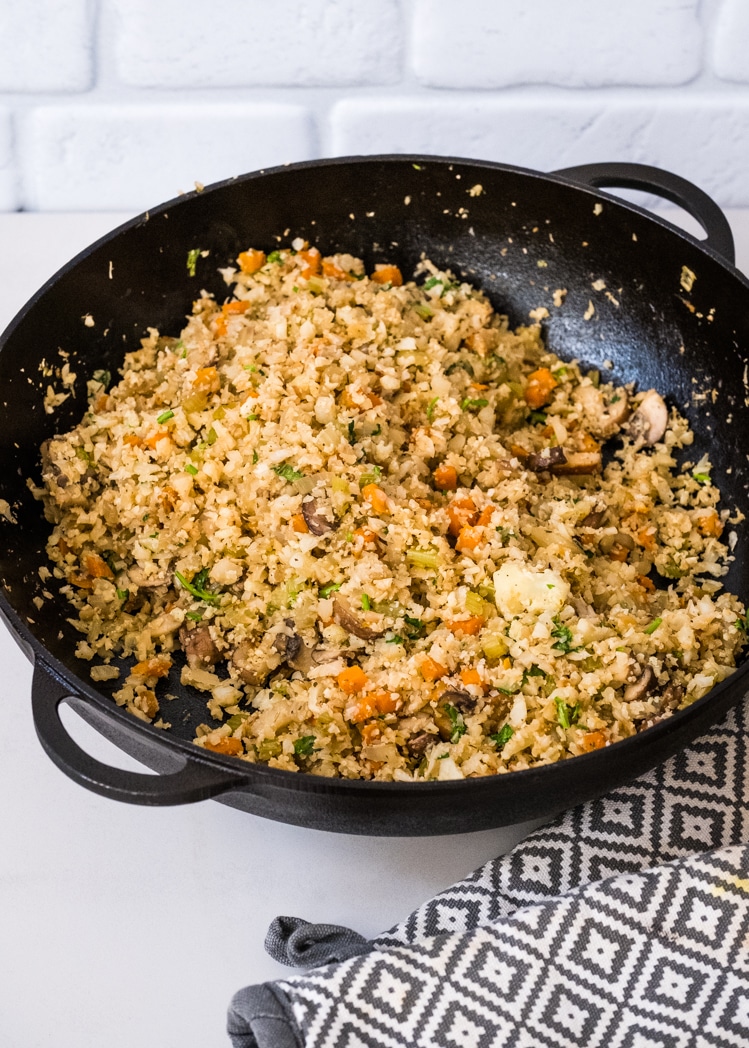 Print Recipe
Mediterranean Style Cauliflower Fried Rice
This cauliflower fried rice with Mediterranean flavors is a low carb, lectin-free side dish that will make a healthy and nutritious addition to any meal.
Ingredients
6 cups cauliflower rice (1 small cauliflower)
extra virgin olive oil
1 yellow onion, chopped
2 celery sticks, chopped
1 big carrot, chopped
1 fennel bulb, chopped
1, 2 teaspoons herbs de Provence
6 medium brown mushrooms, chopped
salt and pepper
1 tablespoon apple cider vinegar
1 handful fresh cilantro or parsley, chopped
more extra virgin olive oil for serving
Instructions
1

Heat a few tablespoons of extra virgin olive oil in a big skillet.

2

Add the onions, celery, carrots and fennel and sautee on low to medium heat until they soften up and fragrant (about 10-15 minutes). Stir frequently.

3

Add the mushrooms, herbs de Provence, salt and pepper, combine and continue to cook until the mushrooms soften, stirring occasionally (about 10 minutes).

4

Add the cauliflower rice, mix well and continue to cook on medium heat and stir. It will take maximum 10 minutes, as you don't want the cauliflower to get soggy.

5

Taste and adjust for salt and pepper, add the apple cider vinegar and the chopped cilantro or parsley.

6

Drizzle with more fresh olive oil and serve as a side dish or as part of a Buddha bowl with other vegetables and protein.