I realized recently I don't have many salad recipes on this website, and I decided to change this. I'm making a list of my favorite salads I've ever had on my trips around the world and will try to re-create them.
Many years ago when I was living in Bucharest, Romania, my friends and I had a favorite Italian restaurant, and a favorite dish: Insalata di Polo, Italian for Chicken Salad. This Italian chicken salad with balsamic vinaigrette is pretty close to what I experienced in Bucharest, so I'm sharing it here.
Subtle, Italian flavors and an excellent nutritional profile
When I decided to make this Italian chicken salad, I was a little confused about the salad dressing, I knew it was something creamy but not heavy, and it gave this chicken salad a unique flavor. Obviously, I have no idea what was in that dressing.
So I asked my Italian friend, Patrizia, what an Italian would use in a salad like this. And, in true Italian fashion, she said extra virgin olive oil and balsamic vinegar. That was an excellent reminder to keep it simple.
Two items featured in the original salad, and didn't make this version, are tomatoes and focaccia. See this recipe for gluten-free sourdough focaccia.
If you have successfully reintroduced tomatoes to your lectin-free diet, you can add some peeled and deseeded, preferably organic and heirloom. If not, do what I did; this salad doesn't need them (the balsamic adds acidity and sweetness).
And if you have non-grain, compliant focaccia around, go ahead and serve it with the salad. Obviously, this Italian chicken salad is lectin-free.
Try my Easy Cassava Tortillas, they'll be as good as the flatbread or focaccia I had in the restaurant.
Get the best quality ingredients for the balsamic vinaigrette
For the dressing, I made a balsamic vinaigrette. The quality of a vinaigrette depends on the quality of ingredients, so I recommend using the best you can get. If you live in the US and follow the plant paradox diet, Gundry MD organic, extra virgin olive oil is a great brand. For the vinegar, using an aged, Modena balsamic is recommended.
For this Italian dressing, I started with one teaspoon of Dijon mustard and one tablespoon balsamic vinegar; whisked them, and added 4 tablespoons of extra virgin olive oil, one by one, whisking to emulsify the oil (another tip from my friend Patrizia). It came out incredibly creamy and with an amazing but subtle flavor.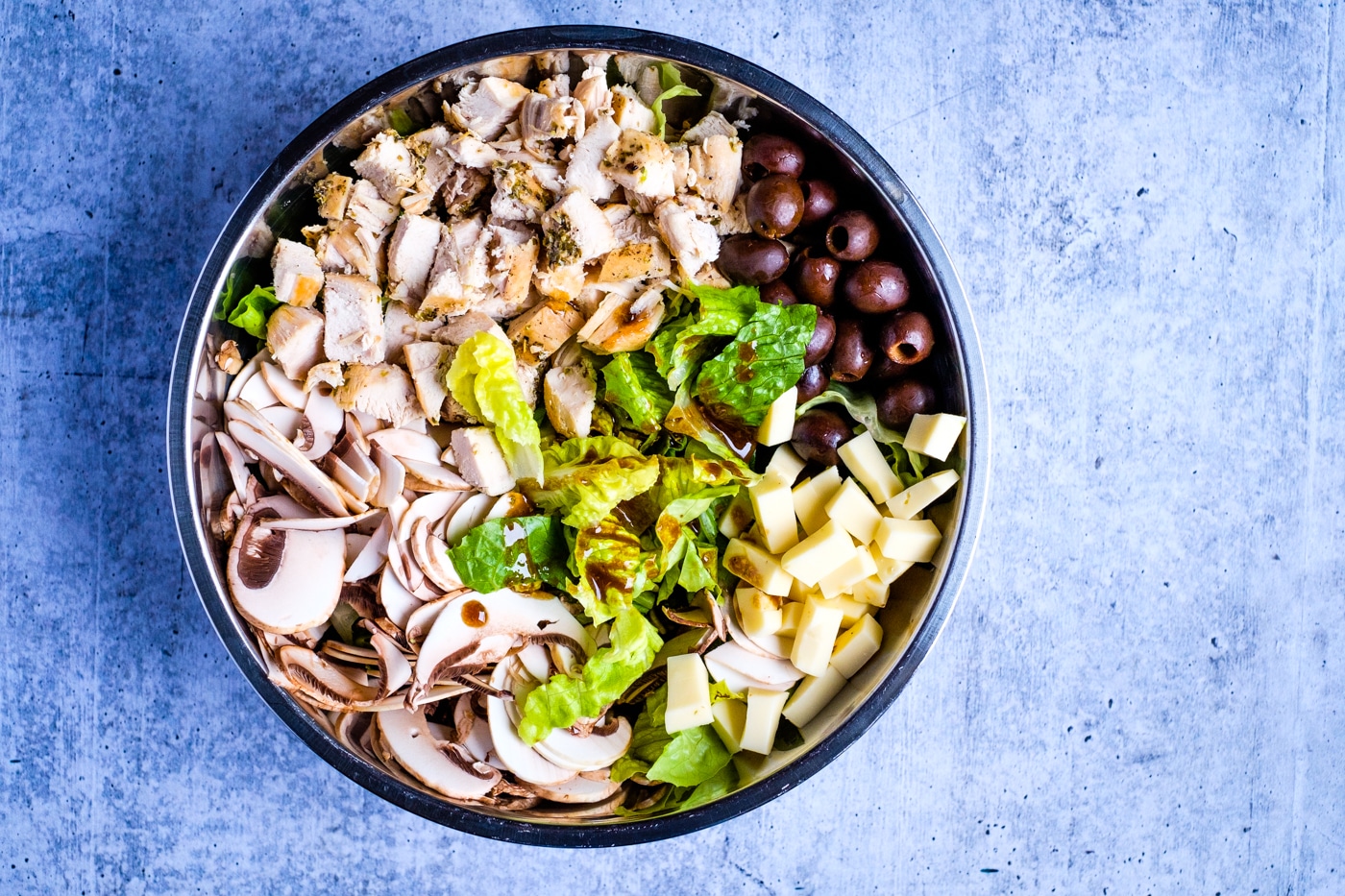 How to make Italian chicken salad with balsamic vinaigrette
The rest is pretty simple, you need two pasture-raised chicken breasts, cooked. You can cook them any way you like, but I'll tell you how I did it if you need help with that. For a quick delicious meal, you can even use leftover chicken.
You need some raw mushrooms. For the mixed salad greens, I used one romaine and one Boston lettuce. You would also need some black Italian olives. I used the 365 brand from Whole Foods, canned Manzanilla olives (I liked this one because they were brined only in water and sea salt, and they have a nice flavor).
The cheese I added is Italian Fontina. It's a creamy type of cheese, but not too soft. I feel it fits well with this salad, but you can also use Buffalo mozzarella or skip the cheese altogether. I only used dry oregano, season with salt and pepper to taste (also to cook the chicken breasts).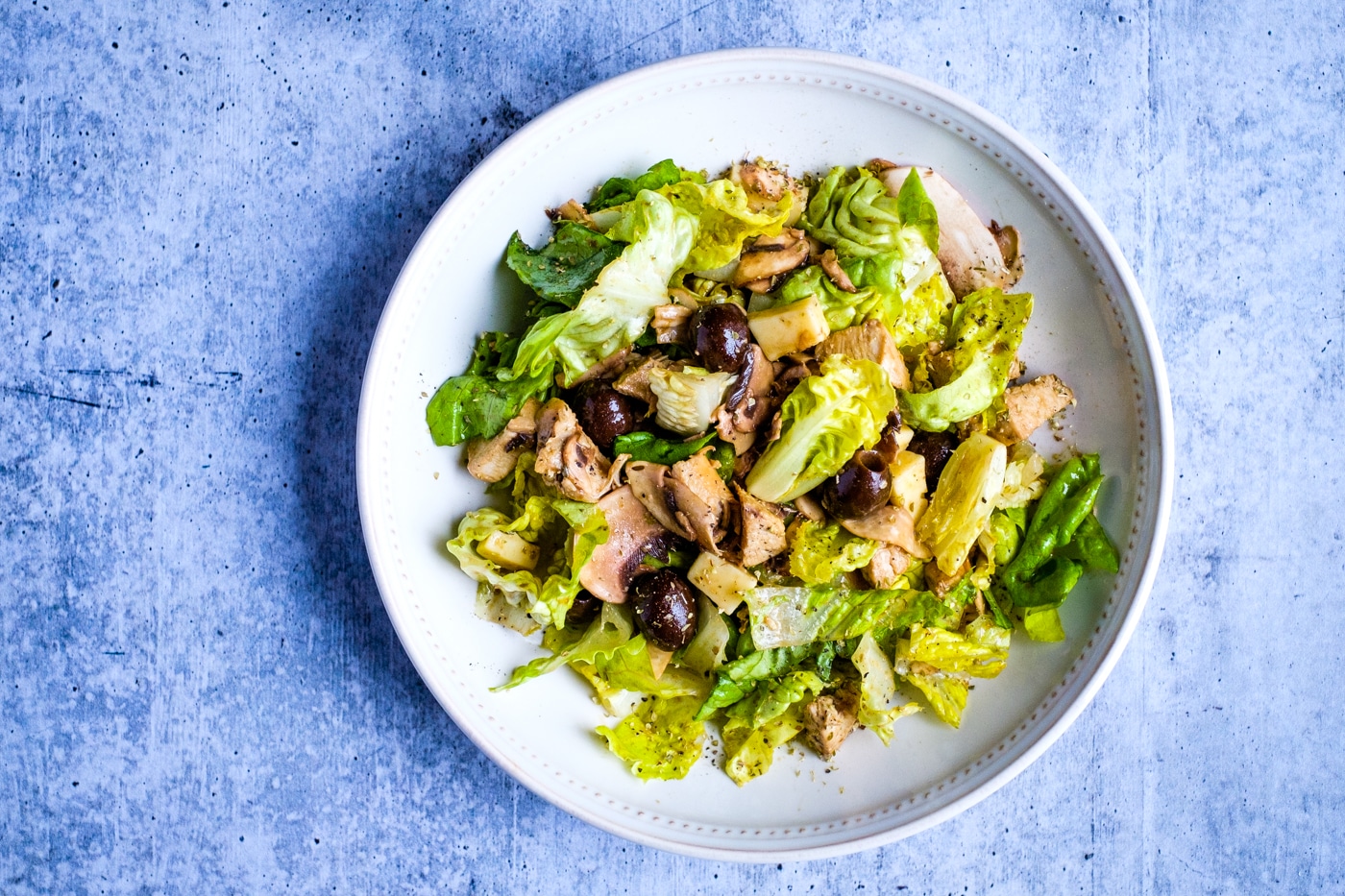 More chicken salad recipes
If you like this Italian balsamic chicken salad, you should also check out the below recipes:
*This post contains affiliated links, which means I get a small commission if you choose to purchase something via one of my links, at no extra cost to you.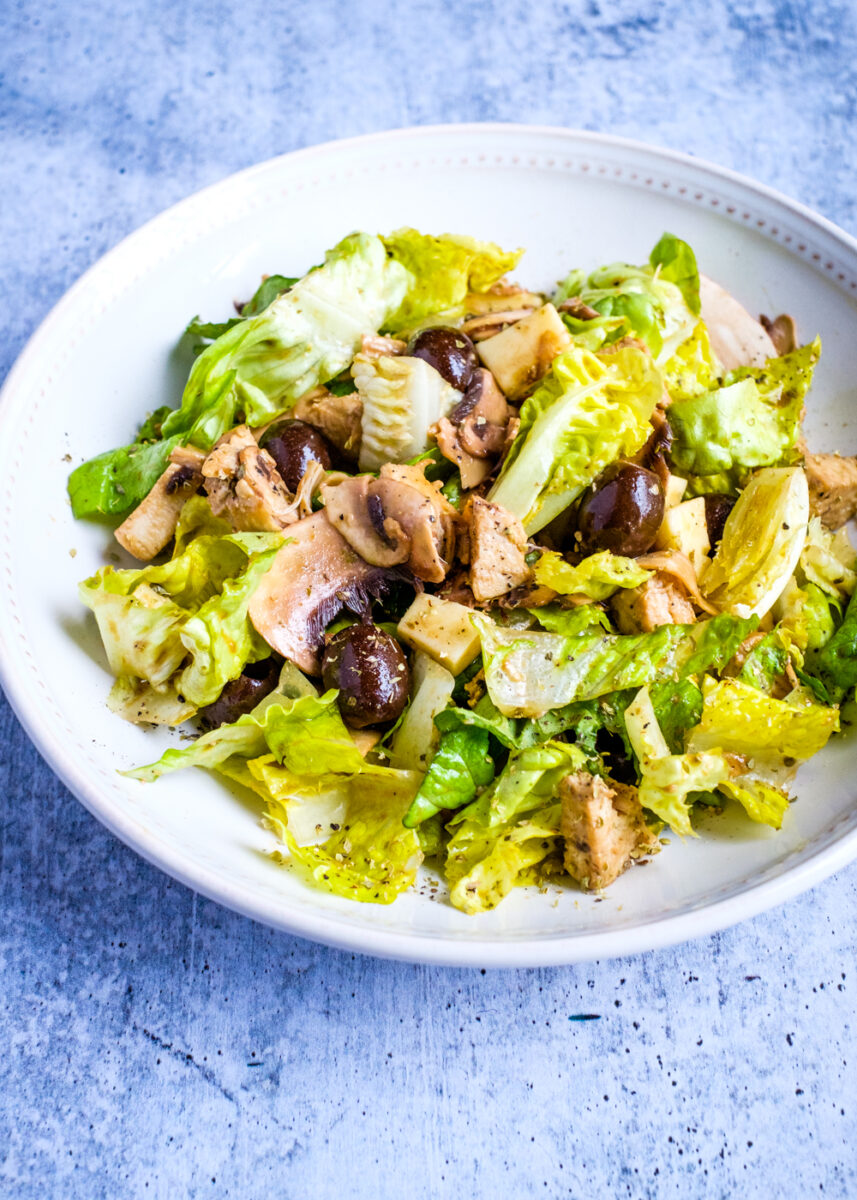 Print Recipe
Italian Chicken Salad with Balsamic Vinaigrette
An easy, delicious and simple meal for weeknights dinners.
Ingredients
1 romaine lettuce, washed and dried

1 Boston lettuce, washed and dried

2 pasture-raised chicken breasts (4oz each)

one generous handful of pitted, black olives, preferably Italian

about 4 medium button or crimini mushrooms, sliced with a mandolin

a small handful of Italian Fontina cheese

4 tablespoons extra virgin olive oil for the dressing plus more for cooking the chicken

1 tablespoon balsamic vinaigrette

1 teaspoon Dijon mustard

salt and pepper to taste (for both chicken and dressing)

dry oregano (for both chicken and dressing)
Instructions
1
Generously salt your chicken breasts and start cooking them in a frying pan, in a generous amount of extra virgin olive oil, on medium heat. Sprinkle some freshly ground pepper and oregano on top, cover and let it cook on one side for about 10 minutes. Flip them, cover and continue to cook for another 10 minutes or so until the chicken is thoroughly cooked (not pink in the middle). You still want moist chicken though, don't overcook. Alternatively, if you already have cooked chicken, use what you have.
2
While the chicken is cooking chop your washed and dried lettuce and add it to a mixing bowl. Make the vinaigrette in a small bowl, by whisking the Dijon mustard with the balsamic. Start adding the olive oil bit by bit and continue to whisk until creamy. Add some salt, pepper and oregano (you can later add more when everything is mixed if you feel it needs more seasoning).
3
When chicken is ready, cut it into cubes, and let it cool completely before you add it to the salad. Add the olives, the sliced mushrooms and the Fontina cheese, cut into cubes. Add the dressing, mix well, split in between two bowls and serve.