This salad was born when I discovered the Sea Tangle Mixed Sea Vegetables in Whole Foods. I'm not sure if this is available in other stores, but I'm sure you will find some sort of compliant sea vegetables elsewhere. Just make sure they have no weird ingredients added, they should only need salt. This is easy to put together and works as dinner but also can be packed for a workday lunch.
Sea vegetables salad, Asian flavors and textures, with a touch of comfort food
I remember how tasty and satisfying this sea vegetables salad felt like when I made it for the first time. The different textures of the ingredients add a lot of depth to this dish, and the dressing is out of this world. A match made in the food heaven.
Your main ingredients would be mixed seaweed, angel hair, fettuccine noodles or rice by Miracle Noodles, avocado, romaine lettuce, baby spinach and homemade chicken nuggets (find the recipe here).
For a vegan version, you can skip the chicken. Or if you don't have time to make the chicken nuggets cooked chicken breast would work too. I will not add the nuggets into the cooking and preparation time. This salad is super fast to make when you have the protein already cooked. Even the Miracle Noodles can be cooked in advance.
Buy Sea Tangle Mixed Sea Vegetables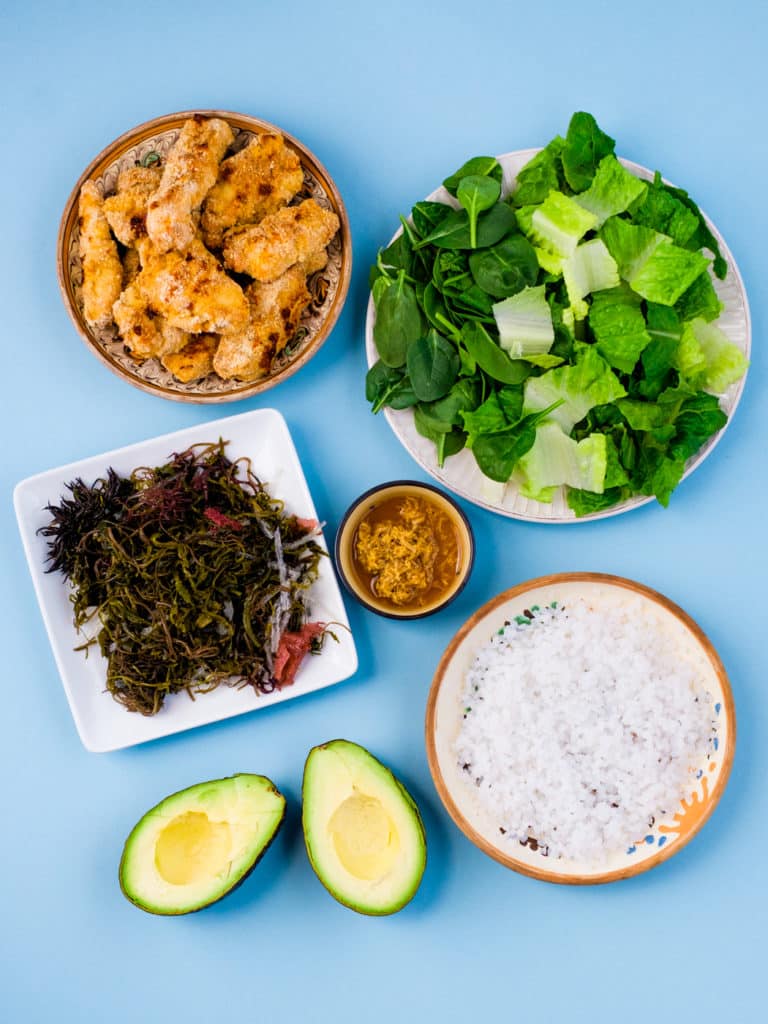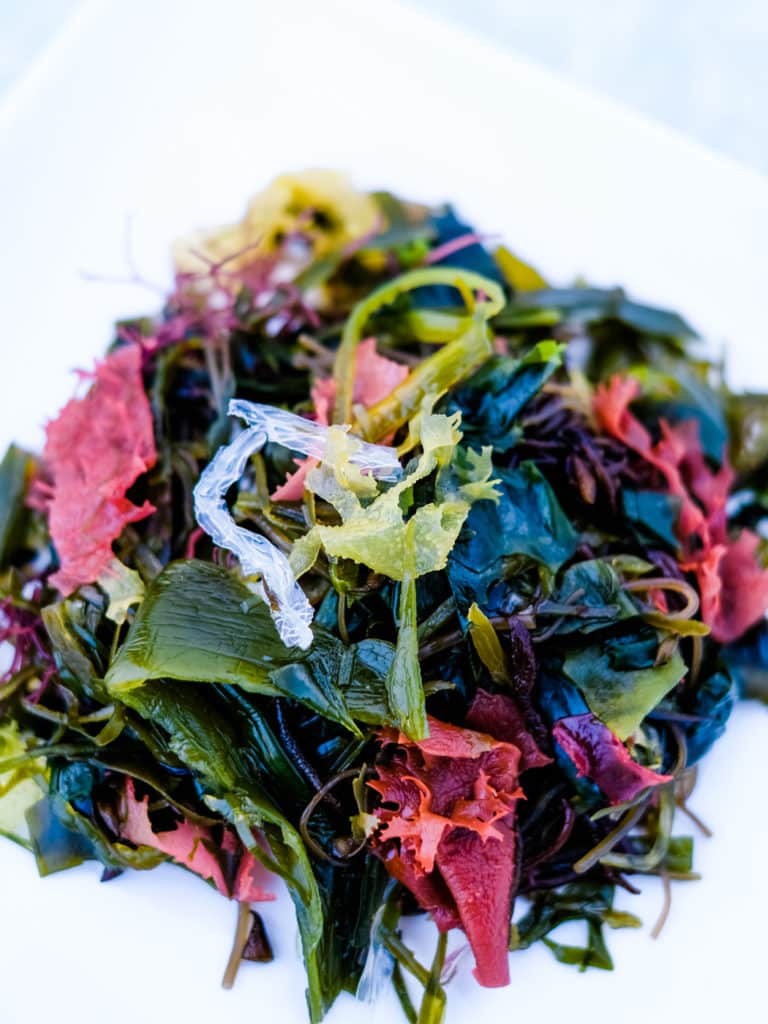 This post contains affiliated links, which means I get a small commission if you choose to purchase something via one of my links, at no extra cost to you.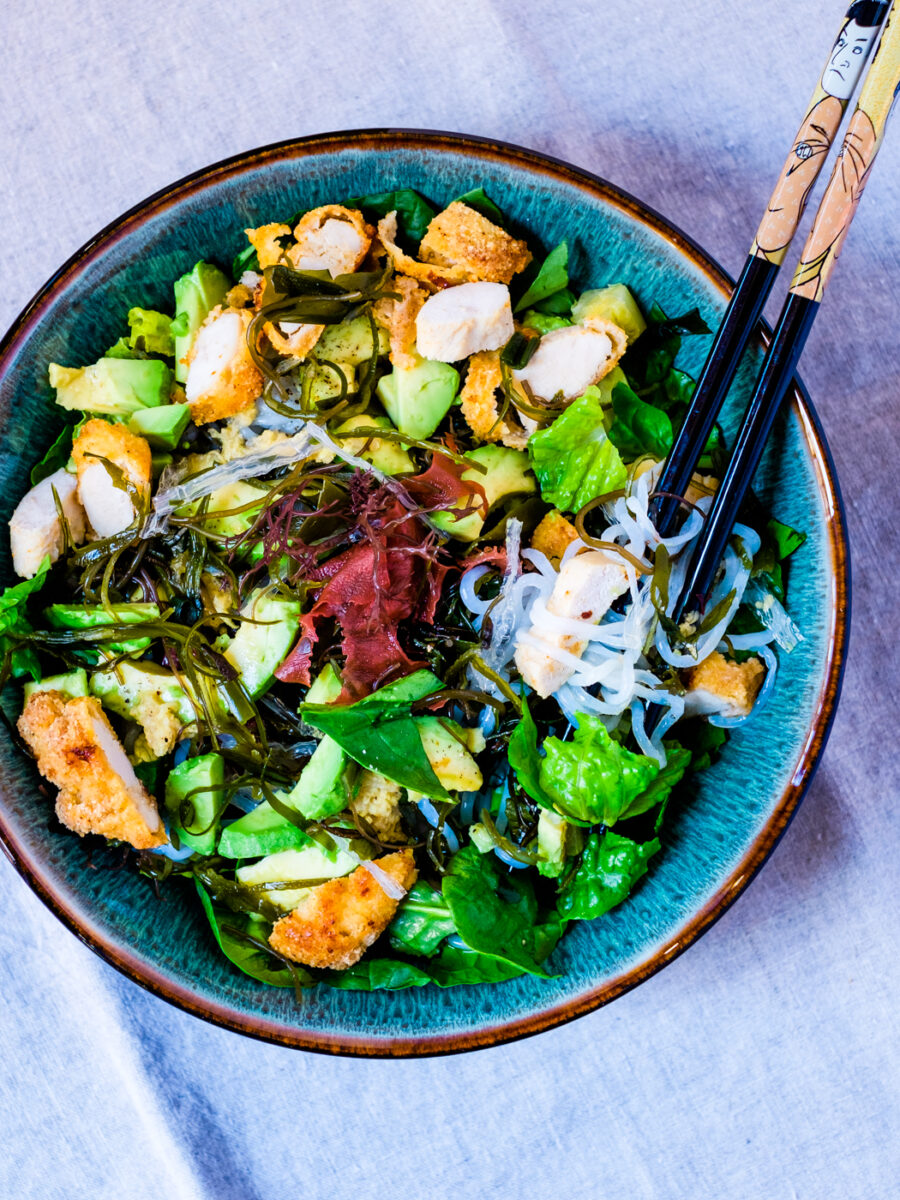 Print Recipe
Sea Vegetables Chicken Salad with Miracle Noodles
A nutrient-dense salad, easy to make and delicious.
Ingredients
1 pack Sea Tangle Mixed Sea Vegetables, rinsed and de-salted as per the pack's instructions

1 pack Miracle Noodles Angel Hair (or other shirataki products), prepared as per the instructions (this is the only ingredient that will take cooking time)

2, 3 medium chicken nuggets previously prepared OR few slices of cooked chicken breast

1 avocado, diced

2 cups of romaine lettuce, chopped

2 cups of baby spinach

FOR THE DRESSING:

1 garlic clove, grated

1 piece fresh ginger thumb size, grated

4 tablespoons coconut aminos

4 tablespoons apple cider vinegar

salt and pepper to taste
Instructions
1
Prepare the noodles as per the pack instructions, it will take about 15 minutes (rinse, boil, dry)
2
Prepare the seaweed as per the pack instructions (rinse and let dry)
3
Make the dressing by mixing all the ingredients.
4
Split the noodles in two and add to two serving bowls. Split all the rest of the ingredients in two and add on top of the noodles.
5
Add the chicken nuggets or chicken breast if you use them.
6
Add the dressing, mix well and taste. Add more aminos and vinegar if needed.
Notes
This makes two main dish salad portions, cut the quantities in half if you only make one. You can also mix all the ingredients in a mixing bowl and split into two serving bowls afterward if it's easier. Skip the chicken for a vegan version. There is no oil in this recipe, but feel free to add some extra virgin olive oil on top.