Lately, I've been cooking and eating mostly leftovers and food prepared ad hoc. But this weekend, I really felt like some serious meal prep. So I made these amazing lectin-free veggie-loaded meatballs with a hot kimchi-sriracha sauce I discovered in Whole Foods last night. I'm thrilled with how they turned out. Served with cauliflower rice and broccoli slaw.
Healthy, lectin-free, veggie-loaded, hot, probiotic meatballs? Yes, please.
I've been really low carb and low calories the past week, and I'm feeling like some more serious eating these next few days. I'm in ketosis, and I think I need to get out and take a break for a little while. So I made a lot of yummy stuff today, and in a little bit, I'll start working on our dinner, which will be pizza.
Now, for these meatballs, I used: 100% grass-fed ground beef, baked purple sweet potato (the variety that is called Stokes Purple, produced by Frida's Produce), scallions, fresh ginger, fresh turmeric, celery, fresh cilantro, garlic, egg, cassava flour and the kimchi sriracha sauce I found last night, made by Wildbrine.
One little warning, if you have in your home eaters fussy with textures, these meatballs are very soft because I mixed the potato and all the veggies in a food processor until they all mashed (see the ingredients picture, the purple mash is actually the potato mixed with all the rest of the veggies).
If you want more textured meatballs, don't mix all the ingredients as I did. You chop them super finely or stop the food processor before it's too late. If you choose to do this, I suggest grating the fresh ginger, turmeric, and garlic before mixing it with the rest. It won't be nice to find big chunks of them in your meatballs.
I didn't count the time of baking the sweet potato in the preparation or cooking time because it can be made in advance.
How to serve the Sriracha meatballs
This is a later edit, but I wanted to add a serving suggestion to the post. We had these lectin-free veggie-loaded sriracha meatballs with cauliflower rice and broccoli slaw, and it was a perfect match.
For two servings, you need 2 cups of cauliflower and two cups of broccoli slaw, some coconut milk (a few tablespoons), some rice wine vinegar, and some coconut milk.
If you like this sriracha meatball recipe, you should also check out my other lectin-free and healthy meatball recipes:
And have you ever tried boiled meatballs? This is an easy method that also produces tender, juicy, and wholesome meatballs. Check out this recipe Boiled Meatballs, Scandinavian Style.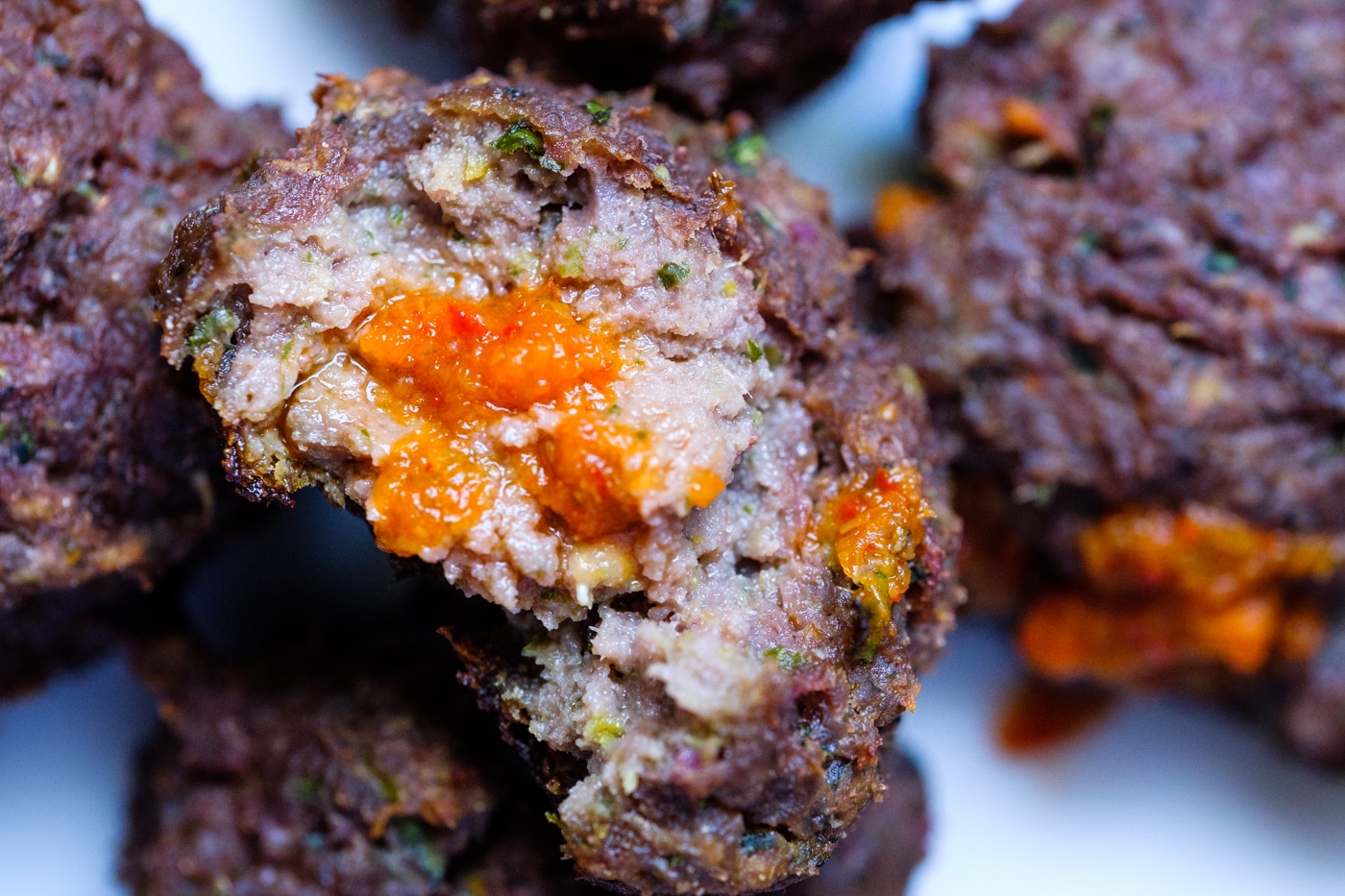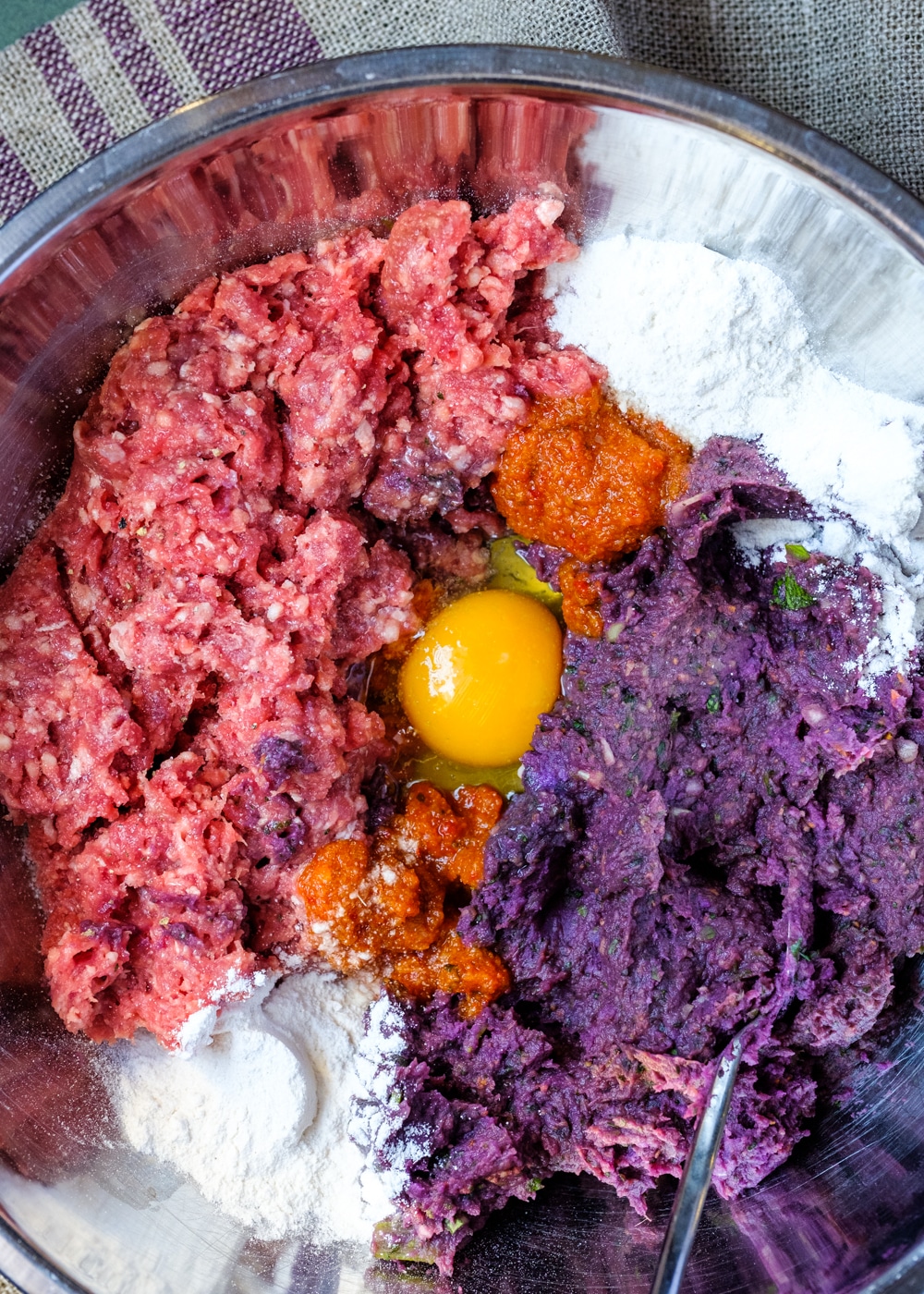 *This post contains affiliated links, which means I get a small commission if you choose to purchase something via one of my links, at no extra cost to you.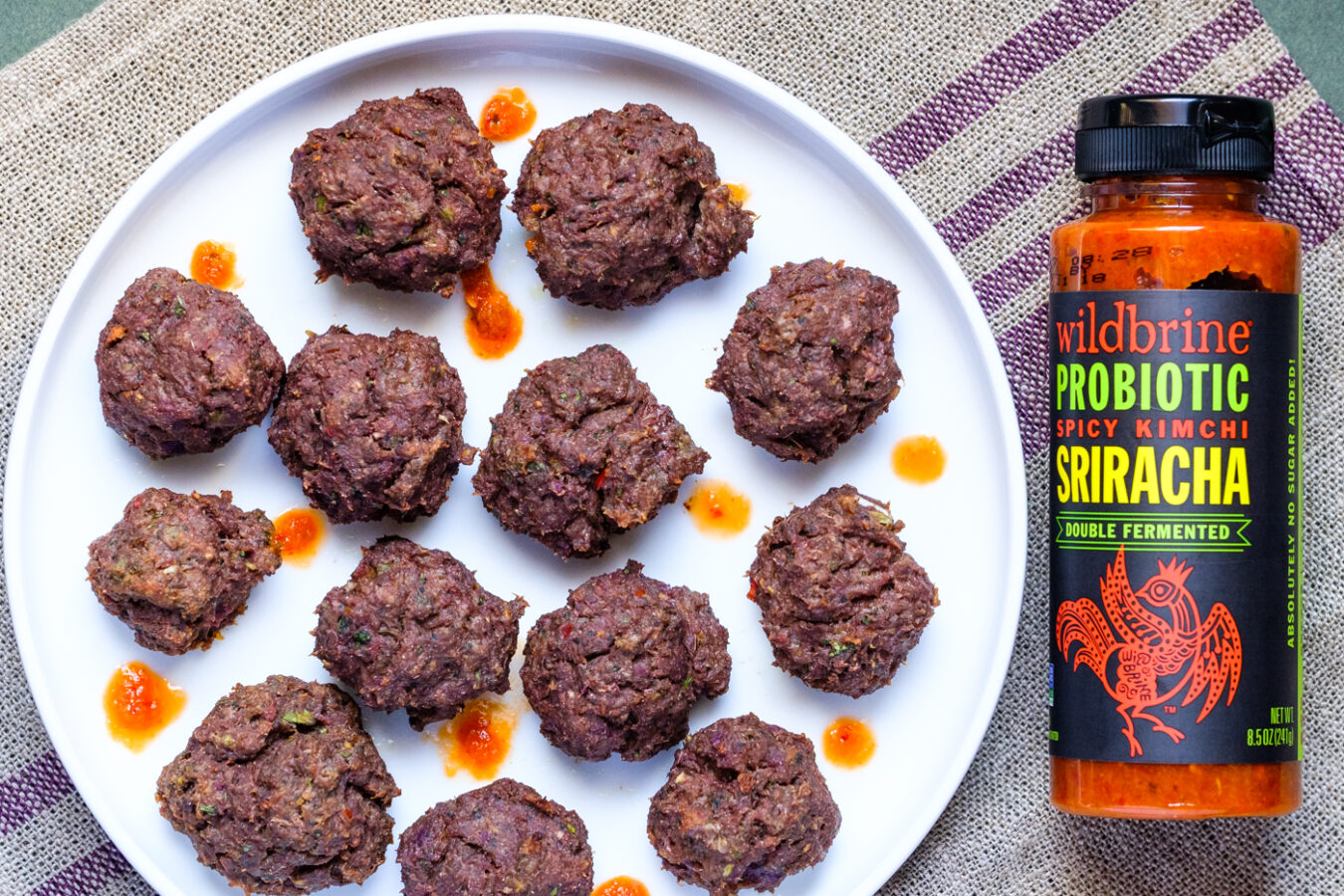 Print Recipe
Veggie Loaded Kimchi Sriracha Meatballs
Ingredients
0.650 lbs 100% grass-fed ground beef

8 oz baked mashed purple sweet potato (I cut it in halves and baked it face down for about 30 minutes at 400F, with a little avocado oil)

1, 2 stacks of celery

1 handful fresh cilantro

1 piece thumb size fresh ginger (preferably grated)

1 piece thumb size fresh turmeric (preferably grated)

2 garlic cloves (preferably grated)

3 scallions

1 pasture-raised egg

3 tbsp cassava flour

2 tbsp Wildbrine Kimchi Sriracha Sauce (the red one), or more if you love hot food

salt and pepper to taste (it needs about 1/2 tsp of iodized salt, and a little pepper, since it already has a lot of strong flavors)

Avocado oil + toasted sesame seeds for baking

FOR THE VEGGIE BED (only for two servings):

2 cups cauliflower rice

2 cups broccoli slaw

few tbsp full-fat coconut milk

few tbsp avocado oil

few tbsp coconut aminos

1 tbsp rice vinegar

salt and pepper to taste

1 tsp of arrowroot powder (optional)

sesame seeds - optional
Instructions
1
Preheat oven to 400F and oil a big sheet pan with avocado oil mixed with toasted sesame oil.
2
Mix all the vegetables together in a food processor (mix really well for a soft texture, or less for a more chunky texture).
3
Add the veggies to a big mixing bowl, add the meat, the egg, cassava flour, kimchi sriracha sauce, salt and pepper.
4
Shape the meatballs using about 1 tbsp of mixture for each and line them in the greased pan, leaving a little space in between.
5
Bake at 400F for 30 minutes.
6
Serve hot or cold, as an appetizer with more kimchi sriracha sauce or with vegetables for a main dish.
7
TO MAKE THE VEGGIE BED (just for two servings):
8
Heat avocado oil in a skillet on medium heat
9
Add the cauliflower rice and broccoli slaw and cook for about 5 minutes.
10
Add the coconut milk, coconut aminos and rice vinegar (as much as to make a little sauce in the pan). Add salt and pepper to taste and cook for a couple of minutes.
11
Sprinkle the arrowroot power on the vegetables, some sesame seeds if you want, mix and take away from heat.
12
Serve with the meatballs and hot sauce.
Notes
I made 26 meatballs with this quantity and I counted 4 meatballs per serving if you have them with vegetables. Don't forget these meatballs are half vegetables, so the animal protein intake is reduced. The quantities for the cauliflower rice are only for two people, so add more if you cook for a bigger family.