Pizza is a treat in our home, and we have it for dinner on the weekends with a glass of red wine. So far, the crust has always been the same, I make it with the Simple Mills pizza crust flour mix (lectin-free, gluten-free, grain-free), but I always try to spice things up with the toppings. This past weekend I was set on trying a combination of salmon and tarragon, and because my husband was not sure if he would like that, I also made a more classic prosciutto one.
Salmon pizza is one of my favorite things to eat
So I decided to split the dough into four personal crusts so we don't have to mix the salmon and prosciutto on the same crust. I loved both, but my favorite was from far the salmon one. My husband had some of both, but he preferred the prosciutto.
You can use any cooked salmon you have around, leftovers of wild-caught salmon from another meal, or smoked salmon, I used a canned one – Alaskan, sustainably caught, BPA free – so that was pretty convenient. The other ingredients were: buffalo mozzarella, green olives, fresh tarragon, capers and kimchi – sriracha hot sauce, double fermented, from Wildbrine.
The prosciutto slices had buffalo mozzarella, Italian 30 month aged Prosciutto di Parma, green olives, capers and pickled red onion. It was all topped with dry oregano and more extra virgin olive oil. Of course, you can use your crust of choice.
For another version of salmon pizza, check out the Lectin-Free Pizza with Wild Caught Salmon and Caviar.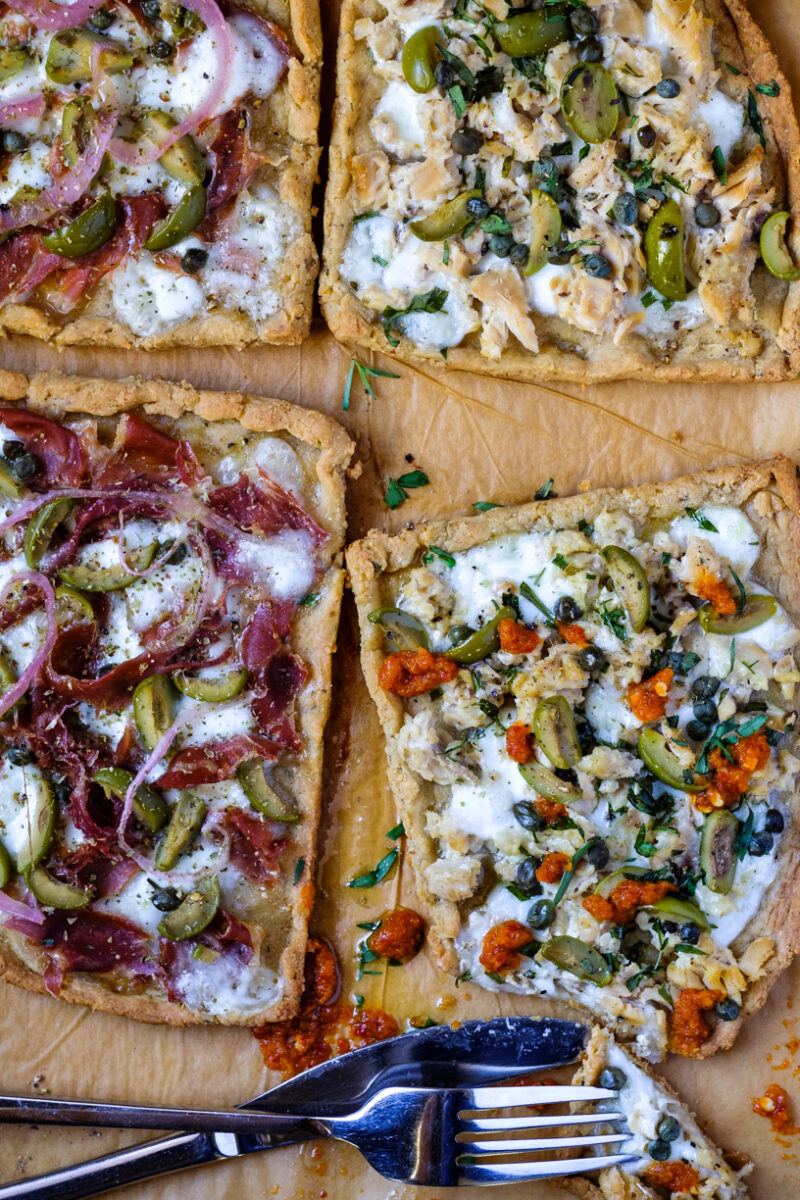 Print Recipe
Salmon-Tarragon and Prosciutto Personal Pizzas
Ingredients
1 pack Simple Mills pizza dough mix, prepared as per the pack instructions (or any plant paradox compliant pizza crust)

4-6 slices of Prosciutto di Parma

4-5 oz of cooked wild-caught salmon (canned, smoked or whatever you have)

3 bocconcini grass-fed, free-range buffalo mozzarella (I use BUF Creamery brand I find in Whole Foods)

a handful of sliced green olives

1-2 tbsp capers

1-2 tbsp fresh tarragon, chopped

few slices of red pickled onions

dry oregano

hot sauce - if you find try this Kimchi-Sriracha sauce made by Wildbrine

extra virgin olive oil
Instructions
1
Preheat the oven to 350F.
2
Prepare the pizza dough as per the pack instructions and roll it with a pin, between two sheets of parchment paper, in a rectangular shape until it gets thin. If you want to make the four personal pizzas, cut the crust in four and lift up the edges for each slice.
3
Cook them for about 9 minutes in the oven, on the bottom parchment sheet, directly on the oven rack placed in the middle.
4
Meanwhile, prepare all your toppings, and make sure there is not too much liquid around - I cut and place the mozzarella, olives and rinsed, drained capers and pickled onions on a paper towel to absorb all the extra liquid before adding them to the crust.
5
Once the crust is pre-cooked, start adding the toppings.
6
For the prosciutto slices, add some of the cheese, then prosciutto, then some more cheese (I like to have that marbled look), then add the few capers, olives and the pickled red onion. Add a drizzle of olive oil.
7
For the salmon slices, add some of the cheese, some of the salmon, more cheese and finish with capers, tarragon, olives. Add a drizzle of olive oil.
8
Bake for about 10 more minutes. It depends on how thick you make the crust, it might take less or more. I like my crust to be crispy, so I let it bake until the edges get brown and crispy.
9
Take out, drizzle with more olive oil, sprinkle some dry oregano, Kimchi Sriracha hot sauce and serve while warm.
Notes
These toppings can be added to any type of crust. In fact, I'm keen to experiment with other crusts, so let me know if you find something plant paradox compliant that works well.