Almost Italian because I skipped the cheese and the breadcrumbs. Parmiggiano Reggiano is allowed in the Plant Paradox program. It's also possible to make breadcrumbs with complaint, grain-free, lectin-free bread. But when I make a recipe with meat I always have in mind that I want to reduce the total amount of animal protein. That's why I add a lot of vegetables to my Italian meatballs in general, and for these ones, I replaced the cheese with nutritional yeast.
One oven, two half sheet pans, one dinner
I love to cook but I'm also pretty happy to reduce the time I spend in the kitchen cooking and cleaning, if possible. So instead of cooking my vegetables in a pan on the stove, I used the baking pans where I cooked the meatballs to cook the vegetables. I didn't even wash them (the pans, not the vegetables).
Meatballs are a staple in Romanian cuisine so I'm familiar with the basics, but then there are endless variations on this theme. I usually change things up depending on the flavor I want. I also wanted to keep it simple. My mom cooks the onions and garlic before adding them to the meat. I didn't even do that, I mixed all the fresh veggies and herbs with the meat, two eggs, some cassava flour and nutritional yeast, rolled them and baked them.
Regarding the serving size, the meatballs will last you few days or will feed a big family, but the vegetables are just for two – hard to fill the serving size in the recipe.
Italian meatballs served with baked rhubarb
Baked Rhubarb is really nice because is tart and compliments the sweetness of the vegetables and meat. And it's the season. Add whatever else you feel to the serving bowl. I added mixed green salad, watermelon radishes, and some savory crepes I experimented with (recipe to come soon).
If you like this recipe, you should also check out my Veggie Loaded Kimchi Sriracha Meatballs with Creamy Cauliflower Rice and Lectin-Free Scandinavian Meatballs with Curry Sauce.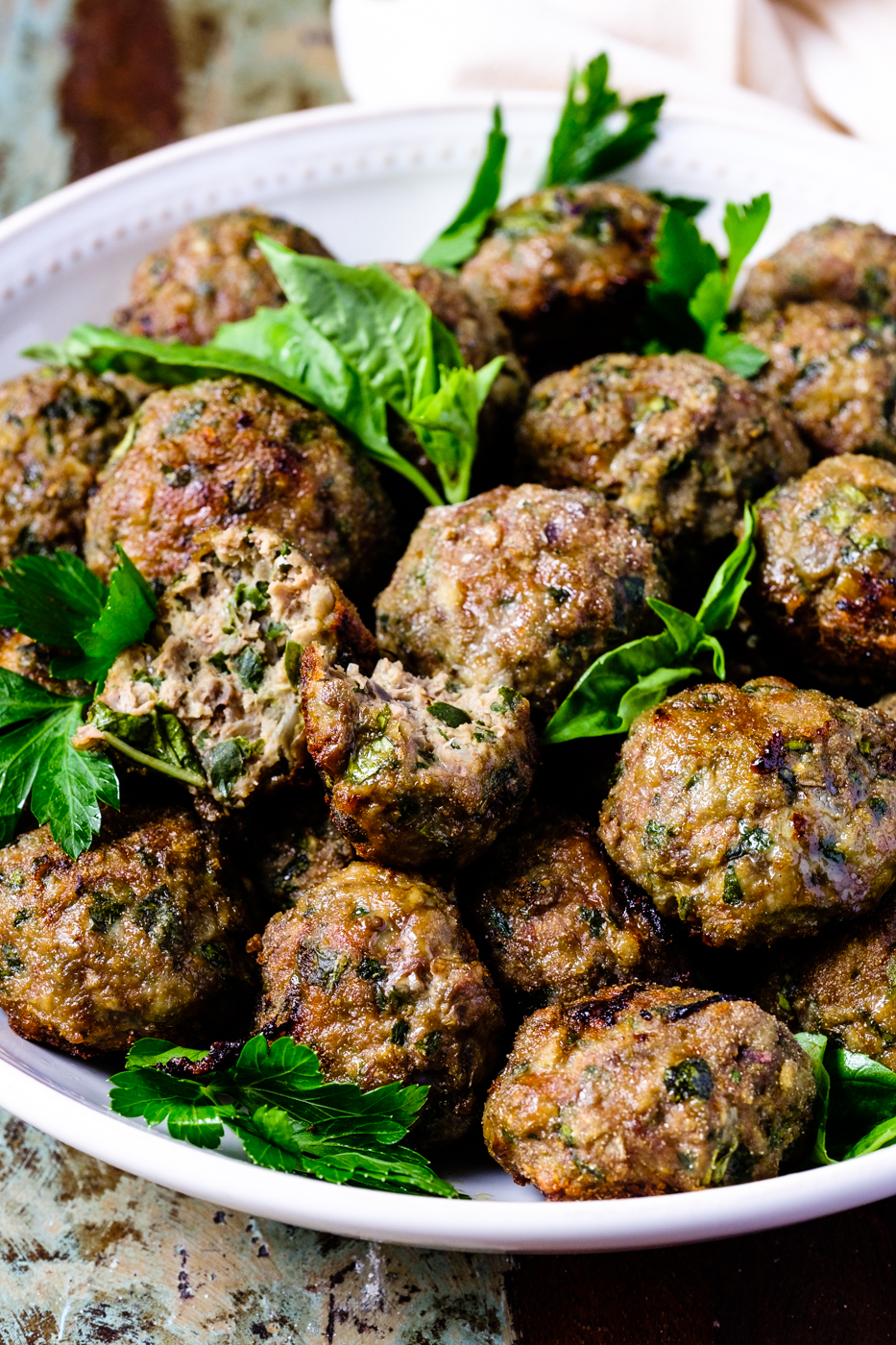 Print Recipe
Almost Italian Meatballs with Baked Vegetables and Rhubarb
Ingredients
1 lbs 100% ground grass-fed beef (I used sirloin)

1 big red onion

2 big garlic cloves

1 big bunch flat-leaf parsley

1 bunch fresh basil leaves

5 medium button mushrooms

2 pasture-raised eggs

1 tbsp cassava flour for the mixture, more for coating of meatballs

spices: dry oregano, salt (about 1 tsp) and pepper

2 - 3 tbsp nutritional yeast

extra virgin olive oil - for the pan

2 cups riced cauliflower

2 cups broccoli slaw

1 cup chopped rhubarb

spices: Italian herbs OR herbs de Provence, salt, pepper and oregano

extra virgin olive oil
Instructions
1
Preheat the oven to 375F.
2
Chop the red onion, parsley, garlic, mushrooms and basil in a food processor (I have a very small one so I do them separately, but it's easier if you put them all together).
3
Add the chopped vegetables to a mixing bowl, add the ground beef, the two eggs, the cassava flour, spices and salt. Mix well (I do it with my hands).
4
Prepare two half sheet pans or one big one by adding olive oil.
5
Add some cassava flour on a plate, and start rolling the meatballs, about one heaped tbsp of mixture for each. After you roll each of them, coat it with cassava flour and add it to the sheet pan. Repeat with all of them. Drizzle olive oil on top.
6
Bake them at 375F for 20 minutes, flip them, and bake for another 5 minutes.
7
Take the meatballs out on a plate and add the cauliflower rice, broccoli slaw and rhubarb to the pan, without washing it; you can scrap any burnt pieces from the pan if you have any. (or the two pans, since I used the half size). Generously drizzle with extra virgin olive oil, sprinkle with the spices, salt and pepper and bake for about 15 minutes.
8
Take out and serve with the meatballs, salad or fresh vegetables, and a hot sauce (or a sauce of your choice). We used Kimchi Sriracha.